This vegan Cilantro Pesto Recipe is fresh and bright-flavored with cilantro and nutty with pistachios, and is a delicious change from a traditional pesto.
Oh, pesto. It's one of those things that I truly love, but forget about until it's all I can think about. (The cravings are real once basil is in season.)
If I played it right, I'd spend the final days of summer every year putting the last of the fresh basil to good use and freezing it so I could enjoy it throughout the rest of the year.
And have you ever tried cilantro pesto? It's bright and fresh with a pungency that differentiates it from classic basil pesto. It's delicious.
The funny thing is, I used to hate cilantro. Actually, hate doesn't fully describe it; I used to despise cilantro (truly). For me, it tasted like soap (yup, I was one of those people).
I honestly have no idea what happened, but over the years I stopped hating it so much. Little by little I started actually liking it, and then craving it, and then adding it to just about anything from homemade egg drop soup, to pulled BBQ chicken, to Thai curry.
So, maybe the whole cilantro aversion isn't genetic? Maybe if cilantro isn't something you grew up with, it's just an acquired taste? Whatever the explanation, I'm just glad I got over my aversion.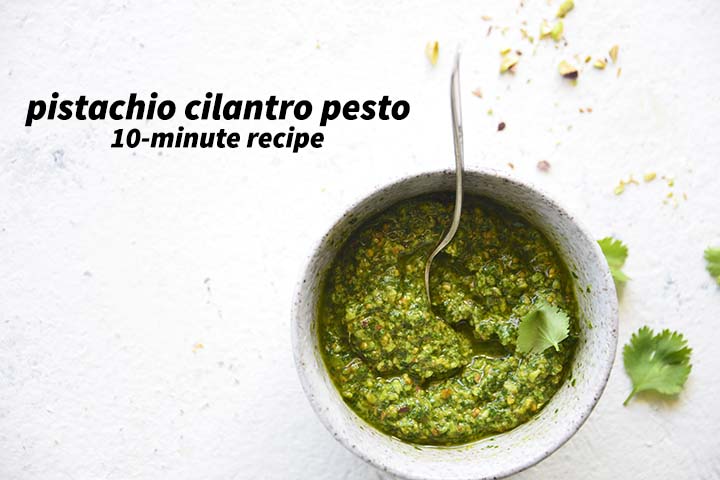 What Can You Do With Cilantro?
If you grow cilantro, at some point you might find yourself with more of it than you can use immediately! Or maybe it looked too good to pass up at your local farmers market. Or perhaps it was on sale at the grocery store and you bought a bunch too many.
Whatever the reason, there are so many things you can do with cilantro. Here are just a few ideas:
Sprinkle it on tacos, enchiladas, tostadas, etc.
Add a handful to chili
Use it to garnish your favorite guacamole
Top an Indian or Thai curry, or a Chinese stir-fry with a few leaves
Use it to make this Cilantro Pesto Recipe!
Cilantro Pesto Recipe – Vegan and Paleo
If you're familiar with Classic Basil Pesto, before you make this, know that this Cilantro Pesto Recipe is something else entirely.
Cilantro replaces basil, pistachios oust pine nuts, and there's no cheese to be found. But extra-virgin olive oil and garlic are necessary in both this and the classic version of pesto.
As a result, I find this pesto to be a little less rich, but not lacking in flavor.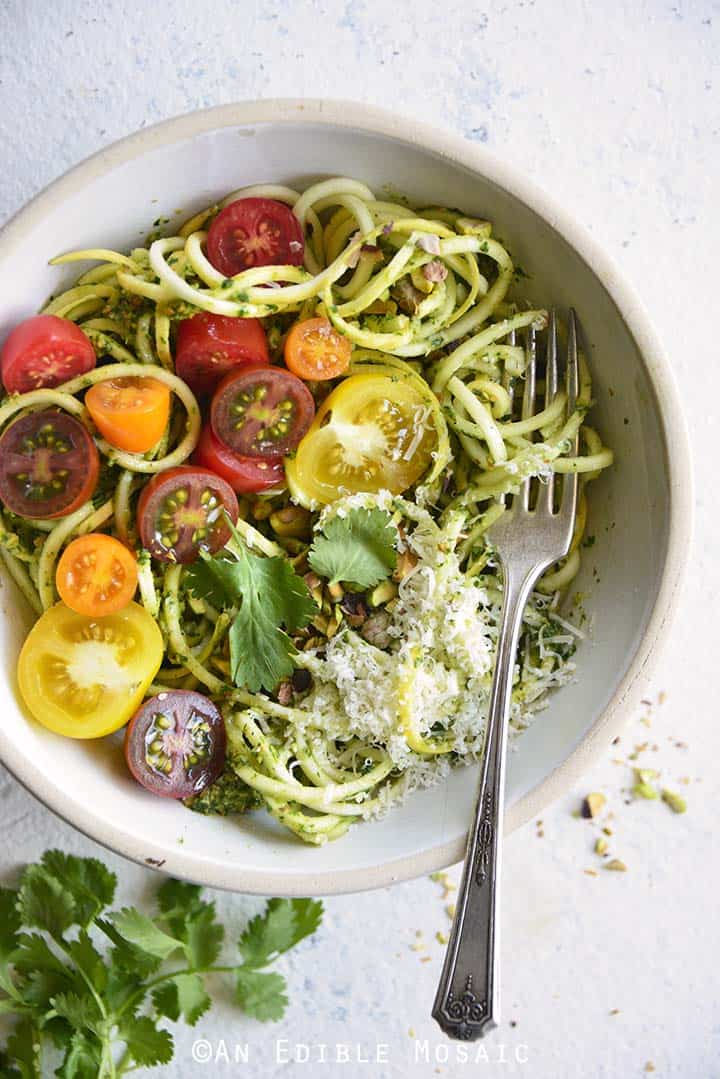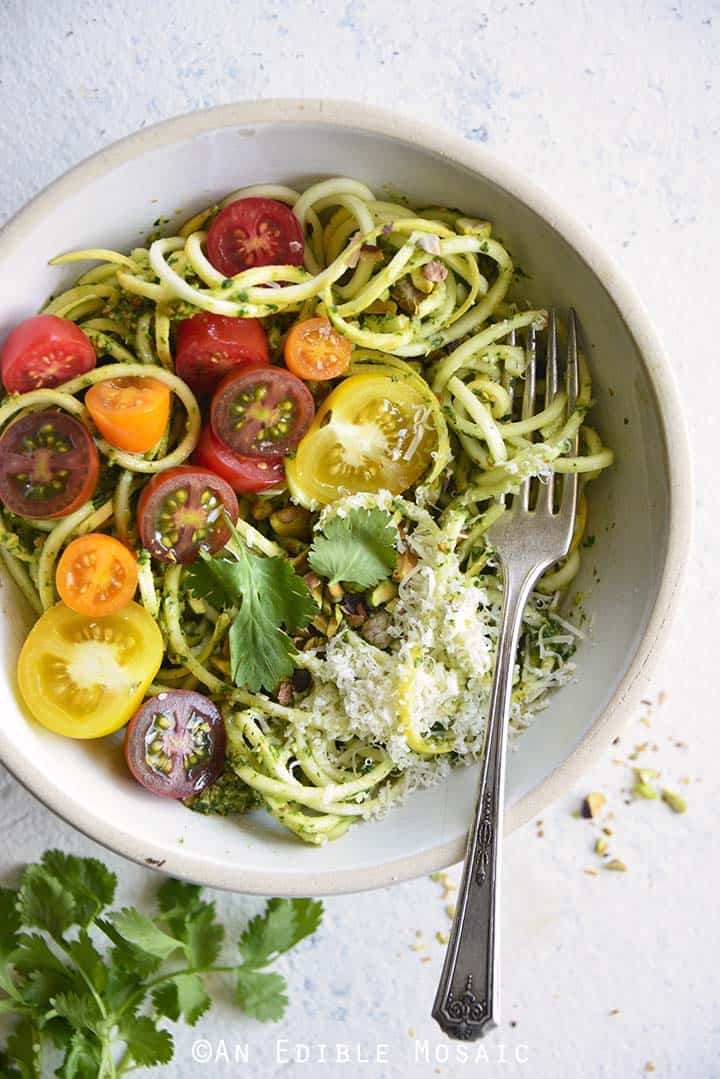 Use this Cilantro Pesto to make Low Carb Spiralized Yellow Squash Noodles with Tomatoes, Pesto, and Parmesan!
How to Freeze Fresh Pesto
I freeze fresh pesto in one of two ways:
In 1-cup glass Pyrex containers with a little headspace at the top for expansion (I leave about 1/4-inch).
In an ice cube tray so I can pop out cubes of pesto as needed.
How Long Will Pesto Keep in the Freezer?
I find that pesto keeps well for at least six months in the freezer.
How to Defrost Frozen Pesto
If the pesto is frozen in a 1-cup container, I let it defrost in the fridge overnight (put a plate under it to catch any water that collects).
If the pesto is frozen in an ice cube tray, I find that it thaws in about 15 minutes at room temperature.
Recipes Using Pesto (switch up the flavor a little and use this Cilantro Pesto Recipe instead of basil pesto!):
Did you make this recipe? Please rate it and leave a comment below because I love hearing from you! You can also tag @anediblemosaic on social media. To stay up-to-date FOLLOW ME on Instagram, Twitter, and Facebook. Xoxo, Faith
Cilantro Pesto Recipe (Low Carb, Keto, Paleo, Gluten Free, Vegan)
This vegan Cilantro Pesto Recipe is fresh and bright-flavored with cilantro and nutty with pistachios, and is a delicious change from a traditional pesto.
Instructions
Add the garlic to a food processor and pulse until minced. Add the pistachios and pulse until finely chopped (don't let it turn into pistachio butter, you want it to have some texture).

Add the cilantro, salt, black pepper, and lemon juice and pulse until the cilantro is finely chopped.

Drizzle in the olive oil while pulsing until it forms a chunky sauce (it shouldn't be completely pureed).

Serve, or store covered in the fridge for up to 3 days.
Faith's Tips
Net Carbs: 1g per serving
This recipe yields about 1 1/4 cups or about 10 (2-tablespoon) servings.
Instead of pistachios, you can play around with the nuts in this recipe. Pine nuts are also delicious, and so are blanched almonds.
Nutrition
Nutrition Facts
Cilantro Pesto Recipe (Low Carb, Keto, Paleo, Gluten Free, Vegan)
Amount Per Serving (2 tablespoons)
Calories 131
Calories from Fat 126
% Daily Value*
Fat 14g22%
Sodium 59mg3%
Potassium 63mg2%
Carbohydrates 2g1%
Protein 1g2%
Vitamin A 39IU1%
Vitamin C 1mg1%
Calcium 8mg1%
Iron 1mg6%
* Percent Daily Values are based on a 2000 calorie diet.
Disclosure: This post contains Amazon affiliate links to products I believe in, which means that even though it doesn't cost you anything extra, I will receive a small amount of money from the sale of these items, which helps me keep this site alive – thank you for helping to support An Edible Mosaic!