This Paleo Cranberry Bread Recipe yields a moist, flavorful loaf with the perfect amount of sweetness to balance fresh cranberries, plus toasted pecans for a nutty crunch!
Cranberry is one of my favorite winter fruits. Yes, it's tart, and yes, you can't just sit down and enjoy a bowlful of cranberries the way you would cherries or blueberries. (Or maybe you could, but I've never heard of anyone doing that!)
But cranberries are like nature's sweet/tart candy. If you appreciate their flavor for what it is, you might end up loving it! Not to mention, cranberries are absolutely loaded with nutrition.
Cranberries are one of the stars of the show in this Paleo Cranberry Bread Recipe. Well, that, and the fact that this bread is super moist and packed with flavor. And it has the perfect amount of sweetness to balance the tart cranberries.
This is basically a quick bread, leavened with baking soda instead of yeast. This loaf is moist and dense, with a lovely soft crumb (you might not even realize it's grain-free!). And it has a sweet aroma, thanks to the addition of a little ground mahlab. (Mahlab makes so many things a little more special; I talk more about it here.)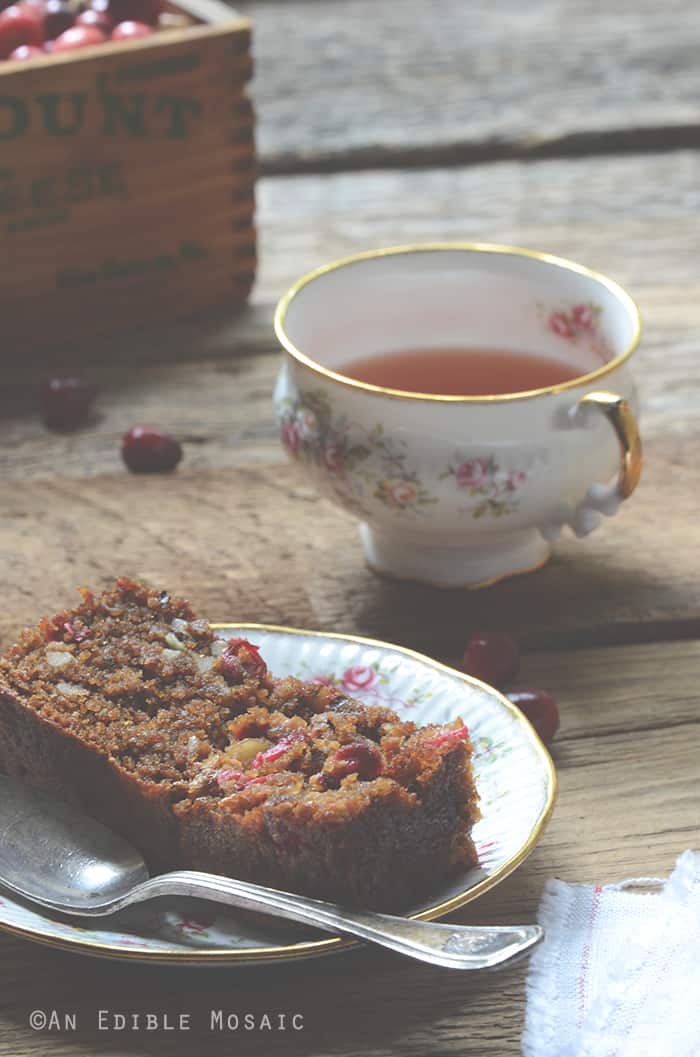 Once you've made this bread once, beware! During the holiday season, this quick bread is one of the few things that I make over and over. It's a hit with everyone (adults and kids alike). Additionally, because it's nutrient-dense, it works for breakfast, snack time, or dessert.
But the fact that it can keep for up to a week in the fridge totally seals the deal for me!
Paleo Cranberry Bread Recipe
This Paleo Cranberry Bread Recipe has a subtle coconut flavor that mellows over time. (Side Note 1: This bread gets better and better as it sits in the fridge for a few days.)
I also thoroughly enjoy this bread toasted. (Side Note 2: Toasting this bread is amazing; it takes an already delicious bread and makes it spectacular!)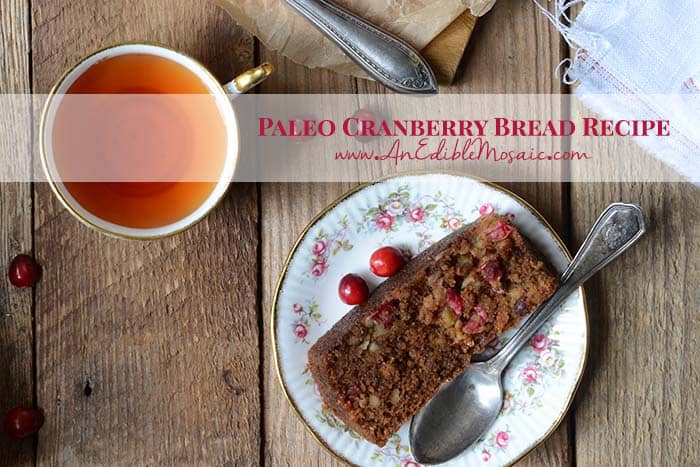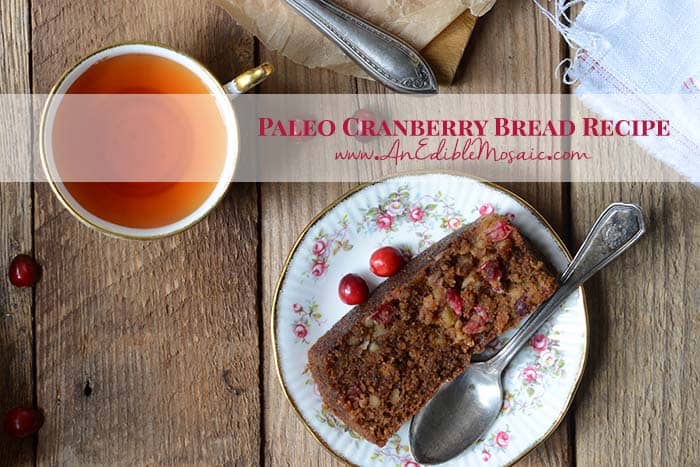 What Can I Do With Raw Cranberries?
One of the best things to do with raw cranberries is bake with them! They add a delicious burst of sweet/tart flavor, and also bump up the nutrition.
If you're worried about this bread being overly tart because of the fresh cranberries, put your fears to rest. It's a sweet bread (but not overly so), with pleasant tart bursts of cranberry flavor that nicely offset the nutty crunch of pecans.
I find that dried cranberries are used more frequently than fresh cranberries in baked goods, which is why I like using fresh here; it's a fun change!
Pro Tip: If you still aren't convinced and want to use dried cranberries instead, go ahead and use ½ cup dried cranberries in this recipe.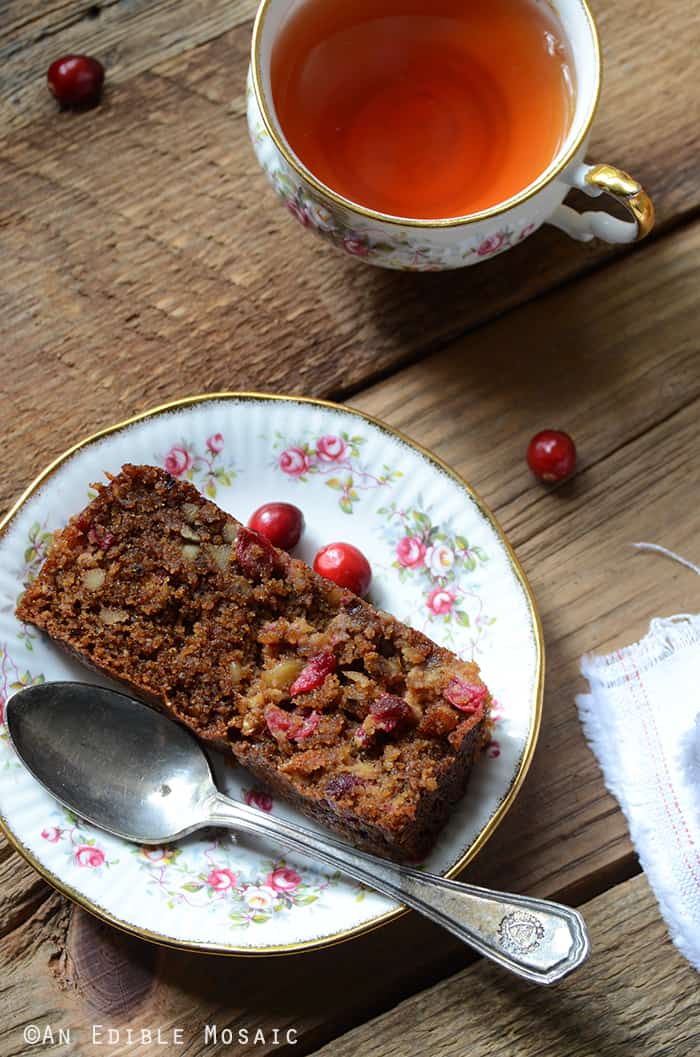 Can You Freeze Cranberries?
Yes, cranberries freeze well!
Here's how to flash freeze fresh cranberries:
Wash and pat the cranberries dry with paper towels.
Spread them out on a baking tray.
Transfer to the freezer for 2 hours or overnight.
Put the cranberries into a gallon-sized zip-top bag.
Label the bag with the date and contents.
Transfer to the freezer for up to 6 months.
More Recipes Using Fresh Cranberries:
Did you make this recipe? Please rate it and leave a comment below because I love hearing from you! You can also tag @anediblemosaic on social media. To stay up-to-date FOLLOW ME on Instagram, Twitter, and Facebook. Xoxo, Faith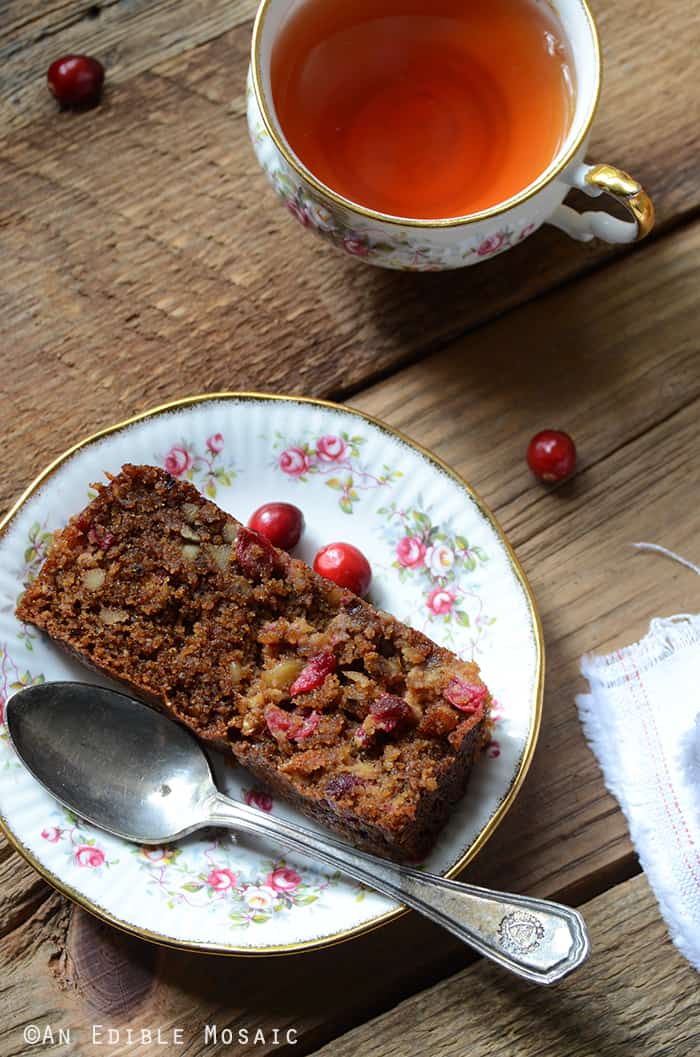 Paleo Cranberry Bread Recipe
This Paleo Cranberry Bread Recipe yields a moist, flavorful loaf with the perfect amount of sweetness to balance fresh cranberries, plus pecans for a nutty crunch!
Instructions
Preheat oven to 350F. Line a 9 by 5-inch loaf pan with parchment paper so that it hangs over all 4 sides, and grease the paper with coconut oil (or ghee).

Use a handheld electric mixer to beat together the coconut palm sugar and coconut oil in a large bowl, then beat in the eggs, and finally the vanilla and apple cider vinegar. Beat in the almond flour, baking soda, salt, and mahlab.

Toss the pecans and coconut flour together to coat in a large bowl; fold the pecans (with any excess coconut flour) and cranberries into the batter.

Transfer the batter to the prepared loaf pan and bake at 350F for 30 minutes, and then turn the heat down to 325F and bake for 15 to 20 minutes. (When finished, a wooden pick inserted into the center of the loaf should come out clean or with just a couple crumbs.)

Cool for 10 minutes in the pan, and then use the parchment paper to pull the loaf out. Let it cool completely on a wire rack before slicing.
Faith's Tips
If there is any bread left the second day, store the leftovers wrapped in plastic wrap in the fridge for up to 1 week.
This bread gets better and better as it sits in the fridge for a few days.
Try this bread toasted; it's my favorite!
Recipe yields 1 loaf; cut it into 12 slices and 1 slice is 1 serving.
Nutrition
Nutrition Facts
Paleo Cranberry Bread Recipe
Amount Per Serving (1 slice)
Calories 289
Calories from Fat 207
% Daily Value*
Fat 23g35%
Cholesterol 41mg14%
Sodium 186mg8%
Potassium 56mg2%
Carbohydrates 19g6%
Protein 7g14%
Vitamin A 69IU1%
Vitamin C 1mg1%
Calcium 58mg6%
Iron 1mg6%
* Percent Daily Values are based on a 2000 calorie diet.
Disclosure: This post contains Amazon affiliate links to products I believe in, which means that even though it doesn't cost you anything extra, I will receive a small amount of money from the sale of these items. Thank you for helping to support An Edible Mosaic!