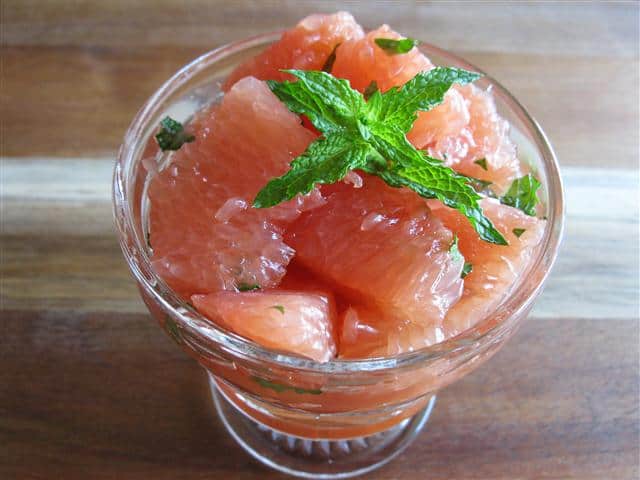 Living in what basically amounts to the tundra in the winter, I have to take winter's perks as they come. One of the things I look forward to most of all during these frigid months is the delicious citrus that is in season. (Of course it's shipped here from somewhere else, but at least we get to enjoy it, lol.) This grapefruit salad is simply flavored but deliciously refreshing, and makes a perfect addition to Christmas Brunch.
Speaking of delicious citrus, I had my first ever Cara cara navel orange yesterday and it was amazing. Their color is ruby red like grapefruit but they taste sweet like navel orange. I didn't have my camera with me, otherwise I would have taken a picture to show you…but trust me, it was a gorgeous orange!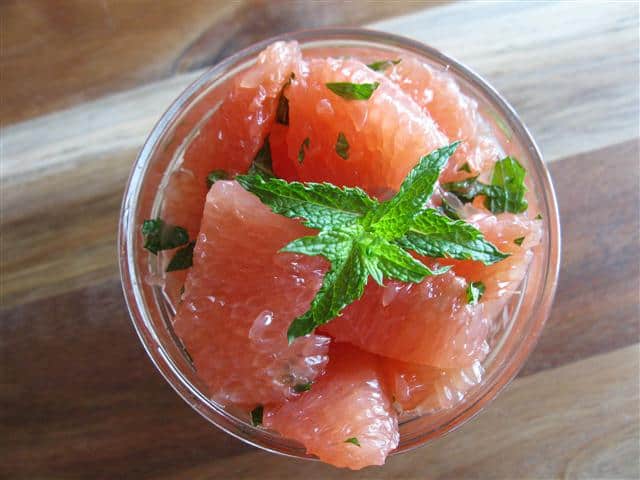 Pink Grapefruit Supremes with Honey & Mint
(Yield: 4 servings)
2 very large grapefruits
2 TB honey (more or less to taste)
2 TB minced fresh mint
To supreme the grapefruit, cut the top and bottom off of the grapefruit, then place it on a cutting board. Start at the top and following the curve of the fruit, run the knife down the length of the fruit to take the peel off; repeat until all the peel is removed. Cut close enough so that you take off all the pith (the white part) but not too deeply so that you waste the fruit. To remove the segments, hold the grapefruit over a bowl and carefully slice inward along the membrane on both sides of a fruit segment, then remove the fruit segment; repeat this for all fruit segments. Once you're done, squeeze the membrane to get all the juice out. Repeat with the other grapefruit. Stir in the honey and mint and serve chilled.