Spanakopita Potato Salad is a fun twist on potato salad, and a unique dish to bring to any bbq, picnic, or potluck!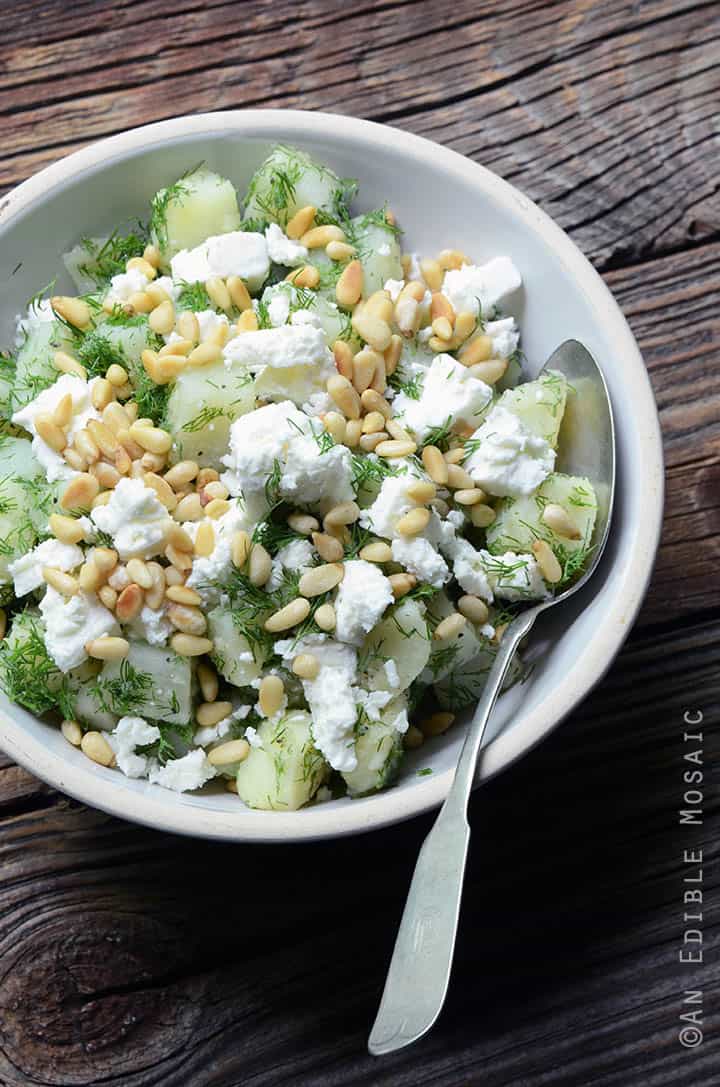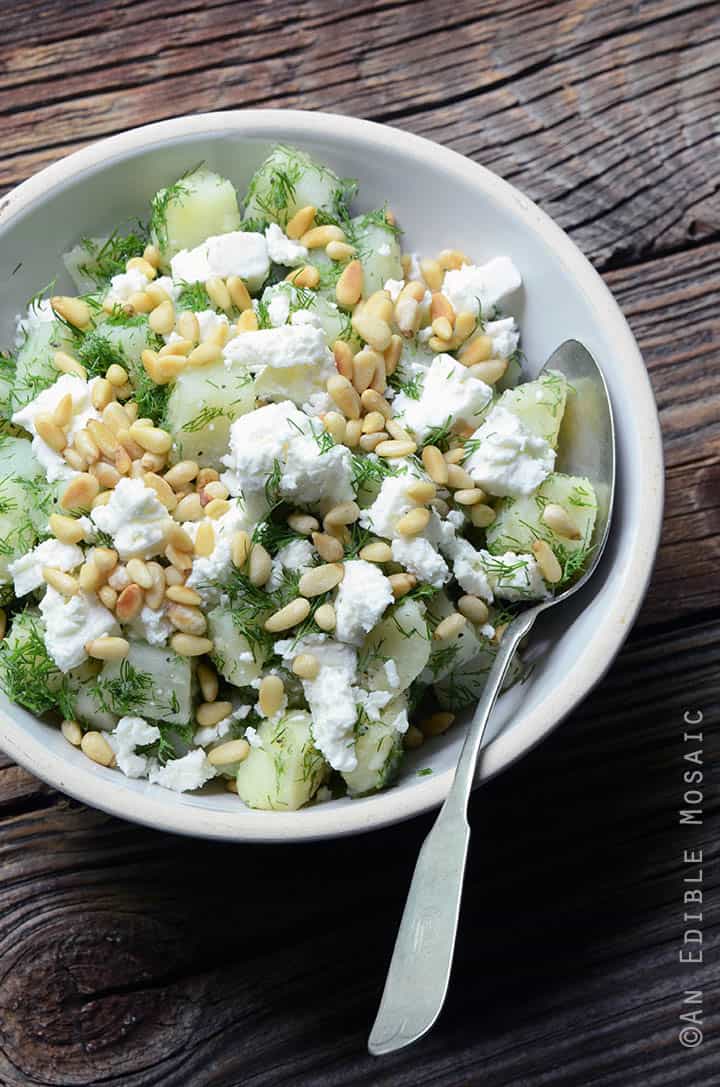 When Mike and I invite neighbors over for dinner, we typically make one of two things, depending on the weather: grilled meats (like chicken, steak, and/or fish) when it's warm out, or a rice-based dish (like biryani or maqluba, or an Indian or Thai curry with rice on the side) when it's cold.
The sides and desserts always get switched up, and in particular, I'm always trying to come up with new salad recipes to keep things interesting. This particular potato salad was a big hit and a great balance of flavors the last time we had friends over for grilling.
Here potatoes are the perfect blank slate to soak up a tangy lemon and olive oil-based dressing, which I find to be a refreshing change from the ubiquitous and sometimes quite heavy mayo-based potato salad. Fresh garlic gives it a kick (in a good way!), and fresh, bright-flavored dill packs a punch of flavor. And because I think it wouldn't be a proper Spanakopita spin-off without feta and pine nuts, they're perhaps the stars of the show.
And here are a few more delicious looking paleo-friendly dishes that are perfect for a summer bbq: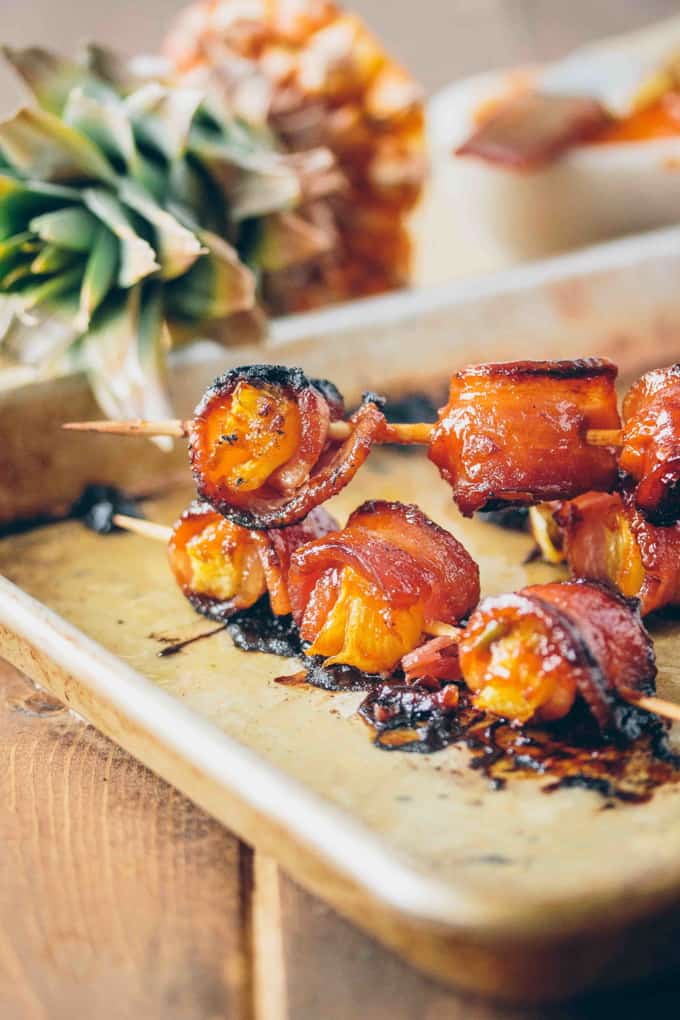 Bacon-Wrapped Pineapple from Angela (Bare Root Girl)
Grilled Mojo Salmon Kebabs from Lauren (Wicked Spatula)
Spicy Jalapeño Turkey Burger from Kari (GI365)
Grilled Pound Cake with Lemon Curd and Berries from Becky (A Calculated Whisk)
What are some of your go-to summer party recipes? (If there's something that's mind-blowingly amazing, please leave a link the comments below!)
Spanakopita Potato Salad
Prep time:
Cook time:
Total time:
Spanakopita Potato Salad is a fun twist on potato salad, and a unique dish to bring to any bbq, picnic, or potluck!
Ingredients
1½ lbs (680 g) potatoes, peeled and cubed
2 tablespoons fresh lemon juice
3 tablespoons extra-virgin olive oil
1 to 2 cloves garlic, crushed (more or less to taste; or use garlic powder to taste if you're leery of using raw garlic)
½ teaspoon honey
½ teaspoon salt (reduce to ¼ teaspoon if your feta is very salty)
¼ teaspoon black pepper
⅓ cup fresh chopped dill
¼ cup crumbled feta
2 tablespoons toasted pine nuts
Instructions
Add the potatoes to a medium saucepan and cover them with cold water by 2 to 3 inches. Put a lid on the saucepan and bring to a boil. Turn the heat down so it doesn't boil over, and then cook with the lid ajar until the potatoes are fork-tender, about 5 to 7 minutes. Drain the potatoes and cool a few minutes.
Whisk together the lemon juice, olive oil, garlic, honey, salt, and black pepper in a medium-sized bowl. Toss in the potatoes and refrigerate at least 2 hours (or up to 2 days) before serving so the flavors can blend.
Right before serving, transfer the potato salad to a serving bowl, stir in the dill, and sprinkle on the feta and pine nuts.
Notes
Paleo Version:
There's a debate in the paleo community as to whether white potatoes are paleo or not; obviously, if you're a paleo eater and don't include them in your diet, this potato salad isn't for you. (You can read more about paleo eating and white potatoes on
Stupid Easy Paleo
and
Paleo Leap
, and also, remember that as of July 2014 they're
Whole30-approved
.) If you're a paleo eater and you occasionally enjoy white potatoes, to keep this salad paleo, omit the feta and double the amount of pine nuts.