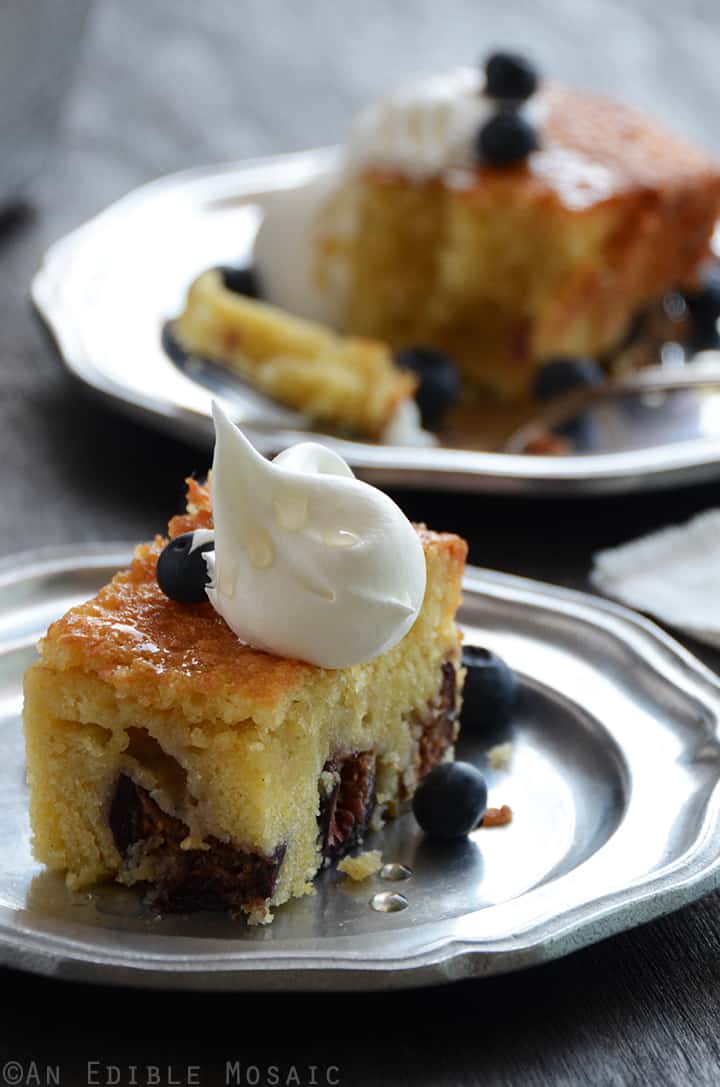 The first time I had a fresh fig was in Damascus on mine and Mike's honeymoon.
Mike and I were served a platter of fruit (it's the standard fare served after a big meal there…not really dessert, since that comes later. More like an after-dinner treat). A few ripe, very tempting figs rested on an ornately designed silver platter. One fig was cut in half, its deep red, juicy interior exposed; it looked soft and sweet and was practically calling out to be eaten. One bite and I was sold; that was all it took to ensure I turn into a fig-crazed maniac until I get my fix of figs every fig season.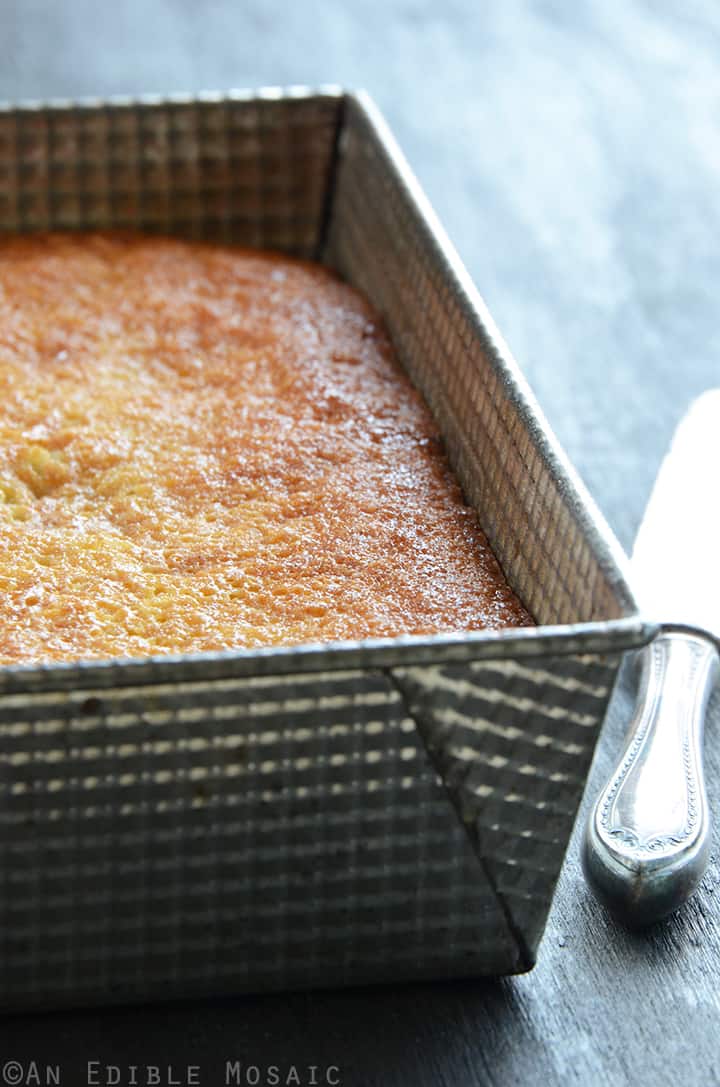 Sadly, fresh fig season is a short-lived time of bliss. This year I got my fill by ordering 4 pints of figs online from The Fig Lady (I looked high and low and sadly, the figs in my area were very much sub-standard this year). But I'm happy to say they arrived perfectly ripe and, well, perfect in general.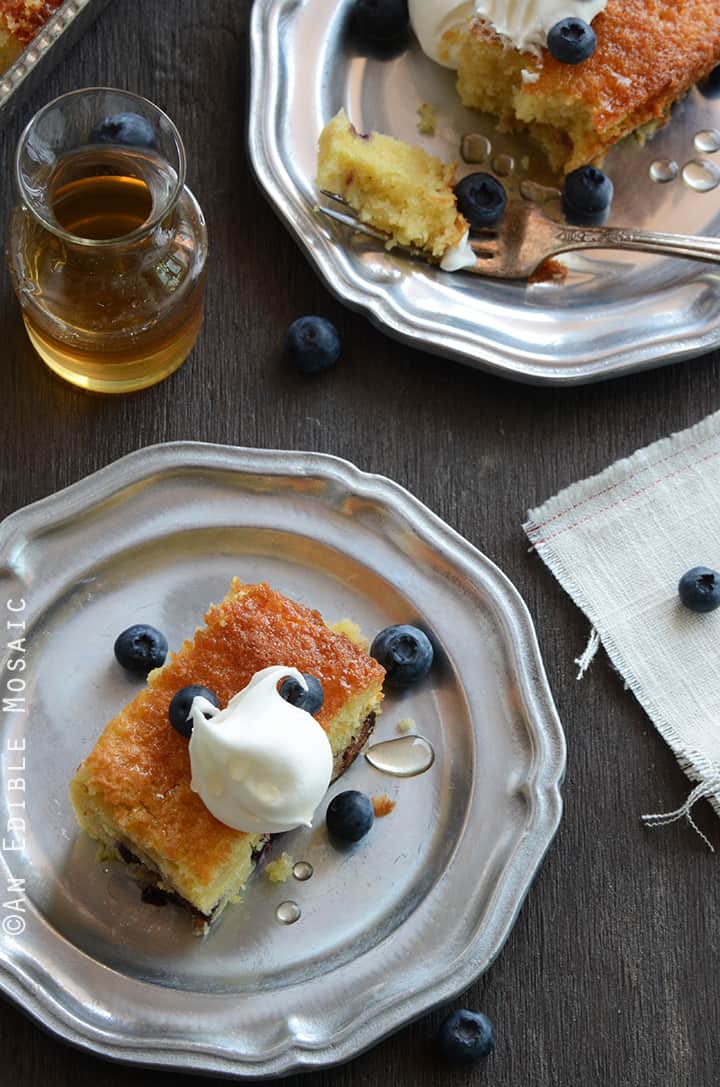 We enjoyed most of the figs raw, but since there are only so many figs two people can eat raw before they spoil, I wanted to bake with them. I wanted a cake with a rustic, coarse texture (the kind of cake you get when baking with cornmeal or semolina) and moistened with sticky, sweet-scented syrup. Since figs inevitably remind me of all things Middle Eastern, my mind immediately went to a classic Middle Eastern cake called Harissa, a semolina-based cake, which is also called Basbousa or Namoura, depending on where you are or who you're talking to.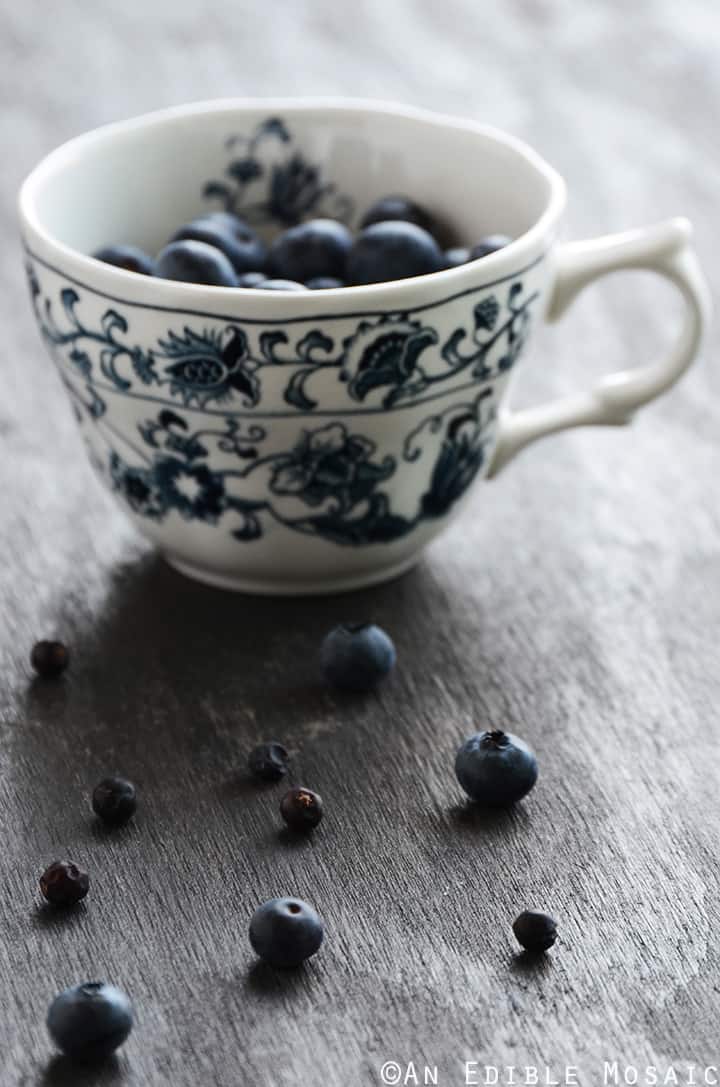 Fresh Blueberries and Dried Juniper Berries
I have a lovely recipe for Harissa that I included in my cookbook (which is being released on November 6; please check out The Book page for more details!), but this time I wanted something just a little different. Cornmeal was the perfect choice, lending wonderful texture and density to this cake. I served this cake with fresh blueberries because I thought they were a nice play on the juniper berries I used to scent the Spiced Vanilla Syrup; any fresh berries (or even quartered figs) would make a beautiful garnish though.
If you still have access to fresh figs I recommend making this cake; if not, definitely bookmark it for next year.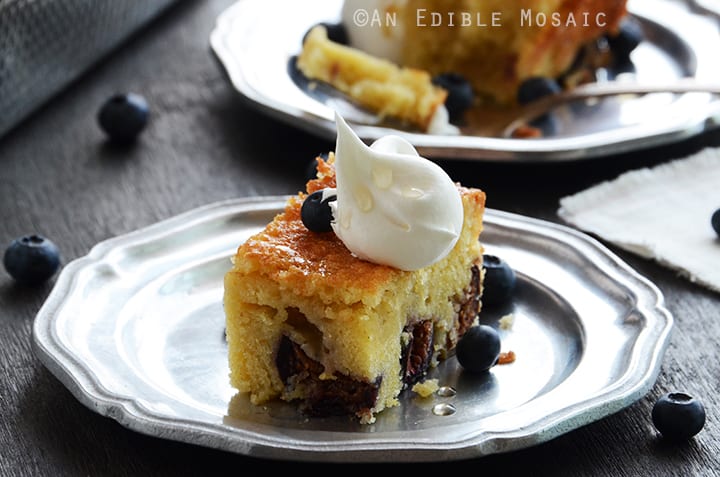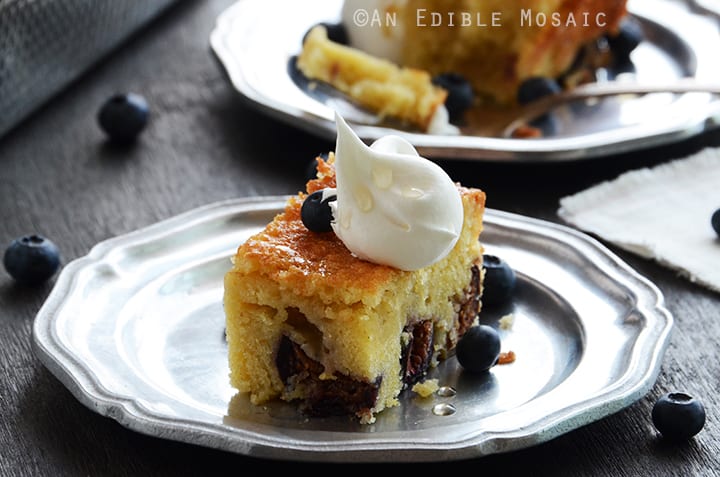 Golden Vanilla-Fig Cake
Ingredients
Spiced Vanilla Syrup:
½ cup sugar
¼ cup plus 2 tablespoons water
1 teaspoon lemon juice
8 dried juniper berries (or 1 sprig fresh rosemary)
8 whole black peppercorns
½ teaspoon pure vanilla extract
Cake:
1 cup all-purpose flour
½ cup yellow cornmeal
2 teaspoons baking powder
¼ teaspoon salt
8 tablespoons (1 stick) butter, at room temperature
1¼ cups sugar
3 large eggs
1 teaspoon pure vanilla extract
1 teaspoon vanilla bean paste
½ cup milk (any kind you like)
6-8 oz fresh figs, washed, patted dry, stems removed, and halved
Other:
Butter, to grease the pan
Flour, to grease the pan
Whipped cream, for serving (optional)
Fresh blueberries, for serving (optional)
Instructions
Preheat oven to 350F; butter and flour a cake pan (I used a pan 10½ inches long by 6½ inches wide by 2½ inches deep).
Make the Spiced Vanilla syrup first because the syrup should be cold and the cake hot when the syrup is poured on the cake (so the cake absorbs the syrup). To make the syrup, add the sugar, water, lemon juice, juniper berries, and peppercorns to a small saucepan. Bring to a boil over medium heat, giving the pan an occasional swirl to help the sugar dissolve; turn heat down slightly and boil 2 minutes. Turn heat off and stir in vanilla extract. Cool before pouring over cake (the syrup will thicken slightly as it cools).
For the cake, whisk together the flour, cornmeal, baking powder, and salt in a medium bowl. Beat the butter and sugar together until light and fluffy, then beat in the eggs one at a time until the mixture is fluffy and pale yellow. Beat in the vanilla extract and vanilla bean paste. Stir the flour mixture into the butter mixture alternatively with the milk, beginning and ending with the flour mixture. Be careful not to over-mix; the batter should be fairly thick.
Pour the batter into the prepared pan and let it rest for 3 minutes (it will thicken even more). Arrange the fig halves in a single layer on top (don't worry too much about perfection; the figs will sink), and bake until golden on top and a toothpick inserted into the center of the cake comes out clean, about 1 hour.
Right before using, remove the juniper berries and peppercorns from the Spiced Vanilla Syrup. As soon as the cake comes out of the oven, slowly pour half of the cooled syrup onto the hot cake, reserving the rest of the syrup to pass around for people to drizzle on top when serving. (Alternatively, you can pour the whole amount of syrup on top if you like; the cake will absorb it if it's hot and the syrup is cold.)
Let the cake sit at room temperature 2 hours (or overnight) to absorb the syrup before serving. Serve topped with a dollop of whipped cream and a small handful of fresh blueberries, if desired.