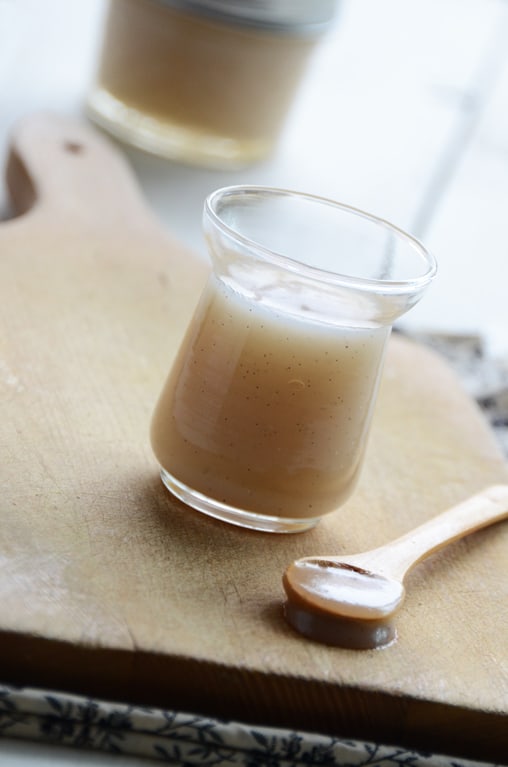 Today's recipe for my 7 Days of Festive Holiday Treats is something that is perfect for gifting. It's quite unique – give a festively wrapped jar of this syrup to a friend, then watch them read the label and their eyes light up as they exclaim Oooh, what is this?!
The fact that it is as easy to make is it is exotic-sounding will be our little secret though.
The syrup is about as thick as honey, with a sweet coconut flavor. If you can find it, definitely don't skip the vanilla bean paste; although, I think if you have a pod of vanilla on hand, scraping out the seeds and using that instead would work just as well. (And if you do so, be sure you don't discard the pod since you can very easily make your own vanilla-scented sugar; here's a recipe for Vanilla Sugar from Eat the Love if you're interested.)
So, how to use this syrup? My favorite use for it is on warm toast. To make it breakfast, I'll top a slice of my favorite sprouted grain bread with ricotta cheese, banana slices, and a drizzle of this gorgeous syrup (it's pretty rich so a little really does go a long way). It tastes like a cheese pastry.
This syrup is also fantastic as a sweetener for tea or other hot beverages. I've drizzled it over frozen yogurt, banana soft serve, and pancakes. You could also spread it on muffins or scones. Or use it to sandwich cookies together. The possibilities are endless.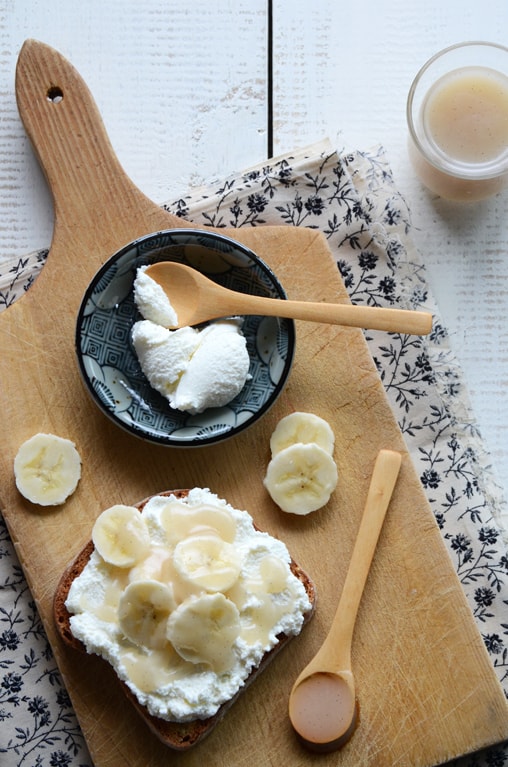 Coconut-Vanilla "Honey" Syrup
Prep time:
Cook time:
Total time:
Yield:
About 2½ cups of syrup
Ingredients
1 (13.5 oz) can coconut milk
7 oz cream of coconut
1½ cups sugar
2 tablespoons lemon juice
1 tablespoon powdered fruit pectin
1 teaspoon vanilla bean paste
Instructions
Combine the coconut milk, cream of coconut, sugar, and lemon juice in a medium saucepan.
Bring to a rolling boil over high heat, then turn heat down slightly and boil vigorously 10 minutes.
Whisk in the powdered pectin and bring to a full boil; boil vigorously 2 to 3 minutes.
Turn off heat and whisk in the vanilla bean paste.
Transfer to sterilized glass jars and store at room temperature up to 6 months.