Here honey, don't forget the muffins! I practically shoved a tray of these muffins at Mike as he was running out the door one morning on his way to work.
All the sudden he picked one up and started sniffing it. Wait, I know this flavor…it's something I used to love as a kid! What's in them, do I like these?, he asked, holding up a muffin to examine it further. Instead of waiting for me to answer, he started grabbing muffins off the tray like there was no tomorrow, telling me to save them for him for later.
I had to laugh. Separately he doesn't like kiwi, coconut, or lime. Or muffins. But apparently the combination of these three flavors reminded him of something he used to be crazy about, despite the fact that it's in muffin form.
As for me, before I made them, I had no idea that these muffins would be as delicious as they turned out. I first started playing around with a kiwi muffin recipe because I had a (huge!) excess of kiwi just sitting around in my fridge…but then I ended up making the recipe three more times because not only did I have kiwi to spare, but a husband who couldn't get enough, lol. I like to enjoy these muffins with a cup of cold almond milk spiced with cinnamon.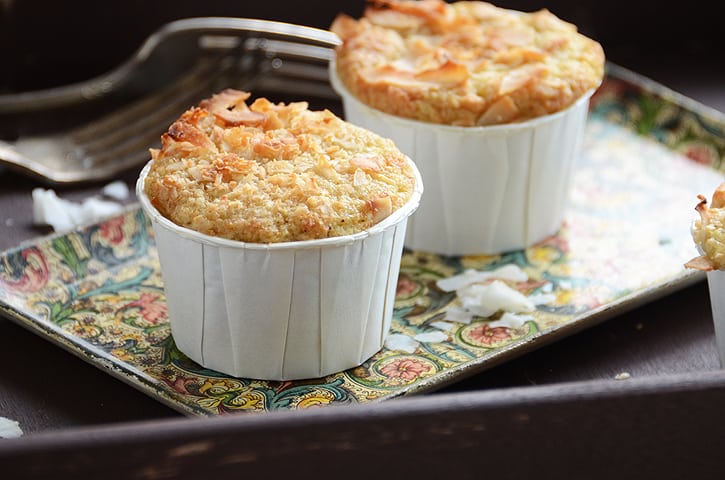 Kiwi, Coconut, & Lime Muffins
Yields 12 muffins
1 ¼ cup all-purpose flour
1 ¼ teaspoon baking powder
½ teaspoon baking soda
¼ teaspoon salt
½ cup unsweetened shredded coconut
3 tablespoons butter, at room temperature
¾ cup sugar
1 large egg
1 ½ teaspoons pure vanilla extract
½ teaspoon coconut extract
2 tablespoons coconut milk
2 medium kiwis, peeled and pureed*
1 teaspoon lime zest
4 tablespoons unsweetened coconut flakes (for topping)
*You should get ½ cup plus 2 tablespoons of kiwi puree; if you don't get this much, add enough water to the kiwi puree so you have this amount.
Preheat oven to 400F and line a muffin tray with 12 paper liners.
Whisk together the flour, baking powder, baking soda, salt, and unsweetened shredded coconut in a medium bowl; set aside. In a large bowl, cream together the butter and sugar, then whisk in the egg until light, fluffy, and pale yellow. Whisk in the vanilla extract, coconut extract, coconut milk, kiwi puree, and lime zest. Use a wooden spoon to stir the dry ingredients into the wet all at once, being careful not to over-mix (it's better to see a few streaks of flour than to over-mix).
Divide the batter into the 12 lined muffin wells (each well with be about ½ to ⅔ full); sprinkle 1 teaspoon of flaked coconut on top of each muffin. Bake until a toothpick inserted inside comes out clean, about 14 to 16 minutes.