When Mike and I can't agree on dinner, I like to cook "his" and "hers" style.
Sometimes it's completely different meals, like spaghetti with homemade beef ragu for him and fish or chicken with a side of veggies (preferably roasted) for me. But if I'm lucky, it's a similar meal that's easily customizable for both of our tastes, like salad with different toppings or sandwiches with different fillings…or quesadillas!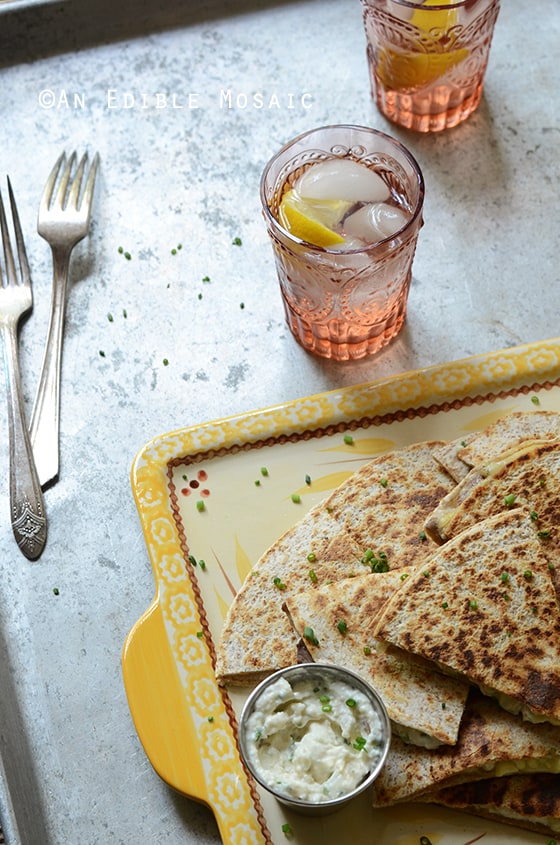 These quesadillas feature a few simple ingredients. Truth be told, this particular recipe is really just a great way to combine a few leftovers into a completely different meal…because everyone knows that other than a few exceptions (like Thanksgiving dinner), leftovers are best reinvented into something that barely even resembles the meal that they started out as. (That way, no one gets bored!)
But I'm about to let you in on a little secret: quesadillas are typically my go-to "different" meal. They are so easy to make: just sandwich whatever leftover veggies and/or meat you have on hand between soft tortillas, add cheese, and cook! Reusing leftovers doesn't get any easier.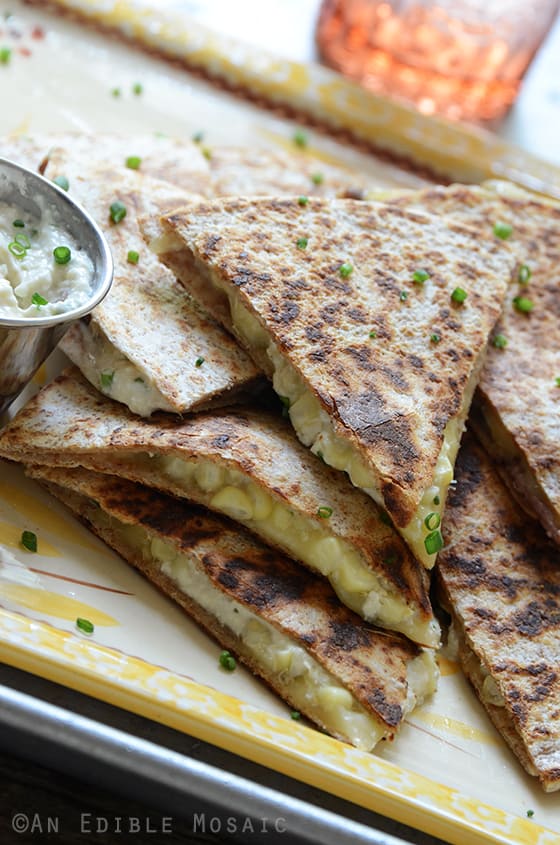 With this particular recipe, one day I had an ear of steamed corn, half a grilled steak, and some of my Healthy Roasted Garlic and Chive Cottage Cheese Crema leftover in the fridge at dinnertime. These quesadillas were the result.
Next time I make this, it will be as a meal in its own right instead of to just use up leftovers.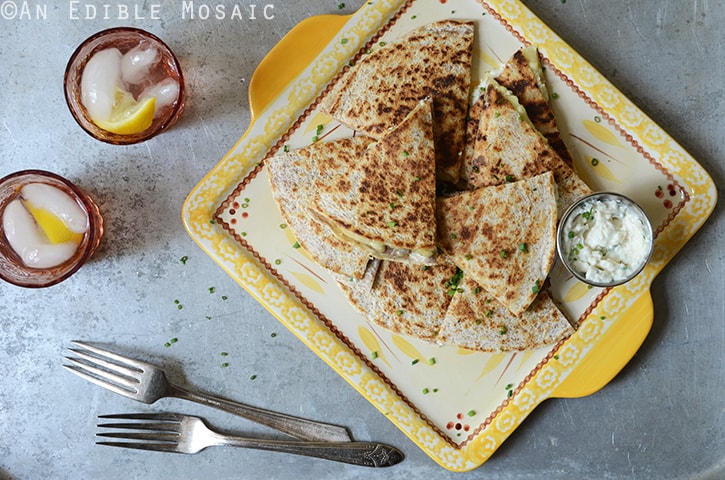 "His" and "Hers" Fresh Corn Quesadillas with Roasted Garlic and Chive Crema
Prep time:
Cook time:
Total time:
Yield:
2 main course-sized servings, or 4 to 6 appetizer-sized servings
Ingredients
4 (8 inch/20 cm) soft flour tortillas (I used whole wheat)
½ cup Healthy Roasted Garlic and Chive Cottage Cheese Crema, plus more for serving
Kernels from 1 large ear (about 1 cup) of white or yellow corn that has been steamed or grilled (I used steamed white corn)
2 oz (60 g) cooked steak, fat trimmed off and thinly sliced
4 oz (115 g) Jarlsberg (or Swiss) cheese, shredded (about 1 cup shredded)
2 teaspoons minced fresh chives, for garnish
Instructions
Spread ¼ cup of the crema on each of 2 tortillas; divide the corn in half and sprinkle it on top of both tortillas.
Top 1 tortilla with the sliced steak. Season with salt and black pepper if the steak hasn't already been seasoned.
Sprinkle the shredded cheese on top of both tortillas (on top of the steak on one and on top of the corn on the other).Place the remaining 2 tortillas on top of the layer of shredded cheese on each.
Preheat a large skillet over medium heat; once hot, add 1 quesadilla, turn the heat down to medium-low, and cook until it's browned on both sides and the cheese is melted (about 3 to 4 minutes on the 1st side and 2 to 3 minutes on the 2nd side, flipping once). Remove the cooked quesadilla and cook the other one the same way.
Let the quesadillas sit for 5 minutes, and then cut each into 6 wedges.
Transfer to a serving plate and sprinkle on the chives. Serve with more crema on the side for dipping.