Low-Carb Broccoli Stem Gratin is everything we love about a good gratin; it's a rich, creamy, and cheesy side dish that you can pair with any number of things, from roast chicken to grilled steak. And bonus, this version uses broccoli stems so they don't go to waste!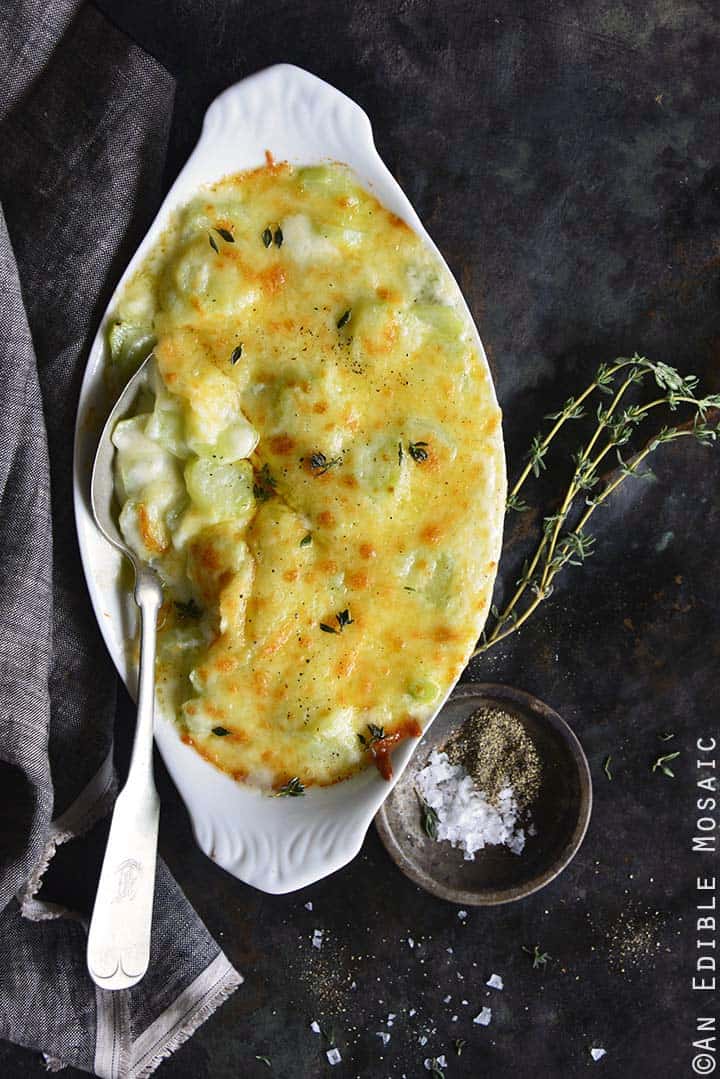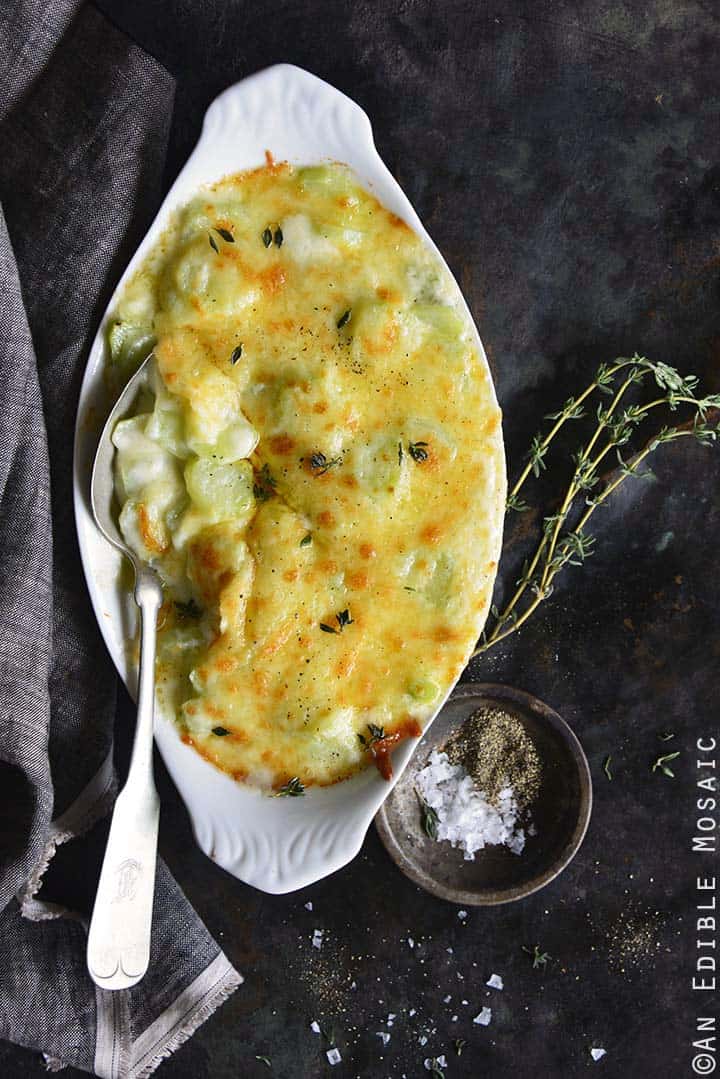 Most of us hear the word gratin and think potato. And most of us hear broccoli stem and think toss it. But neither of those are set in stone! Reducing food waste is always a goal of mine, so when I found myself with a pretty good amount of broccoli stems in the fridge, I wanted to think of a delicious way to cook them. And the other thing is, gratin can be just about any vegetable you want it to be! I love a good potato gratin, but this broccoli stem version is lower in carbs and arguably every bit as delicious.
What is Gratin?
A gratin is a recipe (basically a casserole, or even just an ingredient, such as thinly sliced potatoes) that's topped with something that will brown on top (like shredded cheese and/or breadcrumbs), and is baked in a shallow dish. The name gratin comes from the French word gratiner, meaning "to broil". Potato gratin is quite possibly the most common, but gratin can be made out of just about any kind of seafood, meat, pasta (like baked macaroni and cheese), or vegetable (commonly things like potato, cauliflower, or zucchini).
How to Make Potato Gratin
The variety of gratins are nearly endless, but because potato gratin is perhaps the most popular, we'll talk about that one. To make it, start by liberally greasing the inside of a shallow baking dish (a gratin dish!) with butter; cut a clove of garlic in half and rub that along the inside as well.
Heat up a mixture of cream, whole milk, salt, black pepper, a touch of fresh-ground nutmeg, and if you like, a couple sprigs of fresh thyme and perhaps an extra clove of garlic in a saucepan on the stovetop until it reaches a slow boil. Turn the heat off, strain the mixture, and gently stir in very thinly sliced potatoes until coated.
Transfer the potato and liquid to the prepared dish, taking the time to layer them if you like (the creamy liquid should come just under the level of the potato, leaving enough headspace at the top for bubbling to occur). Sprinkle a generous handful of grated cheese (Gruyère, Parmesan, or a combination of both work particularly well).
Bake at 325F until the potatoes are fork-tender, about 1 ½ hours, covering the top with foil if it starts to get too brown. Alternatively, if the top needs additional browning, run it briefly under the broiler.
Difference Between Potatoes au Gratin, Potatoes Dauphinoise, and Scalloped Potatoes
Potatoes au Gratin, Potatoes Dauphinoise, and Scalloped Potatoes are all very similar with just slight differences...
Potatoes au Gratin
Thinly sliced potatoes + cream/milk topped with cheese (and sometimes layered with cheese or with cheese mixed into the cream as well).
Potatoes Dauphinoise
Thinly sliced potatoes + cream/milk (no cheese). The starch from the potatoes is the only thickener in this dish.
Scalloped Potatoes
Thicker sliced potatoes + whole milk (no cheese), and usually with flour in some form. I've seen a few scalloped potato recipes that use a simple béchamel sauce (butter cooked with flour and make into a creamy sauce by whisking in milk). However, growing up my mom made her scalloped potatoes with flour.
She'd butter the inside of a Dutch oven and arrange a layer of thick-cut potatoes on the bottom. Sprinkle on a bit of flour, and season with a little salt and pepper. She'd continue this way until the Dutch oven was about ⅔ to ¾ full (be sure to leave enough room at the top so it doesn't bubble over), add enough milk to come just under the level of potatoes, put the lid on the Dutch oven, and cook it at 350F until the potatoes were tender, about 1 hour.
Sometimes she'd layer ham steak in with the potatoes and serve it along with buttered green beans or another vegetable for a full meal. As an adult, I've adopted her method for making scalloped potatoes (minus the ham steak, which was never my favorite).
Cooking with Broccoli Stems/Stalks
So why broccoli stems in this recipe?, you ask. I can't tell you how many times I've tossed (or watched other people toss) broccoli stems after chopping up the florets to cook. I had no idea they could be eaten! It turns out they can, and they're delicious. And not only that, but broccoli stems are actually as nutritious as broccoli crowns that get chopped into florets. Just remember to peel the outer layer off broccoli stems before chopping them because it's a bit tough. And if you're wondering what broccoli stems taste like – broccoli!
How to Reduce Food Waste
Here are a few other ways you could use up broccoli stems (don't forget to peel off the outer layer):
Thinly slice broccoli stems and add them to soups/stews
Julienne broccoli stalks and add them to stir-fries
Grate broccoli stalks and make them into coleslaw
Slice broccoli stems, season them with garlic, salt, and black pepper, and roast them in olive oil
Other Gratin Recipes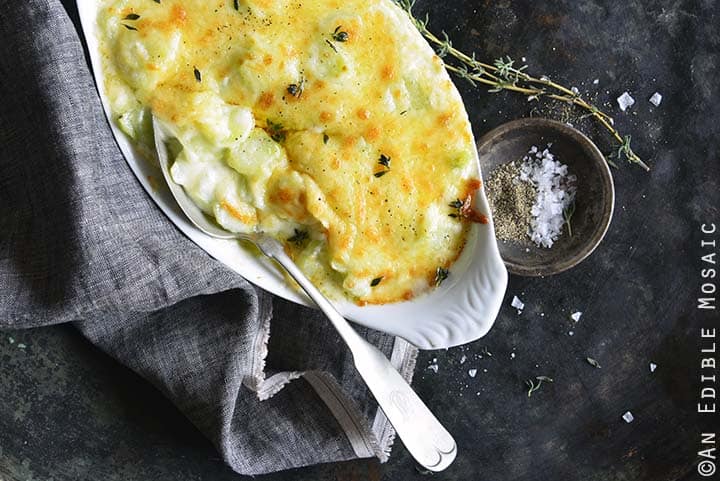 Low-Carb Broccoli Stem Gratin
Prep time:
Cook time:
Total time:
Low-Carb Broccoli Stem Gratin is everything we love about a good gratin; it's a rich, creamy, and cheesy side dish that you can pair with any number of things, from roast chicken to grilled steak. And bonus, this version uses broccoli stems so they don't go to waste!
Ingredients
2 lbs (907 g) broccoli stalks
2 tablespoons unsalted butter
2 large cloves garlic, minced
1 cup (240 ml) heavy whipping cream
¼ teaspoon salt
⅛ teaspoon black pepper
6 oz (170 g) shredded cheese (about 1½ cups shredded; see Note)
Instructions
Preheat the oven to 400F.
Peel the outer layer off the broccoli stalks (because that's the tough part, the inside is tender). Thinly slice the stalks into circles. You should get about 2½ to 3 cups of sliced broccoli stalk.
Add the butter to a large skillet over medium heat. Once melted, add the garlic and cook 30 seconds, stirring constantly.
Add the broccoli stalks, cream, salt, and pepper to the skillet with the garlic. Bring up to a boil, and then turn the head down slightly so it doesn't boil over and cook (uncovered) until the stalks are fork-tender, about 5 minutes, stirring occasionally.
Stir half of the cheese into the creamy broccoli stalk mixture.
Pour the mixture into an 8 by 8-inch baking dish or equivalent and sprinkle the remaining cheese on top.
Bake until the gratin is bubbling throughout, about 10 to 15 minutes, and then broil it briefly to brown the top.
Serve.
Notes
Cheese:
For this recipe, I used
Cabot Mac & Cheese Shredded Cheese
, which is a mix of Vermont Sharp cheddar and nutty Swiss-like Alpine cheddar, and is perfect in this recipe! If you can't find it, I recommend using a mix of shredded Gruyère and white cheddar.