Save money and learn how to make this flavorful Roasted Red Pepper Hummus Recipe at home in less than 10 minutes! You'll never want store-bought hummus again!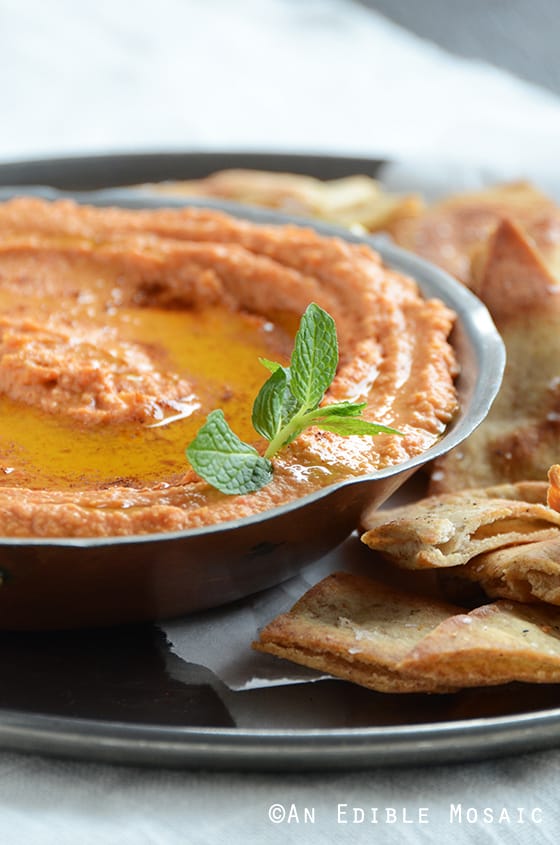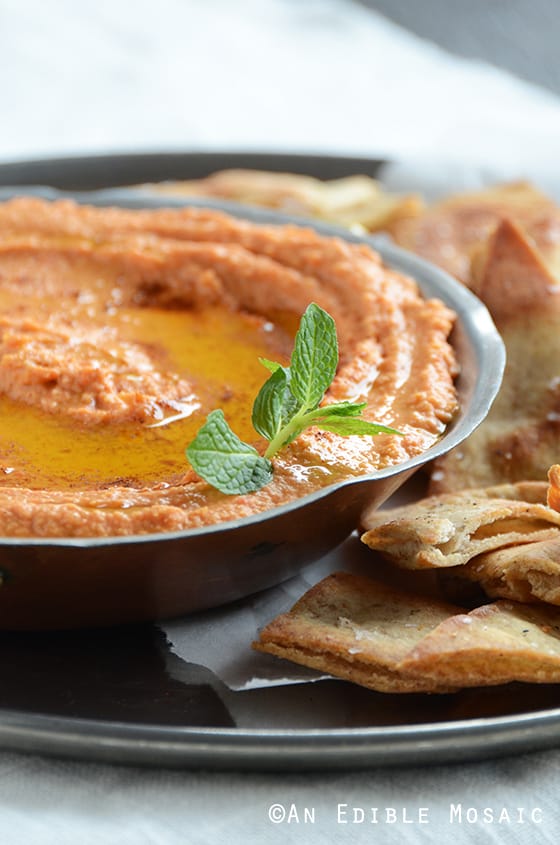 My hubby, Mike, who grew up in the Middle East, doesn't go for any kind of "flavored" hummus.
No crazy additions of things like pumpkin. (At the mention of that, he gave me a shocked/horrified look and muttered, Do people really do that?; my reply, Why yes, yes they do.). And no sundried tomato, pesto, or even roasted garlic (because of course garlic should be raw in hummus!).
The word "hummus" in Arabic actually refers to chickpeas themselves (and what we think of as hummus is called Hummous bil Tahina or M'sebaha in Arabic), so of course chickpeas is the only legume that should be used. According to my hubby, none of these creative uses for other legumes like white beans, edamame, black beans, or red lentils is actually hummus.
Classic Hummus Ingredients
Classic hummus should only consist of the following:
Chickpeas
Tahini
Lemon juice
Salt
Raw garlic
A bit of water as necessary to thin it out
Cumin, which is optional (it's for flavor, but according to my mother-in-law, it's also to help with tummy troubles that beans and other legumes can sometimes cause)
Topped with a generous drizzle of extra-virgin olive oil
And then hummus is ready to be dipped into with fresh flatbread. Period. (But as a tiny exception, there are a variety of acceptable hummus toppings in the Middle East, including sumac, toasted pine nuts, or browned and spiced ground meat.)
Roasted Red Pepper Hummus Recipe
Classic hummus is great, but I am of the mind that if something tastes good and is healthy to boot, who am I to say it shouldn't be done? I enjoy authentic hummus as much as the next girl, but I also like fun flavored varieties.
This Roasted Red Pepper Hummus Recipe deviates a bit from a classic hummus not only in flavor, but also because this recipe whips up FAST.
Usually I will take the time to soak the chickpeas overnight and then cook them, removing as many of the skins as I can find without actually sitting down and painstakingly removing every single one. (Although I know – because my mother-in-law told me – that removing all the skins is the way to the smoothest hummus ever!)
But sometimes I just want a quick, flavorful hummus that comes together in less than 10 minutes it takes to make my own pita chips. And that's why this hummus, my friends, defies all the rules about what hummus should be. Except that it tastes amazing.
More Non-Traditional Fun Hummus Recipes to Try:

Did you make this recipe? Please rate it and leave a comment below because I love hearing from you! You can also tag @anediblemosaic on social media. To stay up-to-date FOLLOW ME on Instagram, Twitter, and Facebook. Xoxo, Faith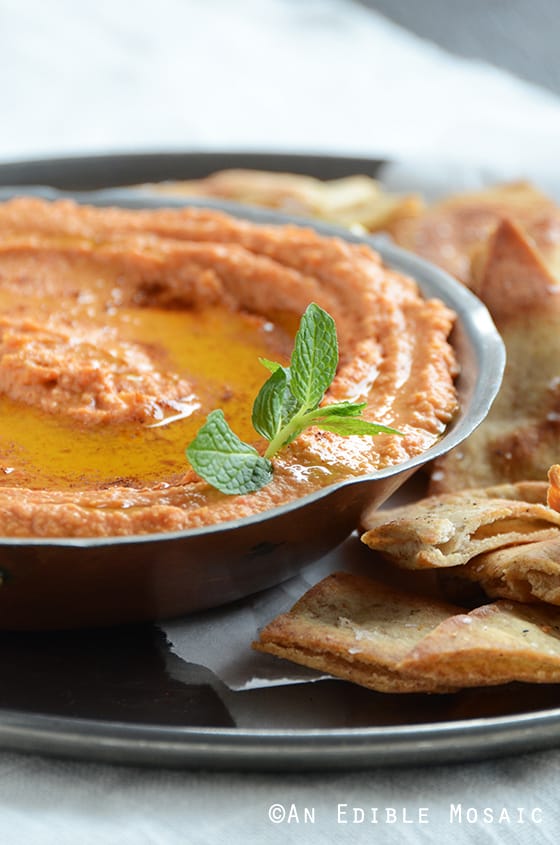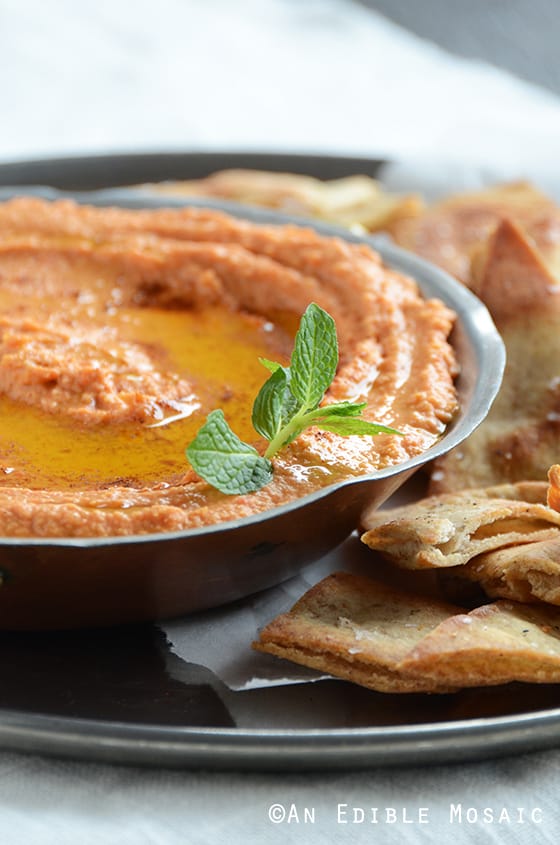 Roasted Red Pepper Hummus Recipe
Save money and learn how to make this flavorful Roasted Red Pepper Hummus Recipe at home in less than 10 minutes! It's way better than store-bought!
Instructions
Combine all ingredients except the olive oil in a food processor and puree until smooth. To serve, spread the hummus in a shallow dish, drizzle the oil on top, and sprinkle on a little more smoked paprika.

Serve the hummus along with fresh pita bread or pita chips for dipping.
Faith's Tips
This hummus recipe makes about 2 cups of hummus, which is 8 (¼-cup) servings.
The nutrition information is for the hummus only; it doesn't include any dippers.
Make Ahead: This hummus can be refrigerated in a sealed container up to 1 week.
Serving Tip: In addition to pita chips, the hummus can also be served with fresh crudités or fresh pita bread.
How to Make Baked Pita Chips:
2 large pita breads or 4 smaller pita breads, cut into about 1 ½-inch wedges or squares
2 tablespoons olive oil
¼ teaspoon coarse salt
⅛ teaspoon black pepper
For the pita chips, preheat oven to 400F.
Toss together all pita chip ingredients, and arrange the bread in a single layer on two large baking sheets.
Bake until the bread is golden on both sides, about 6 to 8 minutes, flipping the bread and rotating the baking sheets once halfway through.
Cool. Store in an airtight container at room temperature for up to 3 days.
Nutrition
Nutrition Facts
Roasted Red Pepper Hummus Recipe
Amount Per Serving (0.25 cup)
Calories 91
Calories from Fat 45
% Daily Value*
Fat 5g8%
Sodium 352mg15%
Potassium 112mg3%
Carbohydrates 9g3%
Protein 4g8%
Vitamin A 116IU2%
Vitamin C 6mg7%
Calcium 29mg3%
Iron 1mg6%
* Percent Daily Values are based on a 2000 calorie diet.
This post was first published on An Edible Mosaic on March 13, 2013. I updated it with more information on January 29, 2020.
Disclosure: This post contains Amazon affiliate links to products I believe in, which means that even though it doesn't cost you anything extra, I will receive a small amount of money from the sale of these items. Thank you for helping to support An Edible Mosaic!