These sweet and tangy Honey Garlic Chicken Wings with Satay Dipping Sauce are oven-baked to perfection and glazed for even more flavor! Juicy inside and crispy outside, they're packed with flavor, and served with a sweet and spicy nutty dipping sauce.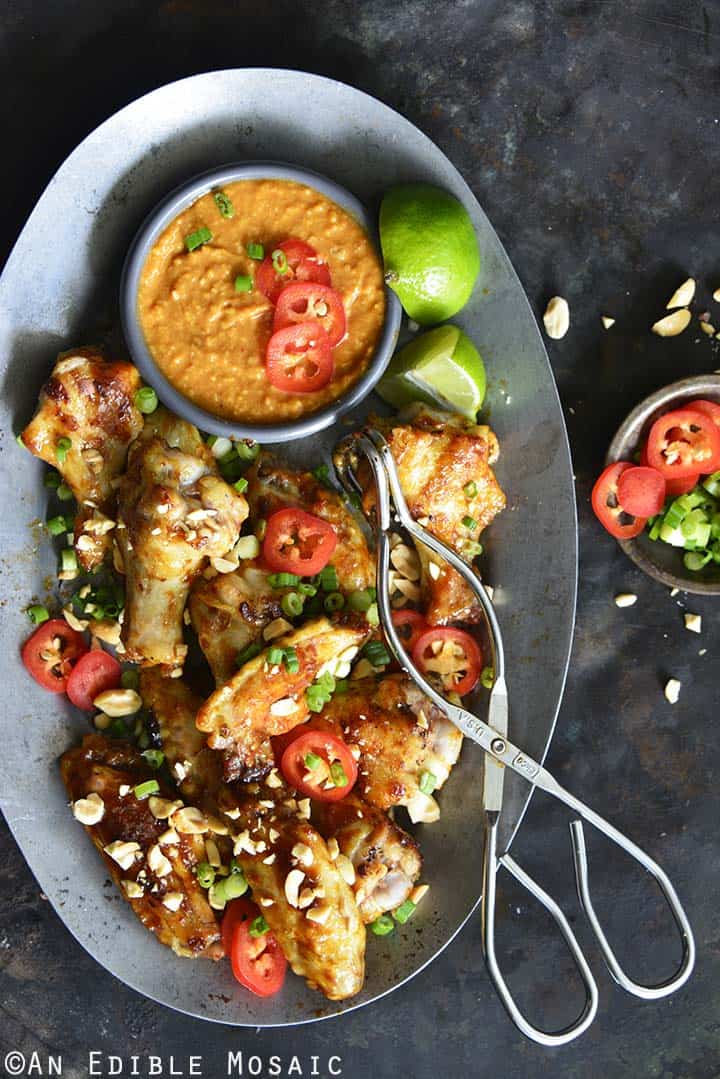 When a specific region makes a food specialty so well that they're world-famous for it (like cheesesteak in Philly or deep-dish pizza in Chicago), there isn't much sense in trying to recreate that food at home, unless of course you're feeling adventurous!
This is especially true if that particular food is a bit of an inconvenience to make, with a ton of steps or obscure ingredients, or something deep-fried or slow-cooked for days.
With that in mind, I very, very rarely made chicken wings when I lived in Buffalo. There were more great places to get wings than not. And although a bad experience wasn't unheard of, it was unlikely. Now that I live in Florida, it's a bit of a different situation.
It's not that good chicken wings can't be found down here. Rather, it's just that their quality is more likely to be hit-or-miss. You never know what you'll get. I went to a wing joint in Orlando for the first time a couple months ago and had amazing wings. Seriously, I would have thought I was back in Buffalo, but for the fact that it was November and a pleasant 85 degrees outside.
Then I went back to the same place about a month later and the wings were inedible. (I don't say inedible lightly; the wings were a bloody red when you bit into them. But even if they had been cooked properly, they wouldn't have been good; they were soggy and over-sauced.)
Even a Buffalo Bills restaurant/bar in Orlando that I went to had icky wings. I realize that truly great wings are hard to come by outside of Western New York (lots of love for my hometown!), and I knew I had to take matters into my own hands.
These glazed Honey Garlic Chicken Wings aren't your classic Buffalo wings. Traditional Buffalo wings are simply sauced with a mix of Frank's RedHot and melted butter with cayenne added in if you like them really spicy.
Even though these aren't in any way Buffalo wings, they are really good chicken wings. These Honey Garlic Chicken Wings are perfect for any party and of course they'd be great for the Super Bowl! The recipe is easy to double or even triple if necessary.
Really Great Chicken Wings - Crispy and Flavorful!
When you're talking about chicken wings there are two factors to consider: 1) crispy-ness and 2) flavor. Both need to be present in order to get a truly spectacular wing experience.
How to Make Crispy Chicken Wings
Let's address crispness. Back home in Buffalo, we typically deep-fry chicken wings at 350F for 10 minutes for regular wings. If you want them on the crispy side, you can either raise the temperature to around 365-375F for 10 minutes, or keep the temperature at 350F and leave them in an extra couple of minutes. I went another route for the cooking method.
I'm not a fan of deep-frying at home. Health issues aside, I hate the way it makes the house smell, and it always seems like such a waste of oil. I cooked my wings in a 400F oven for 30 minutes and they were just about perfect; tender and juicy inside and crisp outside. You can leave them in a little longer or broil them for a couple minutes at the end if you want them crispier.
How to Flavor Chicken Wings
There are four ways that I know of to flavor chicken wings:
Marinate the chicken wings before cooking.
Whatever flavor comes from the cooking method. For example, if you're deep-frying, the flavor of the oil will add to the overall flavor of the wings.
Toss the cooked chicken wings in sauce after cooking. During high school when I worked in a pizzeria in Buffalo, we called this "saucing" the wings! I glazed these Honey Garlic Chicken Wings, which is the same idea.
Serve chicken wings with sauce for dipping. Blue cheese is classic!
I marinated these chicken wings in an Asian-inspired sauce. They're baked, and then glazed, and served with another sauce for dipping.
There's a lot going on, and it all comes together to create a pretty fantastic wing.
Honey Garlic Chicken Wings
I love the sticky sweetness of Honey Garlic Chicken Wings! They have a balanced sweet and tanginess with a touch of spicy heat, lots of umami flavor, and a hint of nuttiness.
And these are so easy to make in the oven!
What to Make with Chicken Wings
If you're wondering what sides go with chicken wings, here are a few ideas:

Did you make this recipe? Please rate it and leave a comment below because I love hearing from you! You can also tag @anediblemosaic on social media. To stay up-to-date FOLLOW ME on Instagram, Twitter, and Facebook. Xoxo, Faith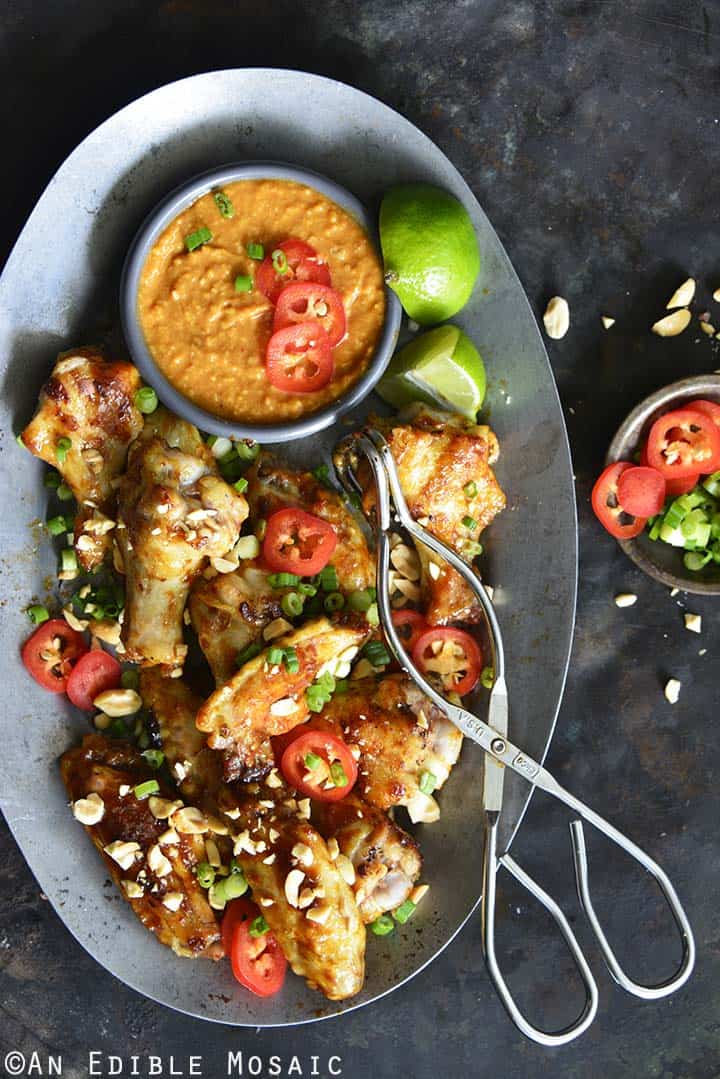 Honey Garlic Chicken Wings with Satay Dipping Sauce
These sweet and tangy Honey Garlic Chicken Wings with Satay Dipping Sauce are oven-baked to perfection and glazed for even more flavor! Juicy inside and crispy outside, they're packed with flavor, and served with a sweet and spicy nutty dipping sauce.
Instructions
Whisk together the tamari, honey, vinegar, sriracha, sesame oil, lime juice, garlic, ginger, and fish sauce in a medium bowl. Transfer ½ of the marinade to a small bowl and set aside to use for the peanutty sauce.

Add the wings to the remaining ½ of the marinade in the medium bowl and toss to coat. Cover the bowl and refrigerate 2 to 24 hours. Let the wings sit at room temperature for 20 minutes before cooking.

Add the reserved marinade to a blender along with the peanut butter and coconut milk and process until smooth and creamy. Transfer to a small bowl, cover, and keep refrigerated until serving.

Preheat the oven to 400F. Grease a large cookie sheet with coconut oil and arrange the wings on the pan (reserving the marinade to make a glaze). Bake until the wings are cooked throughout (not pink in the center) and crispy outside, about 30 minutes, flipping the wings over once halfway through. (If necessary to get them more browned you can briefly broil the wings once they're done, but my wings were browned enough without this step.)

While the wings cook, add the marinade (that the wings soaked in) to a small skillet. Bring to a boil over medium heat, and then turn the heat down and simmer until the marinade is thickened, about 10 minutes, stirring frequently. This is the glaze for the wings.

Add the cooked wings to a large bowl along with the glaze and gently toss to coat.

Transfer the wings to a serving platter and serve along with the peanutty sauce for dipping. Sprinkle any garnishes you want on top.

Serve.
Faith's Tips
Nutrition information for this recipe was calculated without the optional toppings (it includes the chicken wings and the dipping sauce).
Nutrition
Nutrition Facts
Honey Garlic Chicken Wings with Satay Dipping Sauce
Amount Per Serving
Calories 439
Calories from Fat 279
% Daily Value*
Fat 31g48%
Cholesterol 111mg37%
Sodium 752mg33%
Potassium 295mg8%
Carbohydrates 11g4%
Protein 29g58%
Vitamin A 212IU4%
Vitamin C 5mg6%
Calcium 20mg2%
Iron 2mg11%
* Percent Daily Values are based on a 2000 calorie diet.
This post was first published on An Edible Mosaic on February 5, 2018. I updated it with more information on January 27, 2020.
Disclosure: This post contains Amazon affiliate links to products I believe in, which means that even though it doesn't cost you anything extra, I will receive a small amount of money from the sale of these items. Thank you for helping to support An Edible Mosaic!