Pizza Burgers combine two classic favorite family-friendly, crowd-pleasing foods for an instant winner that's easy to whip up for a weeknight dinner!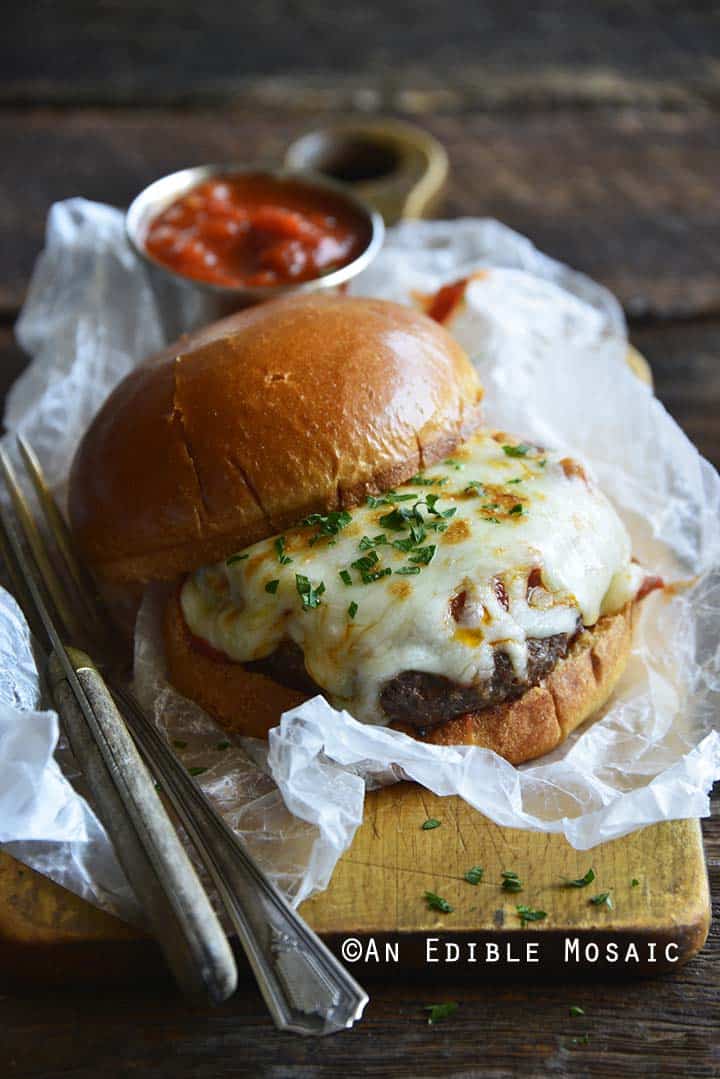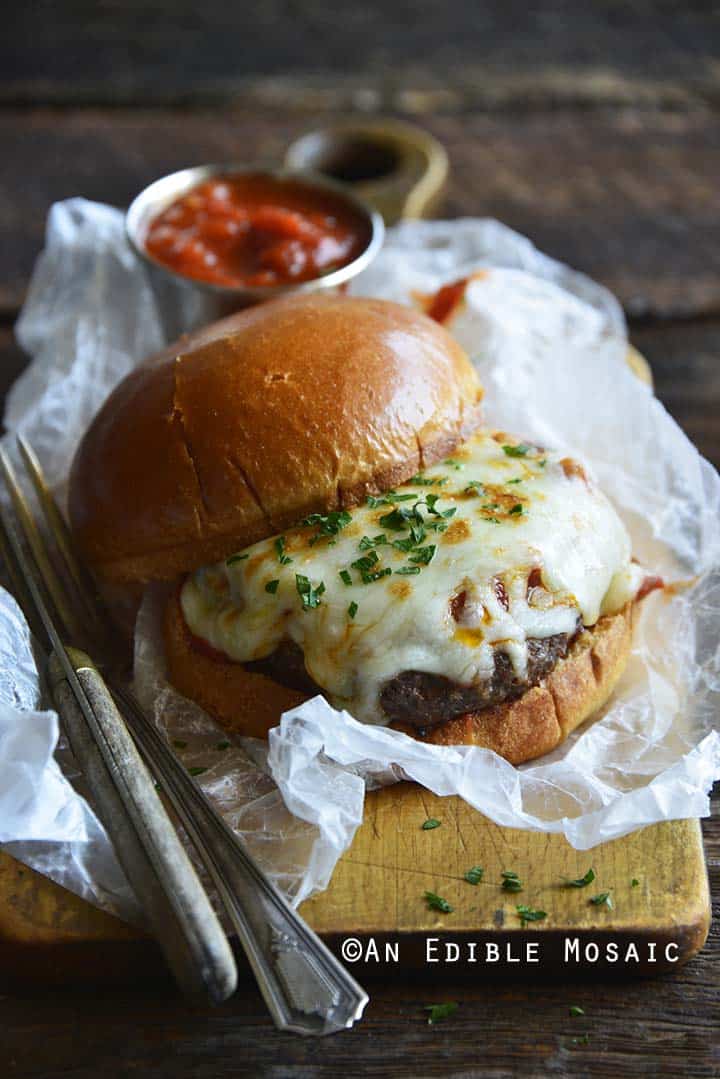 Have you fired up the grill yet this year? Where I live, we've had an unseasonably warm winter and now spring.
And I don't mean warm-for-upstate-New-York. We have antifreeze in our blood and think 45F weather in January is a heat wave, lol. I mean warm. Summertime warm, with temps reaching the upper 80's at times.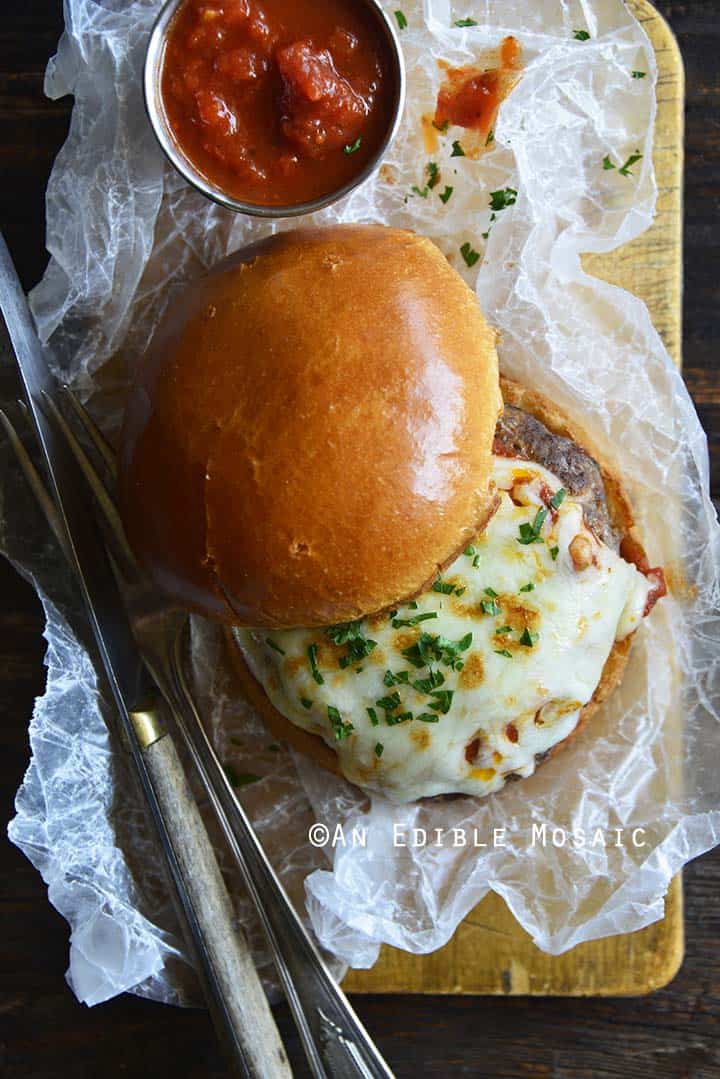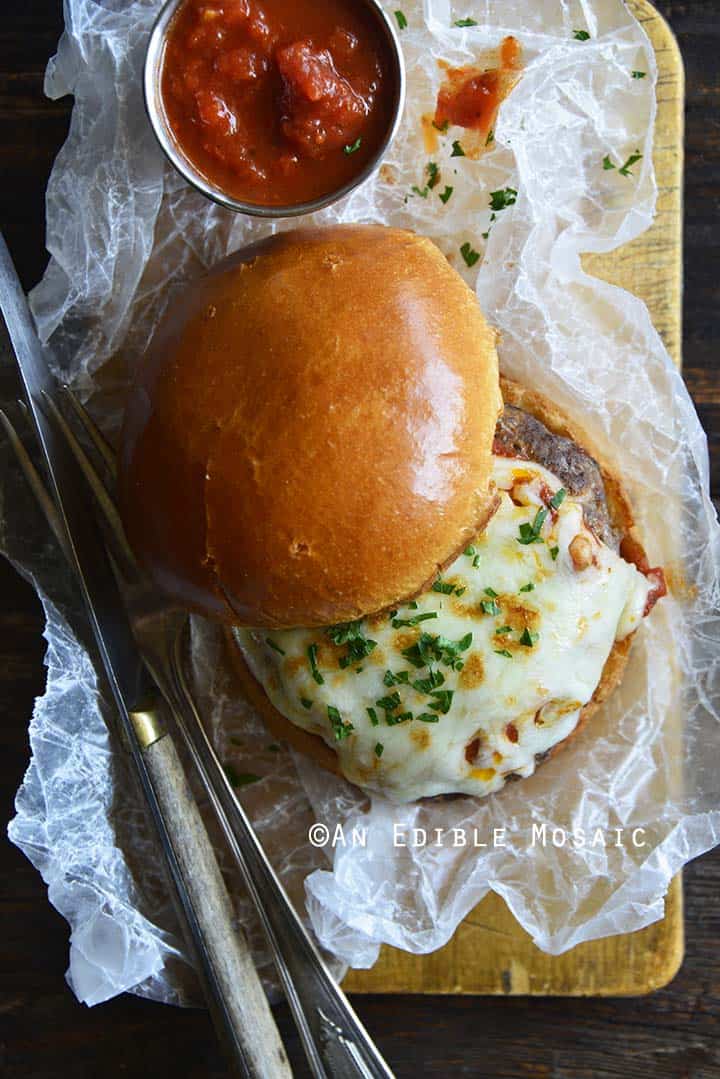 We've fired up the grill a few times (to make old favorites like steak, Chiavetta's chicken, and marinated salmon), but these pizza burgers were the first burgers of the year for us. They're easy to make, come together fast, and are a real hit with kiddos as well as adults.
Who doesn't like pizza and burgers, right? Combining the two into Pizza Burgers is a perfect pairing.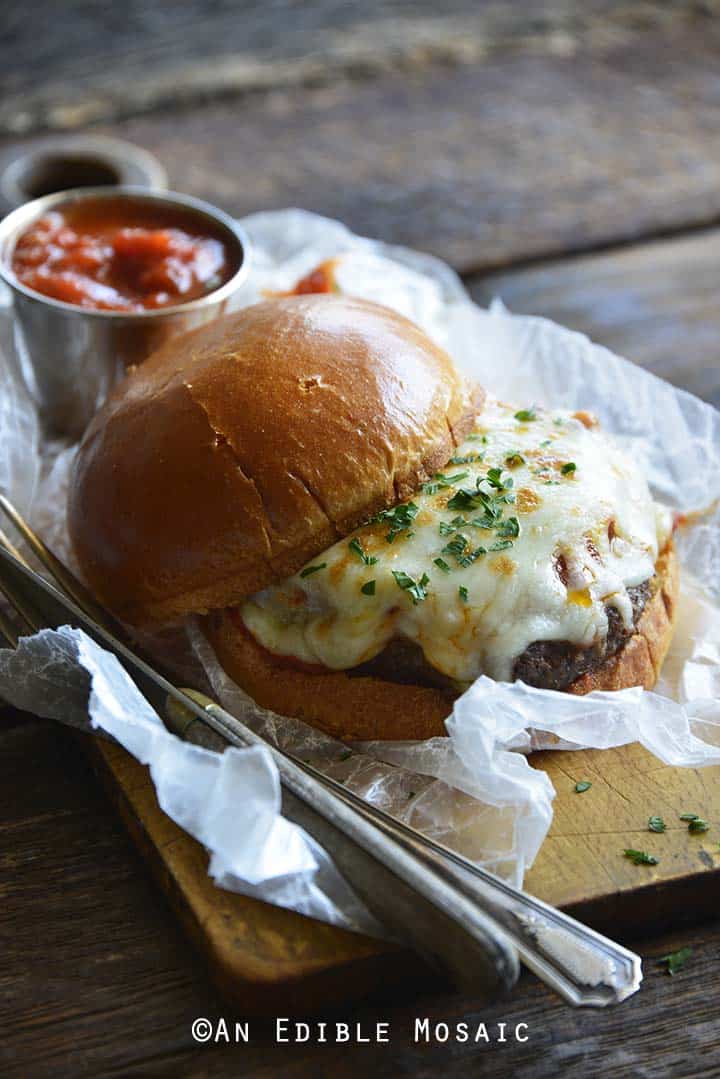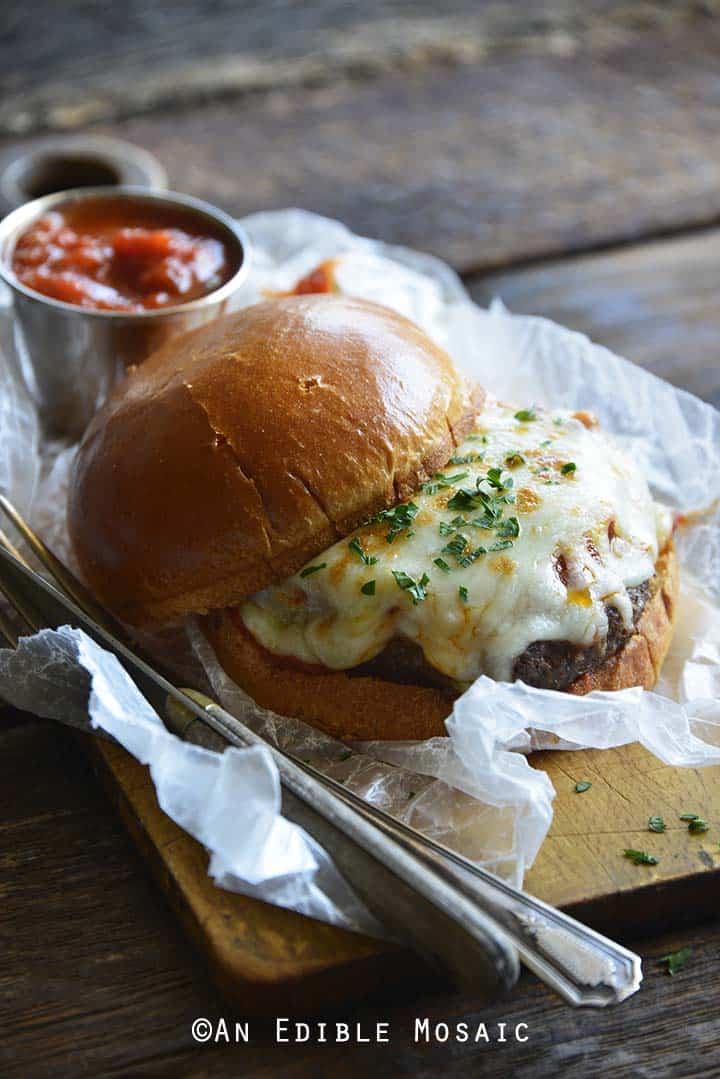 Best Ground Beef for Burgers
Whether you're making Pizza Burgers or any other kind of burger, go for meat that's about 80% lean and 20% fat to yield juicy, flavorful burgers.
Ground chuck is a great choice for burgers because of its fat content. Look for grass-fed beef if possible.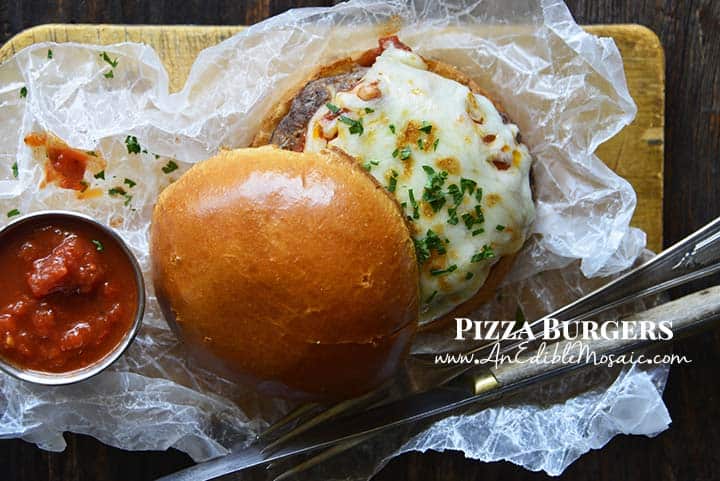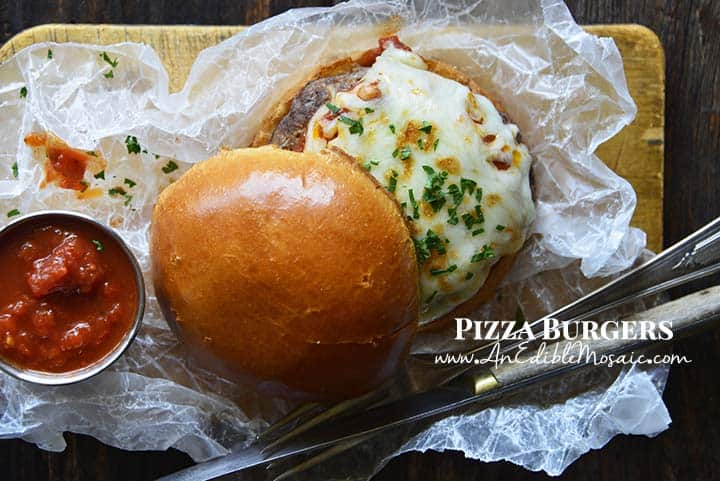 How to Bind Burgers Without Egg
I never add egg, breadcrumbs, or any other fillers to my burgers – I save those for meatloaf! Making burgers out of ground meat doesn't require egg. Simply knead the meat a bit and then take the time to shape it into a burger patty.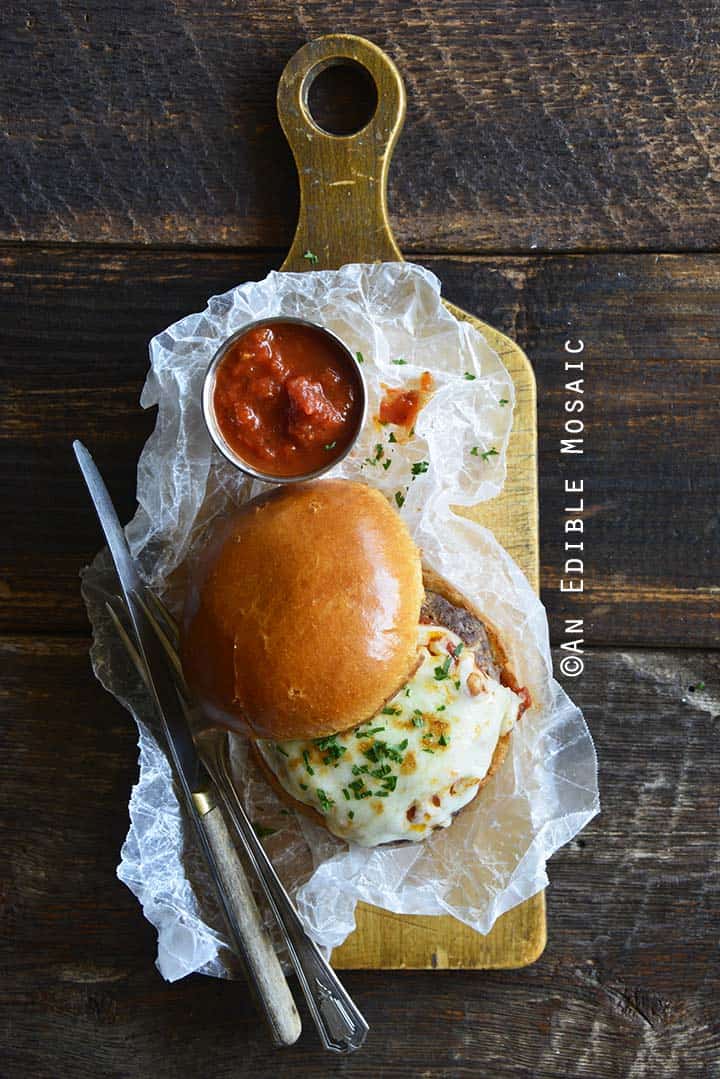 Best Hamburger Seasoning
Here is the best hamburger seasoning (and I've tried quite a few different combinations!). For every one pound of 80/20 grass-fed ground beef, I mix in the following: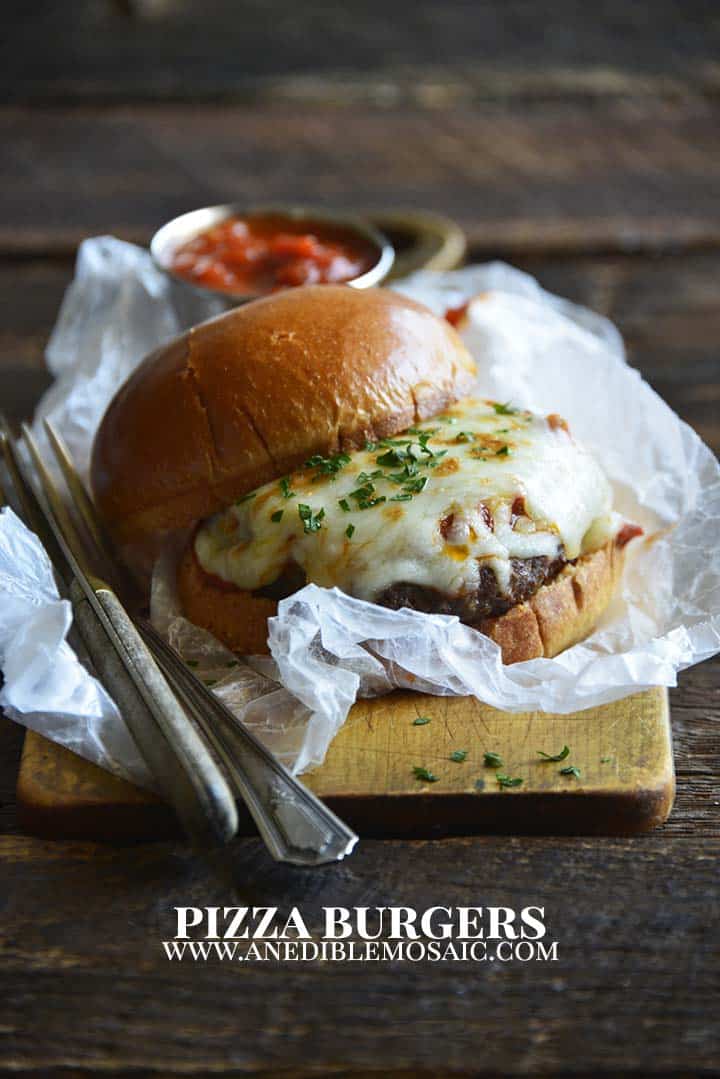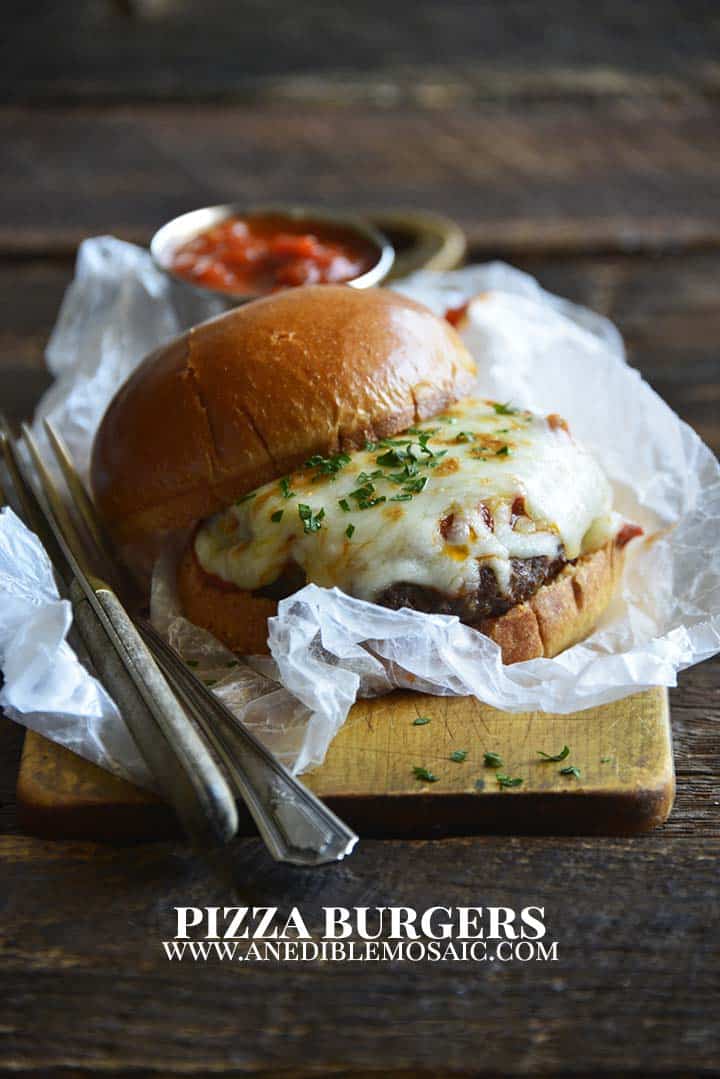 More Homemade Hamburger Recipes: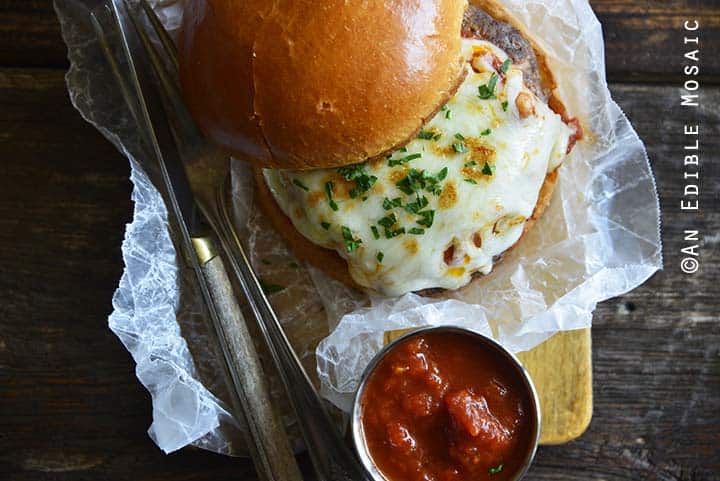 Did you make this recipe? Please rate it and leave a comment below because I love hearing from you! You can also tag @anediblemosaic on social media. To stay up-to-date FOLLOW ME on Instagram, Twitter, and Facebook. Xoxo, Faith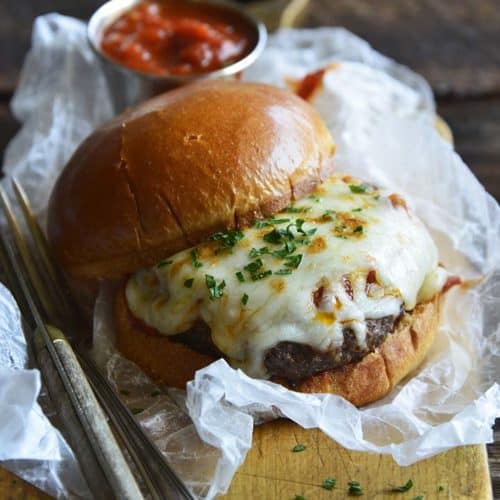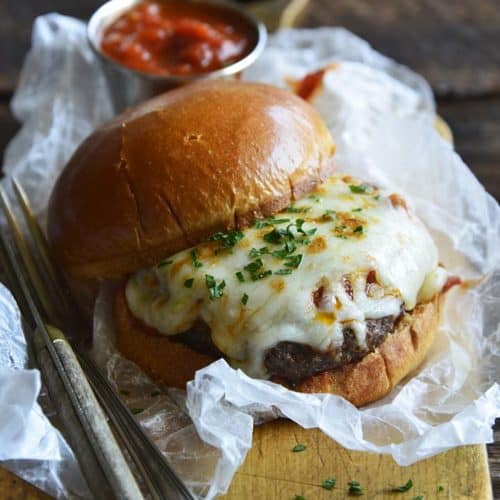 Pizza Burgers
Pizza Burgers combine two classic favorite family-friendly, crowd-pleasing foods for an instant winner that's easy to whip up for a weeknight dinner!
Ingredients
Chunky Pizza Sauce (yields about 1 cup of sauce):
Instructions
For the Chunky Pizza Sauce, heat the oil in a medium saucepan over medium heat. Add the garlic and cook 1 minute, stirring constantly. Add the canned tomatoes, tomato paste, Italian herb seasoning, sugar, salt, and black pepper, and cook until thickened, about 5 minutes, stirring frequently and using a wooden spoon to break up the tomato pieces a bit. Set aside.

For the Pizza Burgers, use your hands to combine the ground beef, grated onion, steak seasoning, Worcestershire sauce, coconut aminos, and Italian herb seasoning in a large bowl; be careful not to over-mix the meat. Divide the meat into 4 equal portions and shape each into a patty.

Grill the burgers over medium-high heat until done (hamburger meat should be cooked until it's no longer pink in the center), about 4 to 5 minutes per side. When the burgers have about 2 minutes left to cook on the second side, spoon about 3 tablespoons of Chunky Pizza Sauce on top of each, and then top each with 1 oz of cheese. Cover the grill (or tent a piece of foil over the burgers) so the cheese melts.

Transfer the burgers onto the buns and sprinkle the parsley on top of the cheese; serve the burgers along with the rest of the Chunky Pizza Sauce for dipping.
Faith's Tips
If you want to keep this meal low-carb, skip the regular buns and instead serve these Pizza Burgers with one of the following:
On a bed of zoodles
Along with a green salad on the side
Nutrition
Nutrition Facts
Pizza Burgers
Amount Per Serving
Calories 606
Calories from Fat 333
% Daily Value*
Fat 37g57%
Cholesterol 102mg34%
Sodium 784mg34%
Potassium 770mg22%
Carbohydrates 34g11%
Protein 31g62%
Vitamin A 615IU12%
Vitamin C 16.8mg20%
Calcium 312mg31%
Iron 6.1mg34%
* Percent Daily Values are based on a 2000 calorie diet.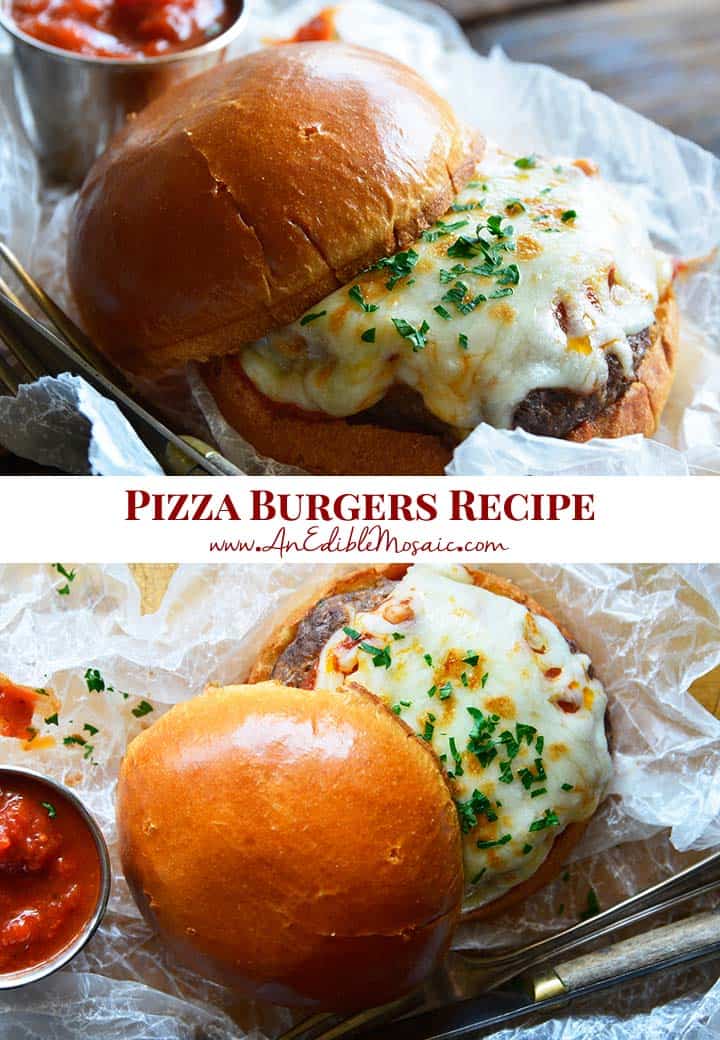 This post was first published on An Edible Mosaic on April 4, 2012. I updated it with new photos on April 12, 2019, and more information on January 24, 2020.
Disclosure: This post contains Amazon affiliate links to products I believe in, which means that even though it doesn't cost you anything extra, I will receive a small amount of money from the sale of these items. Thank you for helping to support An Edible Mosaic!