Swiss Cheese and Thyme Homemade Gluten Free Crackers are crispy with a slightly nutty cheesy flavor and a good thickness that makes them sturdy enough to serve with dip.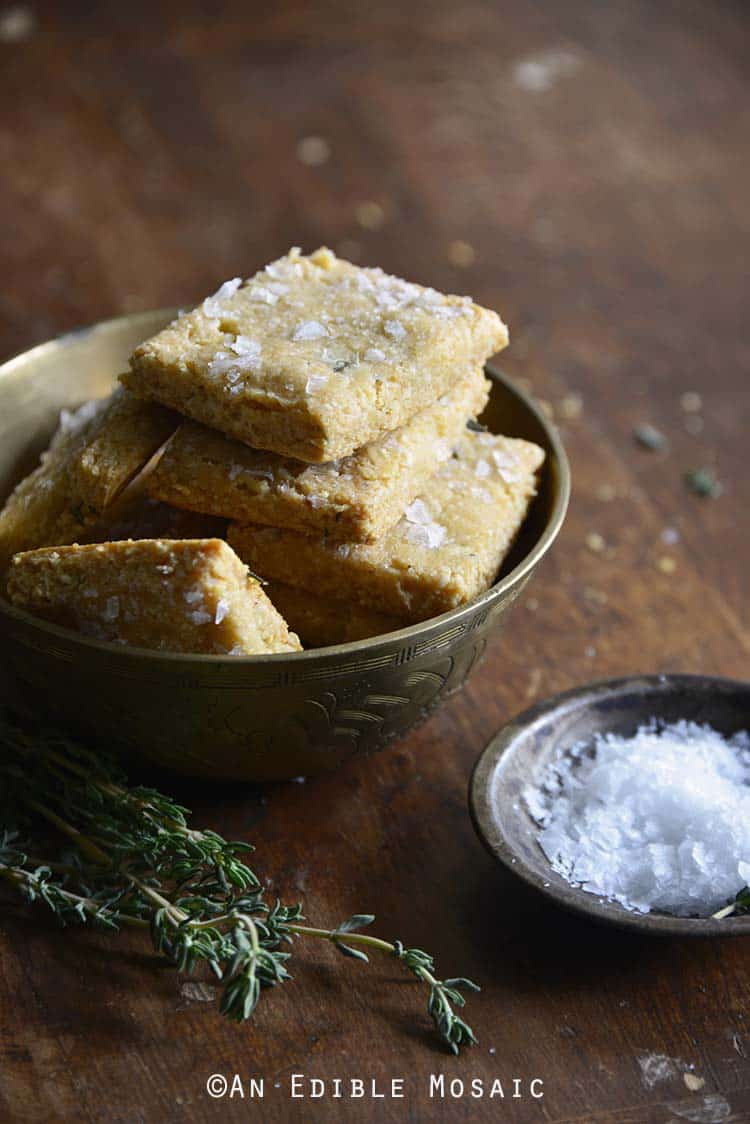 Gluten free baking is its own entity. Gluten is a protein found in wheat, rye, and barley, and it helps give regular baked goods their structure, rise, and chewy texture. Baking without gluten can yield wonderful results in everything from gluten free crackers, to cookies, muffins, and breads. However, the key is to understanding which gluten free flours to use.
This recipe for Swiss Cheese and Thyme Homemade Gluten Free Crackers is a spin-off of my Gluten Free Savory Parmesan-Garlic Crackers. Here, I amped up the cheese flavor with Swiss cheese, which also adds a bit of nuttiness. Additionally, I used fresh thyme instead of dried herbs to pack a punch. These gluten free crackers are great for when you're feeling snacky; they're perfect for serving with cheese and are also sturdy enough for dipping.
Baking with Gluten Free Flours
There are so many gluten free flours available out there, I want to briefly touch on a few of them that I use most frequently.
Almond Flour
Almond flour is made from ground blanched almonds; it's similar to almond meal, but almond meal also contains the almond skins. I find that almond flour gives a "white flour" look to baked goods, and almond meal results in a "whole wheat" look. Almond flour lends a slightly nutty flavor to baked goods, and it also results in great structure. It's fairly easy to work with and generally won't dry out baked goods because it doesn't absorb too much liquid.
I make a lot of baked goods using almond flour as the main flour.
Coconut Flour
I don't typically use coconut flour as the main flour in my baked goods for a couple reasons. First of all, personally I find coconut flour to have a strong coconut flavor. Additionally, I'm not entirely crazy about the texture of baked goods made with just coconut flour. This is because coconut flour is typically used in conjunction with a lot of eggs (because the eggs act as binder so the baked good doesn't crumble apart because of how dry coconut flour is), and I find the final product too eggy. Lastly, coconut flour absorbs a lot of liquid, so it can be a bit more difficult to work with.
In general, if you're trying to replace wheat flour with coconut flour, use ¼ the amount of coconut flour. For example, if a recipe calls for one cup wheat flour, you would use ¼ cup coconut flour (and I typically wouldn't use more than ¼ cup coconut flour in a recipe). I like to use a little bit of coconut flour in conjunction with other gluten free flours (such as almond flour), but I don't usually use coconut flour as the base by itself.
Tapioca Flour
Tapioca flour (also called tapioca starch) comes from the cassava plant. I find that tapioca flour lends lightness and a bit of chew to gluten free baked goods, which can help achieve a good simulation of regular baked goods containing gluten.
When I'm making gluten free baked goods, I don't typically use tapioca as the main flour. Instead, I'll use a bit of it (around one to four tablespoons) for every one cup or so of almond flour. Tapioca flour is also used as a thickener in sauces, similar to cornstarch.
Chickpea Flour
Also known as garbanzo bean flour, besan, or gram flour, chickpea flour is a really useful gluten free flour. It lends beautiful color to baked goods, and also helps with rising. Chickpea flour can have a bean-y flavor (surprise, surprise, lol!), but it's covered well in the final product when used with other flours.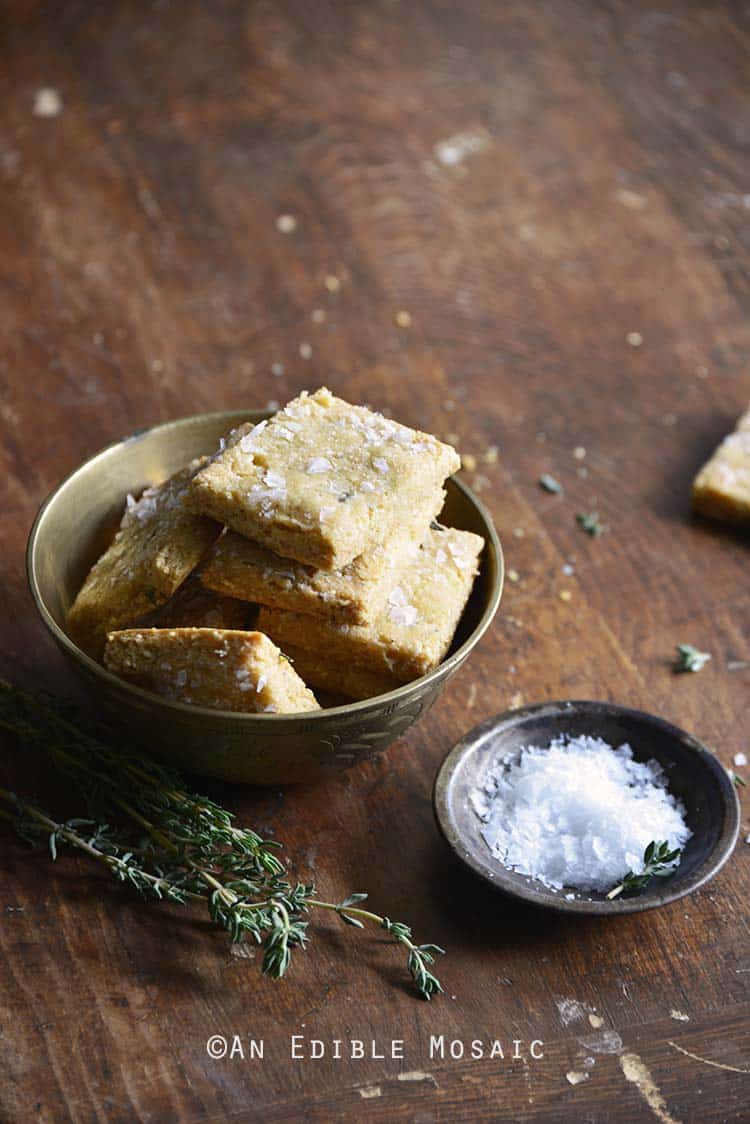 Playing With the Flavor of These Crackers
You can easily change the flavor profile of these homemade gluten free crackers; just use a different kind of cheese and herb! One thing to note, be sure to use a hard cheese, and not something soft like cream cheese or semi-soft like mozzarella. Here are a few combinations I like: cheddar and minced dried cranberries; Gruyere and dried herbs de Provence; and Gouda and rosemary.
More Gluten Free Crackers Recipes:
Swiss Cheese and Thyme Homemade Gluten Free Crackers
Prep time:
Cook time:
Total time:
Yield:
16 crackers, 4 servings
These savory Gluten Free Crackers are crispy with a slightly nutty cheesy flavor and a good thickness that makes them sturdy enough to serve with dip.
Ingredients
1 cup (112 g) almond flour
¼ cup (30 g) chickpea flour
½ oz (15 g) freshly grated Parmesan cheese
3 oz (45 g) Swiss cheese, grated
1 teaspoon minced fresh thyme leaves
½ teaspoon onion powder
⅛ teaspoon ground black pepper
1 tablespoon olive oil
1 to 3 tablespoons water (slightly more or less as needed)
½ teaspoon flaky sea salt
Instructions
Preheat oven to 350F.
Whisk together the almond flour, chickpea flour, Parmesan, Swiss cheese, thyme, onion powder, and black pepper in a medium bowl. Stir in the olive oil; start with 1 tablespoon water and add enough water so it comes together as a dough.
Line an 8 by 8-inch baking dish with parchment paper so that the paper hangs over 2 sides. Press the dough into the prepared baking dish, using a metal spatula to even out the dough.
Once the dough is pressed into uniform thickness, carefully use the overhanging parchment paper to pull out the dough in 1 square. Sprinkle on the sea salt, lightly pressing it into the top of the dough, and then cut it into 16 crackers.
Arrange the crackers about 1 inch apart on a large baking sheet and bake until the crackers are golden and crisp, about 25 to 30 minutes, rotating the tray once. Cool completely before removing from the tray and serving.
Store in an airtight container at room temperature for up to 1 month.
Disclosure:
This post contains Amazon affiliate links to products I believe in, which means that even though it doesn't cost you anything extra, I will receive a small amount of money from the sale of these items, which helps me keep this site alive – thank you for helping to support An Edible Mosaic!