Thank you National Watermelon Promotion Board for sponsoring this post. Watermelon is the perfect portable food for enjoying wherever life takes you!
Watermelon Salad Skewers with Tomato, Basil, and Feta balance sweet and salty flavors, and are perfect for packing on your next summer picnic!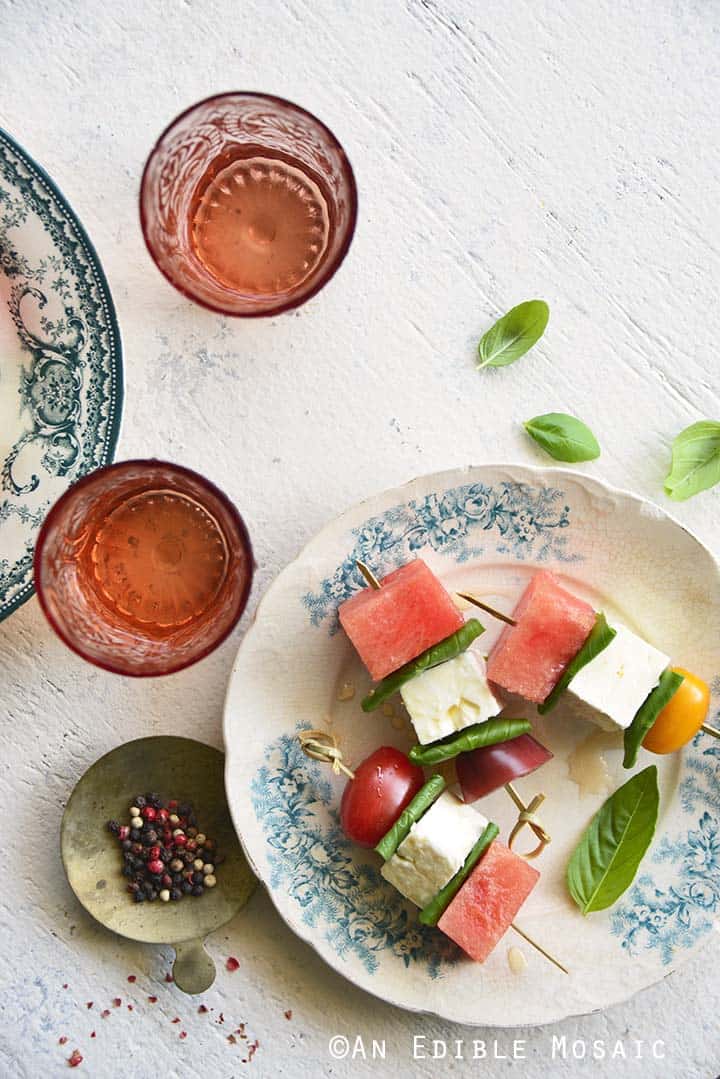 One of the most quintessential summer foods is watermelon, and for good reason. Not only is it delicious, but it's about 92% water. It's refreshing, as well as a great way to help stay hydrated. And it's fun! There's nothing quite like packing a giant watermelon and slicing it up when you're on a picnic or at a BBQ; everyone's face lights up when they see it. Bonus, you can also slice it up ahead of time, stash it in portable containers, and grab it on the go.
How to Stay Hydrated in the Summer
We all know how important hydration is, especially in summer weather with that killer combination of high temps and humidity. When I let myself get even a little bit dehydrated, I tend to feel lightheaded and lethargic; also, a terrible headache comes on pretty quickly. Here are a few tips to help you stay hydrated:
Bring a water bottle with you wherever you go.
If you want to amp up your water, add a pinch of sea salt and a squeeze of fresh lemon juice!
Sip on fluids throughout the day, don't just chug them when you're thirsty.
Be mindful of your intake of liquids that may have a diuretic effect, like coffee and alcohol.
Eat fresh produce with a high water content, such as watermelon!

What is Watermelon Good For?
There are a lot of benefits that come along with fresh watermelon. And did you know that the whole thing is edible?! Here are just a few of the health benefits watermelon provides: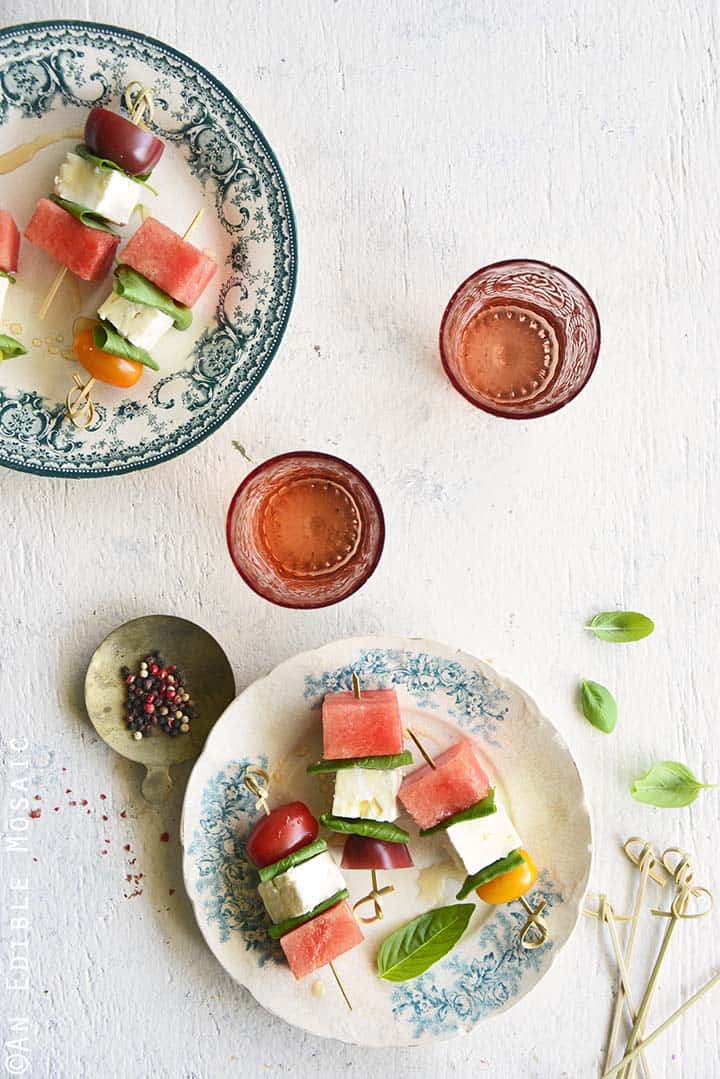 Switch Up the Flavors in These Watermelon Salad Skewers
These watermelon salad skewers are a fun recipe to play with different flavors. Swap out feta and the white wine reduction, and instead use mini mozzarella balls and a drizzle of balsamic reduction. Skip the tomatoes and basil, and use strawberries and mint instead. If watermelon salad without the skewers is more your thing, my recipe for Watermelon Salad with Sweet and Spicy Vinaigrette is for you.
More Watermelon Summer Snack Ideas:
If you like watermelon, head over to the Watermelon Board's website to enter your original watermelon recipe in their recipe contest!
Watermelon Salad Skewers with Tomato, Basil, and Feta
Prep time:
Cook time:
Total time:
Watermelon Salad Skewers with Tomato, Basil, and Feta balance sweet and salty flavors, and are perfect for packing on your next summer picnic!
Ingredients
Sweet and Spicy White Wine Reduction:
½ cup dry white wine (see Note)
2 teaspoons sugar
¼ teaspoon peppercorns
Skewers:
16 cherry tomatoes
32 basil leaves
16 (about 1-inch) cubes of watermelon
8 oz (227 g) feta, cut into 16 cubes
Other:
Instructions
Add all ingredients for the white wine reduction to a small skillet over medium heat. Bring to a boil and cook until it's reduced to about 2 tablespoons, about 7 to 10 minutes. Strain through a fine mesh sieve and then cool to room temperature.
For the skewers, thread a cherry tomato onto a skewer, and then a basil leaf, feta cube, basil leaf, and then watermelon cube. Repeat until you have 16 skewers.
Serve immediately, with the white wine reduction drizzled on top.
Notes
Dry White Wine: If you don't use wine, you can use white grape juice instead and omit the sugar.
I was selected for this opportunity as a member of CLEVER and the content and opinions expressed here are all my own.