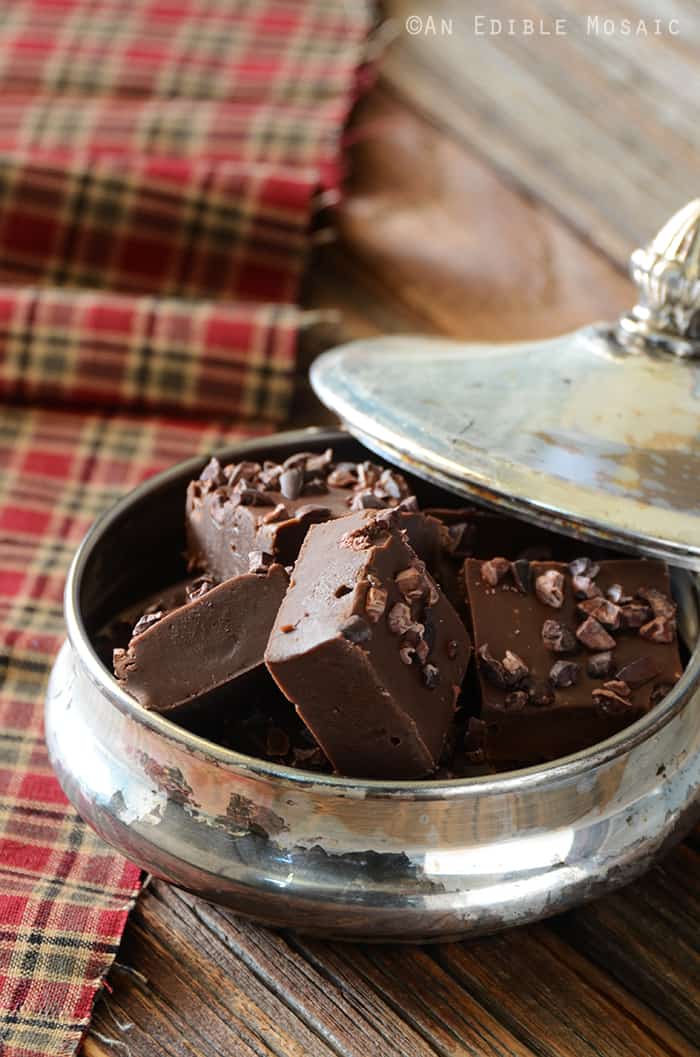 Last summer when Mike and I were leaving Kuwait to move back home, I was trying to use up everything I possibly could from our pantry.
I was making good headway with help from The Ultimate Granola Cookies and Loaded Kit Kat Peanut Butter Brownies, but then I found myself face to face with two kinds of chocolate chips, a can of sweetened condensed milk, and cacao nibs. I was up for the challenge though.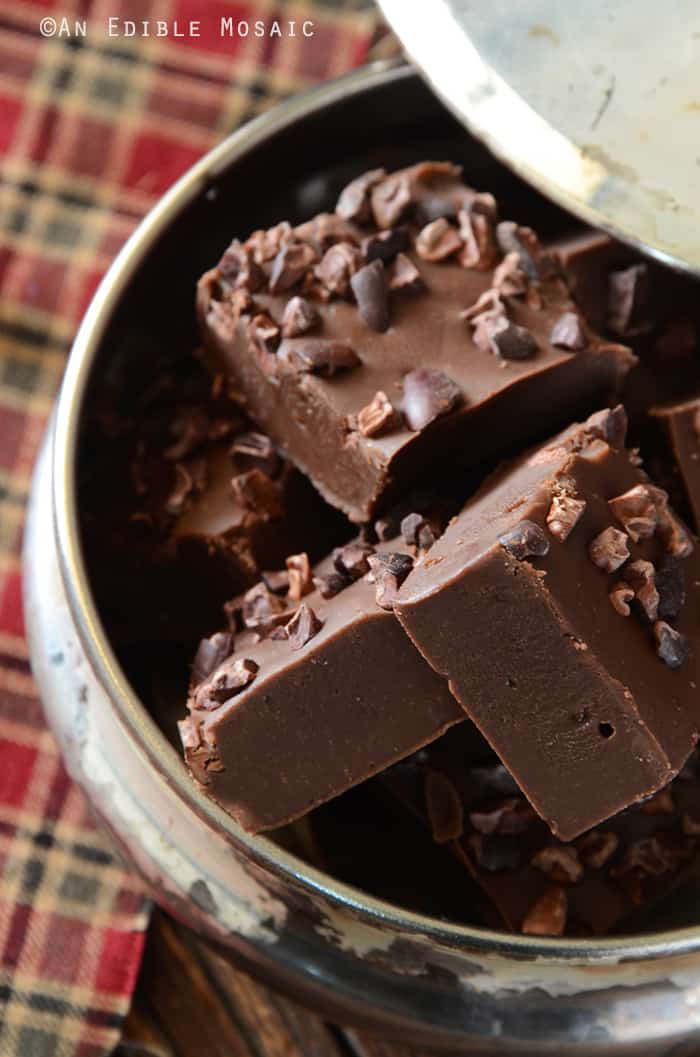 While I was wondering what on earth to do with those ingredients (it felt like my very own mini version of Chopped, only without the grape soda, chicken liver, and corn chips), fudge came to mind.
Now, in my family, fudge is typically just a Christmas and Easter (but mostly Christmas) thing. But when you're trying to use up anything and everything in your pantry, suddenly fudge is perfect for anytime, especially if you have friends and neighbors who you can drop off pretty trays of it to.
(Side Note: If you're one of the people I unloaded a giant-sized tray of muffins, cookies, or fudge to before I left Kuwait, I am truly sorry and deeply appreciative. I'm pretty sure it worked out well for both of us though. ;) )
Anyway, it's definitely the season for fudge now, and there's no doubt in my mind that I'll be making this one again. This fudge is sweet, but not in a sickly sweet way; the cacao nibs help to balance the sweetness and also provide a little crunch, which is a nice contrast to the creaminess of the fudge. And the espresso powder takes the flavor over the top.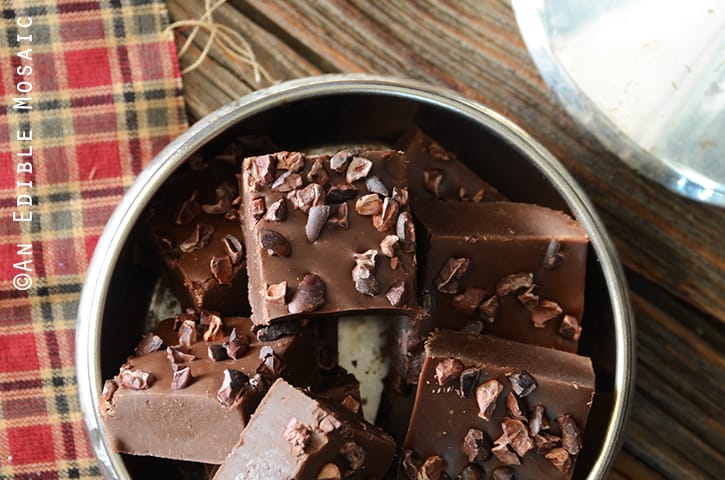 Easy Mocha Fudge with Cacao Nibs
Prep time:
Cook time:
Total time:
Yield:
64 (1-inch) pieces
Ingredients
1½ cups (9 oz/255 g) good-quality milk chocolate chips
1½ cups (9 oz/255 g) good-quality semi-sweet chocolate chips
1 (14 oz/397 g) sweetened condensed milk
⅛ teaspoon salt
2 teaspoons pure vanilla extract
2 teaspoons instant espresso powder, dissolved in 4 teaspoon hot water
4 tablespoons raw cacao nibs
Instructions
Line an 8 by 8-inch dish with parchment paper or foil.
Melt the milk and semi-sweet chocolate chips with the condensed milk in a microwave or double boiler.
Stir in the salt, vanilla, and dissolved espresso powder.
Pour the mixture into the prepared pan and smooth out the top; tap it a couple times on the countertop to help any air bubbles escape. Sprinkle the cacao nibs on top.
Transfer to the fridge and let the fudge chill until hard, at least 2 hours, but overnight is fine.
Cut into squares and serve. (Wrap up any leftovers and store them in the fridge.)
Disclosure: This post contains Amazon affiliate links to products I believe in, which means that even though it doesn't cost you anything extra, I will receive a small amount of money from the sale of these items, which helps me keep this site alive – thank you for helping to support An Edible Mosaic!