Paleo Eggnog Cupcakes with Maple Buttercream feature fluffy cake and creamy frosting, and are sure to please paleo and non-paleo eaters!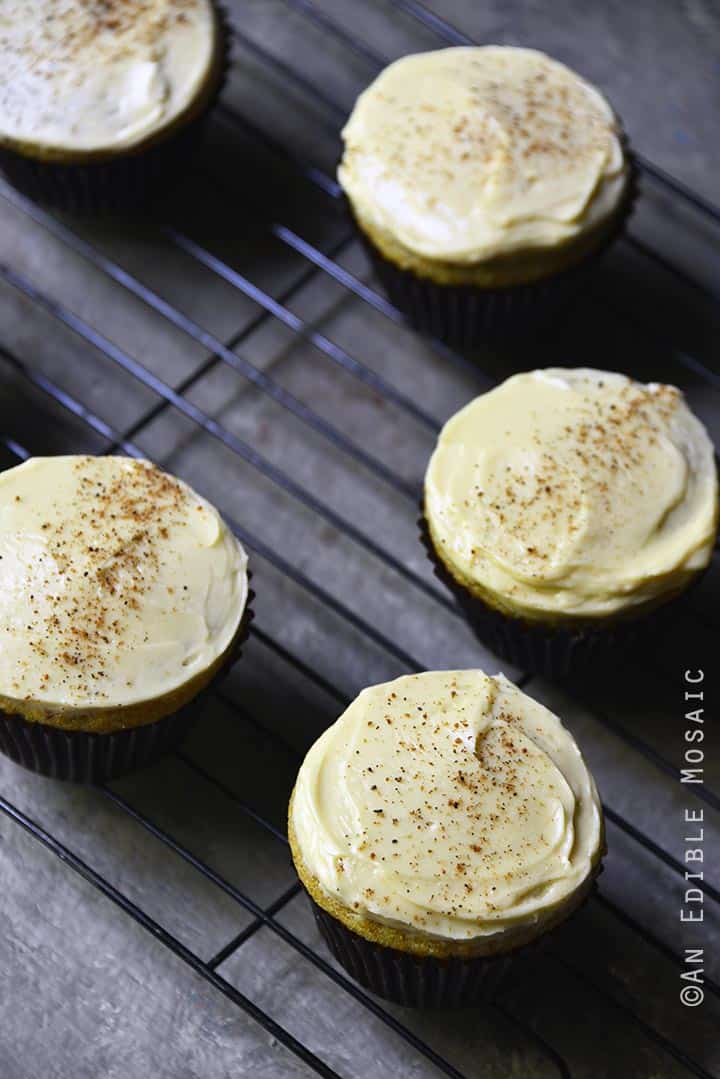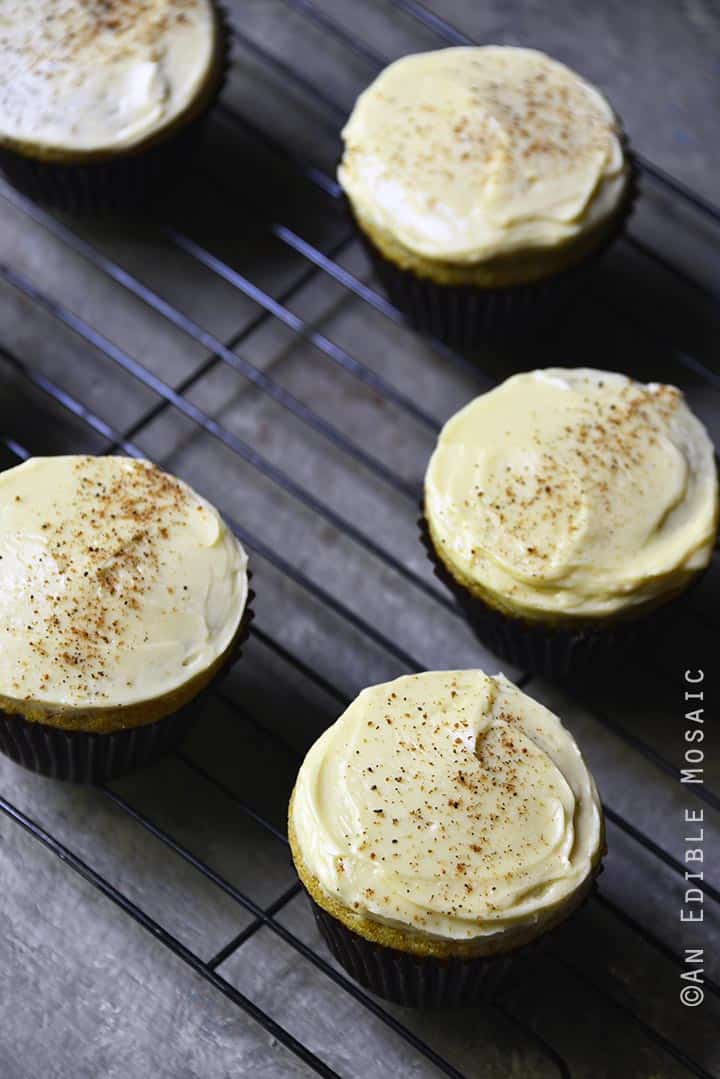 Eggnog is one of those things that plays more of a nostalgic role for me than anything else. I love the idea of eggnog (because it always evokes happy holiday memories), but when it comes to actually downing a cup of it (even a small cup), I don't quite love it so much. Even the best commercially-made brands of eggnog are always a little too rich and a lot too sweet for my taste, and I'll be honest, making homemade eggnog just isn't high on my list of priorities, lol.
But, I'll be damned if the idea of eggnog doesn't get me every time.
So instead I make eggnog-flavored things like cupcakes that also happen to be paleo and full of nutrient-dense real foods.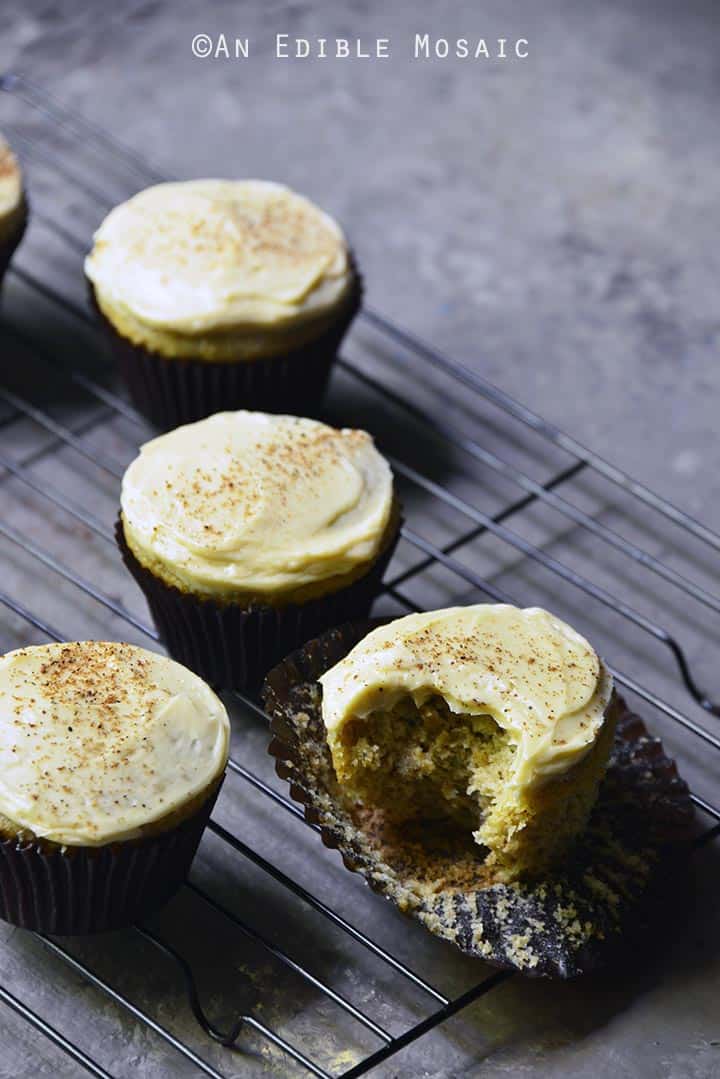 Here I used an almond flour and golden flaxseed meal combo for my dry ingredient base, an idea I got from a mug cake recipe that I developed a couple months ago and have been making at least once a week for breakfast ever since. (It really is that good!) The crumb of these cupcakes is incredibly close to a cake made with regular flour; soft and fluffy, and a perfect balance between dense and light-textured.
I used both granulated stevia and pure maple syrup as the sweetener in this recipe; at first I wanted to stick with only stevia (or a similar sweetener) to keep it low-carb, but the allure of pure maple syrup won out. (Still though, these cupcakes are lower in carbs than normal cupcakes!) Maple adds a sweet and slightly smoky complexity and helps keep these cupcakes moist, plus it pairs so nicely with nutmeg.
Let's talk for a minute about what is quite possibly the best paleo buttercream of my life sitting atop these pretty little cupcakes! I've been wanting to develop a recipe for paleo buttercream using ghee (clarified butter) for quite some time now, and again, the allure of maple was too much to pass up. Unlike other paleo buttercreams I've had, this one is smooth and silky without graininess or grittiness. I recommend using the best-quality clarified butter you can get your hands on (hello, EatLuv) because you'll taste it. And I love that this frosting isn't overly sweet! Arrowroot starch acts as a slight thickener, making the buttercream a bit more shelf-stable and less prone to melting. To further safeguard against melting, I store these cupcakes in the fridge (note that the frosting will stiffen in the fridge), and let them sit at room temperature for about 15 minutes before serving so the frosting can soften.
And that's how I get my eggnog fix. ;)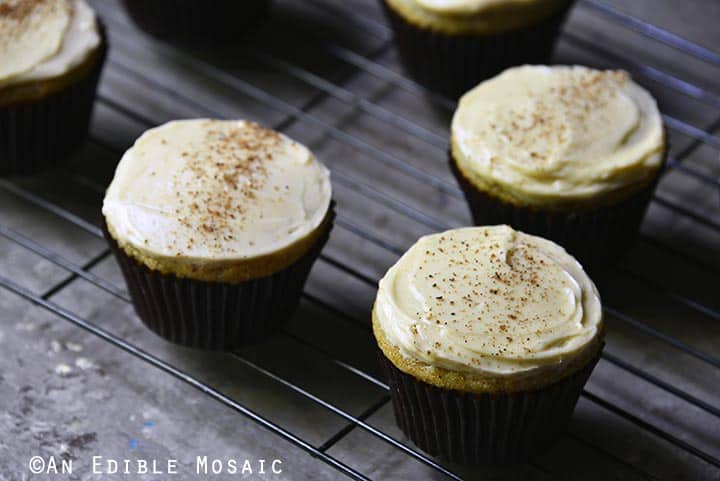 Paleo Eggnog Cupcakes with Maple Buttercream
Prep time:
Cook time:
Total time:
Paleo Eggnog Cupcakes with Maple Buttercream feature fluffy cake and creamy frosting, and are sure to please paleo and non-paleo eaters!
Ingredients
Cupcakes:
¾ cup (85 g) almond flour (I used Bob's Red Mill)
½ cup + 3 tablespoons (72 g) golden flaxseed meal (I used Bob's Red Mill)
1½ teaspoons granulated stevia
1½ teaspoons baking powder
¾ teaspoon ground nutmeg
¼ teaspoon salt
⅛ teaspoon ground mahlab (optional)
¼ cup (60 ml) pure maple syrup
¼ cup (60 ml) canned full-fat unsweetened coconut milk, stirred before measuring
¼ cup (60 ml) avocado oil or light olive oil
¼ cup (60 ml) water
3 large eggs
1½ teaspoons pure vanilla extract
Buttercream:
4 tablespoons clarified butter/ghee (I used EatLuv)
2 tablespoons pure maple syrup
½ teaspoon pure vanilla extract
1 tablespoon arrowroot starch
1 pinch salt
Instructions
Preheat oven to 375F; line a muffin tray with 9 paper liners.
Whisk together the almond flour, flaxseed meal, granulated stevia, baking powder, nutmeg, salt, and mahlab together in a medium bowl and set aside.
Beat together the maple syrup, coconut milk, oil, water, eggs, and vanilla in a large bowl.
Beat the dry ingredients into the wet ½ at a time, being careful not to overmix. Let the batter set 3 minutes (it will thicken slightly).
Divide the batter between the prepared muffin wells. Bake until a wooden pick inserted inside comes out clean or with just a couple crumbs, about 20 minutes.
Cool 10 minutes in the tray and then transfer the cupcakes to a wire rack to finish cooling.
Once the cupcakes are cooled, make the frosting. Beat together all frosting ingredients in a medium bowl until smooth.
Frost the cupcakes and sprinkle a little more ground nutmeg on top if desired.
Serve or keep covered in the fridge for up to 5 days (let sit at room temperature 15 minutes before serving).