I've partnered with SmartMade™ to create this post! Enjoy!
Pizza-Flavored Quinoa Fried "Rice" is crowd-pleasing real-food meal that combines a couple of classic take-out favorites and can be whipped up in less than 10 minutes with a little prep ahead!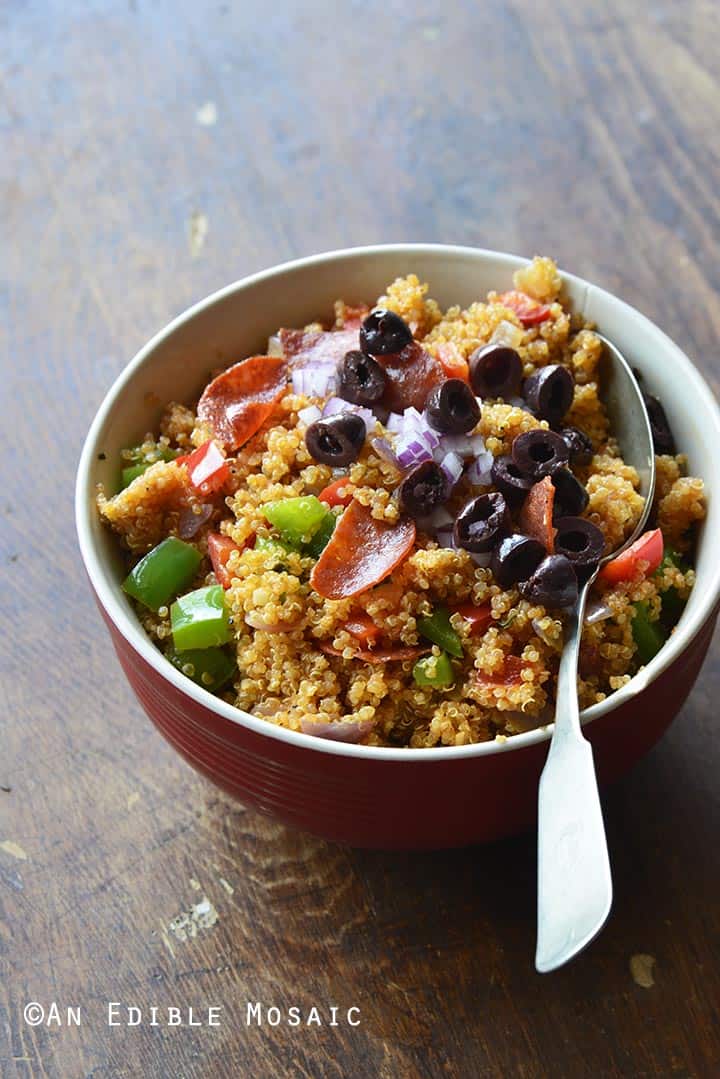 Pizza and Chinese are bigtime contenders for take-out favorites in my house. Neither are particularly healthy, but they're equally delicious and will get the job done of feeding a hungry crowd on a busy night when cooking dinner seems like a long shot.
There are two ways I know of to combat the surprise need to order take-out mid-week: 1) make a weekly dinner menu and stick with it, or 2) have a few fast, easy, and nutritious meals up your sleeve for those crazy-busy nights that inevitably come up. And it's a total bonus if those meals simulate your favorite take-out!
This meal is my own real-food take on a pizza/fried rice fusion. The pizza flavor comes from the tomato paste + oregano that's cooked in with the quinoa, and I've added all my favorite pizza toppings (pepperoni, bell pepper, onion, and olives!). You can add any veggies you like though; broccoli or mushrooms would also be great choices.
I made a few smart swaps that help make this meal as nutritious as it is delicious. Here I used quinoa instead of rice because even though they have about the same calories per serving, quinoa has more protein and fiber, as well as more vitamins and minerals like B vitamins and iron than rice. I think quinoa tastes just as good as rice, so that was an easy swap for me to make.
I used turkey pepperoni, which has quite a bit less fat and calories than its regular counterpart. I find that a little bit of pepperoni goes a long way here; I crisp it up and then stir it into the quinoa fried "rice" right before serving. Also, to help maximize the flavor, I use the same skillet that the pepperoni was crisped in to cook the veggies, so they take on some of the pepperoni's flavor as well. And here's an old trick of the trade that I learned from my mom: drain anything fried (pepperoni, in this recipe) on a paper towel-lined plate to get rid of excess oil.
If you know you'll be really pressed for time one night, you can whip up the quinoa up to three days in advance and keep it in the fridge. Also, be sure to get the veggies prepped so all you'll have left to do to make dinner is give everything a quick sauté on the night of; dinner will literally come together in less than 10 minutes!
I recently tried SmartMade™ meals, which is a new line of frozen meals featuring real-food ingredients like what you'd cook at home. I had the Mexican-Style Chicken bowl, which has grilled white meat chicken, brown rice, black beans, roasted vegetables, and a really tasty green chili lime sauce. I can definitely see myself keeping a few of these meals stocked in my freezer for those hectic nights that just come out of nowhere!
What's your best tip for avoiding take-out on a busy night?
Pizza-Flavored Quinoa Fried "Rice"
Prep time:
Cook time:
Total time:
Pizza-Flavored Quinoa Fried "Rice" is crowd-pleasing real-food meal that combines a couple of classic take-out favorites and can be whipped up in less than 10 minutes with a little prep ahead!
Ingredients
Quinoa:
1 cup (130 g) quinoa
1½ tablespoons extra-virgin olive oil
2 tablespoons tomato paste
1 teaspoon dried oregano
¼ teaspoon salt
¼ teaspoon black pepper
Slightly scant 2 cups (475 ml) water or low-sodium chicken stock, boiling
Other:
1½ tablespoons extra-virgin olive oil, divided
50 g/1¾ oz turkey pepperoni slices, halved
1 medium green bell pepper, de-seeded and diced
1 medium red bell pepper, de-seeded and diced
½ red onion, diced
2 cloves garlic, minced
2 tablespoons black olives, pitted and chopped (for garnish)
1 tablespoon minced red onion (for garnish)
Instructions
Rinse the quinoa in a fine mesh sieve under cool running water. Heat the oil in a medium saucepan over medium-high heat. Once the oil is hot, add the quinoa and cook until it smells nutty, about 2 to 4 minutes, stirring frequently. Stir in the tomato paste, oregano, salt, pepper, and water (or stock). Bring to a rolling boil, and then cover the saucepan, turn the heat down to very low, and cook until the liquid is absorbed, about 15 to 20 minutes (don't open the lid while it cooks). Turn off the heat and let the quinoa sit for 10 minutes before fluffing with a fork.
Heat ½ tablespoon extra-virgin olive oil in a large skillet over medium-high heat. Once the oil is hot, add the pepperoni and cook until crispy, about 2 minutes, stirring frequently. Use a slotted spoon to transfer the pepperoni to a paper towel-lined plate to drain excess oil.
To the same skillet, add the remaining 1 tablespoon oil. Heat the skillet over high heat; once hot, add the bell peppers, onion, and garlic. Cook until the vegetables are starting to soften, about 3 minutes, stirring constantly.
Add the quinoa and cook a minute or so to reheat, stirring constantly. Stir in the crispy pepperoni.
Sprinkle the black olives and minced red onion on top and serve.
Notes
Make-Ahead: The quinoa can be made up to 3 days in advance and stored in the fridge until you want to make the rest of the dish. Also, you can prep the vegetables in advance and store them covered in the fridge as well. That way, on the day you want to eat this, it will only take about 8 minutes to cook.
SmartMade wants to hear from you as they create new meals inspired by you. If you like this smart swap and would like to see a similar meal in your freezer aisle, please pin this post to your Pinterest board. The recipe with the most love from YOU will be used as inspiration in a future meal!