These easy leftover turkey recipes will help you get dinner on the table quick, and they all work just as well with rotisserie chicken. If you need fresh dinner inspiration, these dishes show that leftovers don't have to be boring! And you don't have to wait until after Thanksgiving to make them.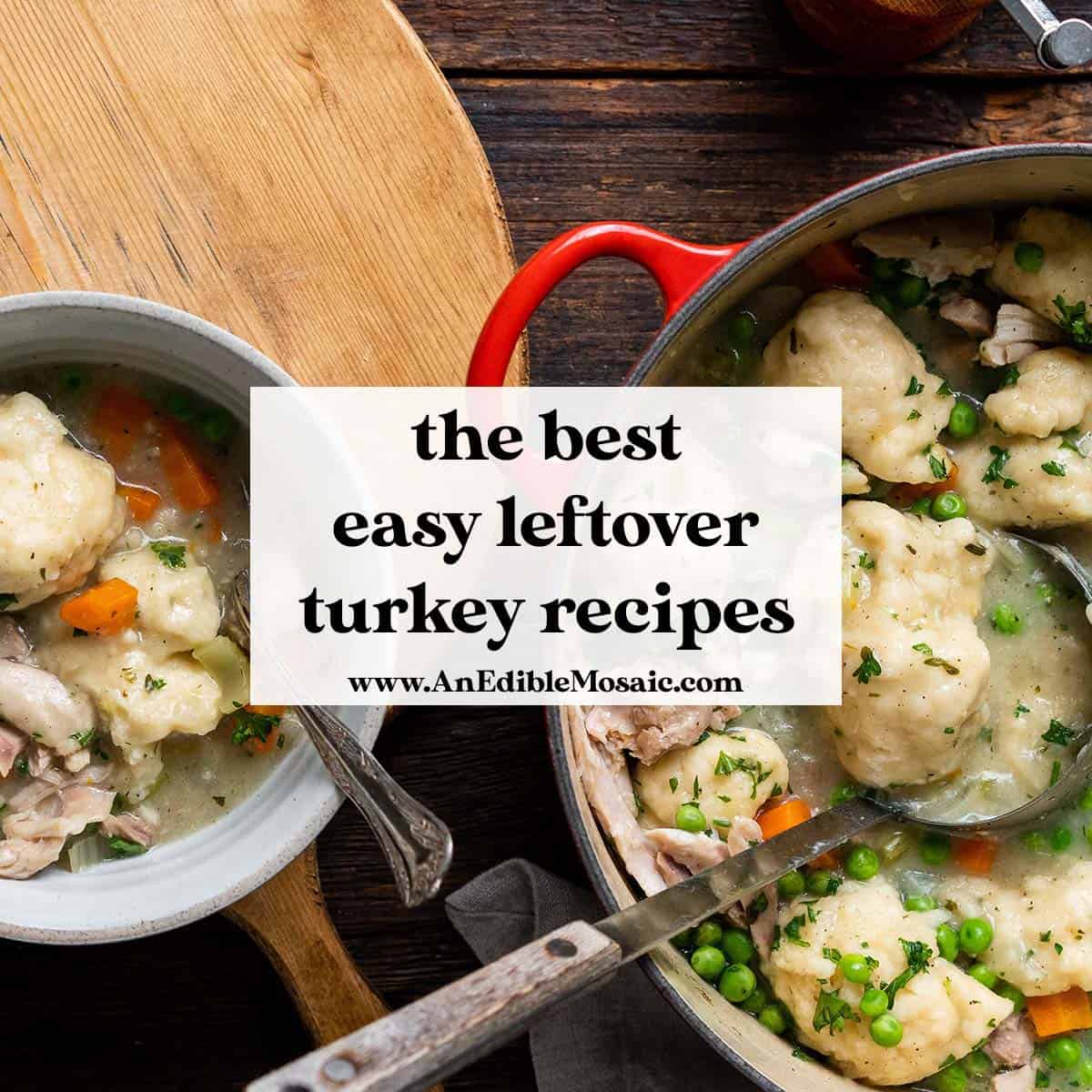 After Thanksgiving dinner (or any random Tuesday evening that you happen to pick up a rotisserie chicken or two on your way home), there are usually serious leftovers to contend with. This is a good thing!
Think of leftovers as your own personal chef to help you get a meal on the table in a fraction of the time for the next few nights.
But in order to keep the family happy, you'll probably have to come up with a few new meal ideas that use leftover turkey.
The good news is that when it comes to leftover turkey and rotisserie chicken recipes, inspiration is pretty much endless. Salads, sandwiches, soups, stews, and casseroles, just about anything goes!
The Best Easy Leftover Turkey Recipes
Add these leftover turkey and chicken ideas to your repertoire because they're good to have up your sleeve any time of year!
Many of them whip up in 30 minutes or less, which makes them great for weeknight dinners.
And a lot of these easy leftover turkey recipes are special diet friendly, such as gluten free, low carb, keto, etc.
Pro Tip: Can I Use Turkey or Chicken?


When a recipe calls for cooked chopped (or shredded) chicken or turkey, you can use them interchangeably based on what you have on hand.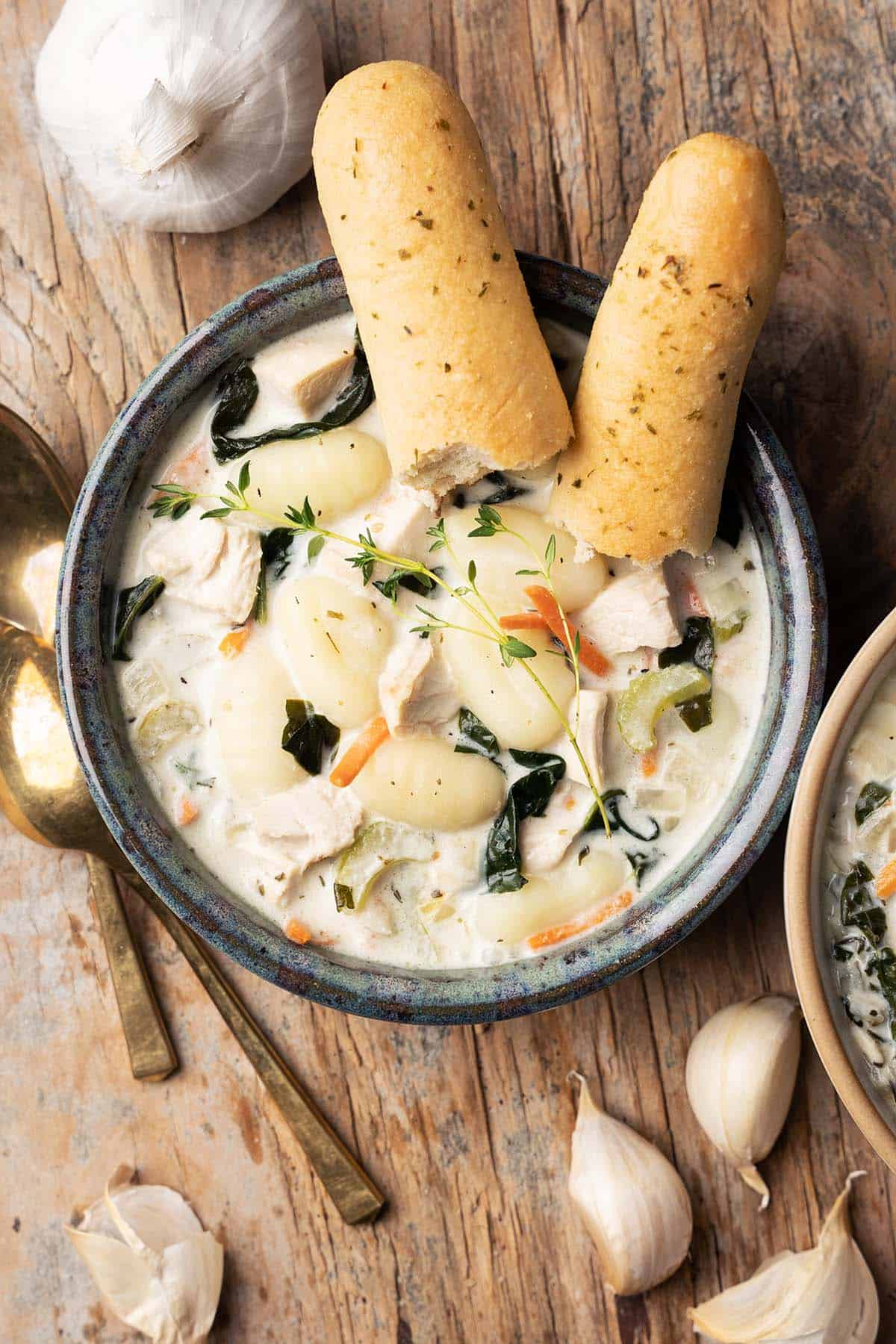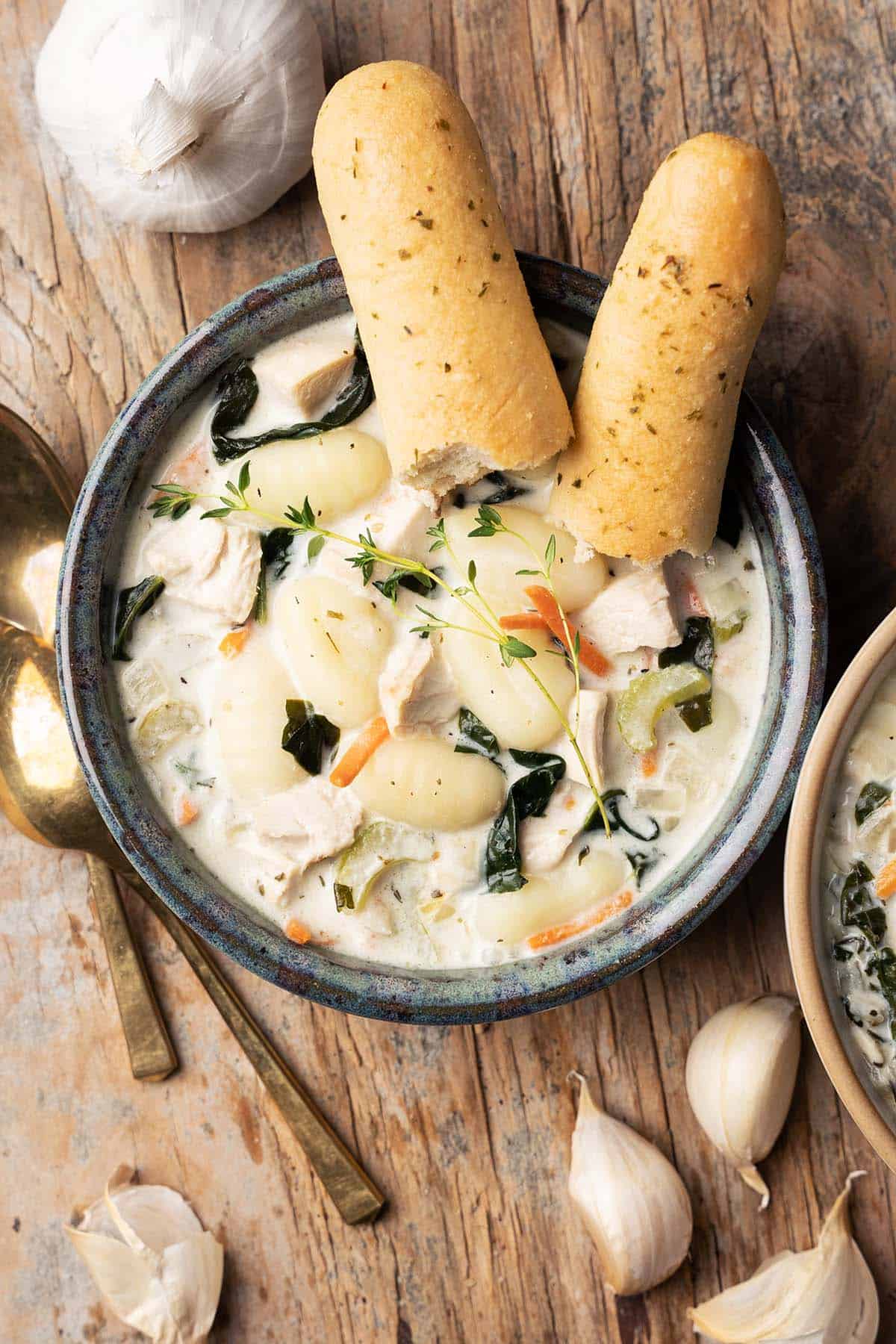 If you love the soup at Olive Garden, this will be your favorite new way to use leftover turkey! This copycat recipe is just like the original; it's full of savory veggies, chicken or turkey, and fluffy gnocchi (which are potato dumplings) in a rich, creamy broth. This cozy soup is the perfect meal for snuggling up on the couch and watching a movie.
Get the 30-Minute Copycat Olive Garden Chicken Gnocchi Soup Recipe and try it with turkey!
Bake a sheet pan full of these Mini Tostadas in about 30 minutes for an easy dinner or fun party snack. Crispy baked street taco tortillas are loaded with beans, rotisserie chicken (or leftover turkey), cheese and your favorite toppings.
Find the full recipe for Mini Sheet Pan Tostadas on Wholesome Made Easy.
If you've never tried the brie cheese, turkey, and mushroom pairing, you're going to love it! It's a wonderful blend of earthy, woodsy flavors. And the creaminess of the brie is the perfect counterpart to the crisp flaky puff pastry layers.
This recipe works well as breakfast, lunch, or an appetizer!
Try the magical turkey, mushroom, and brie pairing for yourself with these easy Leftover Turkey Puff Pastries.
It's hard for me to choose favorites, but I think Million Dollar Ritz Chicken Casserole is my top dinner to make with leftover chicken or turkey!
Chopped turkey or chicken in a rich, creamy cheese sauce topped with a crunchy, buttery Ritz cracker topping. It doesn't get much better! You can serve a vegetable on the side, or make it a 1-pot meal by adding steamed or frozen vegetables and/or cooked rice to this casserole. (That's also a great way to make this meal budget-friendly!)
Take a peak at the Million Dollar Ritz Chicken Casserole that will make you want to eat leftover turkey or chicken all year long.
This recipe delivers big flavors in a short amount of time time! In just 20 minutes, this meal magically transforms leftover poultry into Indian-spiced wraps, complete with a tangy garlicky yogurt sauce.
And if low carb is more your thing, feel free to serve it up on a bed of salad greens instead of on wraps.
Skip take-out at your favorite Indian restaurant, and instead use up the leftover turkey tucked away in your fridge with these Easy Turkey or Chicken Masala Wraps.
Cue the softly falling snow! This 1-pot meal is hearty comfort food at its finest. It's basically a creamy chicken vegetable stew topped with fluffy, light drop biscuits. And it's every bit as delicious with leftover turkey as it is with rotisserie chicken!
Don't be intimidated by the drop biscuits. You only need 5 ingredients to make them, and you probably already have everything in your pantry.
Get the coziest Chicken and Dumplings recipe.
This recipe is perfect for switching things up just a bit. Most of us are familiar with enchiladas, but salsa verde enchiladas are a little different!
The creamy, piquant filling is perfectly balanced with nutrition from kale and cheesy goodness. It's a full meal in one dish.
Get everyone excited about enchiladas with this Green Chicken Enchiladas Recipe with Salsa Verde.
This recipe for Instant Pot Turkey Congee is easy to prepare and full of flavor. It's a comforting dish to whip up with leftover turkey or turkey bones. You can try it with chicken too!
Congee is rice cooked down with water until it reaches a porridge-like consistency. This dish is traditionally savory as opposed to sweet, and is often paired with some type of meat.
Fall in love with this hearty Instant Pot Turkey Congee recipe on Sift & Simmer.
I'm going to let you in on a secret: lingonberry jam (yup, the stuff you can load up on at IKEA!) is similar to cranberry sauce.
It has a pleasantly sweet/tart fruity flavor. It's a gorgeous shade of red. And last, but certainly not least, lingonberry jam is absolutely fabulous with turkey!
When you combine turkey (either leftover or from the deli) with bright lingonberry jam and creamy camembert cheese into portable puff pastry parcels you have a real winner. They are next level turkey sandwiches!
Level up your lunchtime leftovers with Savory Camembert Turnovers with Turkey and Lingonberry Jam.
Rosemary, red grapes, and toasted almonds give this creamy chicken salad a unique spin. It's anything but boring!
This chicken salad is naturally gluten free and paleo. You can serve it on a bed of salad greens or on paleo bread if you like.
Get the uniquely delicious recipe for Creamy Rosemary and Red Grape Chicken Salad.
This Leftover Turkey Soup recipe is a delicious and simple way to use up leftover turkey or rotisserie chicken. It is flavored with onions, celery, carrots, bay leaves, and parsley, evoking the memories of homemade soups your granny used to make. It is also extremely speedy, wholesome, and satisfying!
Check out the Leftover Turkey Soup recipe on Vikalinka that's sure to make any evening cozy.
You're going to be shocked at how fast this gorgeously golden, richly spiced curry comes together! Using leftover turkey or chicken helps this restaurant-quality meal whip up in just 30 minutes. It's great for weeknights, and it's better than take-out from your favorite Indian restaurant!
It's also gluten free, low carb, and keto.
Try a new curry with this Indian Korma.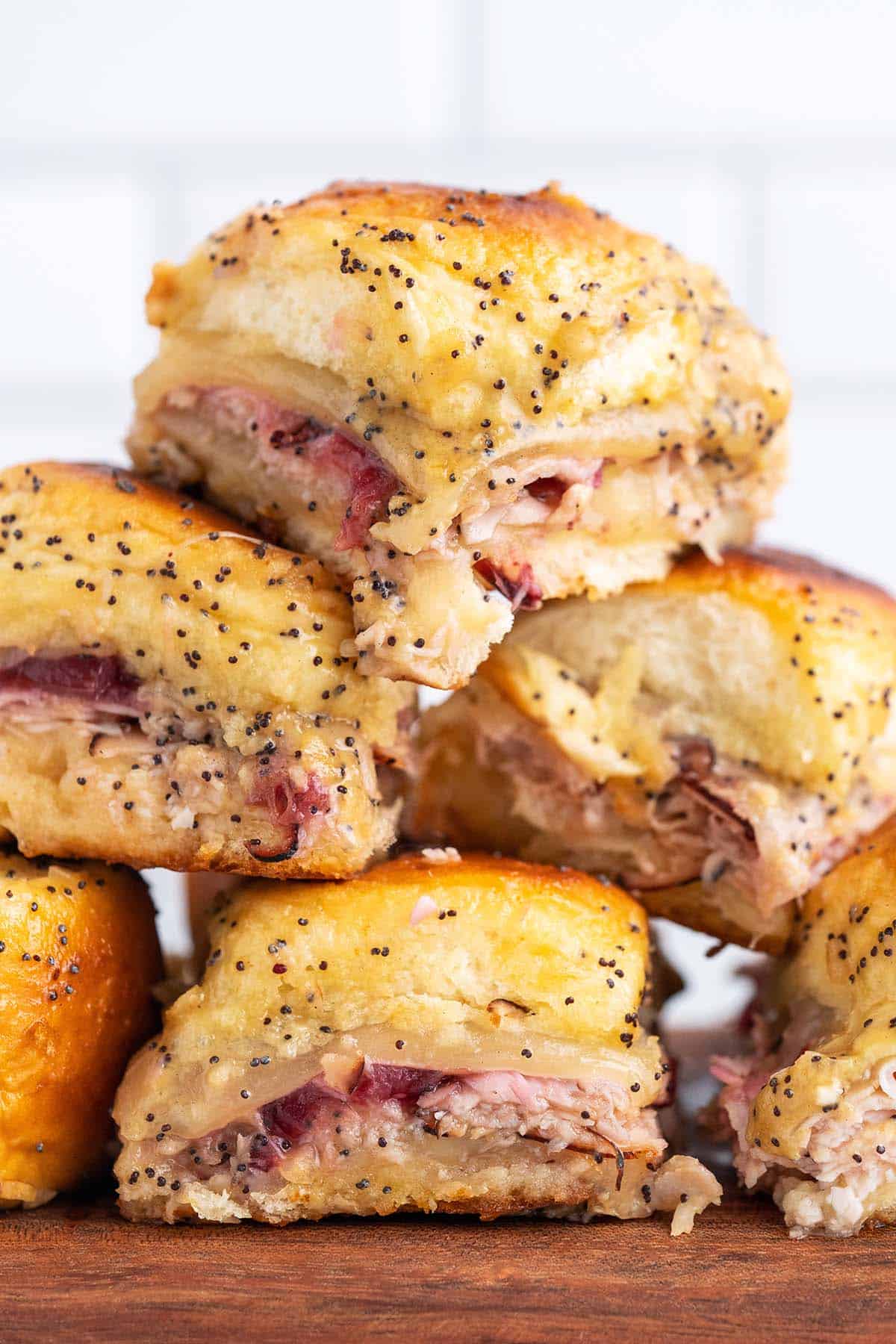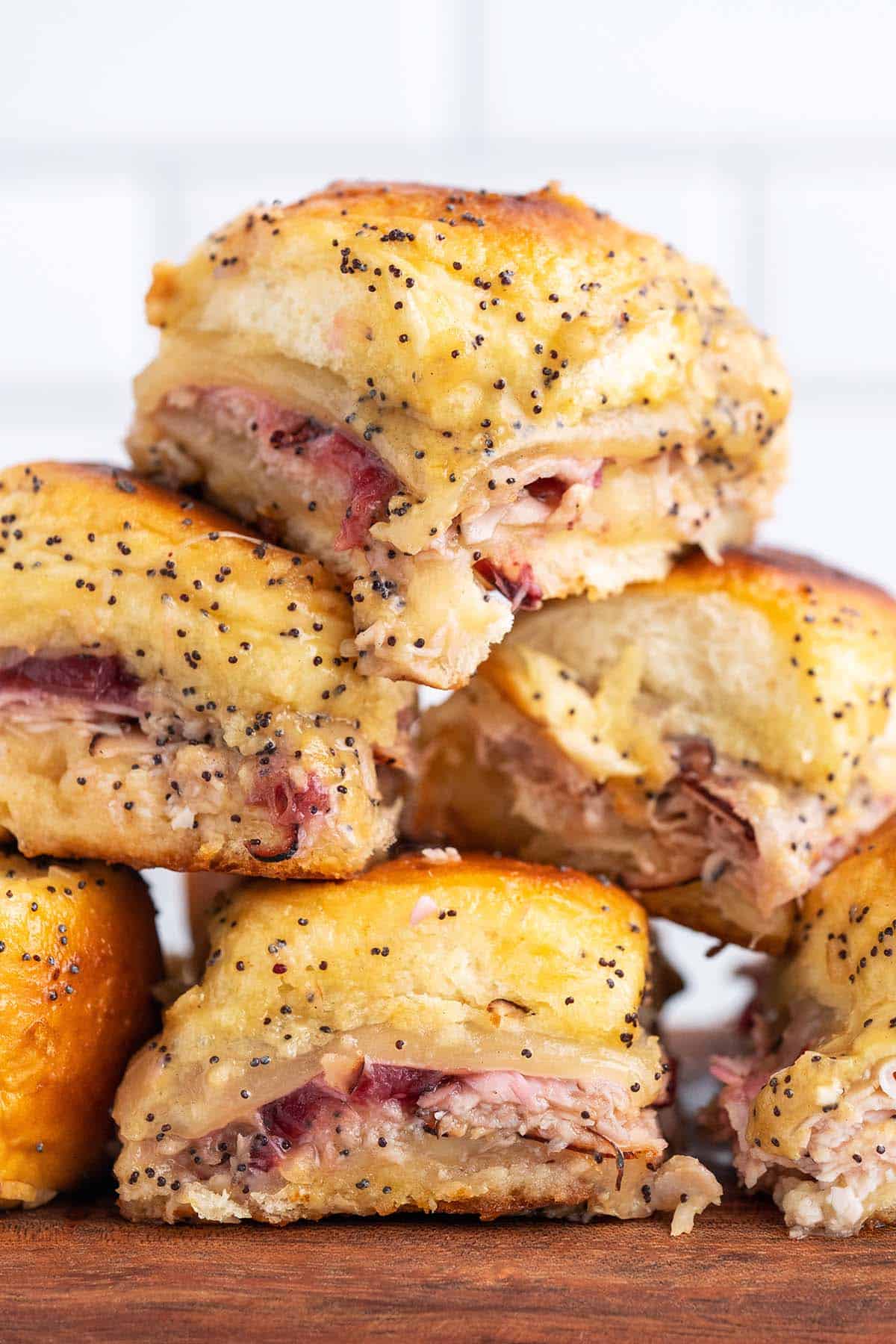 Turkey dinner leftovers don't have to be used for another turkey dinner! Turkey Sliders (with cranberry sauce and Swiss cheese) are an easy and delicious way to use them up. And you can even add a thin layer of leftover stuffing if you want! These leftover Turkey Sliders make the perfect game day nibble or midnight snack for a hungry crowd.
Get the recipe for the absolute best Turkey Sliders.
I love the balance between the rich, velvety broth and the bright, fresh flavors in White Chicken Chili. A couple aromatic ingredients, herbs, and spices add complexity, and chicken broth adds depth of flavor. You won't believe this whips up in less than 30 minutes.
With two kinds of cheese to mellow out a touch of heat from jalapeno, you'd never guess that this filling soup is low carb and keto friendly! However, if keeping the carbs down isn't a concern, you can make it more filling and budget-friendly by adding a can of drained canellini beans to the chili and serve it with a scoop of rice on top.
Try a new type of chili with this Creamy White Chicken Chili recipe.
I love that this recipe uses two common Thanksgiving leftovers: turkey and mashed potatoes! And not only that, but it reinvents them into a completely different dish.
With a savory cheese sauce, steamed broccoli, and flaky puff pastry top, this casserole is about as far from the flavors of a classic Thanksgiving dinner that you can get.
Show of hands for those of you with both leftover turkey and mashed potatoes in your fridge! Go take a peek at this Leftover Turkey Puff Pastry Pie.
Buffalo Chicken Dip is the king of gooey, cheesy dips! With two types of shredded cheese in a creamy base, hot sauce, scallion, and a few herbs and spices, this dip is packed with flavor. It only takes 30 minutes to make, no bottled Ranch needed!
Buffalo *Turkey* Dip is every bit as delicious, and the perfect way to completely reinvent Thanksgiving leftovers.
Also, note that this dip is gluten free and keto! You can serve it with keto crackers or low carb vegetables (like green bell pepper strips, broccoli florets, celery sticks, etc.) to keep the carbs down.
Buffalo Chicken Dip is perfect for game night, holiday parties, or any gathering!
This Leftover Turkey Wild Rice Soup is so comforting, and a welcome change from all those turkey sandwiches! It uses a handful of pantry ingredients for one cozy and satisfying soup.
Check out this beautiful Leftover Turkey Wild Rice Soup recipe on Salt & Lavender.
Turkey Pot Pie is just like Chicken Pot Pie but designed with leftovers in mind. Take those delicious Thanksgiving turkey leftovers and transform them into a quick and easy one-dish dinner!
Find the Turkey Pot Pie recipe on Grandbaby Cakes that'll make you to cuddle up with a blanket and get cozy.
This tastes like classic Italian Chicken Parmesan in soup form! Chicken or turkey, pasta, herbs, and Parmesan cheese in a flavorful rich tomato broth make it perfect cold-weather comfort food.
Serve it up with a green salad and some garlic bread for a full meal that the whole family will love.
Try a new twist on an Italian favorite with this Chicken Parm Soup.
We're giving your leftover Thanksgiving turkey some new life by using it in this easy frittata! Add some mushrooms, veggies, and goat cheese for a full, simple holiday breakfast. And it's easy to customize with whatever you have on hand!
Find the Leftover Turkey Frittata recipe that's perfect for any meal on Life as a Strawberry.
The beauty of this dish is that hash is great for any meal of the day.
Breakfast? Put an egg on it.
Lunch? As-is, or with a green salad on the side.
Dinner? Steam some broccoli or green beans and maybe add some crusty bread, and you're good to go!
Get this all-purpose re-purposed Leftover Turkey Hash with Vegetables recipe.
When it comes to easy leftover turkey recipes, it doesn't get much faster (or easier) than 15 minutes to a whole new meal!
Mushrooms, onions, and garlic sauteed in butter is the deliciously aromatic starting point for this rich, creamy sauce. Fresh rosemary pairs perfectly with turkey, and makes this weeknight dinner of leftovers feel special.
Take a look at the 15-Minute Turkey Stroganoff recipe that will have you hoping for leftovers so you can make it.
This easy and healthy One-Pot Creamy Chicken Gnocchi is absolutely cozy, saucy, and flavorful. It's made with chicken, sun dried tomatoes, corn, and Parmesan cheese for lots of flavor. Leftover turkey works well too. It's the perfect weeknight dinner or date night meal!
Grab the recipe for this restaurant-quality Creamy Chicken Gnocchi on Balance with Jess.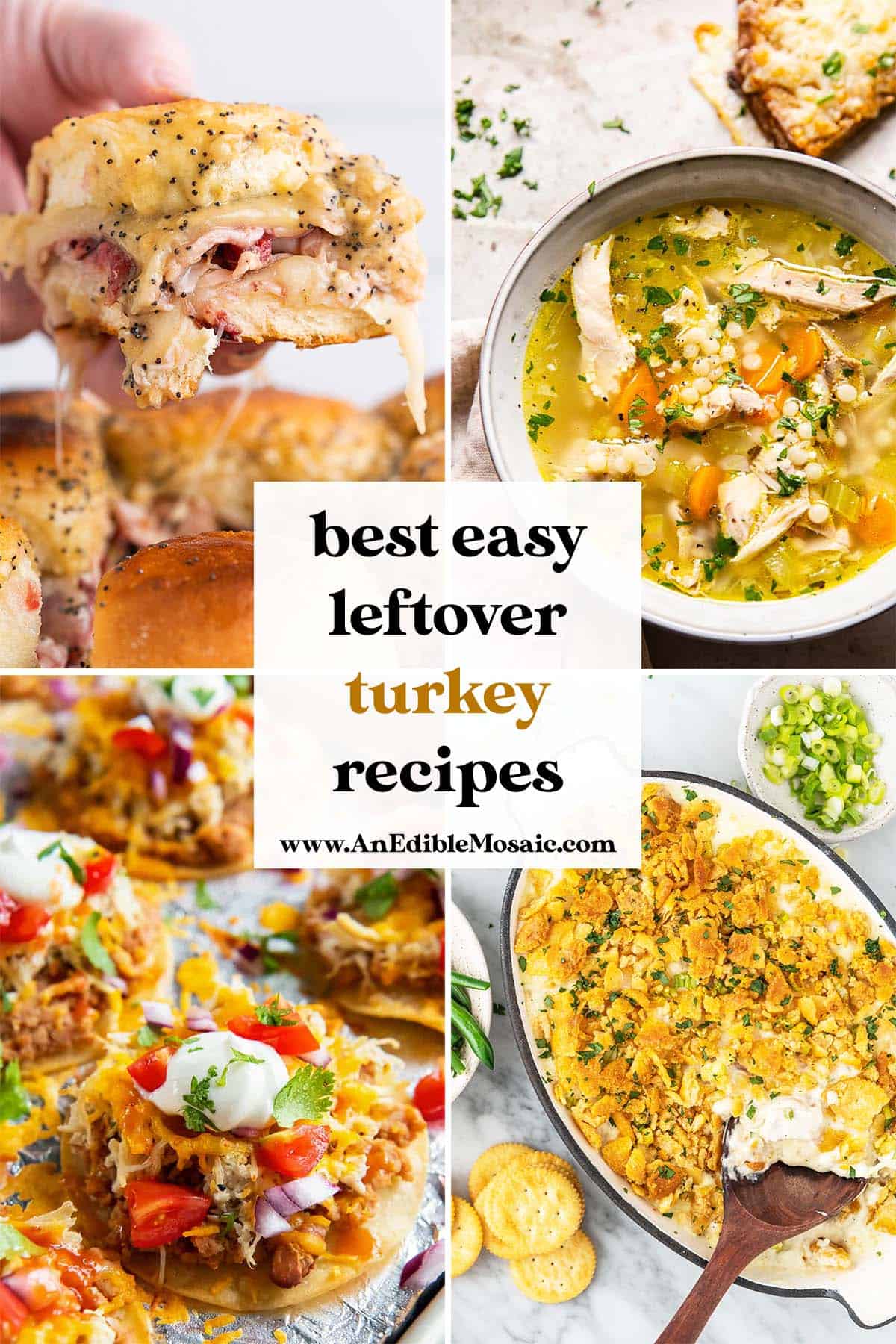 Let's Connect


Did you enjoy this post? Please let me know in the comments below. You can also tag @anediblemosaic on social media.
To stay up-to-date, follow me on Facebook, Instagram, Pinterest, and Twitter!
This post was first published on An Edible Mosaic on November 25, 2016. I updated it with more information on November 22, 2023.