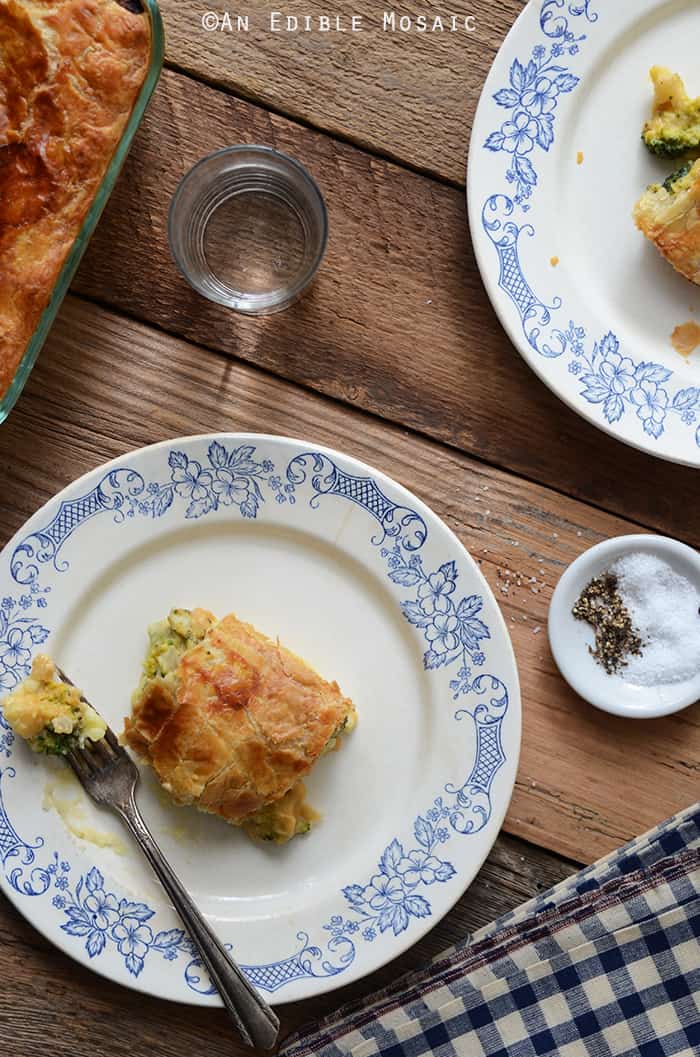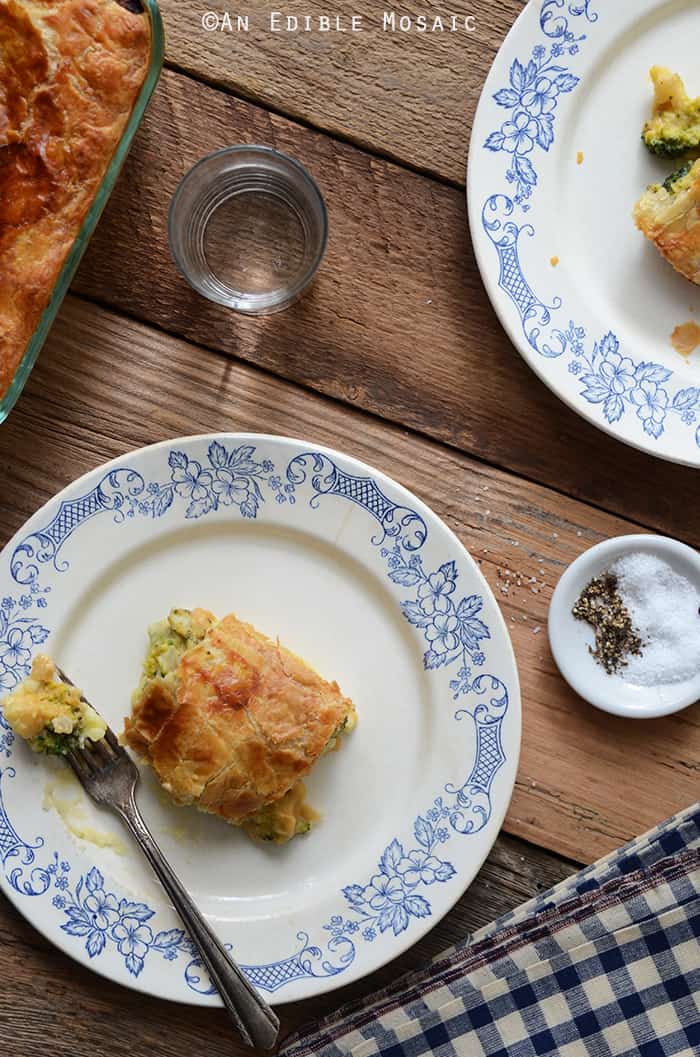 The weekend after Thanksgiving is always pretty hectic around here.
On Friday we put up the Christmas decorations, which involves getting them out of storage, sifting through them as we reminisce, and arranging them just-so. (My mom is the one who makes sure they're arranged "properly". She likes to let us all think we're helping, but as soon as we leave the room she'll rearrange something if it wasn't laid out exactly as she likes it laid out. It's pretty hilarious when we catch her in the act!)
We usually try to whip up a batch or two of our favorite Christmas cookies, as well as watch one of our favorite holiday specials on TV. And if there's time (or a bargain that's just too good to pass up), we'll brave the mall.
Between all that, there really isn't much time for cooking. It's a good thing there are always tons of leftovers from Thanksgiving, but there are only so many nights in a row that I can eat the same turkey dinner. This meal is a fun one to switch things up while still making use of leftovers.
The inspiration for this meal came from a couple different sources.
First, there's the ubiquitous turkey and mashed potatoes leftover from Thanksgiving dinner (side note: if you're looking for more ideas on how to use up mashed potatoes, my Garlicky Mashed Potato Cakes with Raspberry Ginger Mustard Chutney is another favorite). I wanted a dish that would allow me to reinvent these leftovers into a completely new meal.
Then I saw Samosa Pie on Foodess and inspiration struck. I had broccoli in my fridge as well as the makings of cheese sauce…why not make a puff pastry pie?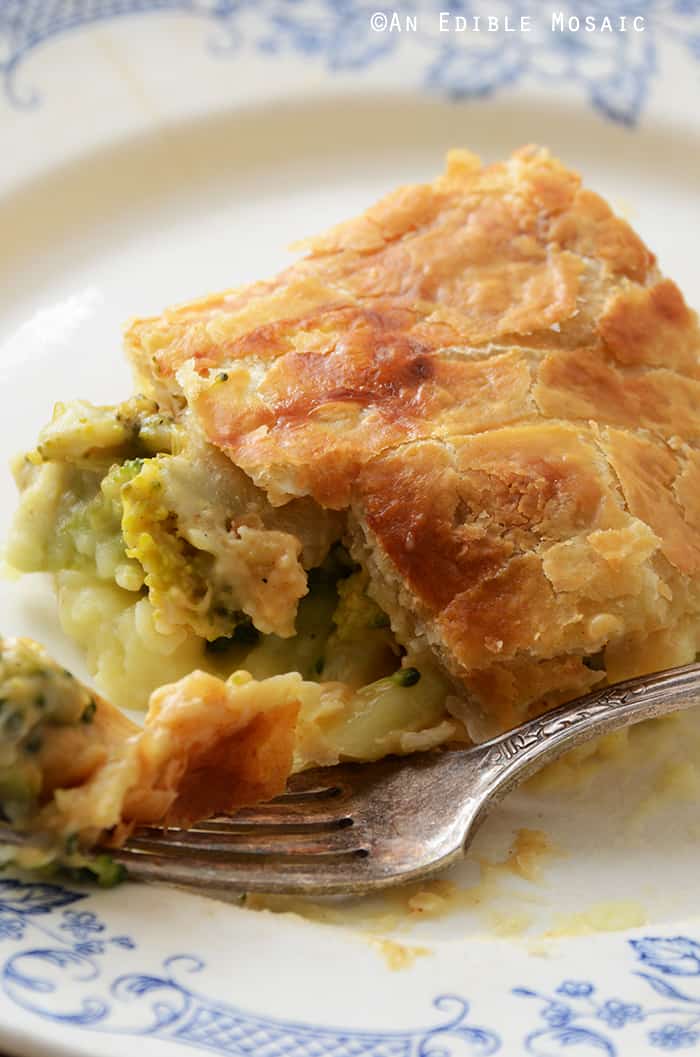 It was fate. And I can guarantee you I'll be making this again the weekend after Thanksgiving.
Oh, and just one other thing; the really nice thing about this recipe is that if need be (to help you clear out even more leftovers!), you can easily whip up another pie and stash it in the freezer (full directions are in the Notes below).
Leftover Turkey, Mashed Potato, and Broccoli Puff Pastry Pie with Cheddar Sauce
Prep time:
Cook time:
Total time:
Yield:
1 (8 by 8-inch) dish, or about 4 to 6 servings
Ingredients
Butter, to grease the dish
2 cups leftover mashed potatoes
1½ cups cooked, chopped leftover turkey (or chicken)
1 lb (450 g) broccoli, cut into bite-sized florets
2 tablespoons olive oil
1 medium onion, diced
2 cloves garlic, minced
3 tablespoons flour
1 cup (240 ml) low-fat milk, at room temperature
1 teaspoon Dijon mustard
1 teaspoon Worcestershire sauce
½ teaspoon smoked sweet paprika
¼ teaspoon salt
⅛ teaspoon black pepper
4 oz (115 g) sharp cheddar, shredded
1 sheet frozen puff pastry (I used ½ of a 17.3 oz package), thawed in the fridge overnight
1 egg, lightly beaten with 1 tablespoon water (for eggwash)
Instructions
Preheat oven to 400F; grease an 8 by 8-inch casserole dish with butter.
Taste the mashed potatoes and add salt and pepper as necessary. Also, if they're very dry and crumbly, stir in a little milk until you can stir them together (don't add too much though – they should not be soupy!). Spread the mashed potatoes in the bottom of the prepared dish. Top with the chopped turkey.
Bring a medium saucepan of water to a rolling boil; season the water with salt, add the broccoli, and cook until crisp-tender, about 1½ to 2 minutes. Drain the broccoli and set aside to cool.
Add the oil to a medium saucepan over medium heat; add the onion and cook until softened, but not browned, about 5 to 7 minutes; add the garlic and cook 1 minute more, stirring constantly. Add the flour and cook 1 minute; whisk in the milk, Dijon, Worcestershire, paprika, salt, and pepper, and bring to a simmer, whisking frequently. Turn off the heat and whisk in the cheese until smooth.
Add the broccoli to the casserole dish on top of the turkey, and spread the cheese sauce on top; let it cool slightly (this is so that the puff pastry isn't going on top of hot sauce, which may cause it to not rise properly).
Unwrap the thawed puff pastry, roll it out on a lightly floured surface, and place it on top of the casserole, tucking the sides down into the dish. Brush a little eggwash on top (there will be extra – do not try to use it all), and cut a few slits in top for steam vents.
Bake until the pastry is puffed and golden, about 25 to 30 minutes. Cool slightly before cutting and serving.
Notes
How to Freeze: If you want to freeze this dish, before putting the puff pastry onto the casserole, wrap the entire casserole well with plastic wrap and freeze it for up to 3 months. The night before you want to make it, thaw it overnight along with a sheet of puff pastry. Once thawed, put the puff pastry on top and bake the casserole as directed.