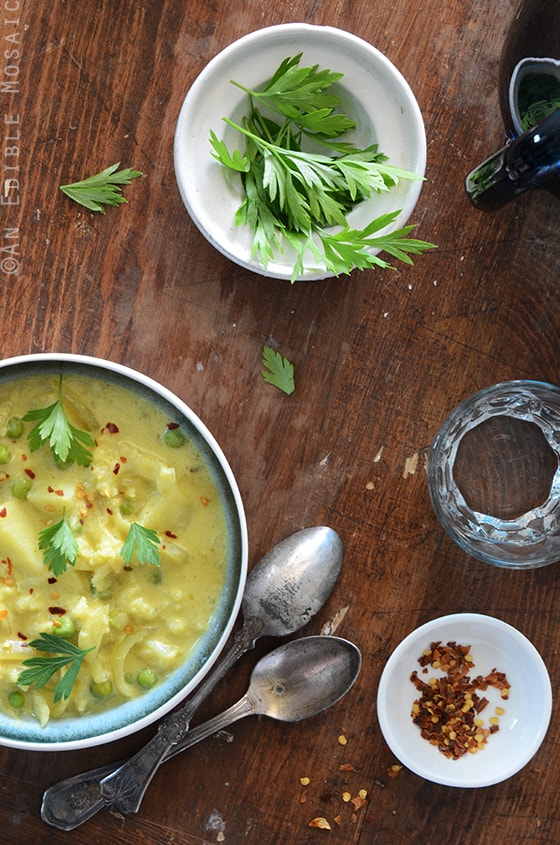 When it comes to Indian spice mixes, I have to admit that curry powder typically isn't on my list of favorites; instead, garam masala spice mix is my much-preferred go-to. (Garam masala makes a perfect dish of Lamb Tikka Masala or Dal Makhani/Butter Lentils!)
But I think I'm on the verge of being converted to the curry side, especially after this dish.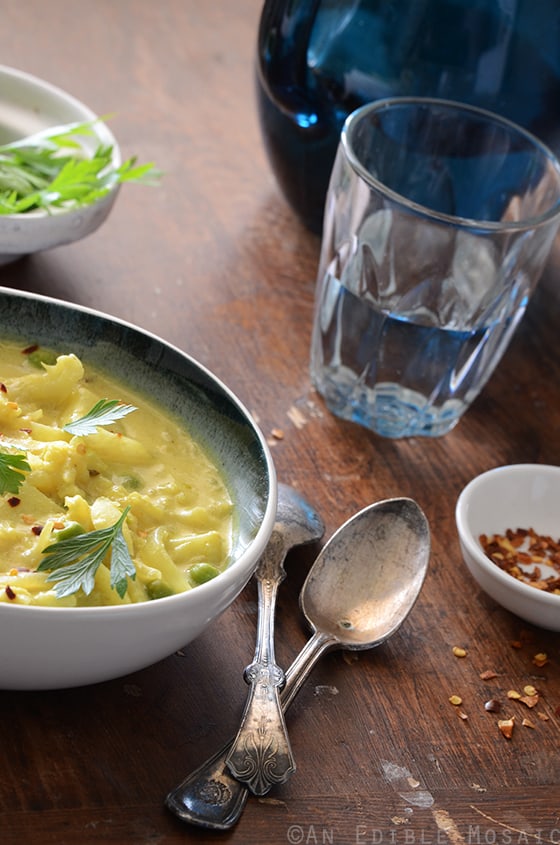 There's something about the combination of potato, cauliflower, and green peas with Indian spices and aromatics that works brilliantly. And bonus, the creaminess of this dish comes from yogurt, not a drop of cream, so it's healthier than you might expect.
My method for making sure that the yogurt doesn't curdle works like a charm every time. There are three factors: 1) stabilize the yogurt with cornstarch slurry, 2) stir nearly constantly once the yogurt is added, and 3) don't let the yogurt come to a boil. It's even easier than it sounds, and full directions are given below. This method is really worth learning because once you've mastered it, you'll find yourself making it over and over, putting your own touches on it to suit your tastes.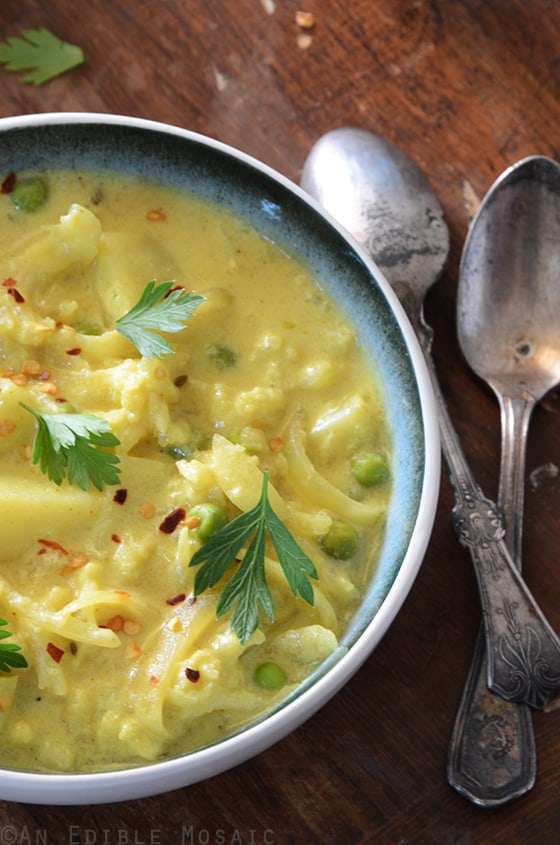 This dish comes together in about 45 minutes, so it's doable for a weeknight meal. Plus, leftovers reheat well (transfer them to a microwave-safe dish and microwave at about 75% power, pausing to stir occasionally, until warm throughout) and can be packed for hot lunches at work.
For more Healthy Vegetarian Curry Recipe inspiration, head over to Cooking Light!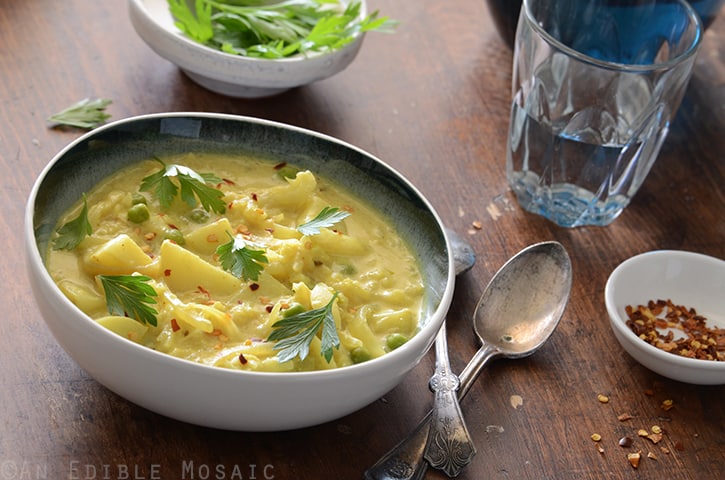 Green Pea, Baby Potato, and Cauliflower Curry
Prep time:
Cook time:
Total time:
Ingredients
¾ lb (340 g) baby potatoes, halved or quartered (depending on their size) into bite-sized pieces
1 small (¾ lb/340 g) head of cauliflower, chopped into bite-sized florets
2 tablespoons olive oil
1 medium onion, halved and thinly sliced
3 cloves garlic, crushed
1-inch piece fresh ginger, grated
1 teaspoon Madras curry powder
¾ teaspoon ground coriander
½ teaspoon crushed red pepper flakes (more or less to taste)
½ teaspoon cumin seeds
¼ teaspoon salt
¼ teaspoon ground turmeric
⅛ teaspoon ground black pepper
1 bay leaf
1½ cups (355 ml) low-sodium chicken stock, vegetable stock, or water
2 cups (500 g) plain, low-fat yogurt, at room temperature
2 tablespoon cornstarch dissolved in 4 tablespoons cold water to form a slurry
5 oz (140 g) frozen green peas, thawed under warm running water
A small handful of fresh parsley or cilantro leaves (optional)
Instructions
Add the potatoes to a medium saucepan; cover them by 1 inch with cold water. Bring to a boil, and then turn the heat down slightly and cook until fork tender but not mushy, about 5 to 7 minutes. Drain well.
Meanwhile, bring a medium saucepan of salted water to a boil. Add the cauliflower and boil until fork-tender but not mushy, about 5 to 7 minutes. Drain the cauliflower and plunge it into a bowl of ice water to stop it from cooking more. Once cooled, drain again.
Add the oil to a large, deep skillet over medium heat. Add the onion and cook until softened and starting to caramelize in places, about 5 to 8 minutes, stirring occasionally.
Add the garlic, ginger, curry powder, ground coriander, crushed red pepper flakes, cumin seeds, salt, turmeric, black pepper, and bay leaf, and cook 1 minute, stirring constantly.
Add the stock or water and bring to a simmer. Once simmering, add the yogurt, stirring constantly but slowly in one direction with a wooden spoon. Once the yogurt is warm, stir in the cornstarch slurry, potato, cauliflower, and thawed green peas.
Continue to heat the curry over medium heat until it's steaming hot and just comes to a simmer, and then immediately remove it from the heat. Be sure to stir in one direction using a wooden spoon for the majority of the time (this is to help prevent the yogurt from curdling).
Serve the curry warm with fresh parsley or cilantro leaves sprinkled on top.
Notes
Serving Suggestion: I like to eat this curry as-is (like soup), but it is also great served with prepared basmati rice.