If there were no such thing as calories, this is the food I would eat every day.
Yes, even over dark chocolate. Ok, wait I take that back, that doesn't count! (A girl needs her chocolate.)
But still, if every food was healthy (or equally unhealthy), this would surely be a staple in my life. 
These little cakes of bliss are addictive like that, which is why I only recommend making them if you have a house full of people. Really. I can't be responsible for what will ensue if you make these alone (but hey, what happens in the kitchen in the dark hours of the night is between a girl - or boy - and her/his kitchen, right?).
So how did these glorious potato cakes come to be?, you wonder.
I recently found myself with leftover mashed potatoes…which seems to happen again and again. When I was thinking of what to make with them, I remembered the Prata Cakes that Mike and I ate at a place called Kilpatrick's a while back. Sadly, their cakes were a sorry disappointment, but I knew the idea had potential, and I wanted to try my hand at my own version of them. I gave it a whirl…and honestly, they're the best thing I've eaten in I don't remember how long. (Crispy outside, smooth and creamy inside with a garlicky flavor and topped with a savory sweet sauce…how could these cakes not be amazing?!)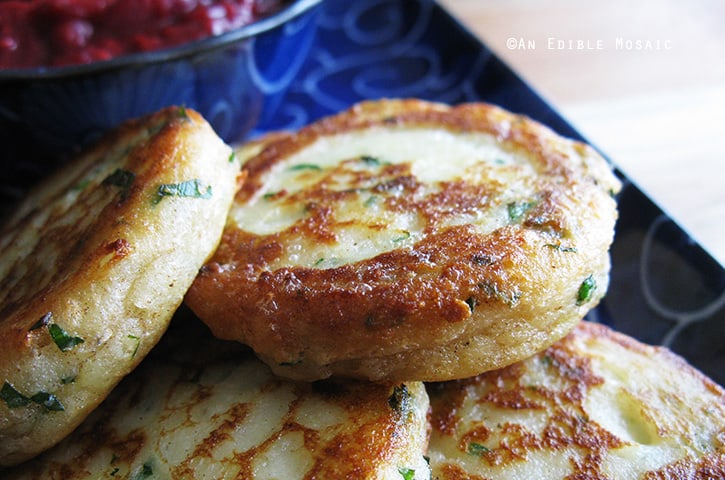 If the idea of Raspberry Ginger Mustard Chutney doesn't thrill you (I have to say, as a huge fan of sweet/savory combos, it thrills me silly!), I also think these would be fantastic plain, or topped with vegetable cream cheese dip…or sour cream and chives…or cream cheese and lox…or for a little fancying up, sour cream and caviar…ok, you get the idea.
They'd be pretty great with just about anything.
Garlicky Mashed Potato Cakes with Raspberry Ginger Mustard Chutney
Prep time:
Cook time:
Total time:
Yield:
About 16 cakes and ½ cup chutney
Ingredients
Raspberry Ginger Mustard Chutney:
2 teaspoons olive oil
1 small onion, diced
1 bay leaf
1 cup frozen raspberries
1 date, pitted and minced
1 tablespoon rice vinegar
1 tablespoon honey (more or less to taste)
1 teaspoon Dijon mustard
1 teaspoon tamari sauce (or soy sauce)
½ teaspoon Chinese five spice powder
½ teaspoon ground ginger
Generous pinch each salt and pepper
Garlicky Mashed Potato Cakes:
1 teaspoon butter
1 to 2 large cloves garlic, minced
4 oz cream cheese, room temperature (low-fat is fine)
1 large egg white
2 tablespoons minced fresh parsley leaves
¼ teaspoon salt
⅛ teaspoon black pepper
1 cup leftover mashed potatoes
6 tablespoons all-purpose flour
Oil, for shallow frying (I used an equal mixture of butter and canola oil)
Instructions
For the Raspberry Ginger Mustard Chutney, heat the oil in a small saucepan over low heat; add the onion and bay leaf, and sauté until onion is softened, about 5 minutes, stirring occasionally. Add all remaining ingredients and cook until thickened, about 7 minutes, stirring frequently. Taste and add more salt, pepper, and honey as desired. Remove the bay leaf before serving with the Garlicky Mashed Potato Cakes (or you can spread the chutney on fresh bread topped with cheese - such as Cheddar or Brie - and run it under the broiler to melt the cheese).
For the Garlicky Mashed Potato Cakes, melt the butter in a small saucepan over low heat; add the garlic and cook until fragrant, about 1 to 2 minutes, then cool. Mix together the garlic, cream cheese, egg white, parsley, salt, and pepper in a medium bowl. Use a wooden spoon to stir in the potato and then the flour, being careful not to over-mix (the dough will be very sticky). Let this mixture rest for 5 to 10 minutes.
Coat the bottom of a large (preferably non-stick) skillet with canola oil (I like to also add a little butter for flavor, but this is optional); heat over medium heat. Once the oil is hot, scoop the dough into the oil. This is easiest to do with an ice cream scoop; my scoop holds 1½ tablespoons, and I get about 16 cakes out of this recipe. Cook the cakes in batches so that you don't overcrowd the pan.
Once the dough is scooped into the oil, use an oiled metal spatula to gently flatten the balls slightly. Cook until golden brown on both sides, flipping once (the easiest way to flip them is using 2 oiled metal spatulas; one to flip and one to guide the cakes). Once cooked, transfer the cakes to a paper towel-lined plate to drain any excess oil.
Serve the Garlicky Mashed Potato Cakes hot, warm, or at room temperature with Raspberry Ginger Mustard Chutney.