If you've been waiting as excitedly as I have for Jessica's (How Sweet It Is) cookbook to be released, you're probably in how-sweet-it-is-heaven right now. For those of you who don't have her book yet, just know that if you like her blog, you'll adore her cookbook!
For starters, Seriously Delish is drop-dead gorgeous. Jess's photography is breathtaking (and mouthwatering), and because I know you're wondering – yes, there is a picture for nearly every single recipe in the book. And as for the recipes…let's just say, Jess leaves nothing to be desired because there is literally something to entice everyone. But maybe what I love most about her book is that her genuine voice – the same funny, sweet girl we all know and love from her blog – shines through brilliantly.
Jess has a real knack for creativity in the kitchen (think Chorizo & Balsamic Brussels Nachos, Spicy Zucchini Nuggets with Honey-Chipotle Ketchup, Cinnamon Sugared Bacon (!!), and Chocolate-Almond Butter Popsicles with a Smoky Almond Crunch). And even when she remakes a classic, she does it with flair and makes it uniquely her own (like Mini Crab Cakes with Sweet Corn & Blueberry Salsa, Parmesan-Pistachio Kale Chips, and White Cheddar Apple Crisp). Even something as ordinary as caramelized Brussels sprouts becomes extraordinary when sautéed in coconut oil and topped with shaved Parm cheese (like in Jess's recipe for Crispy Salt & Pepper Brussels Sprouts, which was the first recipe I tried from her book).
Seriously Delish is a fresh new set of beautiful, approachable recipes for the food lover who cooks just because they're hungry, just to feed their family or friends, or just because it's a random Tuesday night. In short, it's a cookbook for everyone who enjoys good food.
Here are a few recipes from the cookbook that I've tried so far…
Sweet Potato Hash, Scrambled Egg, & Herb Goat Cheese Freezer Breakfast Burritos
Jess is absolutely right when she says there's nothing better than being able to eat a real breakfast – like the kind you'd make on the weekend – on a weekday morning. And she's a genius with these burritos. There are all kinds of flavors going on in there (sweet, savory, and cheesy), and they all come together perfectly. I love the use of smoked paprika here; its smoky flavor simulates bacon, so even though this dish is vegetarian, you'll be thinking bacon and eggs as you eat it. Looking in my freezer and finding it stocked with a stash of things like these burritos makes me a very happy girl.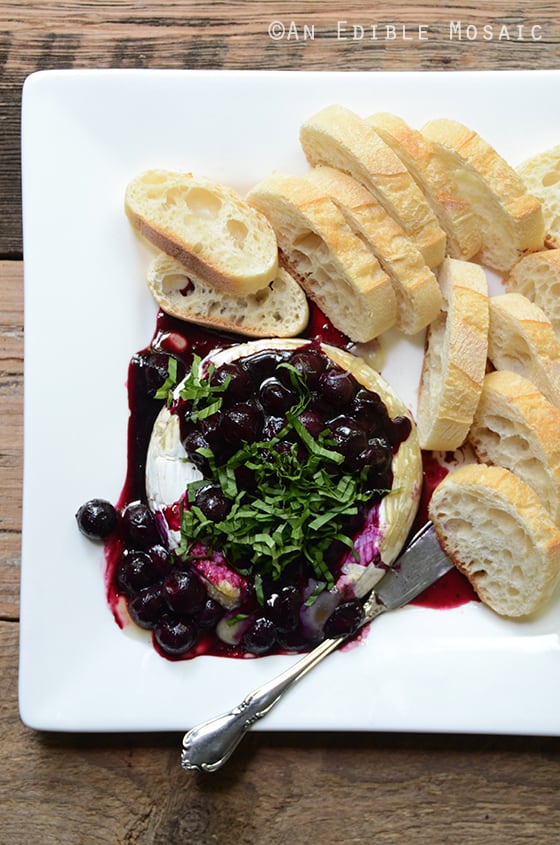 Roasted Blueberry-Basil Brie
If you've never made baked brie before, you're missing out on one of the world's best – and easiest – appetizers. The only thing better than gooey melted cheese is gooey melted cheese topped with sweet/tangy fruit. In this recipe, roasted blueberries are an ingenious compliment to the earthy flavor of brie, and fresh basil brightens up the dish perfectly.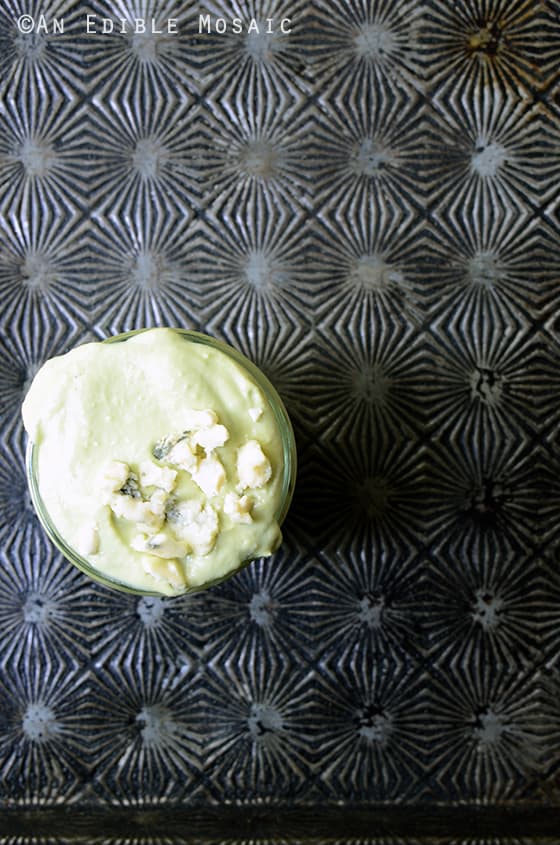 Creamy Blue Cheese-Avocado Dressing
This dressing is thick and creamy with a balanced flavor profile and bursts of robust blue cheese flavor. It's like the best blue cheese dressing you ever had (or you've never had until now). I've eaten it dolloped on top of a huge bowl of salad greens, as a dip for pretzels, and as a condiment on a turkey sandwich. I might have even simulated the buffalo wing experience; added a couple dashes of hot sauce to the mix, served it with celery sticks, and eaten the whole batch (with help from a friend!) in one sitting.
Accidental White Wine Baked Scallops Cod
I am crazy about scallops. When I first looked over Seriously Delish, so many recipes called to me from the very beginning, but I immediately knew I had to make this one sooner rather than bookmarking it for another day. (Plus I loved the story that Jess told about how this recipe came to be!) Ironically, I had everything on hand except for scallops (I like to buy them fresh when I'm planning to make them, so they aren't a fridge staple for me), but I did have frozen cod on hand. I thawed the cod and cut it into large chunks (about 1 ½ to 2 inches) and followed the rest of the recipe exactly as written. I'll be making this again with scallops and again with cod, and probably again with shrimp. Did I mention I want to make it again? ;)
Chocolate & Peanut Butter Lover's Brownies
We've all had brownies before. Most of us probably even have a favorite recipe or box mix (hey, I'm not judging; I know box mix brownies are killer!). No matter where you stand in your quest for the perfect brownie, you need to try these. You can't see from my picture, but there's a Buckeye-like layer of peanut butter between the brownie and the chocolate ganache on top…and it makes these brownies. Rich and decadent, they are an aptly named chocolate/peanut butter lover's paradise. Make them the next time you need a celebratory treat, and then try to hold off making them again until you have another special occasion; good luck holding out! (Bonus, the recipe is available here!)
I've also tried Jess's recipe for "Sour Cream and Onion" Popcorn, which was pretty fabulous and completely reminiscent of my favorite potato chip growing up. (She nailed the flavor!) And I'm not done yet; I can't wait to make Roasted Cherry, Coconut, & Quinoa Breakfast Bowls, Strawberry Soda (Floats!), Crab Cake Cobb Salad Stacks, Cheesy Polenta with Garlic Butter Mushrooms, and Mocha-Coconut Tiramisu, to name just a few.
:: GIVEAWAY ::
Because I love Jess's beautiful cookbook so much, I'm incredibly excited to be able to give away a copy of it to one lucky reader! (Thank-you to Houghton Mifflin Harcourt for their generosity!)
To participate in this giveaway, just leave a comment on this post telling me who you love to cook for. (No matter who it is, I'm sure there's a recipe for them in this cookbook.)
For extra entries, you can do any of the following (please leave a separate comment for each):
You do not need to have a blog to enter this giveaway. For shipping purposes, this giveaway is only open to U.S. residents. This giveaway ends on September 18, 2014 at 11:59 PM EST. Once the giveaway ends, the winner will be randomly chosen and notified via email. The winner will have three days to respond with his or her mailing information, otherwise a new winner will be randomly chosen. Good luck to all!
Disclosure: I received a free review copy of Seriously Delish (Houghton Mifflin Harcourt; September 2014), and the publisher is also providing the cookbook for this giveaway. As always, opinions are my own. This post contains Amazon affiliate links to products I believe in, which means that even though it doesn't cost you anything extra, I will receive a small amount of money from the sale of these items, which helps me keep this site alive – thank you for helping to support An Edible Mosaic!