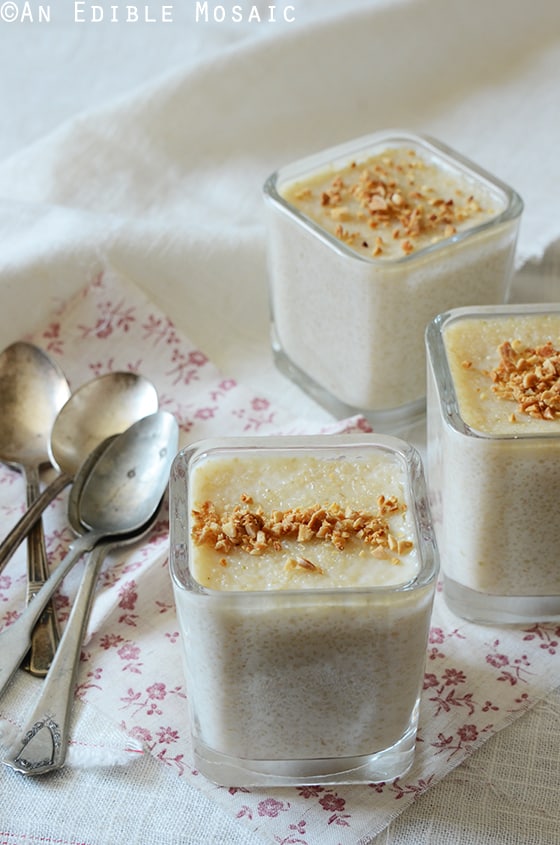 It's been a while since I talked about our pudding obsession.
Our obsession hasn't gone anywhere, but I don't want to bombard and overwhelm you with pudding, of all things. That would just be weird.
However, it's been long enough since I shared a pudding recipe (too long, really!), and I absolutely had to share this version. It uses something that you might not have thought about using to make pudding: brown rice farina! (Which I think makes it at least arguable that this pudding can pass for breakfast, especially if paired with fresh fruit. Plus, Cooking Light lists brown rice as a carb that satisfies!)
With almond extract perfuming the pudding and toasted almonds gracing the top, this pudding is an almond-lovers dream. I also use a little bit of mahlab, a spice that's used judiciously in certain Middle Eastern dishes. I think it tastes like a cross between cherries and almonds, and it adds that little touch that makes people say, Hmm…what's in there?
If you like pudding but don't usually take the time to make homemade, you will go crazy for this rice pudding on-the-quick.
Creamy Almond Brown Rice Pudding
Prep time:
Cook time:
Total time:
Yield:
4 (about ¾ cup) servings
Ingredients
¾ cup (123 g) Bob's Red Mill Creamy Brown Rice Farina
3 cups (710 ml) reduced-fat milk (not skim)
⅓ cup (67 g) sugar (or ¼ cup/60 ml honey)
¼ plus ⅛ teaspoon salt
⅛ teaspoon ground mahlab
1½ teaspoons pure vanilla extract
¾ teaspoon pure almond extract
2 teaspoons toasted almonds, finely chopped
Instructions
Stir together the brown rice farina, milk, sugar, salt, and mahlab in a medium saucepan.
Bring to a gentle boil over medium heat, then turn heat down slightly and simmer (uncovered) until thickened, about 5 to 7 minutes, stirring frequently.
Remove from heat and stir in the vanilla and almond extracts.
Carefully ladle into 4 individual-sized bowls. Cool to room temperature, and then refrigerate until fully chilled (about 2 hours). You can place a piece of plastic wrap directly on top of each pudding if you don't want a "skin" to form.
Serve chilled, with the almonds sprinkled decoratively on top.
Notes
To Serve Hot: This pudding can be served immediately if you like it hot; once it cools down, it's hard to reheat though (the consistency changes), so I recommend serving it right away if you want to serve it hot.
Disclosure: I received the brown rice farina that I used in this recipe for free from Bob's Red Mill. I did not receive compensation for this post and I was under no obligation to review the product; as always, opinions stated are my own.