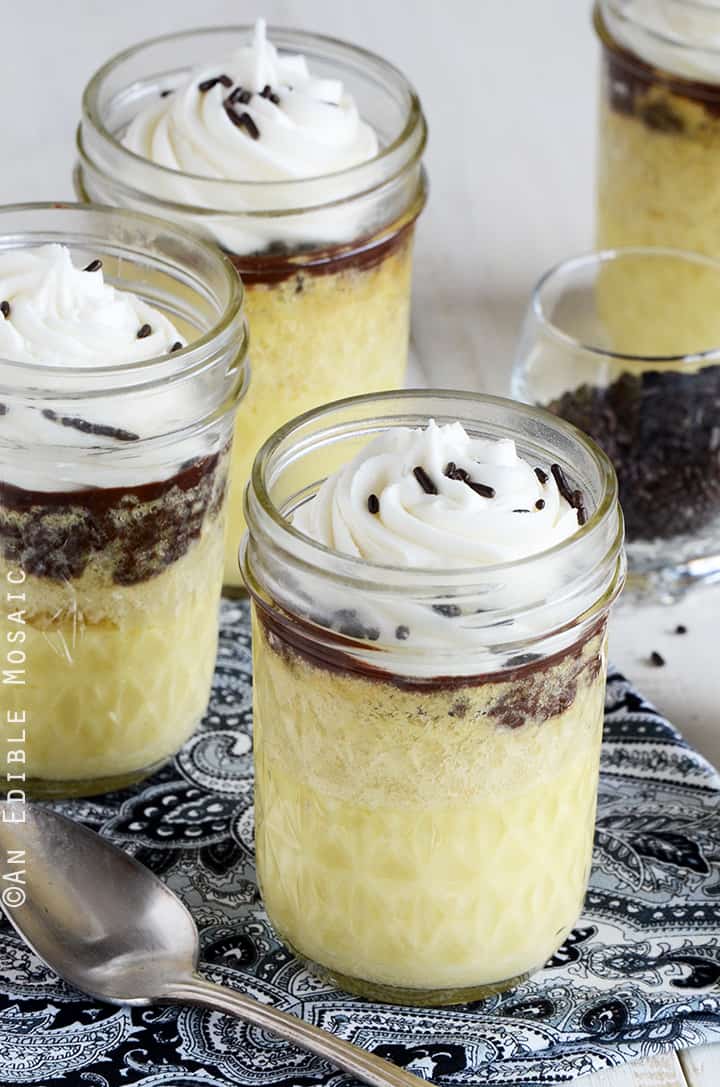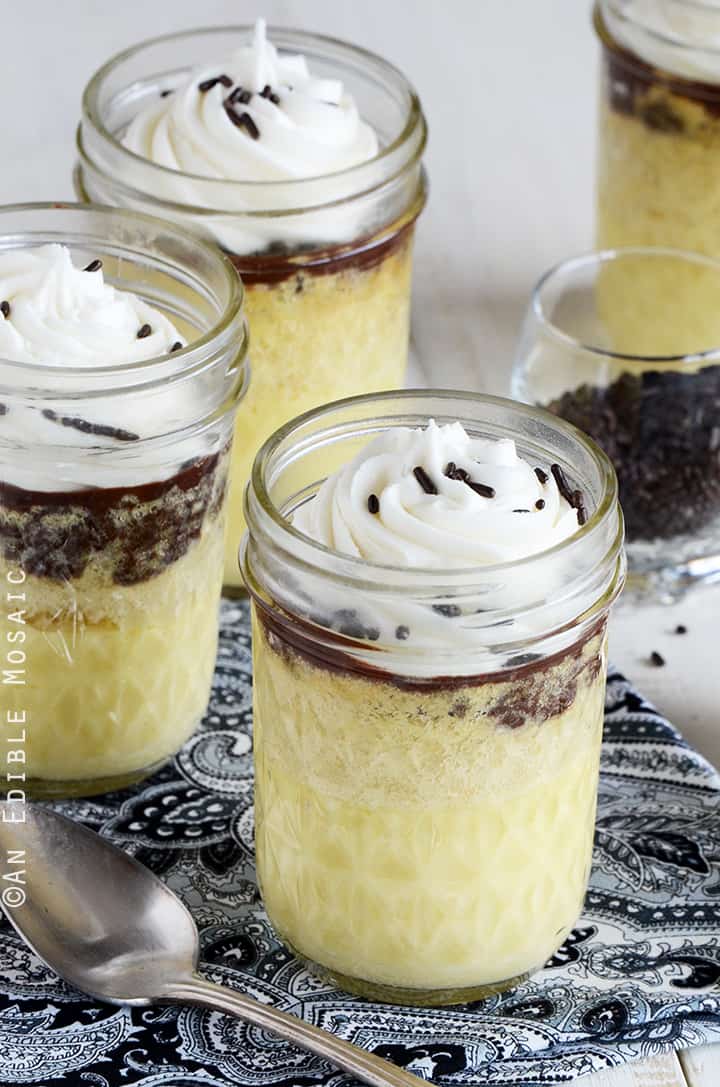 For Christmas Eve dessert my brother asked for something called Christmas Custard Pie. No one else in the family had ever heard of it before (including me) and he had no explanation for it other than the obvious (custard and pie, lol!). When asked where he heard of it, he was strangely cryptic and didn't really say; in an effort to find out more about it, I looked it up online and even though I found a few different recipes, nothing really stuck out as a must-try. But by that point I was definitely in the mood for custard so I decided to go with a custard-y "pie" of a different kind: Boston Cream Pie!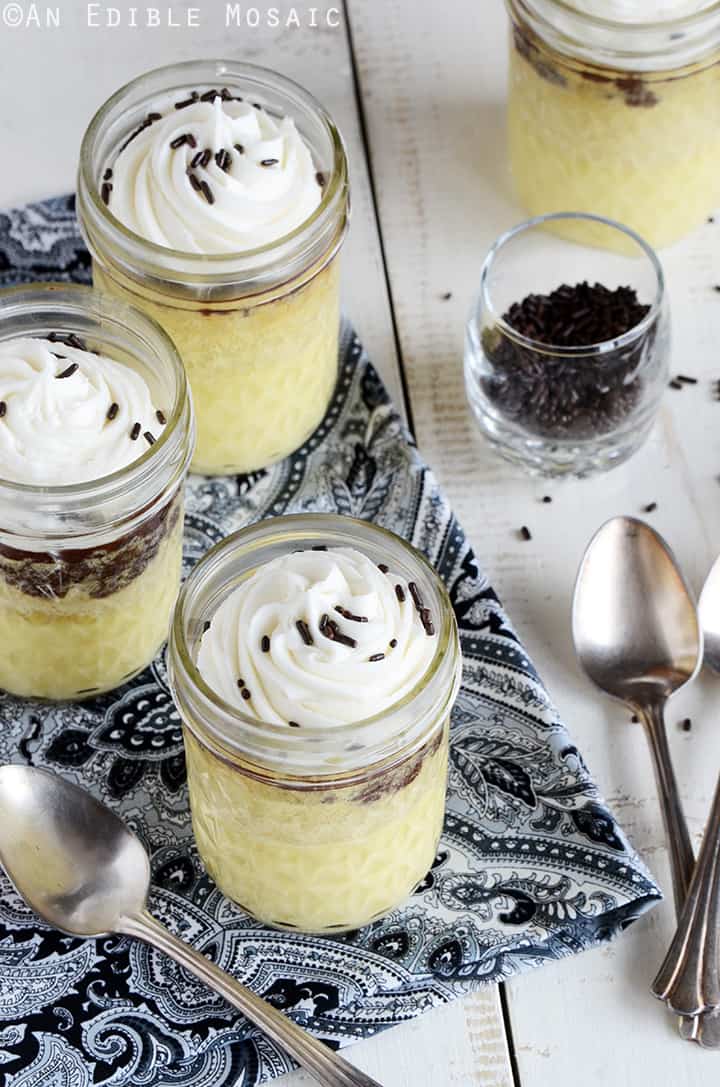 Boston Cream Pie is actually cake; a yellow layer cake filled with either custard or pastry cream and topped with ganache. I wanted to make my own version of this classic in jars. (I'm not really sure why, it just seemed like a good idea at the time.) Sounds easy enough, and had I just made cupcakes, sliced them in half, and assembled the Boston Cream Pies in the jars it would have been. But I wanted to bake the custard and cake batter together in the jars so that the only assembly required once they were baked was the addition of ganache on top.
So I set out thinking about how to make it work. (I even called my blogging buddy Brandy for some help – thanks for brainstorming with me, Brandy!) At first I was going to try to bake a layer of custard between two layers of cake; the bottom layer of cake would have to be thick (almost like a muffin batter) so that the custard wouldn't sink into it, but the top layer of cake (that rests on the layer of custard) would have to be light and spongy so it wouldn't sink into the custard. I think it would have worked pretty well in the end, but it sounds a little complicated, right? (I don't want my recipes to be too convoluted – I want you guys to make them!) I thought it sounded a bit too involved, so I scrapped that idea.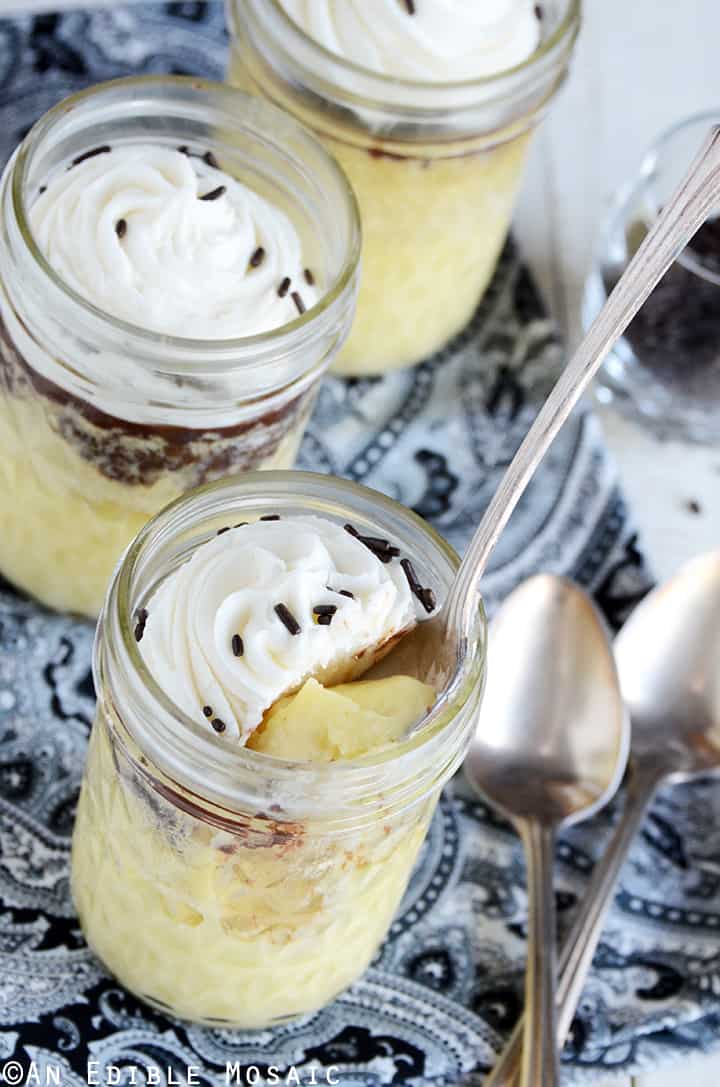 Finally, I decided to put a layer of custard on the bottom of the jar and top it with a layer of cake batter (kind-of a cross between butter cake and sponge cake so it's still light enough not to sink), and then bake it in a water bath up to the top level of the custard so the custard is protected in the oven, but the cake batter cooks properly. It worked like a charm…two completely distinguishable layers and both incredibly tasty (and no sinking cake batter!).
Of course, it doesn't end there though. (I made it for Christmas Eve dessert, so why not gild the lily? ;) ) Once the cakes were cooled to room temperature, I spooned dark chocolate ganache on top and let it set, and then piped white chocolate buttercream on top. Really, this is a dessert worthy of dreaming about. And replicating. There's no way I'm waiting until next Christmas Eve to make these again.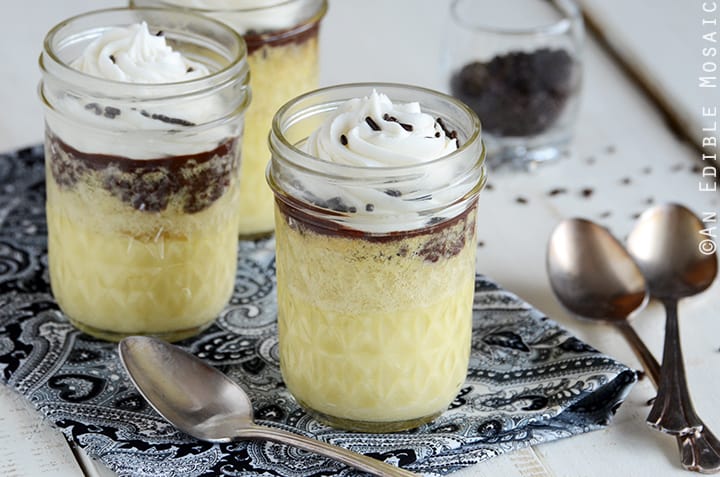 Individual Boston Cream Pies in a Jar
Prep time:
Cook time:
Total time:
Yield:
11 individual cakes
Creamy custard is baked in individual jars with a light vanilla butter cake on top, and then topped with dark chocolate ganache and white chocolate buttercream for a fun spin on a classic Boston Cream Pie.
Ingredients
Custard:
1 large egg
3 large egg yolks (you'll use the whites in the cake)
1 tablespoon pure vanilla extract
3 cups milk (I used 2%)
½ cup sugar
⅓ cup all-purpose flour
⅛ teaspoon salt
3 tablespoons unsalted butter
Cake:
4 tablespoons unsalted butter, melted and cooled slightly
2 large eggs
¾ cup sugar
1½ teaspoons pure vanilla extract
¼ cup milk (I used 2%)
1 cup all-purpose flour
¾ teaspoon baking powder
¼ teaspoon salt
3 large egg whites (you'll use the yolks in the custard)
Dark Chocolate Ganache:
8 oz good-quality bittersweet or semi-sweet chocolate, chopped
2 tablespoons unsalted butter
2 tablespoons milk (I used 2%)
½ teaspoon pure vanilla extract
White Chocolate Buttercream:
4 oz (about ⅔ cup chopped) white chocolate, chopped
3 tablespoons unsalted butter, at room temperature
6 tablespoons vegetable shortening, at room temperature
1½ teaspoons pure vanilla extract
¾ lb powdered sugar
2-4 tablespoons milk (more or less to achieve desired consistency)
Other:
Butter, to grease the jars
Instructions
Preheat oven to 350F; grease 11 (8 oz) jelly jars with butter.
For the Custard: Whisk together the egg, egg yolks, and vanilla in a medium bowl and set aside. Whisk together the milk, sugar, flour, and salt in a medium saucepan; bring to a gentle boil over medium heat, stirring occasionally. Turn off the heat and very slowly ladle the hot milk mixture into the egg mixture while whisking, adding just a drop at a time at first, and then whisk in the butter. Strain the custard through a fine mesh sieve to remove any lumps. While it's still hot, slowly pour the custard into the prepared jars, being careful not to splash the sides of the jar. Cool the custard a bit (so that it's set) before you pour the cake batter on top.
For the Cake: While the custard cools, make the cake batter. Whisk together the butter, eggs, sugar, vanilla, and milk in a large bowl. In a separate bowl, whisk together the flour, baking powder, and salt. In another bowl, whip the egg whites to stiff peaks. Whisk the dry ingredients into the wet, then fold in the egg whites, ⅓ at a time. Carefully spoon the batter onto the set custard (you can use a small ladle or put the batter into a pastry bag and pipe it).
Arrange the jars (so that they don't touch each other or the sides of the pan) in a large, deep roasting pan; add enough hot (not boiling) water to come up to the top of the custard (but not the cake batter). Bake until the cake is light golden on top and a toothpick inserted into the cake inside comes out clean or with just a couple crumbs, about 45 minutes. Cool completely before proceeding.
For the Dark Chocolate Ganache: Melt the chocolate and butter together in a microwave or double boiler; add the milk and vanilla and stir until smooth. Spoon over the cooled cakes, and let the chocolate set before piping the White Chocolate Buttercream on top.
For the White Chocolate Buttercream: Melt the white chocolate in a microwave or double boiler. Beat together the melted chocolate, butter, shortening, and vanilla. Slowly beat in the powdered sugar; while still beating, add the milk a little at a time until the frosting reaches your desired consistency. Pipe the frosting on top of the cakes once the ganache is set.
Serving and Storing: Serve these within 1 to 2 hours of having them fully assembled. Otherwise, you can make them up to 3 days ahead of time; store them in the fridge and let them sit at room temperature for about 20 minutes before serving.
Notes
To Make in Advance: These cakes can be made up to three days ahead of time; store them in the fridge and let them sit at room temperature for about 20 minutes before serving.