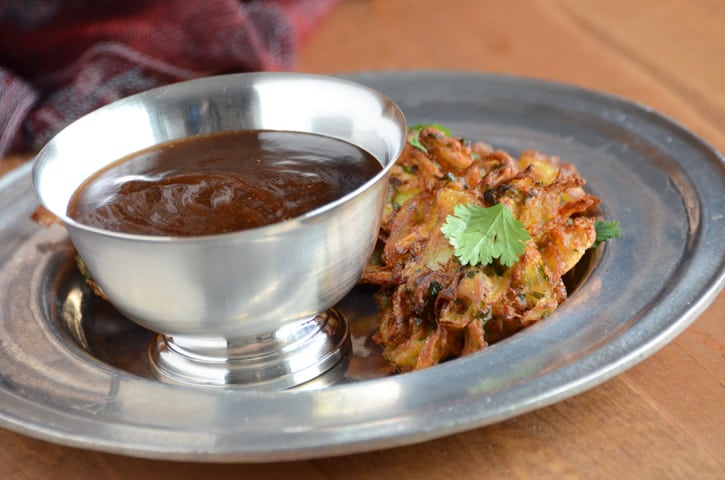 Bhajis (or pakoras, depending on where in India you are or who you're talking to) in general, and onion bhajis in particular, are one of my favorite appetizers. A friend taught me how to make them a few years ago and I've been making them ever since; I would have shared sooner, except that I thought I already had! I just recently realized that I didn't have them on my site so now I'm righting this horrible wrong. ;)
These are the perfect way to start an Indian meal, or just about any meal, for that matter. The best way I can describe them is an Indian-spiced onion ring…they are so much more flavorful than regular onion rings though! The accompanying sauce I made is Tamarind Chutney, which is similar to ketchup in color, but has the consistency of thick honey…and it tastes amazing. Sweet, tart, and spicy all at the same time. Be forewarned, once you try it, you may prefer it to ketchup and want to use it all the time.
A Note on Besan: The flour I use in my bhajis is besan, which you might also find called chickpea flour, garbanzo bean flour, chana flour, or gram flour (it's just dried chickpeas that have been ground into a flour-like powder). (It can be found in just about any Indian grocery store, and Bob's Red Mill also has a lovely product.) It is high in protein and gluten-free, so it is a good choice for people who are gluten intolerant. It has a pleasant (well…I guess that's a matter of personal preference, but I think it's pleasant, lol), slightly bean-y flavor, but in this recipe the bean-y flavor isn't detectable because of all the spices. That being said, you can use any kind of flour you like or have access to.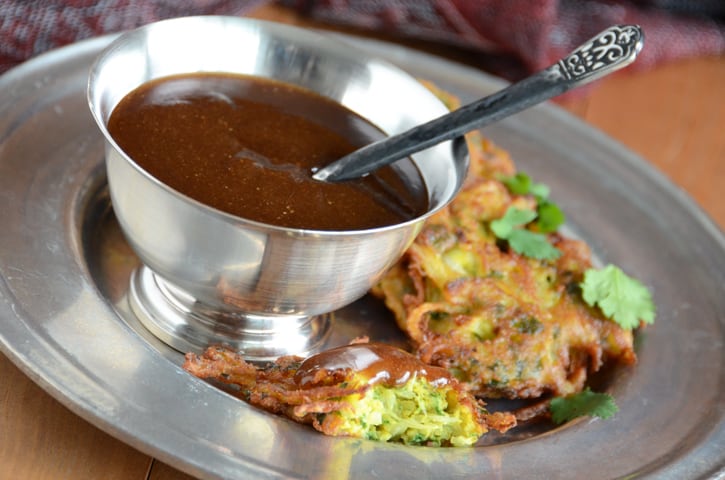 Onion Bhajis
Serves 4 to 6
½ cup besan (see note above; may also be called chickpea flour, garbanzo bean flour, chana flour, or gram flour)
½ teaspoon salt
½ teaspoon turmeric
½ teaspoon cumin
½ teaspoon coriander
¼ teaspoon cayenne pepper (more or less to taste)
¼ teaspoon baking powder
1 lb (about 3 medium) onions, halved and very thinly sliced
½ cup minced fresh parsley, cilantro, or fenugreek leaves
2 large eggs, lightly beaten
Canola oil, for shallow frying
Whisk together the besan, salt, turmeric, cumin, coriander, cayenne, and baking powder in a small bowl. Stir together the onion, minced herb, and egg in a large bowl, then stir in the dry ingredients. (The batter will be thin.)
Add enough oil to a large skillet to coat the bottom; heat the oil over medium-high to high heat. Carefully drop the batter into the hot oil by the heaping spoonful, flattening it out slightly (be sure not to over-crowd the pan). Cook until golden on both sides, about 2 to 3 minutes per side, flipping once. Transfer the bhajis to a paper towel-lined plate to drain any excess oil.
Serve hot, warm, or at room temperature with Tamarind Chutney.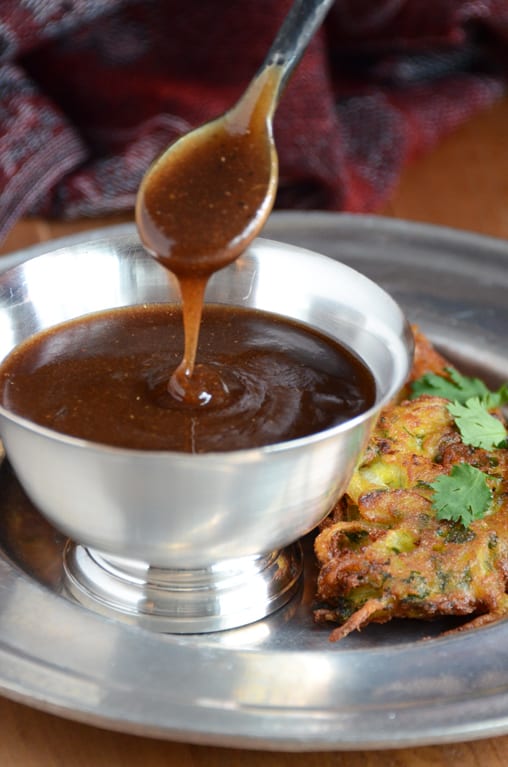 Tamarind Chutney (Adopted from Manjula's Kitchen)
Yields a little over 3 cups
½ lb tamarind paste
2 cups water
2 ¼ cups sugar
2 ½ teaspoons salt
1 ½ teaspoons cayenne pepper (more or less to taste)
1 teaspoon black pepper
1 teaspoon cumin
1 teaspoon coriander
½ teaspoon ginger
Add the tamarind paste, water, and sugar to a medium saucepan; bring to a simmer over medium heat, stirring to dissolve sugar. Cool 20 minutes, then puree in a food processor or blender (working in batches if necessary) until smooth. Strain through a fine mesh sieve, reserving the liquid in a bowl below.
Whisk all remaining ingredients into the tamarind liquid. Serve, or transfer to an airtight container and store refrigerated for up to 3 months.