When I think of stuffed shells I usually think of some kind of cheesy mixture stuffed inside pasta shells, topped with tomato sauce and melted cheese. These shells couldn't be farther from the norm. As part of my Mother's Day Menu, I wanted to make stuffed shells with crab…almost a deconstructed crab cake, stuffed in pasta shells. Also, since crab in its natural form is found in shells, I thought it would be pretty cute to stuff a crab mixture into shells of a different kind.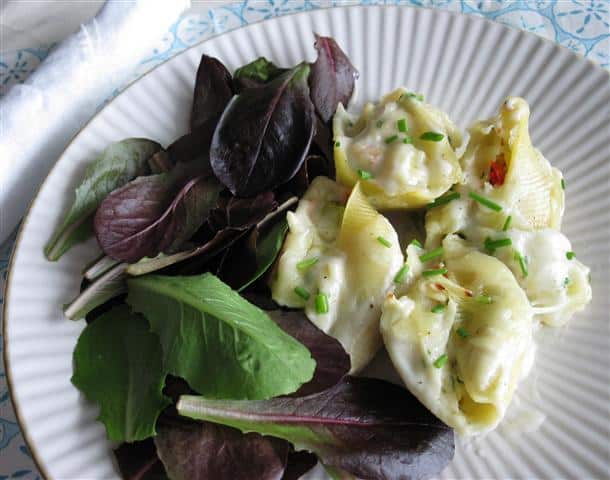 I wanted to make a Béchamel sauce (this is a white sauce; it's basically just milk that is thickened with butter and flour) to mix into the crab/veggie stuffing as a binder, and also to use as a sauce on top so the shells wouldn't dry out while baking. I had some extra cheese so I decided to add it to the Béchamel and turn it into a Mornay sauce, but you could probably skip the extra cheese (just as long as still sprinkle some cheese on top to melt!). The smooth, richness of the sauce paired beautifully with the sweet crab and the fresh herbs really brought this dish to life.
Also, this dish reheats beautifully! To reheat: Preheat oven to 350F. Cover the casserole dish with aluminum foil and bake for 30 minutes or until bubbling and heated throughout.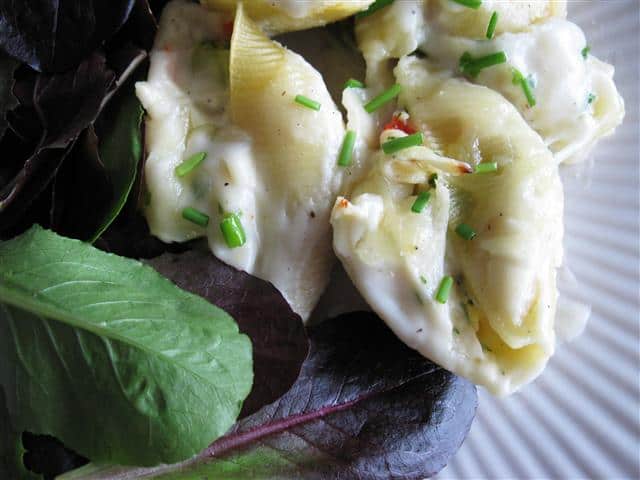 Crab-Stuffed Shells
(Yield: About 8 main course servings)
12 oz large pasta shells
2 TB olive oil
1 red bell pepper, diced
2 stalks celery, diced
1 medium onion, diced
1 large clove garlic
1 lb (16 oz) lump crab meat
¼ c fresh minced parsley
Béchamel (see below)
3 oz Gruyère cheese (for topping)
Fresh minced chives (for garnish)
Béchamel:
4 TB unsalted butter
5 TB all-purpose flour
3 c milk (low-fat or fat-free is fine)
¾ teaspoon salt
¼ teaspoon pepper
3 oz Gruyère cheese (optional) – if you add this to the sauce it becomes a Mornay sauce instead of Béchamel
Butter, to grease the pan
9 by 13-inch casserole dish
Cook the pasta to just under al dente according to the package directions. You will have more pasta shells than you need, which is good because some will inevitably break while cooking. Since it's much easier to stuff unbroken pasta shells, use the ones that didn't break for this dish. You can use the broken pasta shells for something else (toss them with some butter and fresh herbs and you've got an instant side dish).
Heat the oil in a medium skillet over medium-low heat; add the pepper, celery, and onion and sauté until softened but not brown (about 10-15 minutes), stirring occasionally. Add the garlic and sauté another 1-2 minutes, stirring constantly.
For the Béchamel: In a medium pot over medium-low heat, warm the milk just until it comes to a very gentle simmer. In a separate medium pot over medium-low heat, melt the butter and then whisk in the flour. Cook the butter/flour mixture (called a roux) for about 3 minutes (it will be a light blonde color), whisking constantly. Gradually whisk the hot milk into the roux, then add ¾ teaspoon salt and ¼ teaspoon pepper. Turn the heat up and bring the mixture to a boil; let it boil for about 3 minutes, stirring constantly. Turn off the heat and whisk in 3 oz Gruyère.
Preheat the oven to 350F and butter the casserole dish. In a large bowl, combine the cooked vegetables, crab, parsley, 1 c of Béchamel, and ¼ teaspoon salt. Stuff the crab mixture into the shells and arrange in the prepared dish; pour the remaining Béchamel on top. Bake for 20 minutes, then sprinkle the remaining 3 oz of Gruyère on top and bake another 10 minutes. Serve garnished with fresh minced chives.