I hope everyone's New Year is off to a wonderful start! With so many people making resolutions to get healthier, I thought this would be the perfect time to share a recipe that is as nourishing and healthy as it is delicious. It's the kind of meal you'd get in a spa for lunch if you were taking the whole day to pamper yourself.
This meal is full of superfoods; actually, seven ingredients from this recipe are considered superfoods in Superfoods Power Collection: Vibrant Health by Charles W. James, and two ingredients are weight loss superfoods. A little bit about this book…
It's comprised of six volumes, each devoted to a different set of superfoods:
Volume 1: Weight Loss Superfoods
Volume 2: Diabetes-Fighting Superfoods
Volume 3: Memory-Boosting Superfoods
Volume 4: Cholesterol-Kicking Superfoods
Volume 5: IBS-Kicking Superfoods
Volume 6: Cancer-Fighting Superfoods
Each volume lists seven top superfoods in that category, starting out by introducing the food and explaining why it is a superfood. Foods are explained in an engaging, interesting way that is easy to understand. Suggestions are given for how to introduce each food into your diet, which I found to be one of the most useful aspects of the book. Also, tips are listed for purchasing these foods so you know you're getting the best ingredients, and in turn the maximum benefits from these foods.
If you're interested in purchasing the entire collection, it's a huge bargain: only $6.99 for the Kindle edition on Amazon! If you're only interested in purchasing a couple volumes à la carte, the price is $2.99 for each on Amazon…so if there are at least two volumes you want, it's just about worth it to buy the whole collection.
If you'd like to win a copy of Superfoods Power Volume 1: Weight Loss Superfoods, the author Charles James is generously providing an eBook copy to everyone who leaves a comment on this giveaway while it is open for one week! He is also providing a lovely superfood basket (valued at almost $100) to one lucky winner. Scroll down for more details and instructions on how to enter.
Almond-Crusted Salmon with Gingered Grapefruit Relish
Prep time:
Cook time:
Total time:
Ingredients
Almond-Crusted Salmon:
2 teaspoons coconut oil
2 wild salmon fillets (about 6 oz/170 g each)
¼ teaspoon sea salt
⅛ teaspoon black pepper
2 tablespoons almond meal
Gingered Grapefruit Relish:
1 teaspoon reserved grapefruit juice
1 teaspoon honey (more or less to taste)
1 pinch dried ginger
1 pinch black pepper
1 small pinch sea salt
1 grapefruit, supremed with juice reserved (see note below for directions how to supreme a grapefruit)
Other:
4 cups (4 oz/115 g) mixed salad greens
1 scallion, white and green parts, thinly sliced
Instructions
For the salmon, heat the coconut oil in a medium skillet over medium-high heat. Season the salmon with salt and pepper and sprinkle the almond meal on both sides, pressing it in. When the skillet is hot, add the salmon and cook until browned, about 2 minutes on each side, then cover the skillet, turn off the heat, and leave it for 3 minutes to steam the inside of the fish.
For the grapefruit relish, mix together 1 teaspoon grapefruit juice with the honey, ginger, pepper and salt in a small bowl. Stir in the grapefruit segments.
To assemble the salads, divide the salad greens between 2 plates; place each piece of salmon in the center of each plate. Divide the grapefruit relish between the 2 plates and sprinkle the scallion on top. Serve immediately.
Notes
How to Supreme a Grapefruit: Cut the top and bottom off the grapefruit, then place it on a cutting board. Start at the top and following the curve of the fruit, run the knife down the length of the fruit to take the peel off; repeat until all the peel is removed. (Cut closely enough so that you take off all the pith (the white part) but not too deeply so that you waste the fruit.) To remove the segments, hold the grapefruit over a bowl and carefully slice inward along the membrane on both sides of a fruit segment, then remove the fruit segment; repeat this for all fruit segments. Once you're done, squeeze the membrane to get all the juice out. For this dish, we need all the grapefruit segments, but only 1 teaspoon of the grapefruit juice. (I drink the leftover grapefruit juice mixed with sparkling water for a very refreshing drink.)
Now for the giveaway! Author Charles James is giving an eBook copy of Superfoods Power Volume 1: Weight Loss Superfoods to everyone world-wide who comments on this giveaway while the giveaway is open. That is huge…no matter how many commenters there are during the giveaway, you will all be winners!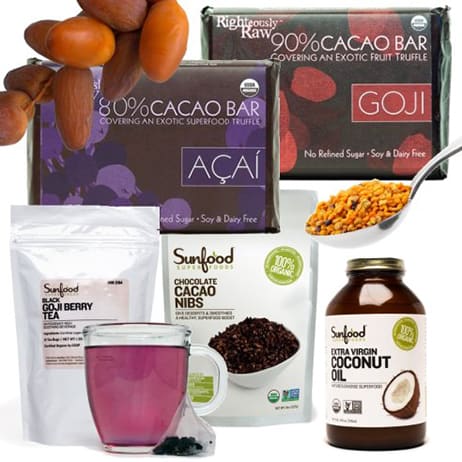 Charles is also providing a superfood basket (valued at $98.65) to one lucky winner. The basket contains the following items:
You do not need to have a blog to enter this giveaway! To participate, you can do any of the following (please leave a separate comment for each so I can count them as separate entries):
Leave a comment telling me you would like a copy of Superfoods Power Volume 1: Weight Loss Superfoods by Charles W. James. (If you enter the giveaway before it ends on January 9, 2013 at 5AM EST, you are guaranteed an eBook copy!)
Leave a comment telling me whether you usually make New Year's resolutions or not. (You don't have to share any of your resolutions unless you want to!)
Share this giveaway on your blog and leave a comment here telling me.
Share this giveaway on Facebook and leave a comment here telling me.
Tweet this giveaway on Twitter and leave a comment here telling me.
Like Charles' Facebook page Nutrition Gang and leave a comment here telling me.
Like An Edible Mosaic on Facebook and leave a comment here telling me.
This giveaway ends Wednesday, January 9, 2013 at 5AM EST. Remember, everyone who leaves a comment during the giveaway will receive an eBook copy of Superfoods Power Volume 1: Weight Loss Superfoods, but only one winner will receive the superfood basket. The superfood basket winner will be randomly selected and notified by email. Good luck to all!
UPDATE: THE GIVEAWAY ENDED JANUARY 9, 2013 AT 5AM EST; THE WINNERS HAVE BEEN NOTIFIED.