Thank you to Tyson Foods for sponsoring this post. I am happy for the opportunity to share brands that I believe in with my readers, and I hope you enjoy my recipe for Apple, Onion, and Thyme Marinated Chicken Salad with Toasted Pecans.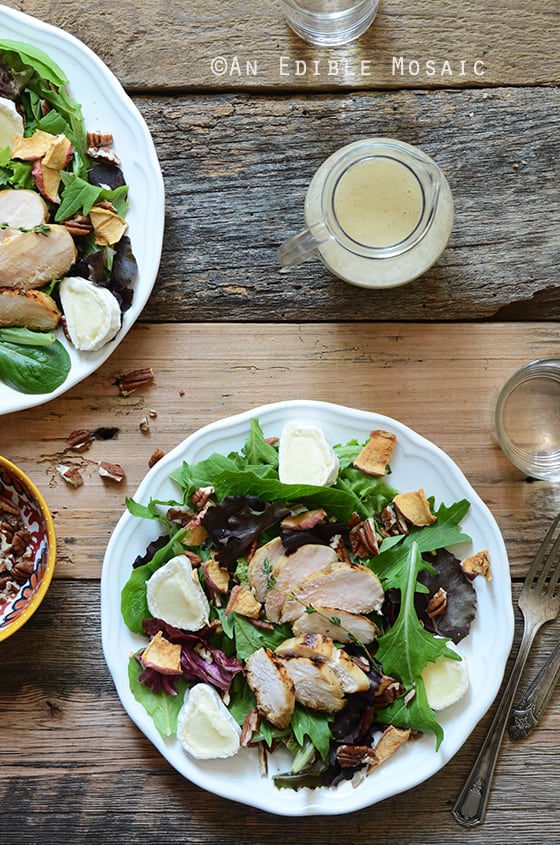 I admit Mike is without a doubt the grillmaster in our house.
He's very particular about the grilling process and basically has it down to a science. Which is why it was really strange when one day when I grilled (for like the second time, ever), he asked me how I made the chicken taste so good.
I had to laugh because I knew there was a compliment in there somewhere!
I told him that I marinated the chicken overnight. He said that was probably it.
Then I continued on to tell him that I followed his directions to the letter as far as grill technique, and he said that must be it.
And then I told him that I started with Tyson® Fresh Chicken, and he said that answers his question.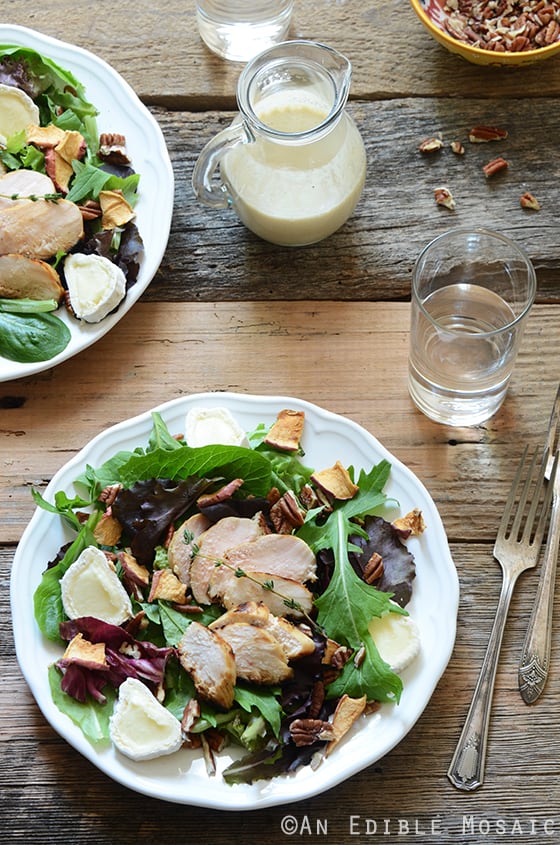 (Who knew Mike was such a chicken connoisseur?! Kidding, honey…I knew all along. ;) )
Suffice to say, this chicken is pretty darn good. So good in fact, that it makes even an amateur griller like me look good.
I'm going to credit Tyson who has a heritage of producing chicken; when it comes to freshness, Tyson Fresh Chicken really delivers…did you know that it arrives at your store fresh, delivered within days from leaving the farm? Their chicken is all natural* with no added hormones or steroids**, and each piece is hand-trimmed to save you time. Plus they have a fabulous (free!) resource if you're looking for chicken recipe inspiration; head over to here to check it out!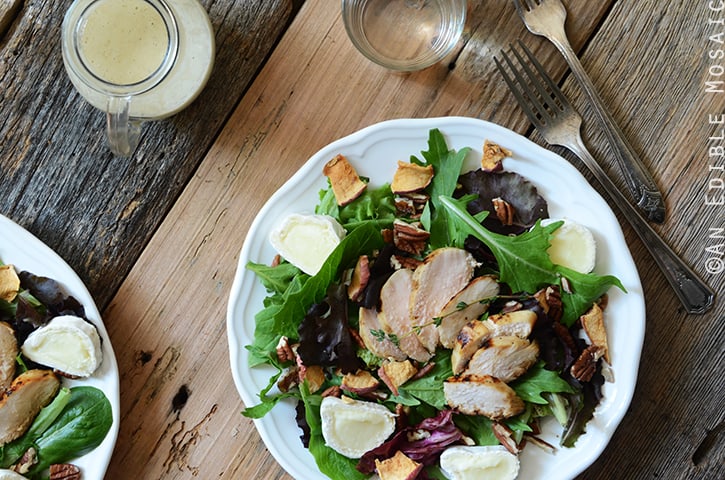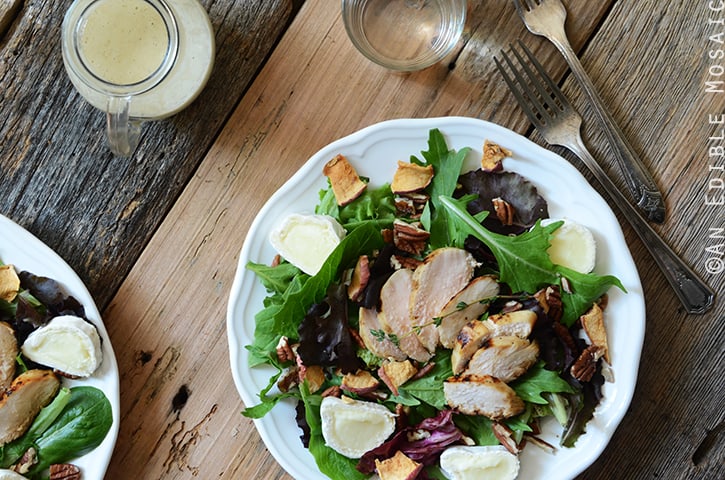 Apple, Onion, and Thyme Marinated Chicken Salad with Toasted Pecans
Prep time:
Cook time:
Total time:
Ingredients
Apple, Onion, and Thyme Marinated Chicken:
1 cup (237 ml) fresh 100% apple cider
2 tablespoons raw, organic apple cider vinegar
2 tablespoons olive oil
1 tablespoon honey
2 teaspoons fresh thyme leaves
1 teaspoon Dijon mustard
¾ teaspoon coarse kosher salt
¼ teaspoon ground black pepper
½ small onion, peeled and thinly sliced
½ small red apple, washed, cored, and thinly sliced
1 clove garlic, peeled and cracked
1 lb (455 g) boneless, skinless Tyson Fresh Chicken breasts
Salad:
6 cups (6 oz/170 g) mixed field greens
4 oz (115 g) brie log, sliced
½ cup (60 g) toasted pecans, coarsely chopped
4 tablespoons dried apple chips, broken up a bit
Instructions
Combine all ingredients for the marinated chicken in a large bowl. Cover and refrigerate 4 hours or overnight.
Remove the chicken from the marinade, and grill until fully cooked, about 12 to 15 minutes (there should be no pink in the center). Let the chicken rest for 5 to 10 minutes after grilling and then slice it cross-wise.
Add the marinade to a medium saucepan; cover the saucepan leaving the lid ajar, bring it to a boil, and let it boil for 5 to 10 minutes (turning the heat down as necessary so it doesn't boil over). Turn off the heat and cool slightly, then process until completely pureed in a blender or food processor. Serve warm, at room temperature, or chilled as dressing for this salad.
To assemble the salads, divide the mixed field greens between 4 plates. Divide the chicken and brie on top, and sprinkle on the pecans and apple chips.
Serve.
Notes
Make a Big Batch: Since the grill is already hot, it's easy to grill a double batch of the chicken if you're cooking for a crowd or if you want to have pre-made lunches for the entire week.

Grilling Chicken: To help avoid tearing the meat, don't flip the chicken over onto the second side until it's done searing on the 1st side and is easy to flip. Cooking times will vary depending on your grill and the size of your chicken breasts, but as a general guideline, we like to use a charcoal grill and cook for about 7 to 10 minutes on the 1st side, then flip and cook for about 5 minutes on the second side. A great way to check if your chicken is fully cooked is to make sure that the juices run clear and there is no pink inside.
*Minimally processed. No artificial ingredients.
**Federal regulations prohibit the use of added hormones or steroids in chicken.
Disclosure: Tyson Foods compensated me for developing this recipe and posting it; as always, opinions stated are my own.