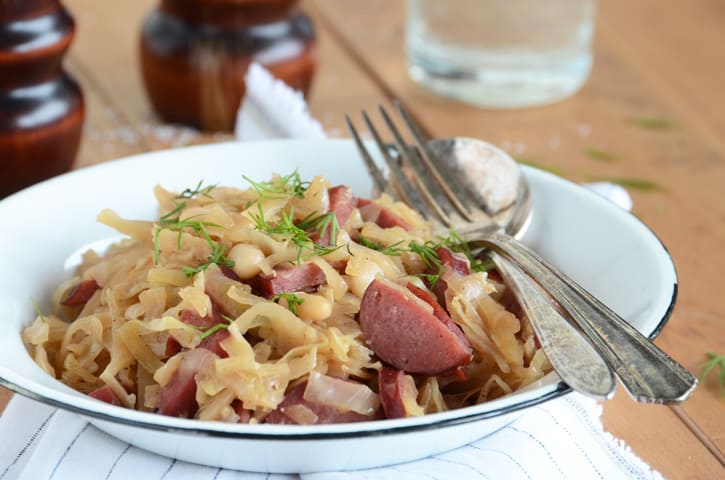 I love cabbage for so many reasons. Of course for its many health benefits (according to Organic Facts, a few of the health benefits include: "treatment of constipation, stomach ulcers, headache, excess weight, skin disorders, eczema, jaundice, scurvy, rheumatism, arthritis, gout, eye disorders, heart diseases, ageing, and Alzheimer's disease"...sounds a little bit like a cure-all doesn't it?), but I have to admit, also because it holds up so well.
This week I found a head of cabbage tucked away in the very back corner of my produce drawer that I don't even remember buying. It was still as good as the day I bought it! (Now if that had been broccoli or zucchini – a couple of my other favorites – it would have been another story.) Just one of the million reasons to adore cabbage. :)
Sweet & Sour Cabbage with Beans & Sausage
Serves 4 to 6
2 tablespoons butter
1 tablespoon canola oil
1 lb pre-cooked lean turkey sausage (such as kielbasa), sliced
1 ½-2 lbs green cabbage, cored and chopped into thin shreds (about 7-8 cups)
2 medium onions, halved and thinly sliced
6 tablespoons organic, unfiltered apple cider vinegar
2 tablespoons brown sugar, lightly packed
2 tablespoons grainy mustard
½ teaspoon salt
¼ teaspoon ground marjoram
⅛ teaspoon black pepper
2 bay leaves
1 (15 oz) can cannellini beans, rinsed and drained
2 tablespoons minced fresh dill (optional; for garnish)
Heat the butter and oil in a lidded 5-quart pot over medium-high heat; add the sausage and cook until browned, about 5 to 7 minutes, stirring occasionally. Transfer the sausage to a bowl and set aside. Add the cabbage, onion, apple cider vinegar, brown sugar, mustard, salt, marjoram, black pepper, and bay leaves to the pot and cook until the cabbage starts to soften (about 5 minutes), then turn the heat down to low, cover the pot, and cook until tender (about 30 to 40 minutes), stirring occasionally. Stir in the sausage and beans, and cook a couple minutes to warm. Taste and season with additional salt and pepper as desired. Sprinkle fresh dill on top and serve.