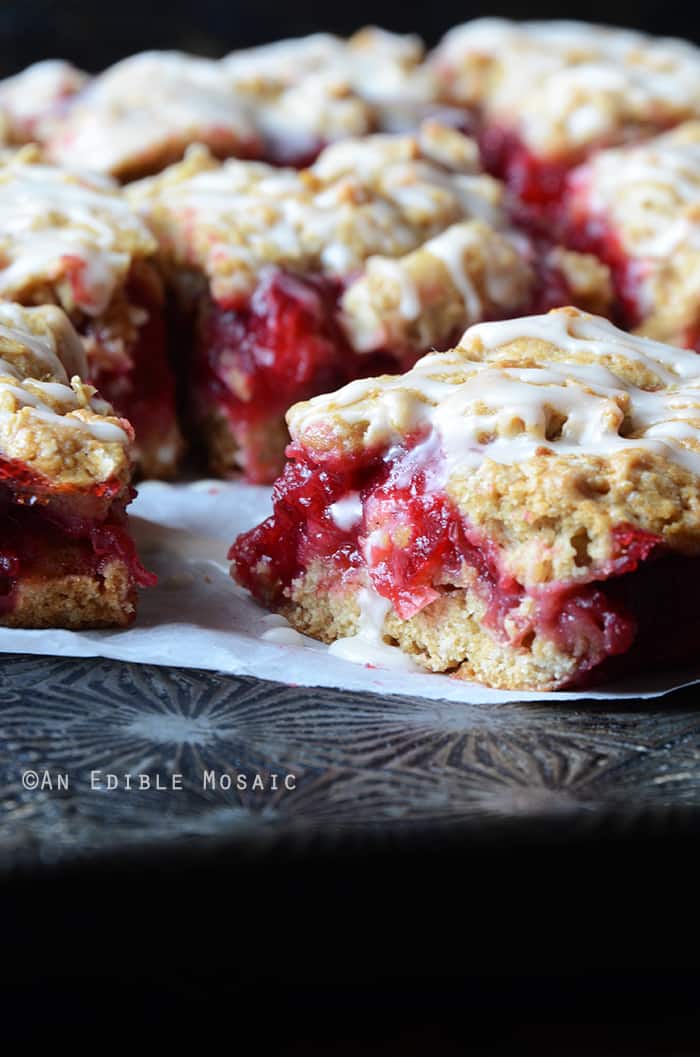 Most people save their snowy wishes for a white Christmas, but I confess, I am desperately hoping for snow for Thanksgiving.
A Buffalo girl at heart, nothing says holiday season to me quite like a good foot or so of snow. (Not to mention eggnog or mulled cider and some kind of cranberry treat.)
Living in the DC area now, I've resigned myself to the fact that Thanksgiving will most likely not be welcomed in with snow (but I am surely keeping my fingers crossed for Christmas); however, that doesn't mean I can't make the rest of the festivities happen, right?
Bring on the cranberry treats.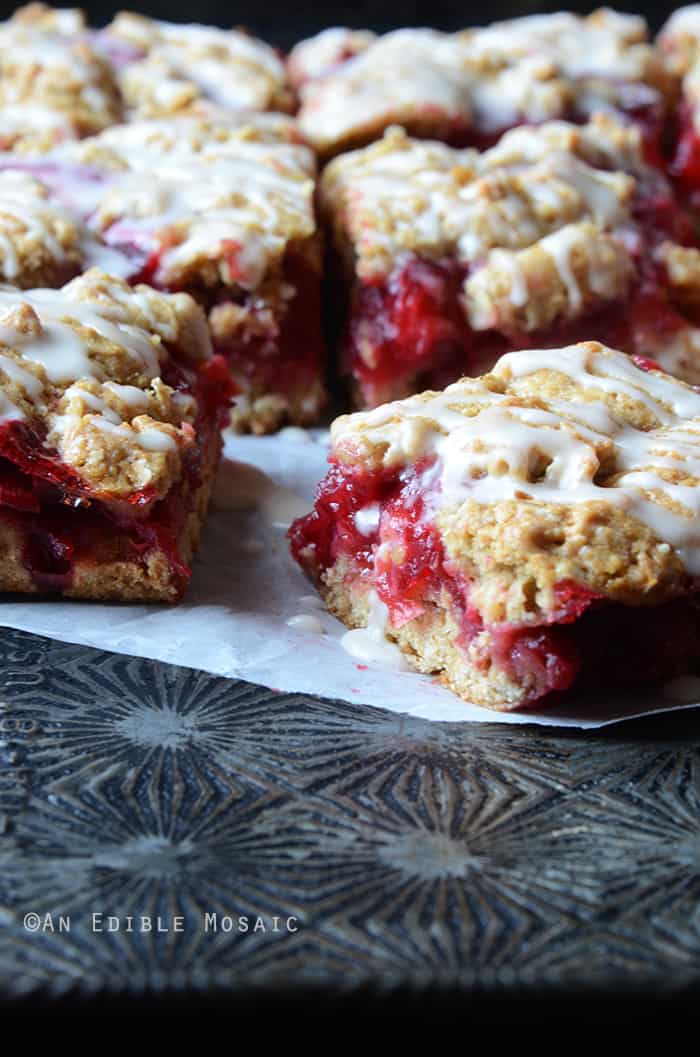 These jam bars are so multi-purpose, they'll have your head spinning. Make a double batch of your favorite cranberry sauce the day before Thanksgiving, and whip these up in the morning for Thanksgiving brunch. Include them in the dessert buffet for Thanksgiving dinner. Or serve them as an early morning breakfast with coffee on Black Friday before you brave the shopping crowds.
Other than with turkey dinner (of course), these Cranberry-Oat Jam Bars are the perfect use for cranberry sauce!
Cranberry-Oat Jam Bars
Prep time:
Cook time:
Total time:
Yield:
1 (8 by 8-inch) pan, or about 9 bars
Ingredients
Bars:
1⅓ cups of your favorite cranberry sauce (I like Vanilla-Spiced Cranberry Apple Sauce for this)
½ cup (115 g) cold unsalted butter, diced small
1¾ cups (225 g) all-purpose flour
½ teaspoon salt
¼ teaspoon ground mahlab
¼ teaspoon baking soda
¾ cup (150 g) sugar
1½ teaspoons pure vanilla extract
1½ teaspoons molasses
2 large eggs
1 cup (90 g) old-fashioned rolled oats
Glaze:
½ cup powdered sugar
½ teaspoon pure vanilla extract
1½ teaspoons cold water
Instructions
Preheat oven to 350F. Line an 8 by 8-inch baking dish with 2 pieces of parchment paper so that the paper hangs over all 4 sides (so you can easily lift out the cookie bars).
Taste the cranberry sauce and if it's on the tart side, add sugar to taste (it should have a pleasantly sweet/tart flavor without making you pucker).
Use a fork or pastry cutter to cut the cold butter into the flour until it resembles coarse meal, and then use a fork to stir in the salt, mahlab, baking soda, and sugar. Add the vanilla and molasses, and combine with a fork until incorporated. Stir in the eggs, and then the oats.
Press ⅔ of the dough evenly into the bottom of the prepared dish (the dough will be sticky). Spread the cranberry sauce on top of the dough, and crumble the remaining ⅓ of the dough on top.
Bake until golden, about 45 minutes, and then cool completely.
Once cooled, whisk together all ingredients for the glaze and drizzle it on top of the bars.
Let the glaze set before cutting and serving.