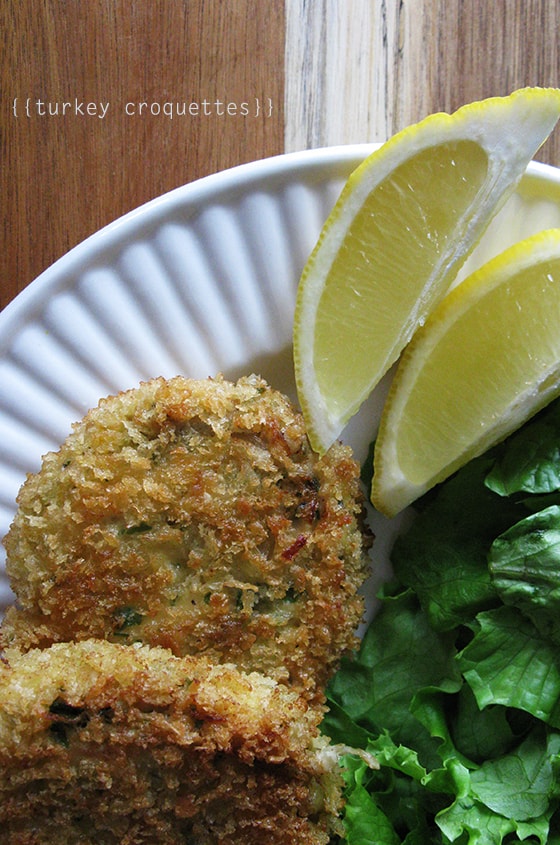 This recipe is a great way to use up leftover turkey, and although croquettes might sound complicated, these are really just shallow-fried patties made from cooked, shredded turkey and a few vegetables and seasonings. What a way to dress up leftovers!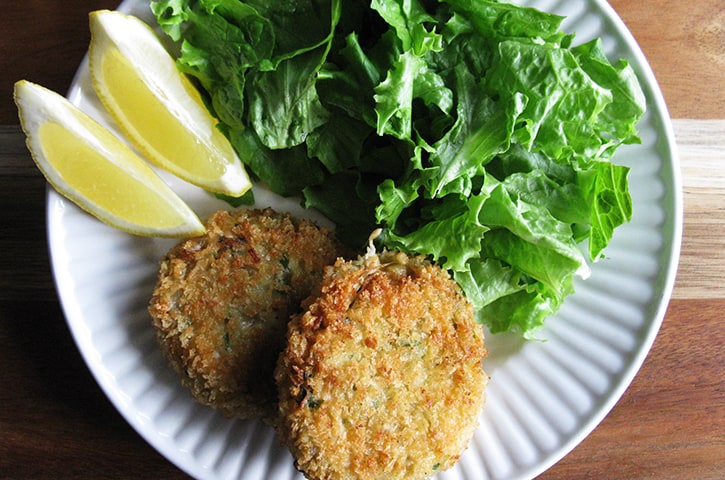 Velouté sauce acts as the binder in this recipe, acting similarly to egg, breadcrumbs, or grated cheese in many meatball or meatloaf recipes. If you've never made it before, don't be intimidated by velouté sauce; maybe you have made it without knowing what it was called – you wouldn't be alone if that were the case! Have you ever used a roux (melted butter and flour) to thicken up some stock? If so, you've made velouté!
Although it might sound fancy, it's really no harder to make than any of the other French mother sauces (which include béchamel, velouté, espagnole, hollandaise, and tomato). These sauces are referred to as the "mother" sauces because most other sauces are derived from one of them. Something I recently learned that I found interesting is that these sauces are also known by their colors: béchamel is white sauce, velouté is blonde sauce, espagnole is brown sauce, tomato is red sauce, and hollandaise is yellow sauce.
After you've made this recipe once, you'll see just how easy it is, and I think it will become one of your go-to recipes for using leftover turkey!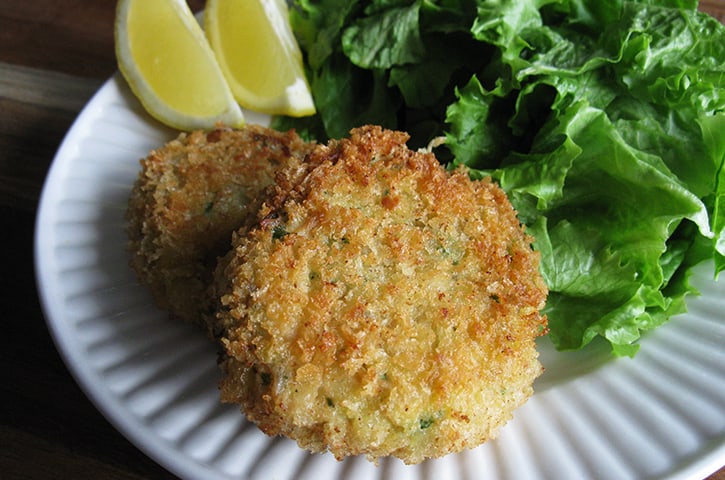 Turkey Croquettes
Prep time:
Cook time:
Total time:
Yield:
8 croquettes, or about 4 servings
Ingredients
Velouté Sauce:
1½ tablespoons butter
1½ tablespoons all-purpose flour
1¼ cups chicken stock, warmed
Salt and black pepper to taste
Croquettes:
½ tablespoon butter
1 medium onion, diced
2½ cups shredded, cooked turkey (I like to use a mix of dark and white meat for this)
¼ cup minced fresh parsley
¼ teaspoon black pepper
½ teaspoon dried thyme leaves (or 1½ teaspoons fresh minced thyme)
1 pinch nutmeg
Salt to taste
½ cup all-purpose flour
1½ cups Panko breadcrumbs
2 large eggs, beaten
Canola oil, for shallow frying
Lemon wedges, for serving
Salad greens, for serving (optional)
Instructions
For the velouté sauce, melt the butter in a small saucepan over medium heat; whisk in the flour. Turn heat down to low and cook, stirring constantly, until the roux is just slightly darkened and fragrant, about 4 to 6 minutes. Slowly whisk in the warm stock and simmer the sauce, stirring occasionally, until it's thick enough to coat the back of a wooden spoon, about 15 to 20 minutes; make sure to keep the sauce at a simmer and don't let it come up to a boil. Season to taste with salt and pepper.
For the croquettes, heat the butter in a medium-sized skillet over medium-low heat; add the onion and sauté until the onion starts to soften and change color, about 5 to 7 minutes. In a large bowl, combine the velouté sauce, onion, turkey, parsley, black pepper, thyme, nutmeg, and salt to taste.
Press a sheet of plastic wrap directly on top of the turkey mixture; refrigerate until very cold and firm, at least 2 hours.
Put the flour and breadcrumbs into separate shallow bowls, and beat the eggs in a third shallow bowl. Divide the chilled turkey mixture into 8 equal parts (about ¼ to ⅓ cup each), and shape each into a patty. Roll each in flour first, then egg, then breadcrumbs to coat.
Add enough oil to generously cover the bottom of a large skillet; preheat the oil over medium-high heat. Fry the croquettes until golden and crispy on both sides, about 3 to 4 minutes per side, then place them on a paper towel-lined plate to drain any excess oil. (You might need to do this in 2 batches so you don't overcrowd the pan.)
Serve the croquettes warm, alongside salad greens with lemon wedges to squeeze on top.
Notes
Recipe inspired by Chicken Croquettes from Joy of Cooking: All About Chicken by Irma S. Rombauer (Scribner; 2000).

Shaping the Croquettes: The key to having croquettes remain intact when you fry them is to have the mixture very cold and firm, and to work quickly. You can shape the croquettes into any shapes you like, such as pyramids, cylinders, or ovals (patties); I shaped mine into patties so that they would fry up nicely on both sides without the need to deep fry them.

Serving Suggestion: Croquettes are very rich and heavy, so to cut through some of the richness, I serve them alongside salad greens with fresh lemon to squeeze over top.