Cozy, comforting, and absolutely delicious, this is a recipe collection of the best fall side dishes. They're great for entertaining, but don't wait for the holidays to make them. Many of these recipes are quick and easy enough for any fall or winter weeknight dinner!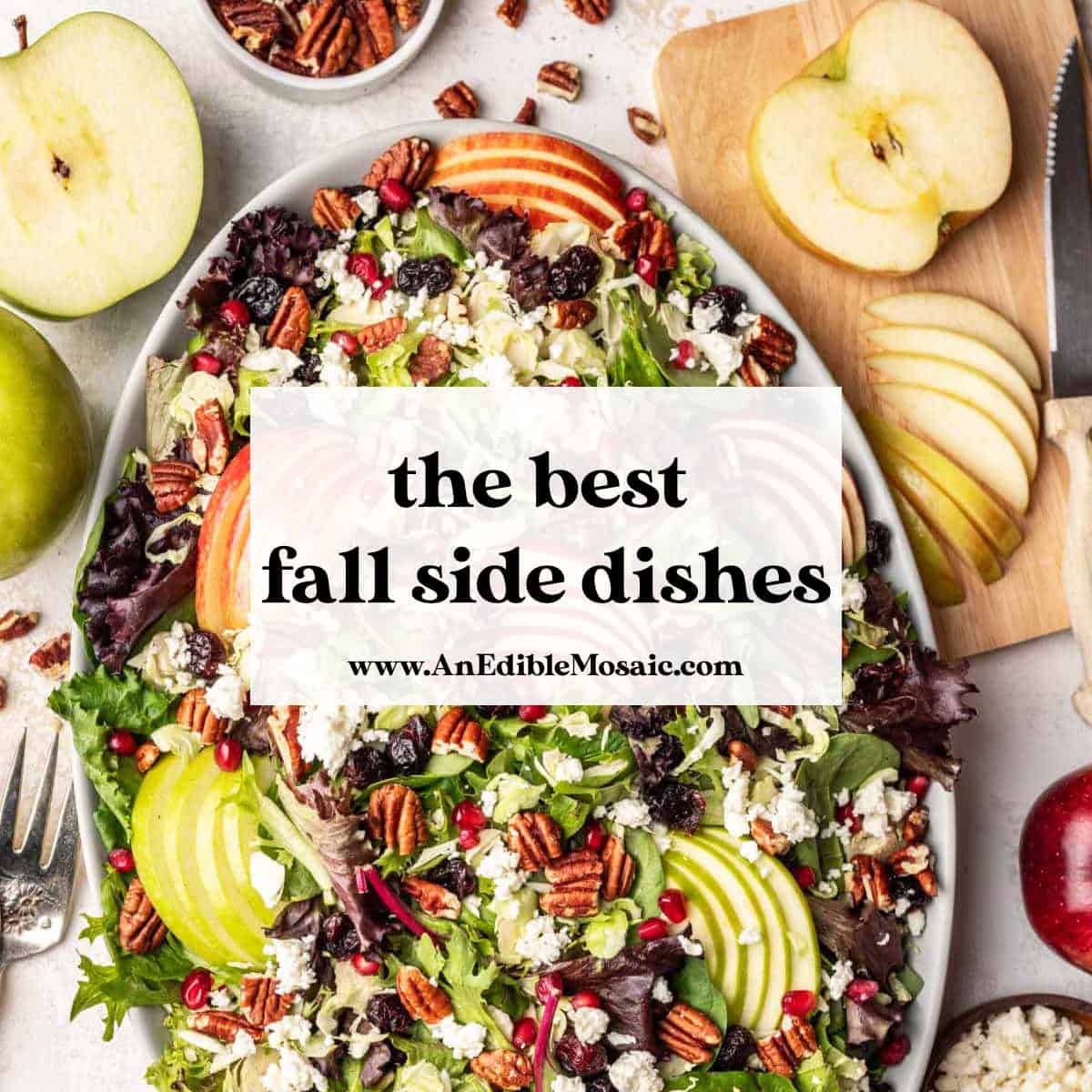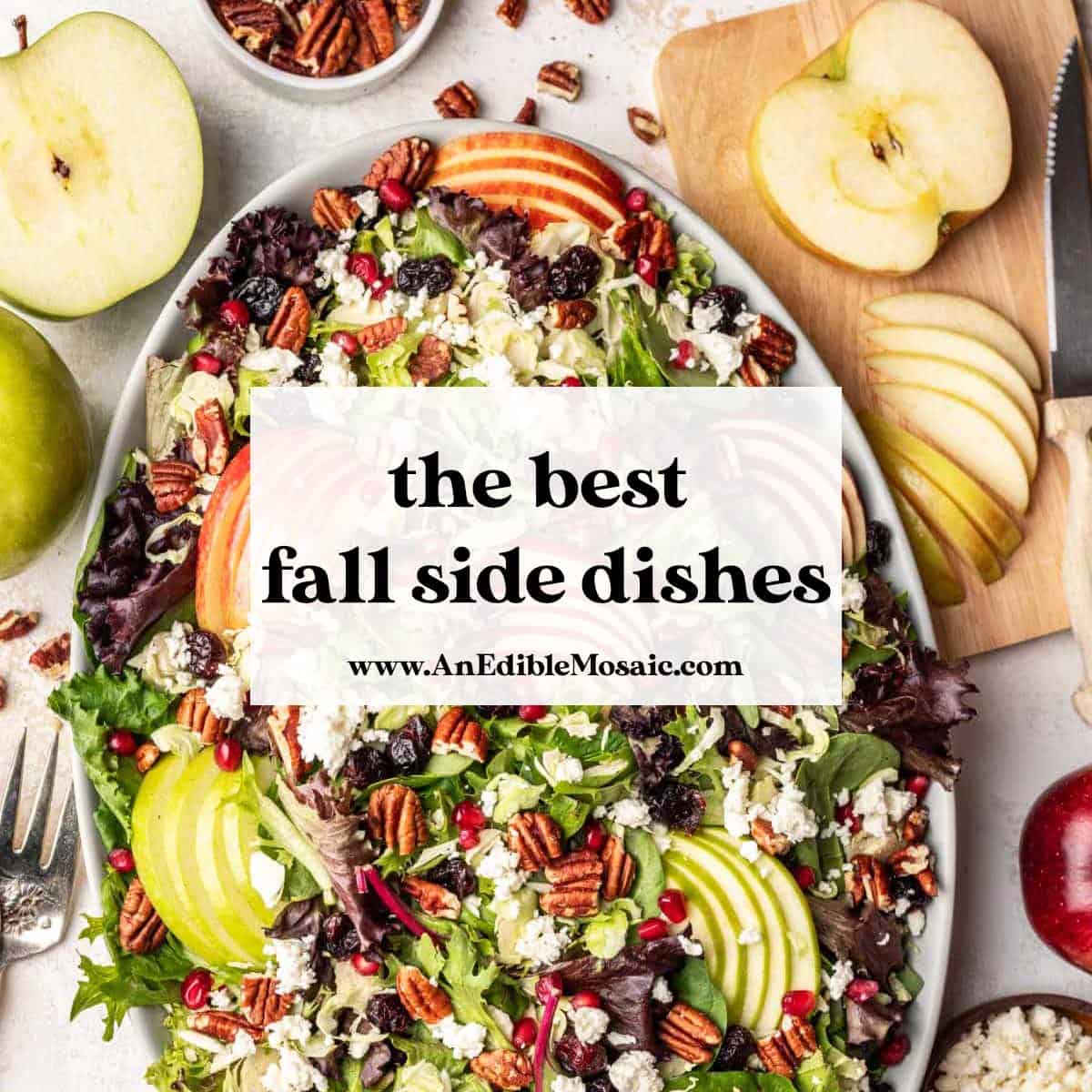 Main courses like roast chicken and pot roast often take center stage for both weeknight dinners and festive holiday suppers. But side dishes can be just as epic!
What would Thanksgiving turkey be without stuffing? And what about pot roast without mashed potatoes? Or curry without rice, or spaghetti and meatballs without garlic bread? You get the idea.
Side dishes can make or break a meal.
These are the best fall side dishes that are sure to make any meal feel special. They're cozy, comforting, and of course packed with flavor. Many of them are vegetable-based and nutrient-dense!
Of course there are plenty of winter squash options with ingredients like pumpkin and butternut. But autumn and winter vegetables go so far beyond that! There's also hearty salads, lots of green vegetables (like kale, green beans, and celery), cauliflower in a few different forms, a couple macaroni and cheese recipes, and several bread/biscuit/cornbread options.
I can't even remember how many times I've been stuck in a side dish rut, making the same three or four dishes all the time. This list provides a ton of fresh, exciting, and delicious side dish inspiration all in one place.
Keep dinnertime interesting! Mix and match these sides with whatever main course you're whipping up, whether it's just a random weeknight or a special holiday meal.
Bookmark this post so you can find it easily when you're in a side dish slump!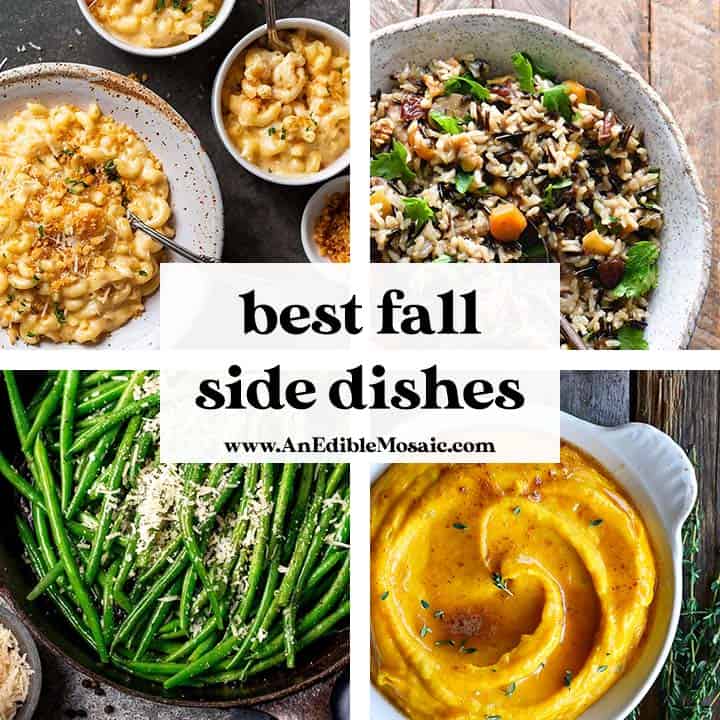 The Best Fall Side Dishes to Try
There's something here for everyone!
Whether you're looking for a quick and easy side dish in a matter of minutes, or you have time for something that takes hours, you'll find what you're looking for here.
A lot of these fall side dishes are special diet-friendly. Several of them are naturally gluten free or low carb/keto-friendly. And there are also several vegan options!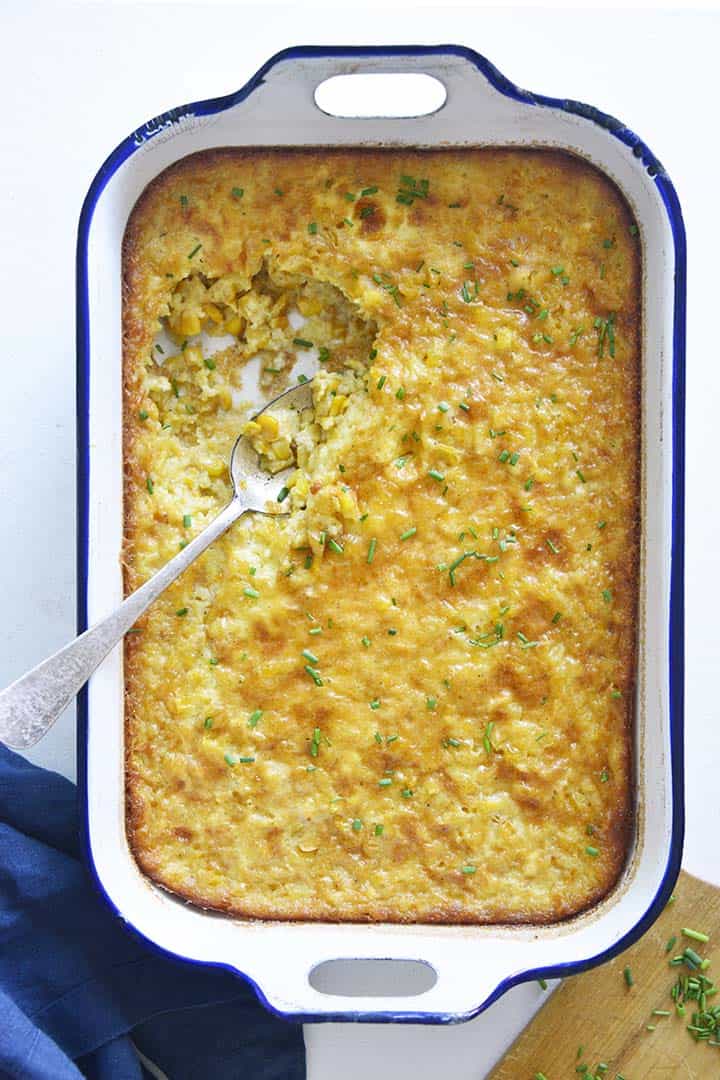 This side dish is sure to be the biggest surprise on your dinner table!
Its gorgeous golden top is hiding a velvety texture, balanced sweet and savory flavor, hint of vanilla, and richness from both butter and half and half. Part sweet, party savory, all delicious.
Get the ridiculously easy Corn Pudding recipe that'll make you a rock star.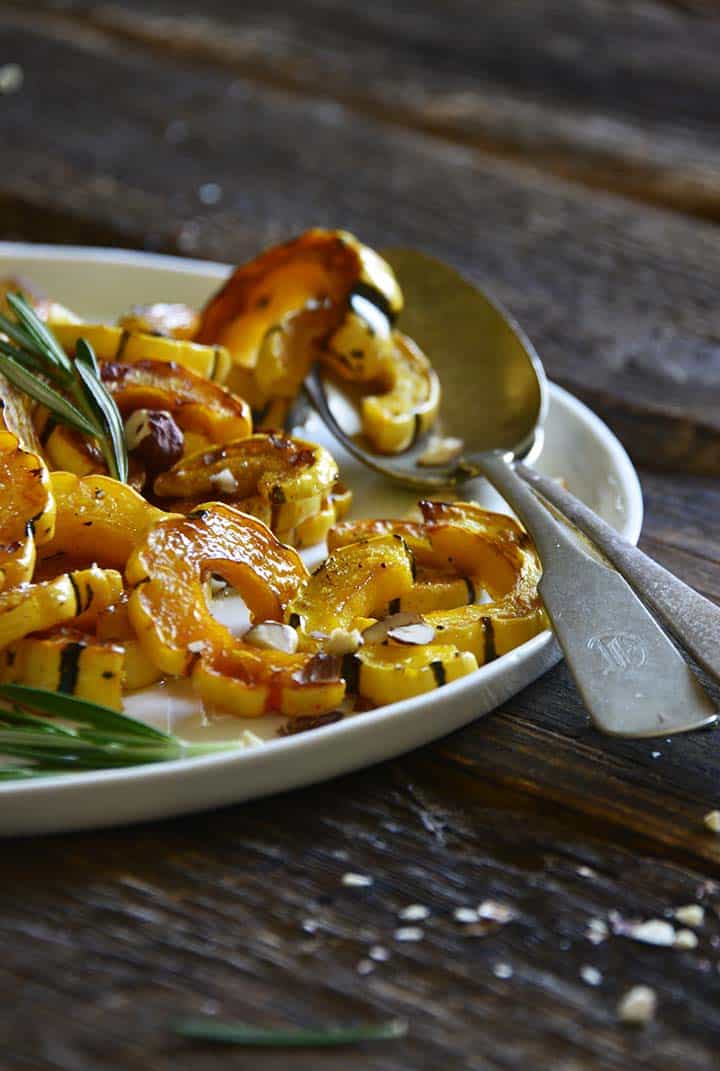 When it comes to winter squash, delicata is hands-down my all-time favorite! When roasted, it gets soft and tender, and has natural flavor nuances of caramel and toasted nuts. Topping it with rosemary-infused brown butter and toasted hazelnuts is the icing on the cake!
And as a bonus, unlike other types of winter squash, delicata squash skin gets super soft and tender when cooked.
Annnd another bonus, this recipe is naturally gluten free and easy to make paleo with one simple swap!
Here's the epic (and easy) Roasted Delicata Squash recipe.
This Pumpkin Risotto is the perfect dinner party recipe that's great for weeknights too! It's incredibly creamy, full of veggies, and so tasty for everyone to enjoy. It's cozy, nutritious, and delicious comfort food!
Also, this recipe is vegan, and still manages to taste creamy and decadent. It's sure to please both vegan and non-vegan eaters.
Head over and get the Simple Pumpkin Risotto recipe from Plant-Based on a Budget that will make you eat more pumpkin this fall.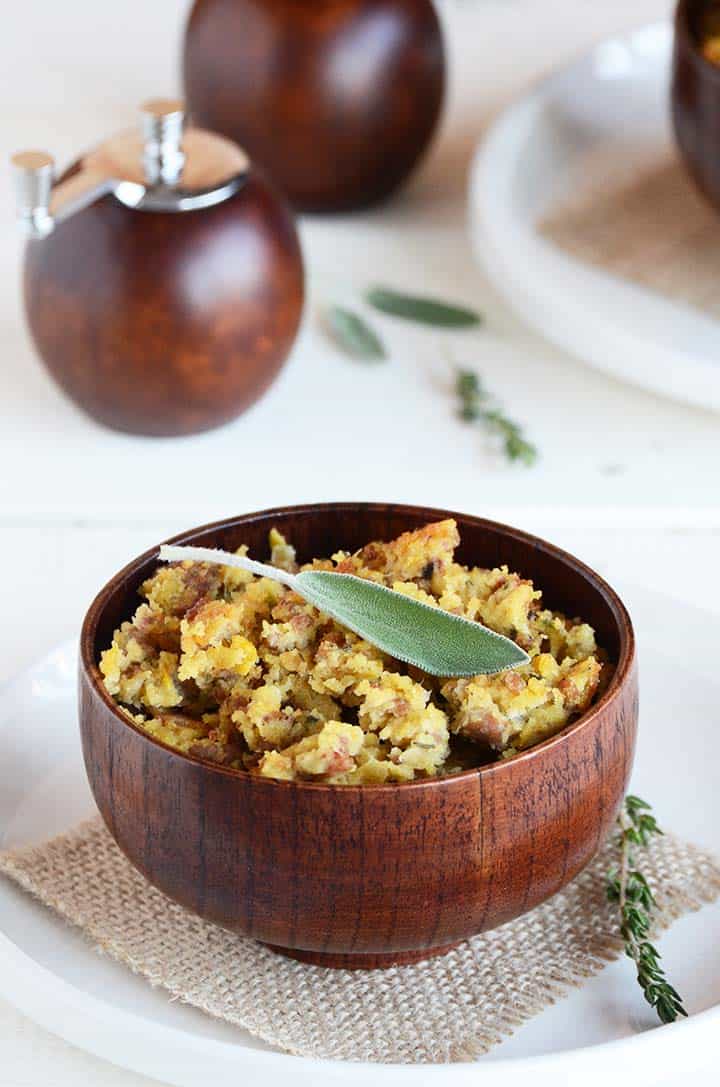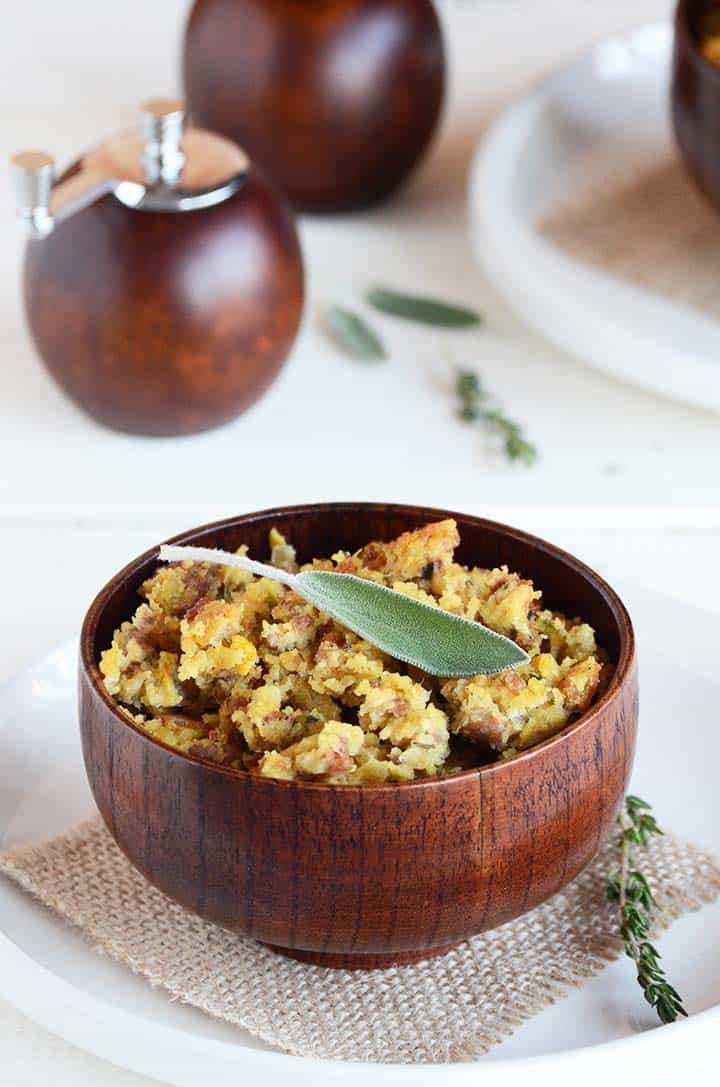 Stuffing is the OG of fall side dishes, and this one is a doozy. Crispy on the outside, and packed with fresh herbs, aromatics, and spices; stuffing doesn't get much better! You won't find any soggy stuffing here.
The not-so-secret secret ingredient is cornbread muffins instead of bread cubes. They pack a ton of flavor and help result in the perfect stuffing texture: moist but not soggy, and crispy on the outside!
Get the Cornbread Stuffing recipe of your dreams.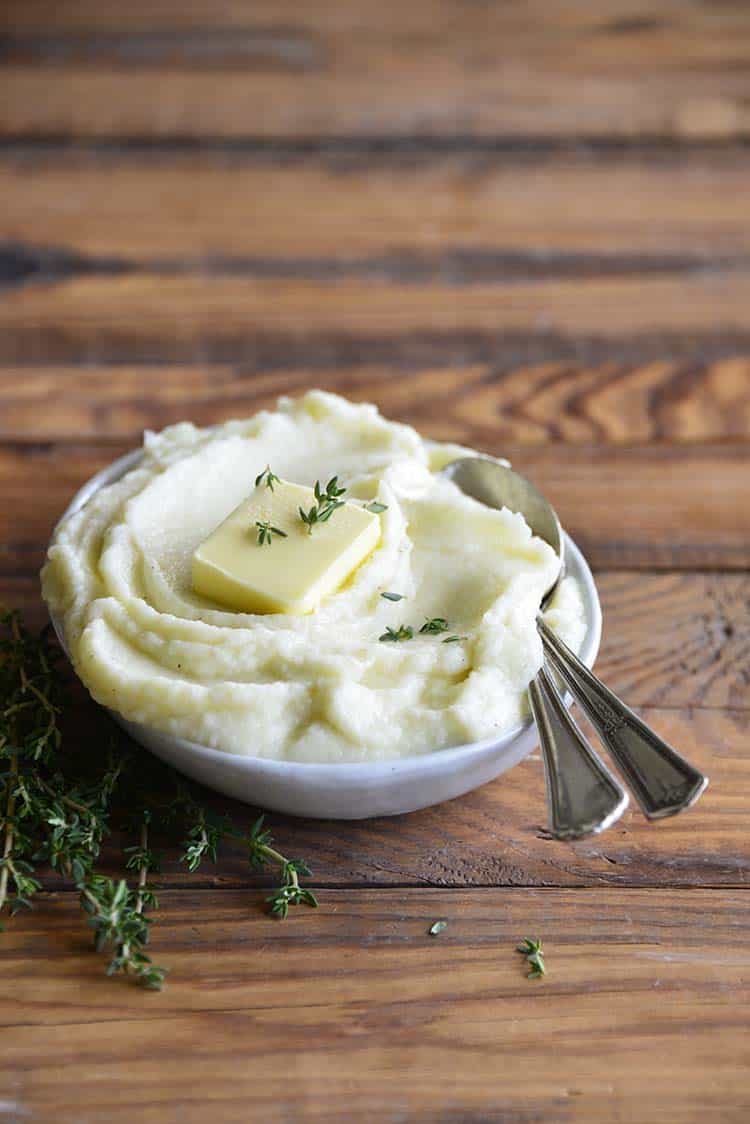 The OG of keto side dishes, cauliflower mash is a favorite for a reason! Hands-down, this is the best version I've ever had. It's packed with flavor and it's super creamy but not watery. And it has a fraction of the carbs that mashed potatoes have. (Heads-up, this recipe is also gluten free!)
Another great thing about Mashed Cauliflower is that just like mashed potatoes, you can play with the flavor profile. Add different herbs, spices, cheese, etc. to suit your personal tastes.
And this is a good make-ahead side dish! It reheats really well in the microwave or on the stovetop, and lasts for about 5 days in the fridge.
Fall in love with a new mashed vegetable when you check out this Low Carb Mashed Cauliflower recipe on The Keto Queens.
This gorgeous Autumn Salad with Maple Dressing features pears, grapes, pecans, and goat cheese for a great salad full of fall flavors. Pair it with meats or soups for a filling meal. Or enjoy it on its own for lunch or a light dinner. The easy homemade maple vinaigrette takes it over the top!
Head over and discover the Autumn Salad with Pear and Goat Cheese recipe from NeighborFood that you'll happily eat all year.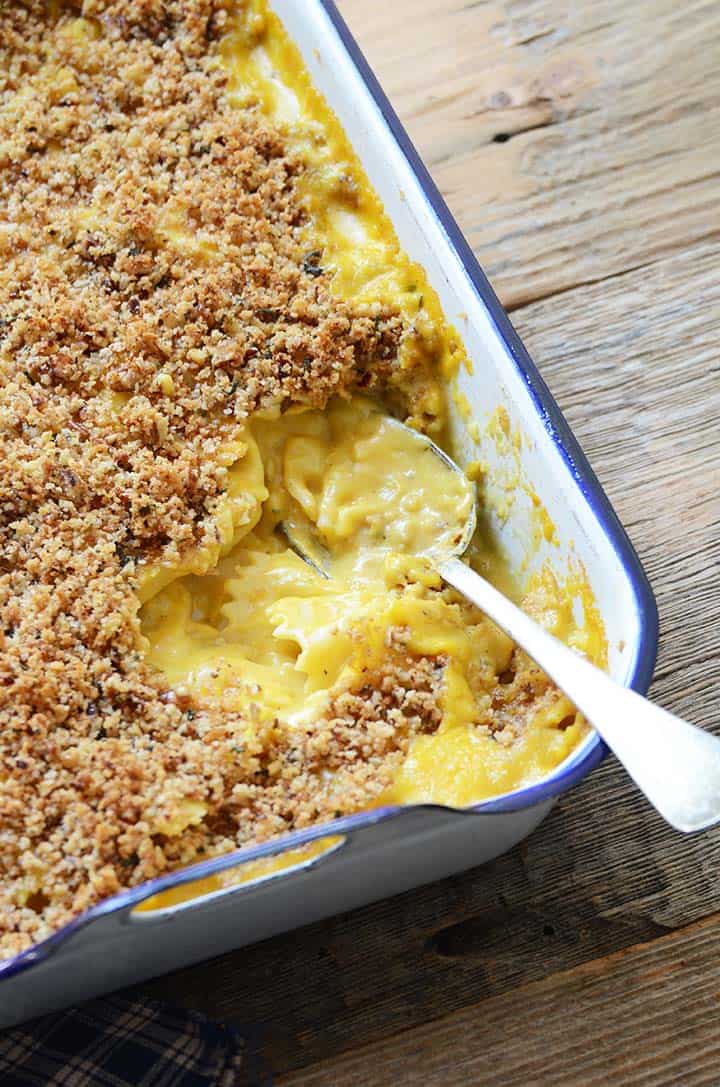 If you've never thought to pair pumpkin and brie, I'm here to tell you that it not only works, but results in what I can only describe as one of the best fall-ish rich, decadent macaroni and cheese recipes I've ever had.
There's also cheddar to add a bit of sharpness to contrast the creamy brie and subtly sweet, earthy pumpkin. And did I mention there's a brown butter, sage, and pecan topping?!
Grab the decadent Pumpkin Mac and Cheese recipe that'll make you wonder what else would be good in mac and cheese.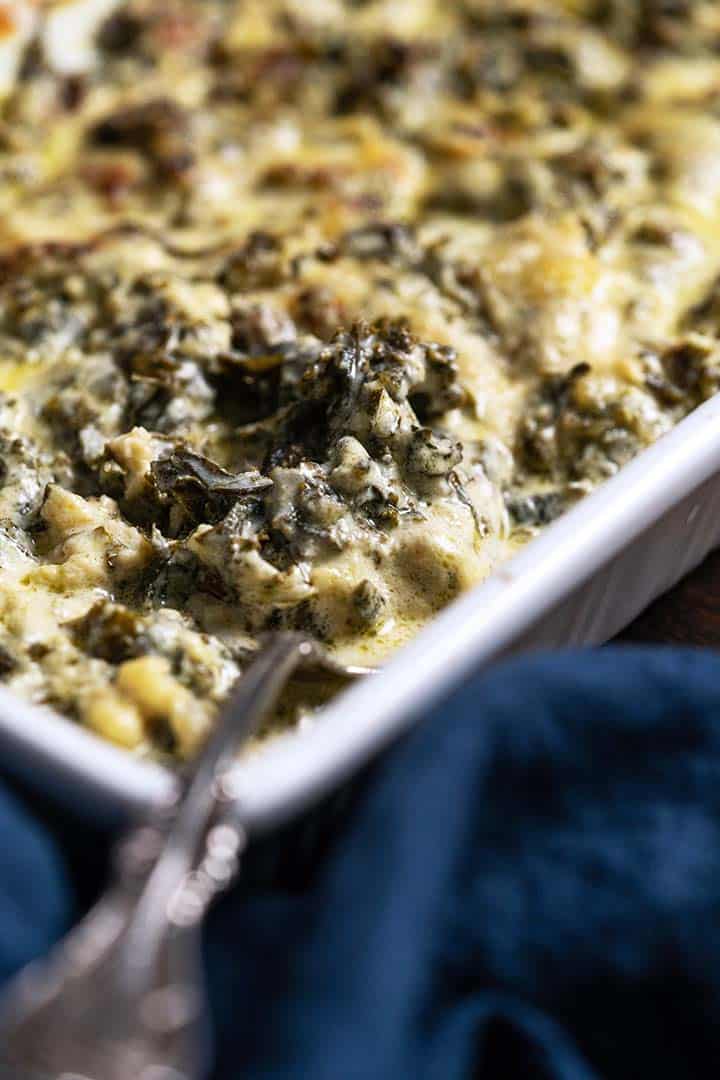 Leafy greens go beyond just salad! Here nutrient-dense kale is paired with a luscious cheese sauce for the best of both worlds.
This fall side dish is a good one to have up your sleeve because it's special diet-friendly! It's naturally gluten free, low carb, and keto friendly.
The best way to eat green vegetables is definitely in Kale Gratin!
This Savory Mashed Sweet Potatoes recipe is perfectly balanced in flavor. This is no ordinary recipe for mashed sweet potatoes though!
Sweet potatoes are first roasted in the oven and then blended with butter, roasted garlic, and balsamic vinegar for a super flavorful side dish.
Try this next-level Mashed Sweet Potatoes recipe from Mom's Dinner.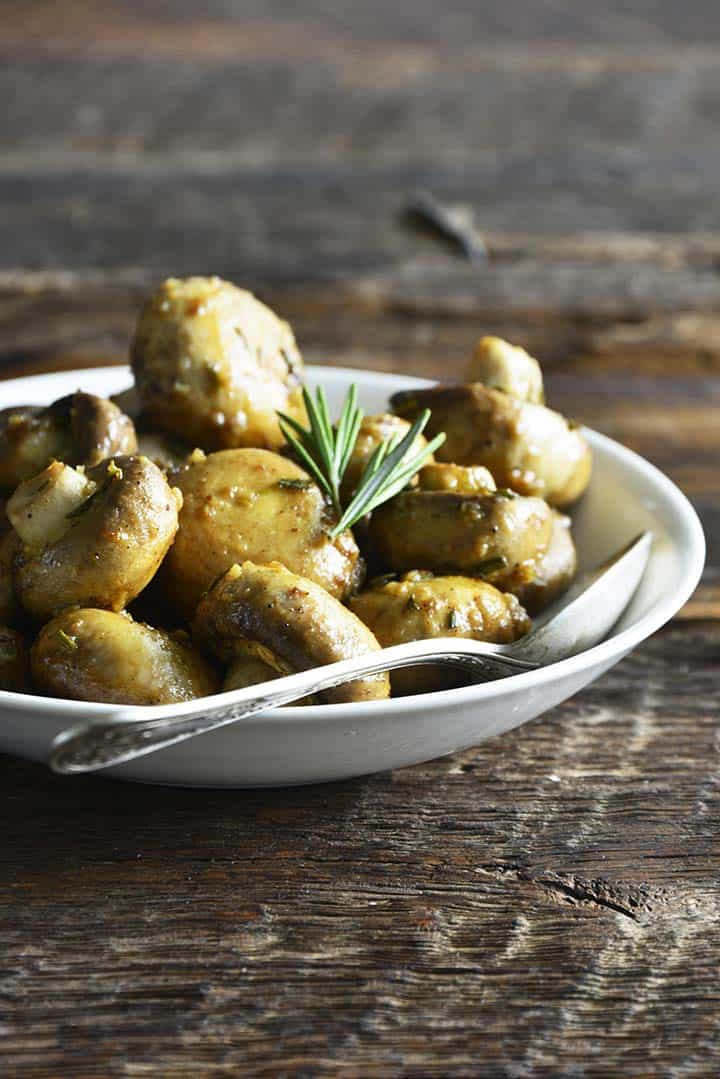 You are going to love how easy it is to make oasted mushrooms! It's one of those sides that needs minimal prep work and then cooks itself. If you like garlic, you have to try it paired with mushrooms!
What I love most about this recipe is that it pairs equally well with a grilled steak as it does roast chicken, and pretty much everything in between. And it naturally vegan, so it's also a great addition to a grain bowl.
If you thought mushrooms were just ordinary (and maybe a little boring), get the Garlic Roasted Mushrooms recipe that'll change your mind.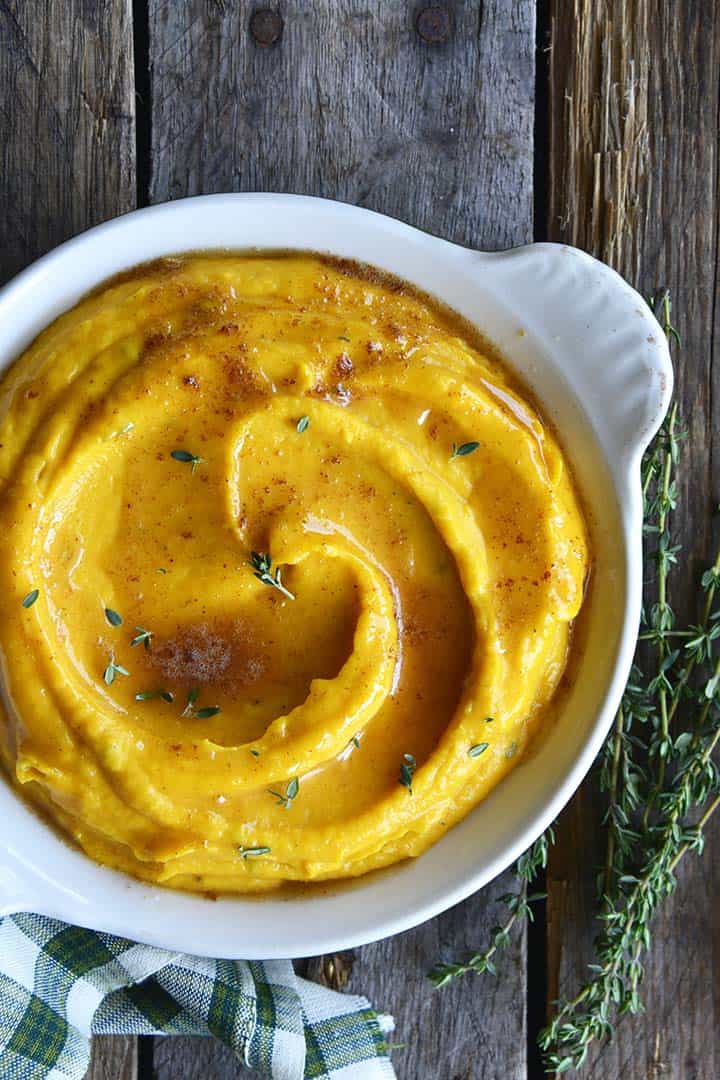 So, you know how mashed potatoes are a classic with meals like roast chicken, pot roast, and Thanksgiving dinner? And you know how mashed sweet potatoes are like the fancy cousin of regular mashed potatoes who lives in the city and does yoga daily and makes her own green juice every morning?
Well, mashed butternut squash is like the adorable rustic country cousin who has a garden and a chicken coop and makes her own pottery and wool sweaters.
If you're remembering the watery, flavorless mashed squash of your youth, get that awful image out of your head! I promise you, this beautiful fall and winter side dish couldn't be more different.
Butternut squash has a velvety texture when it's pureed. In this recipe it's roasted before pureeing, which brings out its nutty caramel flavor notes. And then of course Fontina cheese makes it even better, as does fresh thyme. And like most things in life, brown butter really takes it over the top.
Discover mashed winter squash like you've never seen it before in this recipe for Whipped Butternut Squash.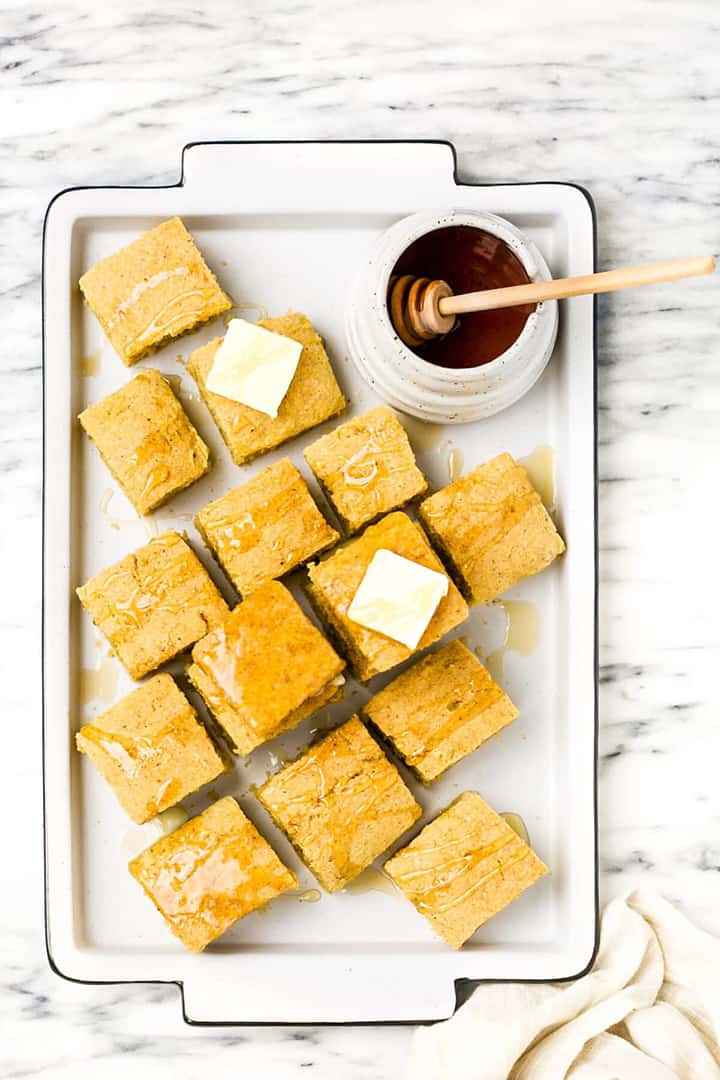 Soft and fluffy, this Gluten Free Cornbread recipe is so easy to make! Far from dry, this cornbread recipe is moist, tender, and sweet.
It makes the perfect side dish for the holidays or any meal. And consider this fair warning, you're going to want to make a double batch as this disappears fast!
Get the best Gluten Free Cornbread recipe on Primavera Kitchen.
This nourishing harvest-inspired salad is made using all of the best foods and flavors of fall! There is a delicious variety of fruits, veggies, nuts, and it's tossed in a homemade apple cider vinaigrette. You will never want store-bought salad dressing after this.
When it comes to fall side dishes, it doesn't get much prettier than this salad. But this also makes a great lunch!
Check out your new favorite way to get your apple fix in this recipe for Fall Harvest Salad on I Heart Eating.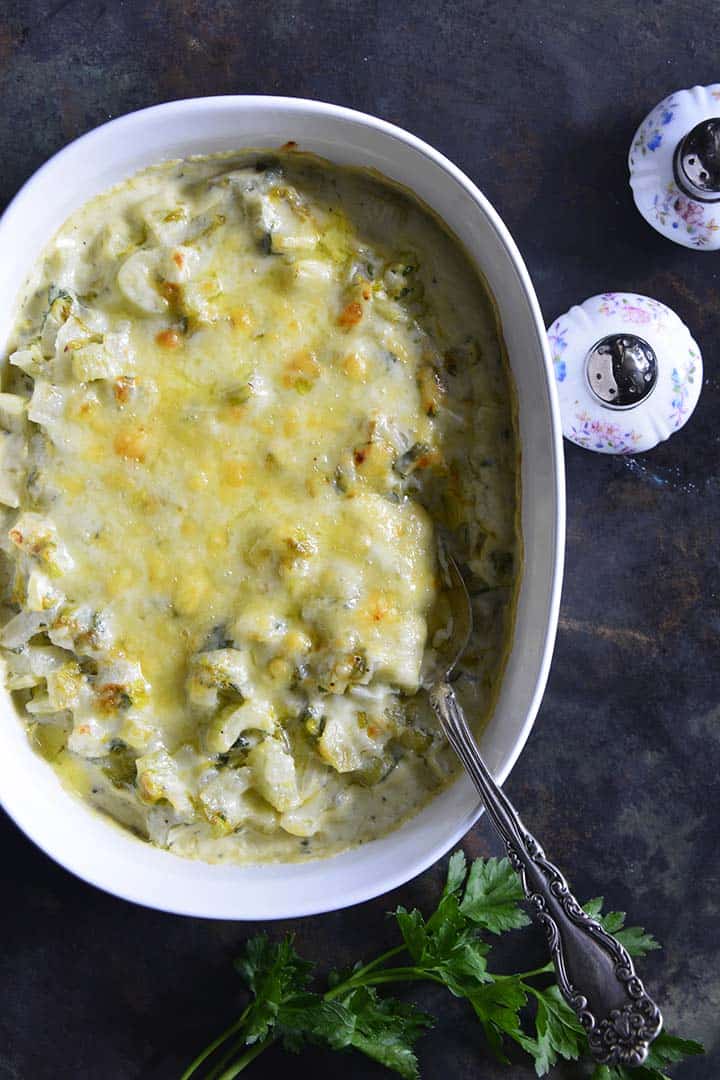 If the only way you think of celery is chopped up in chicken soup or cut into large chunks along with carrots in a pot roast meal, let me introduce you to the recipe that will make you see celery differently!
This creamy gratin has a luscious cream cheese-based sauce and is topped with a combination of shredded cheddar and Gruyere. Who knew celery could be decadent?!
And let me share the biggest surprise of them all; when celery is cooked this way, it takes on an almost sweet, slightly nutty flavor. One bite and you'll be hooked.
Also, bookmark this one if you need gluten free, low carb, and keto friendly side dish options!
Head over to this Celery Gratin recipe and see celery in a new light.
Soft, fluffy and buttery Vegan Pumpkin Dinner Rolls are easy to make, especially with step-by-step process photos. And this recipe only uses six key ingredients! These rolls are the perfect side for any fall or winter dinner.
With their lightly spiced, subtly sweetened, pumpkin-y flavor, these rolls are also great for breakfast or snacktime!
Take a peek at the prettiest, fluffiest Vegan Pumpkin Dinner Rolls recipe on Rainbow Nourishments.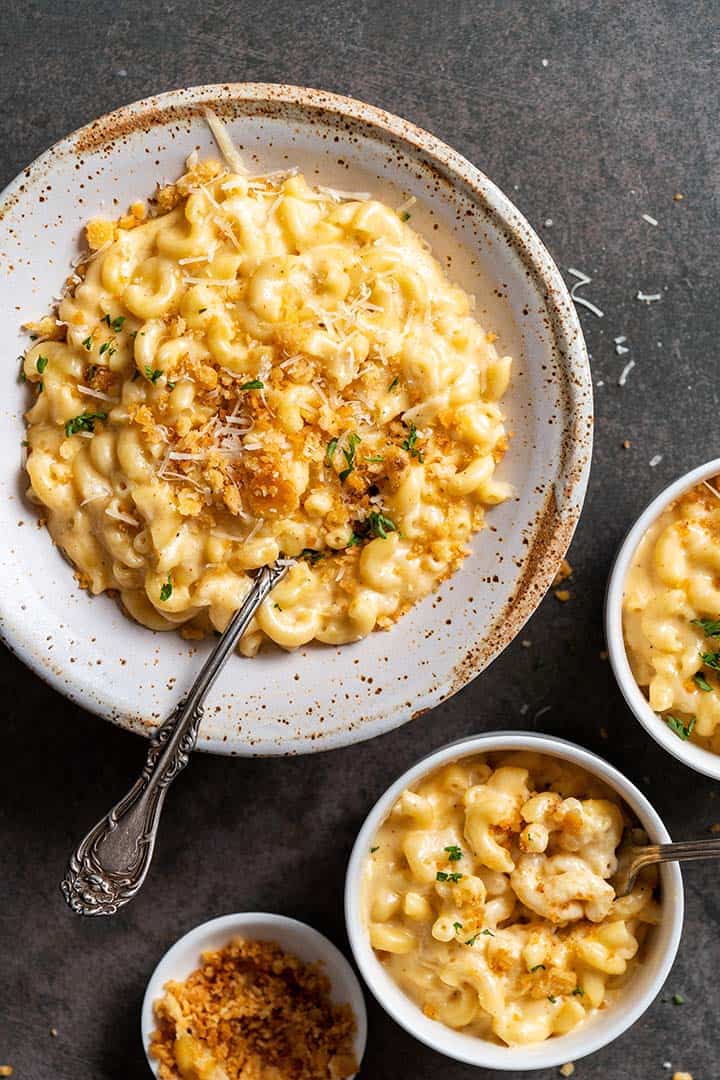 I would say that the best thing about this over-the-top amazingly indulgent Macaroni and Cheese recipe is the 6-cheese blend. It results in the perfect balance of creamy, nutty, rich, sharp, and smooth flavors, and it results int he most thick, rich, and decadent sauce.
Or I could say that the crispy buttery cracker topping is what makes it.
Also, it might be the perfectly-seasoned, well-nuanced cheese sauce that once you make this dish will be the standard for all other mac and cheeses sauces you eat. (It's both a blessing and a curse, lol!)
But really, what seals the deal for me is that this beauty is made entirely in the Instant Pot, crunchy topping and all!
Because you know how on holidays the oven is maxed out, the stovetop has every burner going, and you're also trying to use the microwave and maybe even the Crockpot too, and still wishing you had another oven? Well, use your Instant Pot instead!
Let your Instant Pot save the day with this amazing Macaroni and Cheese.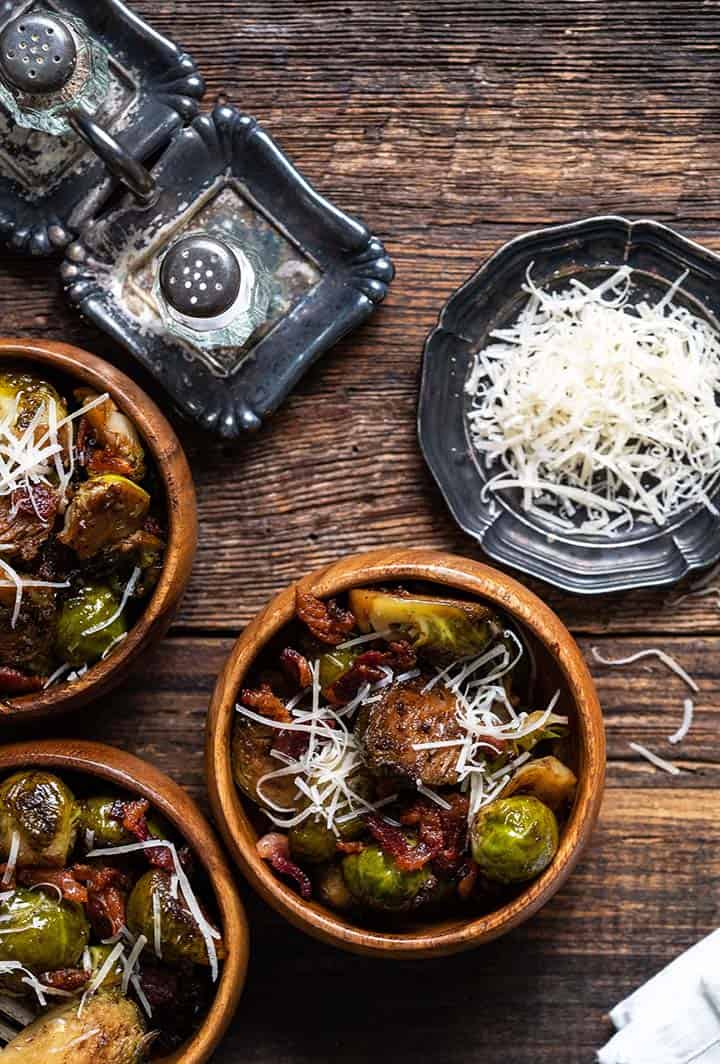 The main trick to really great Brussels sprouts is to get them crispy. Other than that, most recipes are a slight variation of each other, adding bacon, brown sugar, balsamic vinegar, and/or garlic.
This recipe is special because not only does it use all the right flavors that make the sprouts pop, but it cooks up quick and easy in the Instant Pot! If you didn't think it was possible to get vegetables crisp in the electric pressure cooker, try this recipe and have your mind blown.
When it comes to fall side dishes, Brussels sprouts are a great option any night. And this recipe is another handy one for the holidays because it's made in the Instant Pot and frees up valuable space on the stovetop and in the oven!
Also, without sacrificing flavor, this fall side dish is naturally gluten free and low carb friendly.
Check out the crispiest sprouts the other side of an Instant Pot.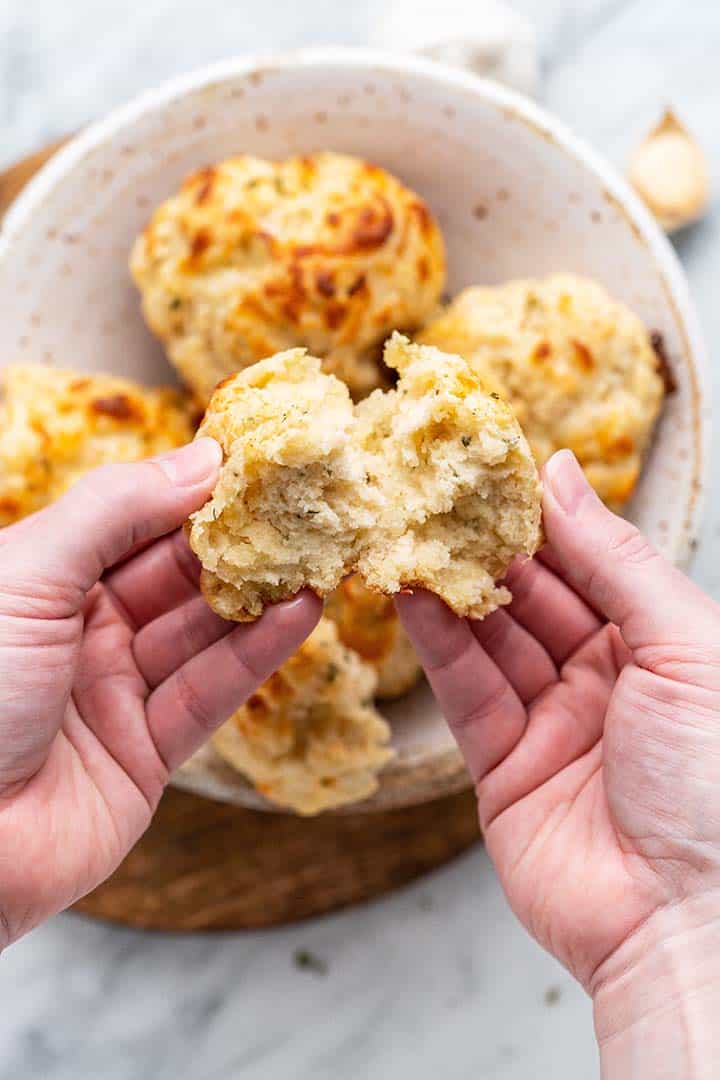 With a minimal ingredient list of ingredients (that you probably already have on hand!), just 1 bowl, and only 25 minutes, you can easily whip up these delicious drop biscuits even on busy weeknights.
These from-scratch biscuits are fluffy inside, crispy outside, and have a rich, buttery flavor. And they pair well with just about any main course.
Oh, and you can change the flavor profile by swapping out the cheese, herbs, and spices. There's also instructions for how to make them plain or how to make sweet drop biscuits.
Find the last Drop Biscuits recipe you'll ever need.
These Honey Roasted Parsnips and Carrots are a tasty and easily prepared side dish. This recipe is simple enough to prepare for a weeknight meal, but is sufficiently elegant for a special occasion such as Thanksgiving or Christmas.
The beautifully caramelized carrots and parsnips are smothered in a glaze of honey, mustard, and rosemary for the most delicious flavor.
Get this unique Honey Roasted Parsnips and Carrots recipe from It's Not Complicated.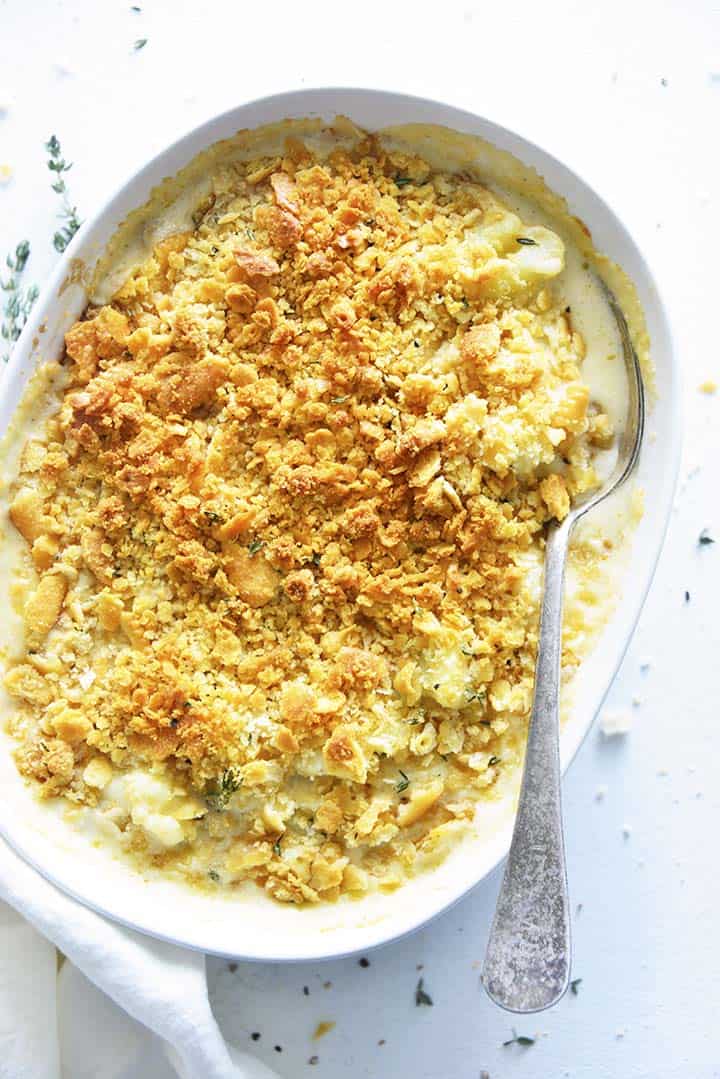 Inspired by the classic British comfort food Cauliflower Cheese, this dish is the epitome of decadent side dishes!
Cauliflower is swimming in a savory, creamy, cheesy sauce and topped with buttery herbed Ritz crackers. It doesn't get much better than a creamy dish with a crunchy topping.
Check out your new favorite way to eat cauliflower with this recipe for Cheesy Cauliflower Gratin.
Bring a delicious but unexpected side dish to your table by making this Thanksgiving Rice packed with veggies, dried fruit, nuts, and herbs. It's naturally gluten free and can easily be made vegetarian. But don't wait for Thanksgiving to make it, this pilaf goes well with any number of fall and winter main dishes!
It has a lovely balance of sweet and savory ingredients, as well as different textures that marry really well.
Find this unique Thanksgiving Rice recipe on Foxes Love Lemons.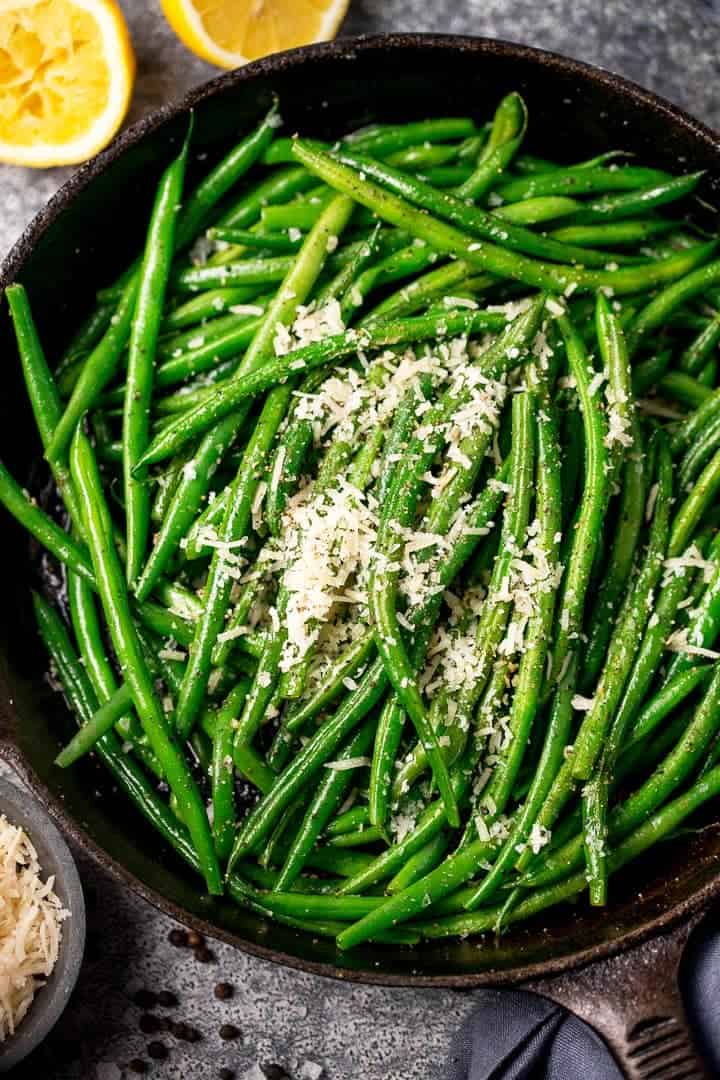 These Garlic Green Beans with Parmesan make a quick and easy (as in, just 10 minutes from start-to-finish!) side dish. This is a convenient recipe to have in your repertoire; not only does it use minimal ingredients, but it's forgiving. You can use fresh or frozen green beans!
This naturally gluten free side dish is also low carb and keto friendly.
Take a peek at the Garlic Green Beans recipe on Kitchen Sanctuary that will make you crave green beans.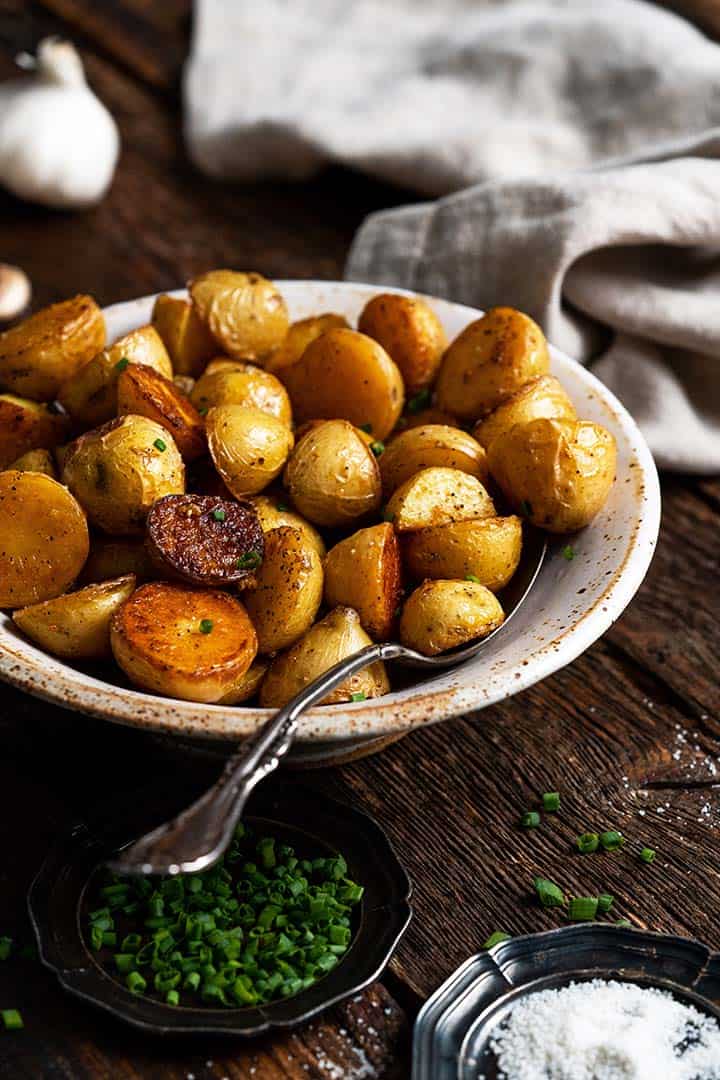 Friend, if you've never roasted potatoes in duck fat, I humbly implore you to ask yourself what are you waiting for?! Here the ordinary potato is transformed into something truly extraordinary.
Potatoes roasted in duck fat are golden, ultra crispy, and super rich tasting (and nope, they don't taste like duck). But the real magic is inside. As crisp as they are outside, they are equally soft and fluffy inside.
And similar to olive oil, there are actually health benefits to duck oil!
Head over to this Duck Fat Potatoes recipe and get ready to have your mind blown.
If you're thinking there's no way that cornbread can wow anyone, try this recipe. It's converted several people (that I know of) who thought they didn't like cornbread!
This Cast Iron Skillet Cornbread has a rich, buttery sweet corn flavor. It's crispy along the outside, and soft, moist, and tender inside. Put it to the test: one bite and you'll have found the only cornbread recipe you need!
And one of the best things about cornbread is that pairs equally well with roast chicken, ribs, pot roast, soup, stew, etc. Whatever you're cooking up, cornbread is probably a delicious side dish for it.
Discover Cornbread perfection.
Fall brings a plethora of wild mushrooms to the market (or the to forest if you're lucky enough to live near one, are inclined to forage for them, and know what to look for!). And they are absolutely delicious stirred into this simple wild mushroom risotto.
Good broth, dry white wine, and freshly grated Parmesan cheese bring it all together. This classic dish is as easy as it is elegant.
Get the details of this beautiful Wild Mushroom Risotto on Nourished Kitchen.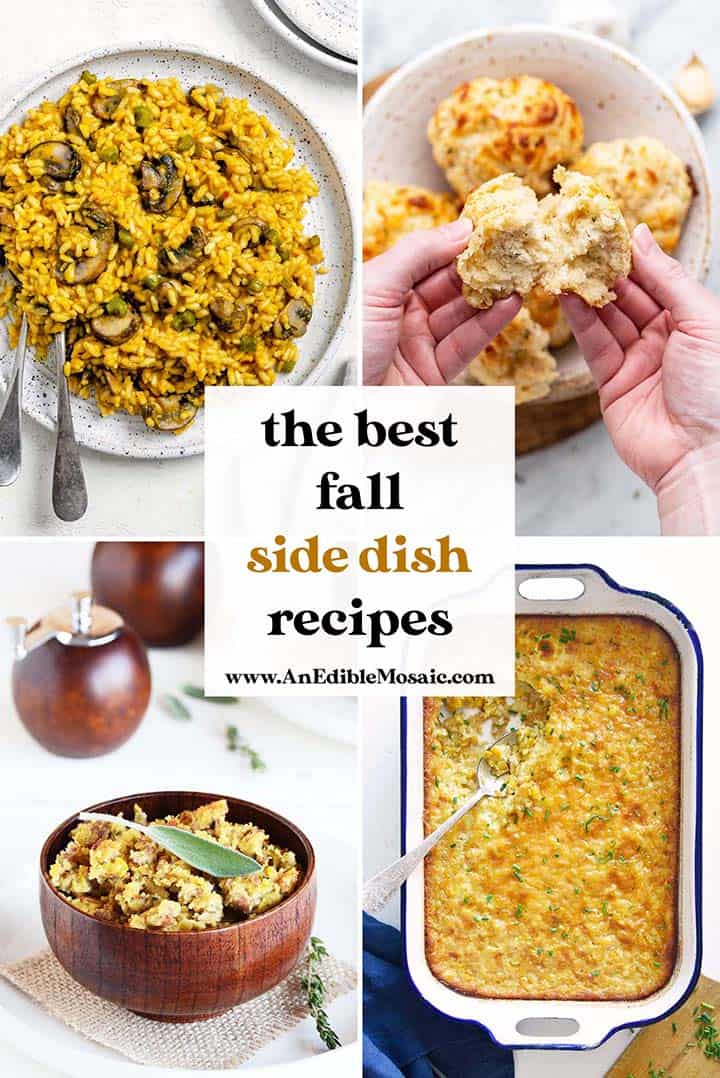 Let's Connect


Did you enjoy this post? Please let me know in the comments below. You can also tag @anediblemosaic on social media.
To stay up-to-date, follow me on Facebook, Instagram, Pinterest, and Twitter!