Cornbread stuffing is hands-down my absolute favorite kind of stuffing, and I think it goes well with just about any kind of meat you could possibly want to serve it with. (Or as I've been known to do, top it with a fried egg and serve it with a big salad and call it a meal, no roast chicken required.)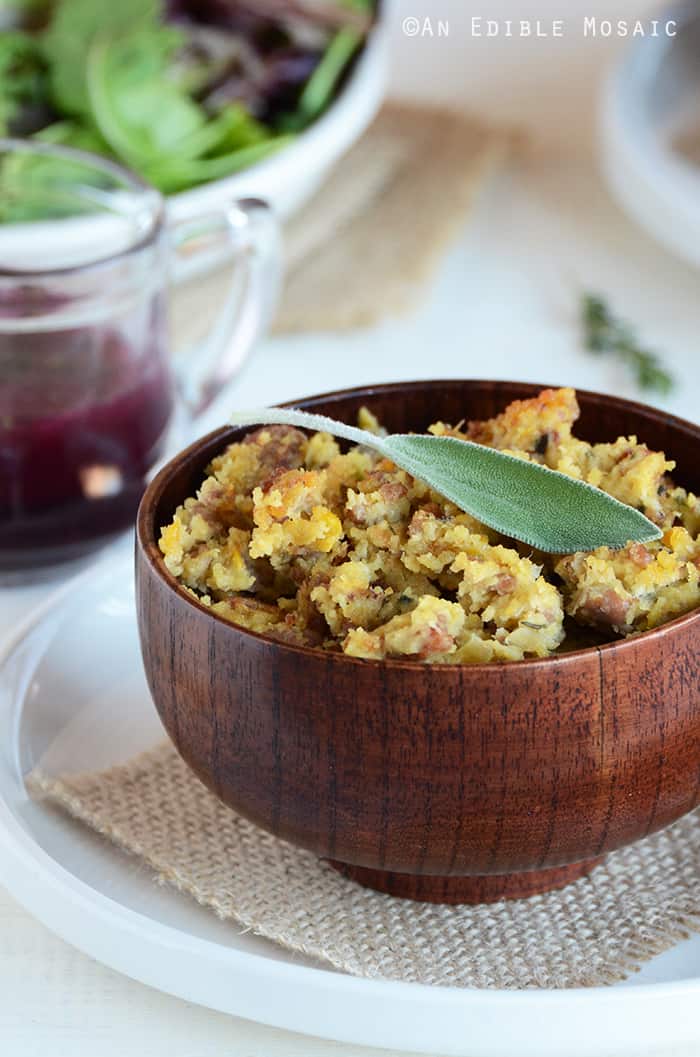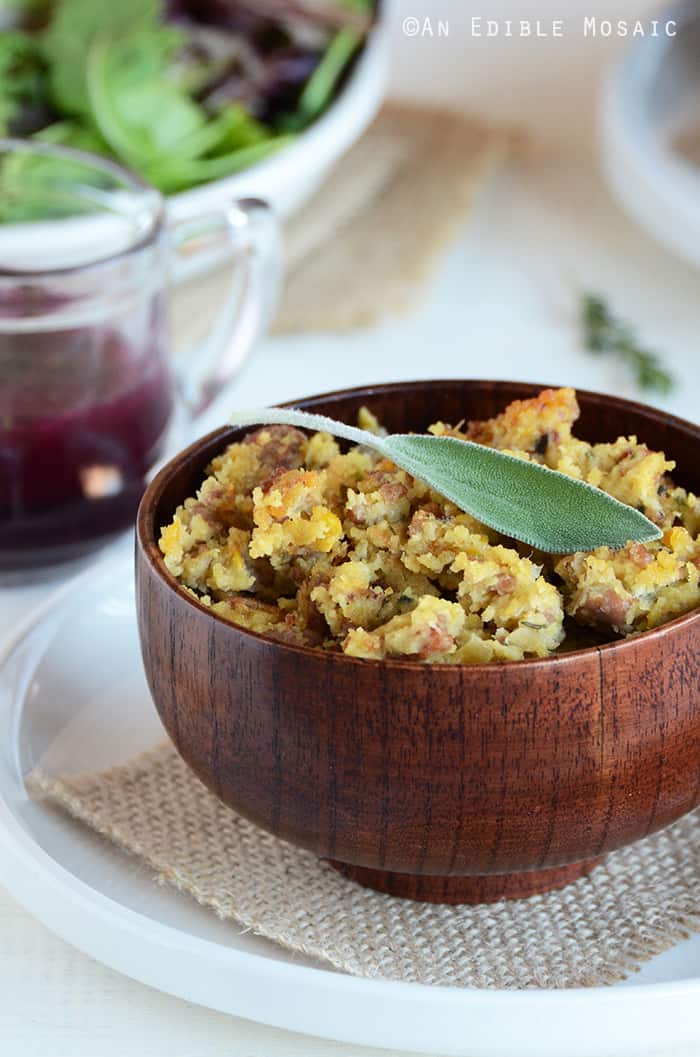 Turkey-Sage Cornbread Stuffing, Served with Salad Greens Dressed with Grape-Thyme Vinaigrette
For me, any add-ins to cornbread stuffing (like sausage, veggies, apples, chestnuts, and other stuffing classics) are just gravy, so to speak.
In this recipe, you can use sausage instead of the turkey if you like, but since I have a hard time finding a good non-pork sausage in my area, I used ground turkey and tried to mimic the flavor of sausage with the flavors of maple, sage, thyme, nutmeg, and fennel. Fresh herbs really brighten up the flavor here and that isn't something you get out of a box of stuffing mix! If you're not used to making homemade stuffing, after you realize how it's flavor blows boxed stuffing out of the water, I think you'll be hooked.
I know the "holiday only" reputation that stuffing has, but don't wait for next Thanksgiving or Christmas to make this! (And if you have time to whip up a batch of my Creamed Corn Cornbread Muffins to use in this recipe, it is even that much better.)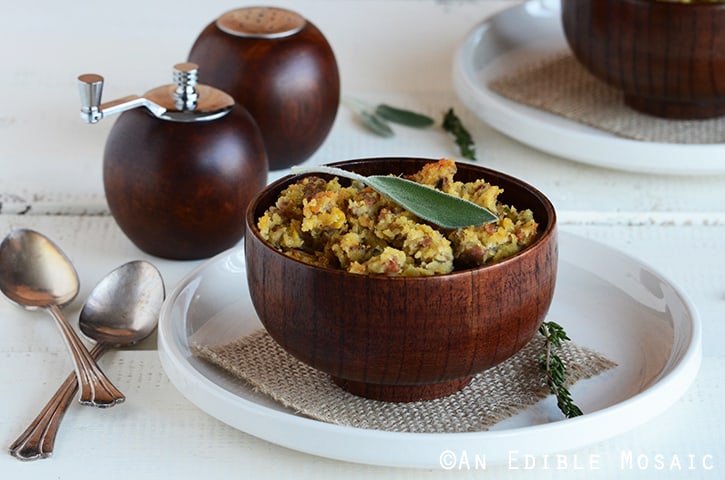 Turkey-Sage Cornbread Stuffing
Prep time:
Cook time:
Total time:
Yield:
About 8 to 10 side dish-sized servings, or about 4 to 6 main course-sized servings along with a big green salad
Ingredients
4 tablespoons unsalted butter, divided
1 large onion, diced
3 large stalks celery, diced
1 lb (450 g) ground turkey
2 large cloves garlic, minced
1 tablespoon pure maple syrup
1 tablespoon Worcestershire sauce
2 tablespoons minced fresh sage
1 tablespoon minced fresh thyme
1 teaspoon salt
¼ teaspoon ground black pepper
¼ teaspoon fennel seed
⅛ teaspoon freshly grated nutmeg
6 cornbread muffins (store-bought or homemade)
2 large eggs, beaten
1 cup (240 ml) low-sodium chicken stock
Instructions
Preheat oven to 425F; grease an 8 by 8-inch casserole dish with ½ tablespoon butter.
Heat 3 tablespoons of butter in a large skillet over medium heat; add the onion and celery and cook until the veggies are softened but not browned, about 8 to 10 minutes, stirring occasionally.
Add the turkey and cook until browned, about 5 minutes, breaking up the meat with a wooden spoon.
Add the garlic, maple syrup, Worcestershire sauce, sage, thyme, salt, pepper, fennel seed, and nutmeg, and cook 3 minutes more, stirring frequently. Turn off the heat and cool slightly.
Crumble the muffins into a large bowl; stir in the turkey mixture and then the eggs. Stir in the chicken stock a little at a time, and then spread the stuffing into the prepared dish.
Dot the top with the remaining ½ tablespoon butter and bake until the top and sides are light golden, about 30 minutes.