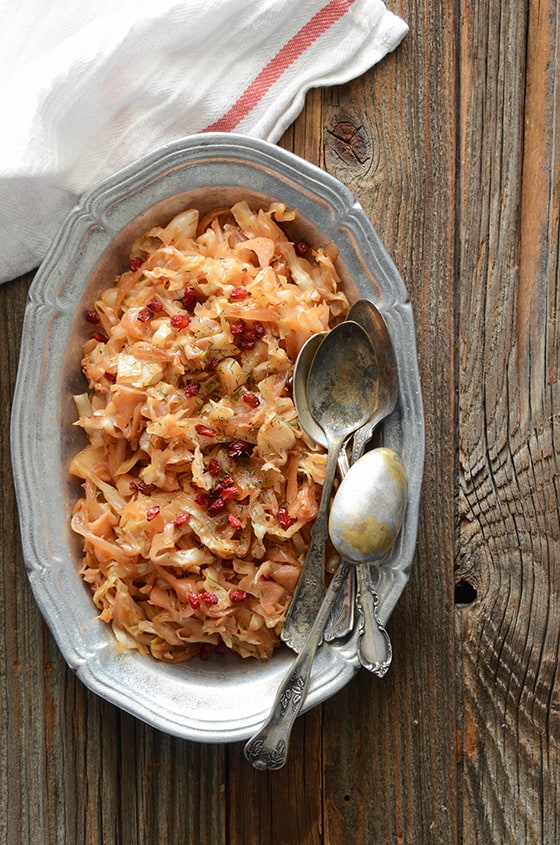 I love how certain colors are associated with specific holidays.
Just a couple examples…
Red = Valentine's Day
Green = St. Patrick's Day
Orange = Halloween
Blue and White = Hanukkah
And of course, Red and Green = Christmas.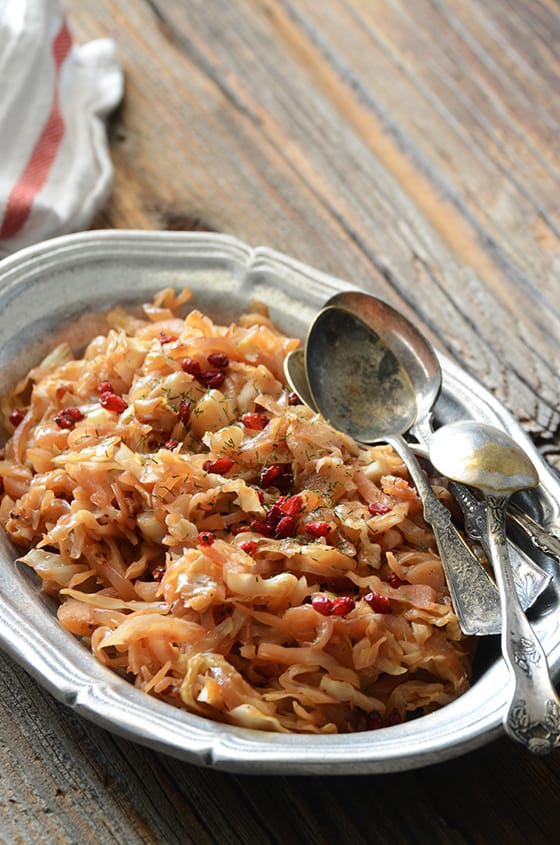 I know, it is a little cutesy to make things like red risotto for Valentine's and green cupcakes for St. Paddy's…but that's the point, it is cute. And so festive.
That's where this Sweet and Tangy Cabbage-Cranberry Sauté comes in. And admittedly, I was lacking a little bit in green when I made it, but I'm confident your dish will look better than mine, lol. I used dried dill, but to really amp up the color green, use fresh dill (because you can use a little more of it since fresh isn't as strong as dried), or use fresh parsley, which you can even use a little more of.
It goes pretty well with any number of things, making it the perfect side dish to add to your holiday table.
What's your favorite holiday side dish?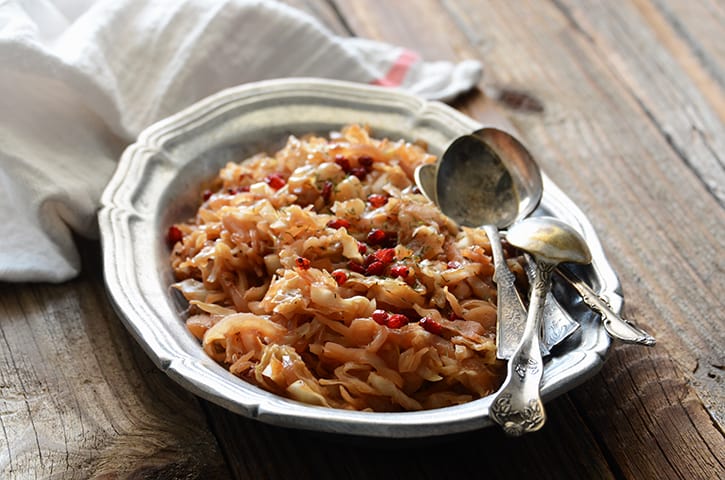 Sweet and Tangy Cabbage-Cranberry Sauté
Prep time:
Cook time:
Total time:
Ingredients
¼ cup (60 ml) water
¼ cup (60 ml) lemon juice (or 3 tablespoons apple cider vinegar)
2 tablespoons honey
2 tablespoons olive oil
1 lb (450 g) green cabbage, core removed and thinly sliced into shreds (about 4 to 5 cups)
1 medium-large onion, halved and thinly sliced
5 tablespoons sweetened dried cranberries, divided
1 bay leaf
¾ teaspoon sea salt
¼ teaspoon black pepper
1 teaspoon dried dill or 1 tablespoon minced fresh dill (or 2 tablespoons minced fresh parsley)
Instructions
Whisk together the water, lemon juice, and honey in a small bowl and set aside.
Add the oil to a large, deep-sided skillet over medium-high heat. Once hot, add the cabbage, onion, 4 tablespoons cranberries, bay leaf, salt, black pepper, and water/lemon juice/honey mixture.
Give it a stir to coat, then cover the skillet and cook until the cabbage is tender and starts to take on a rosy hue, about 20 minutes, stirring occasionally.
Transfer to a serving dish and sprinkle on the reserved 1 tablespoon of cranberries and the dill (or parsley); serve.
Notes
A Note on the Sweet/Tart Balance: This dish is easy to make sweeter or tangier to suit your tastes by adding more or less tartness (lemon juice or apple cider vinegar) or sweetness (honey).