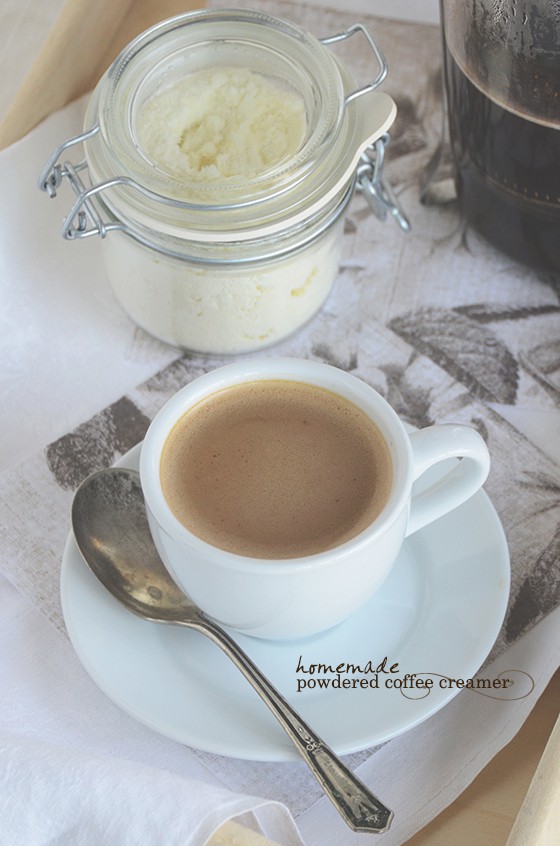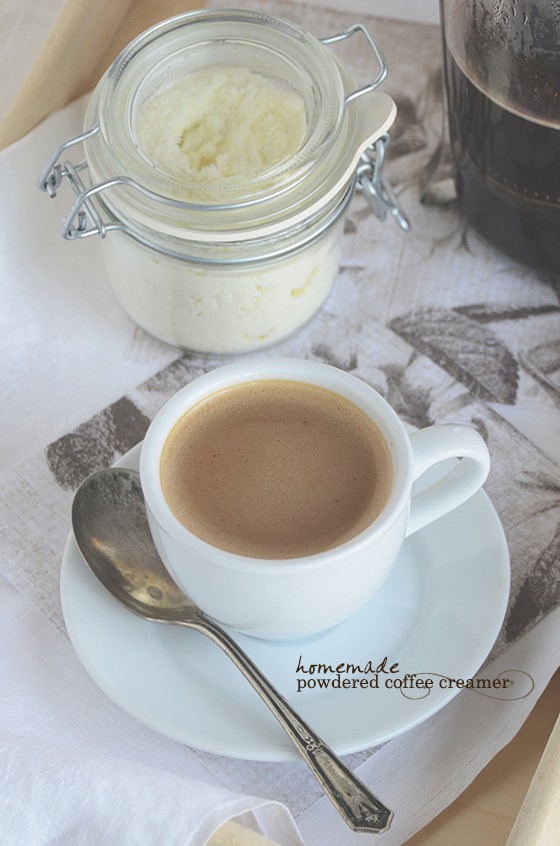 I have been sitting on this recipe for like a year now.
A while ago (long before Mike and I moved to Kuwait), I was rumaging through cleaning my pantry and came across a gigantic box of nonfat instant powdered milk way in the back. Don't ask.
I was almost hoping it would be past its expiration date so I wouldn't have to think of some way to use it, but alas, fate had other plans for me.
Wondering what on earth to do with it, I mentioned it to a friend and she suggested I try making a powdered coffee creamer. (Side Note: If you're interested, you can check out my recipe for liquid Vanilla Hazelnut Coffee Creamer with several variations here. P.S. It's vegan and paleo…and so good!) I loved her idea, and immediately did a quick search on Google.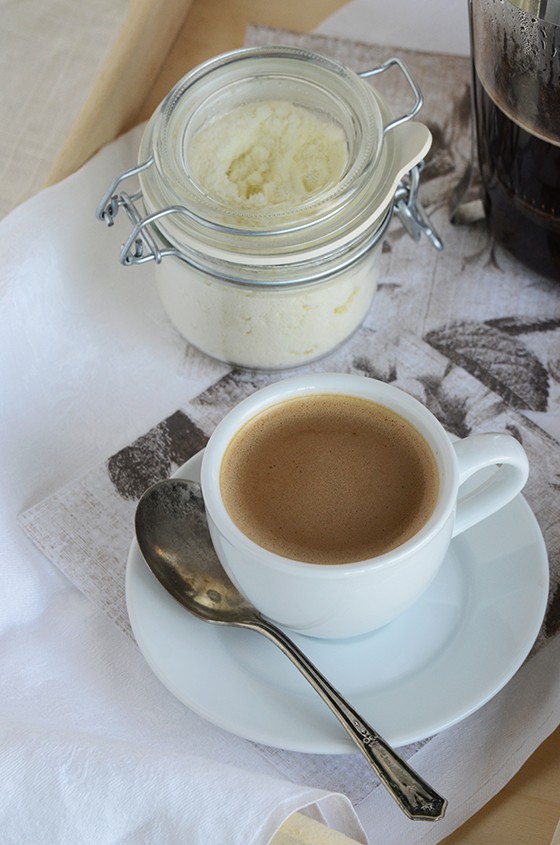 I came across a recipe for Homemade Powdered Coffee Creamer on a blog called Christmas Spirit All Year Long that looked like it was exactly what I was looking for. Ironically, Joy (the author of that blog) also got the inspiration for the recipe from Google, but couldn't remember the source. (Where would we be without Google these days, right?)
Her recipe was unflavored and called for powdered sugar, so I immediately knew I wanted to make a couple adjustments. I added a bit of powdered vanilla for flavor (which is optional; you don't have to add it if you prefer unflavored), and used stevia instead of powdered sugar. I've made this recipe a few more times to experiment with the flavors, and I listed a few of my favorites in the notes below the recipe.
I know you're wondering how this tastes. Well, let me first say that I use 1 tablespoon for a 12-ounce cup of coffee (but I like my coffee just shy of black). The photos show coffee with more creamer added, so you can see the full effect. This creamer gives coffee a creamy, rich mouthfeel because of the coconut oil and a subtle hint of coconut flavor, which I love. If you're wondering about clumping, this creamer dissolves fully in warm coffee, but just be sure you process the creamer in a blender or food processor like the recipe below says.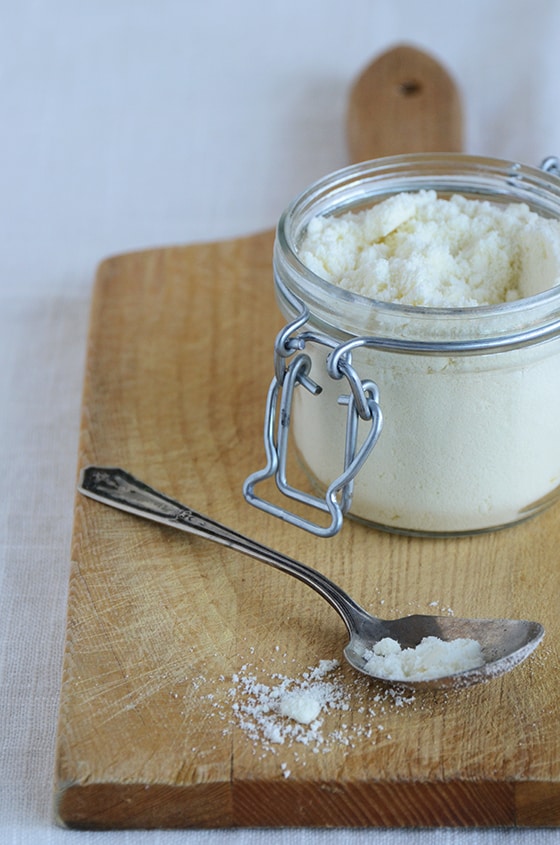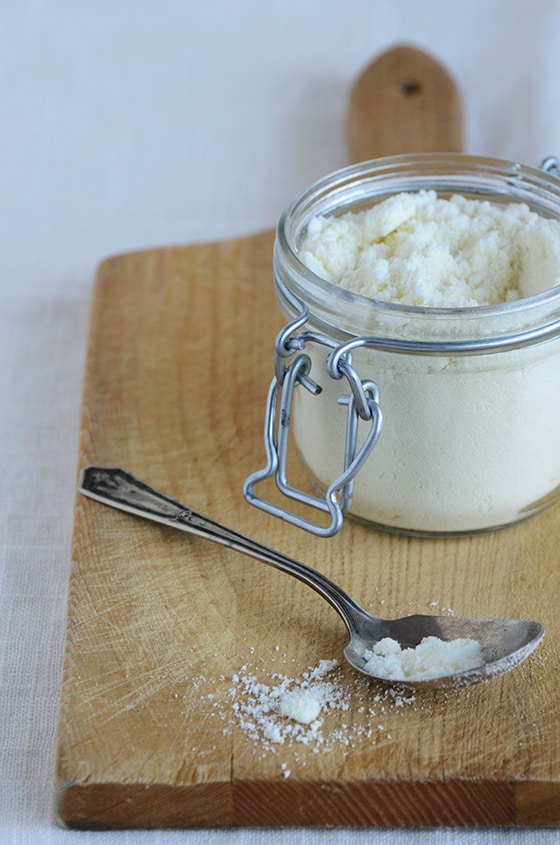 I'm glad I waited until now to share this post because it really is perfect timing. If you're looking for a great last-minute gift for a neighbor or co-worker, whip up some of this, put it in a festive jar, and it's a lovely thing to give. Or make a few batches and package them up in small jars, tie them with pretty ribbons, and give them out as favors for a holiday party (see the note below on the chocolate peppermint flavor variation – that would be perfect!).
Do you have the perfect last-minute gift idea that is gorgeous, but easy to put together? If so, please feel free to share in the comments below…I'm always looking for new ideas!
P.S. If you generally steer clear of using powdered milk because of the issue regarding oxidized cholesterol, head over to Kitchen Stewardship's post on this topic because she discusses it so much more eloquently than I could! (And please be sure to use nonfat dry milk like the recipe below calls for.)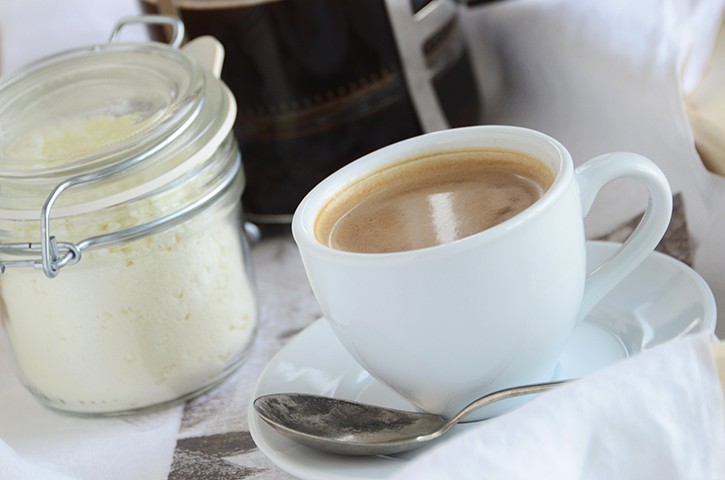 Homemade Vanilla Powdered Coffee Creamer
Yield:
1 cup of powdered creamer, or about 16 servings
Ingredients
1 cup (70 g) nonfat instant dry milk
3 stevia packets (about 1½ teaspoons stevia)
1½ teaspoons powdered vanilla (not liquid vanilla extract), optional
1 tablespoon coconut oil, melted
Instructions
Pulse together the powdered milk, stevia, and vanilla in a blender or food processor until powdery, about 1 minute.
While processing, pulse in the coconut oil through the feed tube; pulse a few more times to combine.
Transfer to an airtight jar and store in a cool, dark place for up to 3 months.
Notes
Liquid vs. Powdered Flavorings: I've found that using powdered flavorings works better than liquid flavorings for this recipe.

Sourcing Powdered Flavorings: For sourcing powdered flavorings, do a quick Google search or ask at your local health food store or gourmet food store.

Other Flavor Ideas: (Note that with all of the flavor variations listed below, I still include the amount of powdered vanilla that is mentioned in the recipe above.)

Almond: Add 1 teaspoon natural almond powder (this is not the same thing as almond meal or almond flour).

Chocolate: Add 2 tablespoons unsweetened cocoa powder and increase sweetener as desired.

Chocolate Peppermint: Add 2 tablespoons unsweetened cocoa powder, 1 teaspoon natural peppermint flavor powder, and increase sweetener as desired.

Cinnamon: Add 1 teaspoon cinnamon.

Peppermint: Add 1 teaspoon natural peppermint flavor powder.

Pumpkin Spice: Add 1½ teaspoons pumpkin pie spice mix.