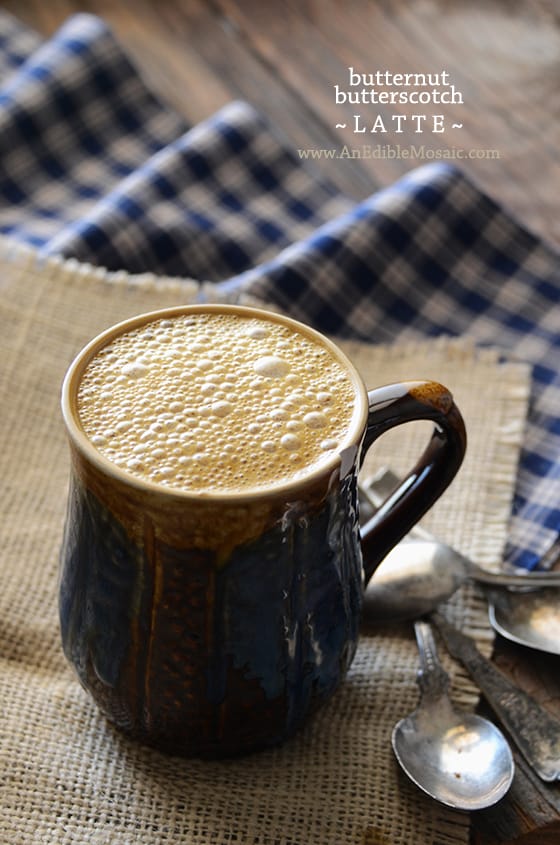 I'm sure this happens to you too. Every once in a while I think of an idea that is so simple, so right in front of my eyes, it astounds me that I didn't think of it sooner.
Like my Stuffed Mushroom Casserole, which I could talk about for an hour nonstop. But I'll stay focused.
This Butternut Butterscotch Latte is also the perfect example.
You could think of it as the cousin to the Pumpkin Spice Latte…but the cool cousin. The one who moved away to the big city and does raw juice diets three times a year and practices yoga every day.
One day I was bored…my mind was wandering and I started thinking about Pumpkin Spice Lattes. An idea came to me, and before I knew what was happening my mind was running 100 miles an hour. I was a madwoman. I grabbed maple syrup and butternut squash puree from the fridge (doesn't everyone just have a container of freshly pureed butternut just chilling in the fridge at all times in the fall months, lol?). From the pantry I pulled out coconut milk, butterscotch flavoring, and cinnamon (by the way, I've unintentionally become somewhat of a cinnamon snob lately…after trying Vietnamese cinnamon, it's all I'll use!). I got out my French press and started brewing some strong coffee. My mind was a whirlwind of ideas, and the chaos that was going on in my kitchen matched it.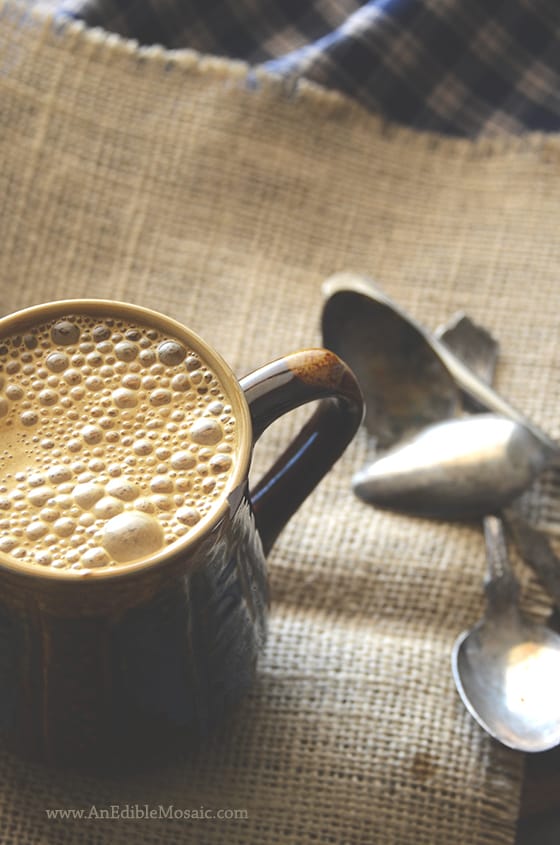 Right from its inception, I knew exactly what I wanted this drink to taste like: autumn. And it really does.
The natural sweet, nutty flavor of butternut was the perfect choice for this drink. Both the maple syrup and butterscotch flavor accentuated the slight earthiness of the squash. Just a hint of cinnamon adds warmth and complexity. Don't skip the teensiest pinch of sea salt because it pulls together all the other flavors. Lovely full-fat coconut milk adds healthy fats, richness, and that thick, gorgeous frothy top you see – no whipped cream needed!
And it couldn't be easier to make. Once you have your coffee brewed, add it along with all other ingredients to a blender and blend away. It will become super frothy and well, amazing.
This is healthier than what you'd get from a coffee shop too. Real ingredients, healthy fat, a little fiber, and a natural dose of vitamins and minerals make this something I would choose over ordering a PSL out. For a sugar-free version, you can skip the maple syrup. You can always add sugar-free sweetener to taste (like stevia), but taste it before you do – you might not need it. I know someone is going to ask if they can use canned light coconut milk or even the coconut milk from the carton. The honest answer is, it's your kitchen and your body, and of course do what works best for you; however, that being said, it might not turn out exactly like this version – you might not get that beautifully frothy top.
I can't even tell you how excited I am about this drink. It's my new favorite and I think maybe, just maybe I might like it as much as my beloved Pumpkin Spice Lattes.
Now, next autumn if you this on the menu at Starbucks, remember you saw it here first. :)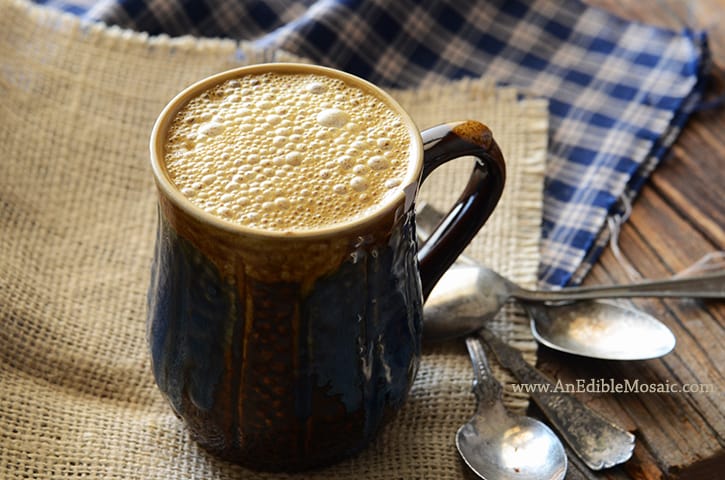 Butternut Butterscotch Latte
Ingredients
1¼ cups (300 ml) strong, hot black coffee
3 tablespoons canned full-fat coconut milk
2 tablespoons butternut squash puree
2 tablespoons pure maple syrup, or more or less to taste (see Note below)
½ teaspoon natural butterscotch flavor
⅛ teaspoon ground cinnamon
1 small pinch sea salt
Instructions
Add all ingredients to a blender and process until frothy; serve immediately.
Notes
For a Sugar Free Version: Omit the maple syrup; taste, and if desired, sweeten to taste with stevia or another sugar-free sweetener.

About This Drink: That gorgeous frothy top stayed like that until the whole drink was gone; and also, I didn't get any sediment on the bottom from the butternut. I think both of those things might be because I used my Vitamix though. If you have a high-speed blender this is the perfect use for it; otherwise, a regular blender will work just fine, but the foamy top might not last as long and you might get a bit of sediment on the bottom from the squash.
Disclosure: This post contains Amazon affiliate links to products I believe in, which means that even though it doesn't cost you anything extra, I will receive a small amount of money from the sale of these items, which helps me keep this site alive – thank you for helping to support An Edible Mosaic!