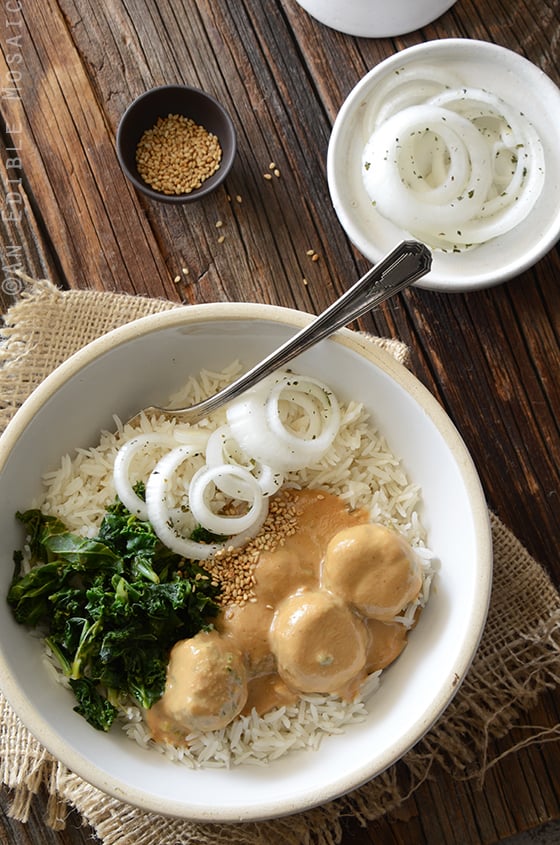 I love chicken satay; I mean I really adore it.
I never hit up a Thai restaurant without ordering it, and I like coming up with different variations of it (like soup and sandwiches) in my own kitchen.
Thai food in general is all about balance of flavors, and I find satays – if done right – to be particularly well balanced.
Recently I've started enjoying fusion dishes…either dishes that borrow flavors from two different cuisines, or dishes with the flavors of one cuisine that are cooked in the style of another. This dish is a different kind of fusion though.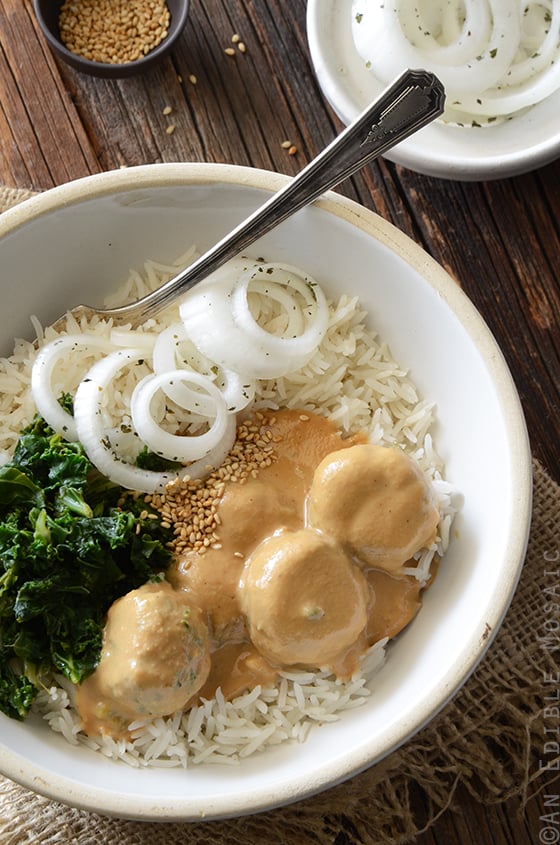 My inspiration for this dish were the flavors in a classic Thai satay, as well as with the flavors in Thai fried rice, but made into a creamy curry sauce to adorn meatballs. It was, to say the least, the best idea I've had in a while.
With fresh herbs and a few spices, the meatballs are pretty flavorful on their own too, but with the sauce, boy oh boy…the dish is over the top.
To make it a meal, I like to serve this dish with sautéed kale and steamed rice, but to keep it low-carb, you can skip the rice or make cauliflower "rice" instead. Kale is a must for me though, because I think it's fabulous paired with the satay curry sauce. Or you can make a satay-style hoagie with the meatballs and maybe top it with a fresh cabbage or kale slaw (actually, that sounds amazing…I know what I'm doing with the next batch I make).
I hope you enjoy satay as much as I do; try this dish and I think you'll be converted if you weren't already!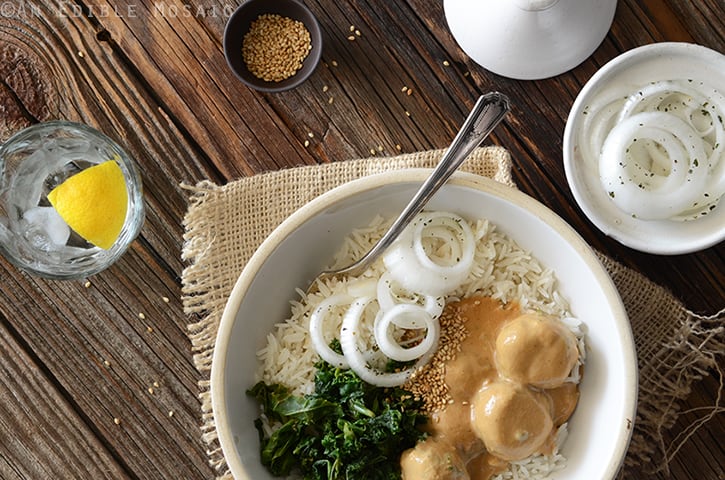 Chicken Meatball Satay Curry
Prep time:
Cook time:
Total time:
Ingredients
Satay Curry Sauce (Yields about 2½ cups):
¾ cup (180 ml) water
½ cup (130 g) old-fashioned smooth peanut butter (I used Peanut Butter & Co.)
½ cup unsweetened desiccated coconut
¼ cup (60 ml) 100% mango juice
4 tablespoons coconut palm sugar
3 tablespoons fresh lime juice
2 tablespoons coconut aminos (or soy sauce or tamari sauce)
1 tablespoon hot sauce (more or less to taste)
1 teaspoon fish sauce
¾ teaspoon tamarind paste
4 large cloves garlic, peeled
1-inch piece ginger, peeled and chopped
¼ teaspoon sea salt
⅛ teaspoon black pepper
Meatballs:
Light olive oil, for the baking dish
1½ lbs (680 g) ground chicken breast
¾ cup finely chopped fresh parsley
3 scallions, white and green parts, thinly sliced
3 tablespoons Satay Curry Sauce
¾ teaspoon ground coriander
¼ teaspoon ground cumin
½ teaspoon salt
¼ teaspoon ground black pepper
Other:
Prepared rice (jasmine or basmati), for serving
Sautéed kale with garlic and lemon, for serving
Quick pickled onions, for serving (see Note below)
Sesame seeds, for garnish
Instructions
For the sauce, combine all ingredients in a blender or food processor and process until smooth, thick, and creamy. Taste and adjust seasonings if desired.
For the meatballs, preheat the oven to 350F. Drizzle a little oil to coat the bottom of a large baking sheet or a 9 by 13-inch casserole dish. Add the chicken, parsley, scallion, 3 tablespoons of satay curry sauce, coriander, cumin, salt, and black pepper to a large bowl and use your hands to combine, being careful not to over-mix. Use a 1½-tablespoon-sized scoop to scoop the meat into balls, and arrange them in the prepared baking sheet. Bake until the meatballs are fully cooked, about 20 to 25 minutes.
Add the sauce and meatballs to a large skillet over low heat; cook, stirring constantly, until the sauce is warm throughout.
Serve the meatballs in individual-sized bowls on a bed of rice along with sautéed kale with garlic and lemon and pickled onions; sprinkle sesame seeds on top.
Notes
To Make Quick Pickled Onions: Thinly slice 1 medium onion. In a medium bowl, combine 2 tablespoons vinegar (I like apple cider vinegar), 1 tablespoon of salt, 1 tablespoon of sugar, and 4 tablespoons of hot water, and stir to dissolve the salt and sugar. Add the onion to the vinegar mixture and add enough cold water so that everything is covered. Give it a stir and put it in the fridge for about 20 minutes; rinse, drain, and serve. Optionally, you can also add crushed mint, which I did here.