Ladies (and gentlemen, if you're interested!), what could be better than combining sweet treats with chic style? I love the excitement and indulgence of both, which is why I was thrilled when I recently received a copy of Rachel Shifter Thebault's Sweet Chic to review.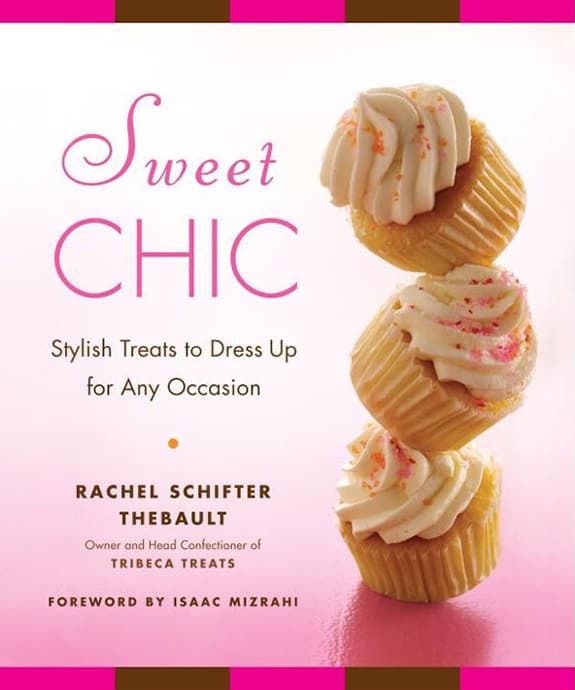 The idea behind this book is charming; Rachel compares her baking philosophy to the advice given by many fashion experts: start with a few wardrobe staples (think little black dress, that perfect pair of jeans, or your favorite oversize handbag), and then accessorize your little heart out to dress it up or down and completely alter the look. This strategy is applied to the recipes in this book; by starting out with a basic recipe or technique and applying a few alterations you can have virtually endless results.
Vanilla cookies are compared to the crisp oxford shirt, chocolate cake is compared to the little black dress, and caramel is compared to the "it" bag. Brilliant and so adorable.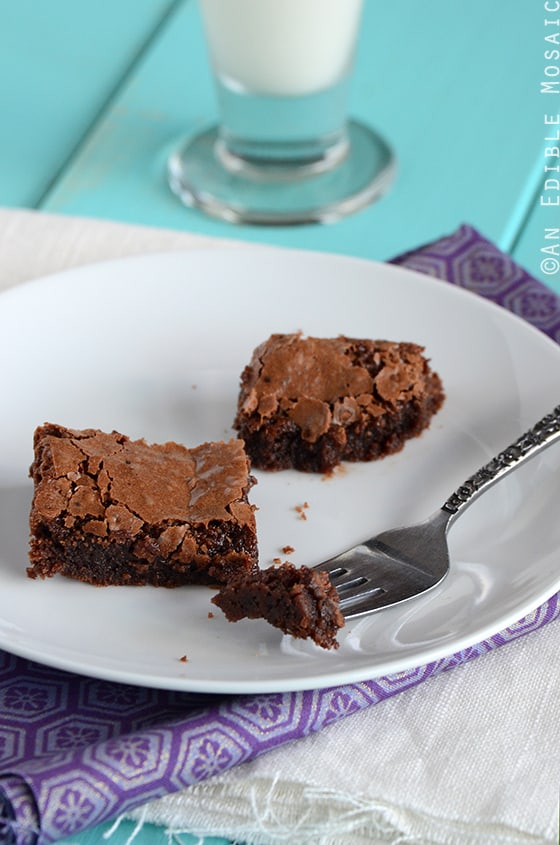 One of these fudgy brownies and a tall glass of milk are a match made in heaven.
Thumbing through the book (which by the way, has many pictures of these oh-so-tempting sweet treats), I saw several recipes I wanted to make. Peanut butter and chocolate thumbprints, ice cream sandwiches, and salt and pepper chocolate are a few of the many things that called to me. In the end I decided on fudgy brownies because really, it doesn't get much better than a good brownie.
I had some fresh red raspberries that I wanted to incorporate into the dish and I thought a raspberry fool would be a nice way to do it. A fruit fool is a traditional English dessert of pureed fruit folded into sweetened whipped cream. For my recipe, I crumbled these lovely fudgy brownies and used them as my base.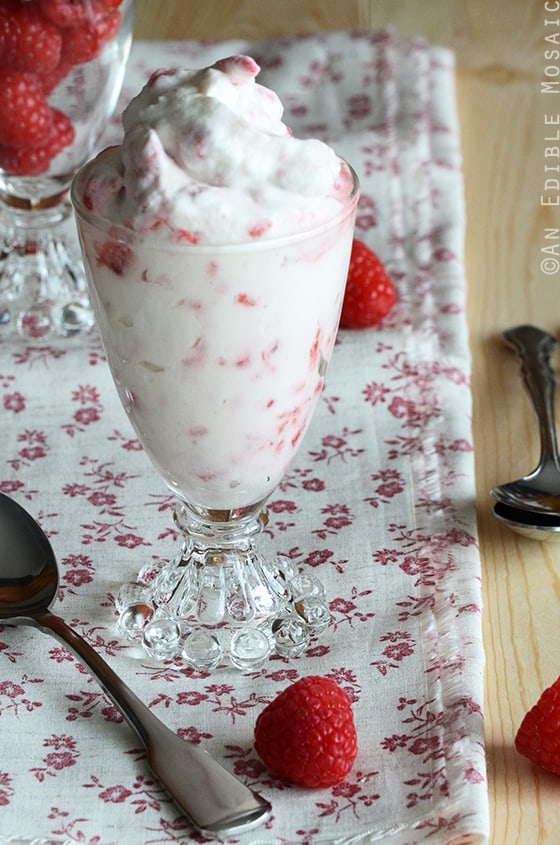 There aren't many things that can't be improved with chocolate...but a plain old berry fool is still pretty tasty even on its own.
I did make a few changes to the original brownie recipe in the book…the biggest alterations I made were to scale back the recipe a bit, use all brown sugar (for a truly sublime fudgy texture), and add of a bit of cocoa powder (because I love the deep chocolate flavor it gives to brownies). Oh, and I added literally just a pinch of espresso powder, a trick I learned from Ina Garten a while ago; it's completely optional, and you won't be able to taste the coffee – it just helps accentuate the flavor of the chocolate.
And no worries if you don't want to crumble these brownies to use as the base for fool; make them any time you want a small batch of brownies!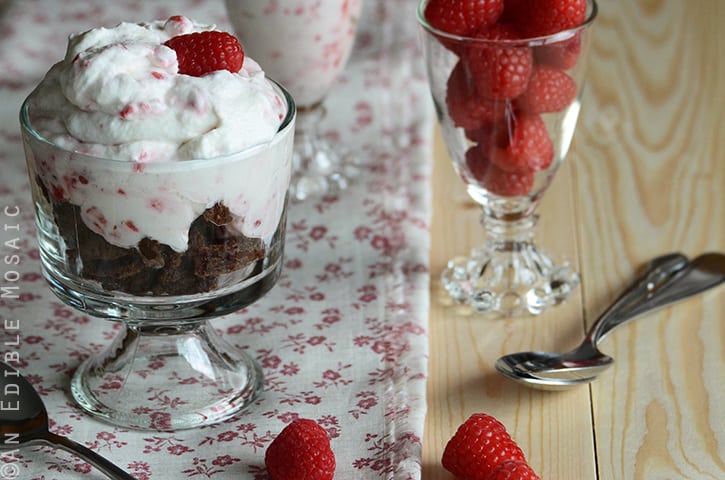 Chocolate Raspberry Fool
Prep time:
Cook time:
Total time:
Ingredients
Fudgy Brownies:
4 tablespoons unsalted butter
2 oz good-quality semisweet or bittersweet chocolate (if using chips, about ¼ cup plus 1 tablespoon)
½ cup lightly packed light brown sugar
½ teaspoon pure vanilla extract
1 large egg
3 tablespoons all-purpose flour
1 tablespoon unsweetened cocoa powder
1 pinch sea salt
1 pinch espresso powder (optional)
Raspberry Fool:
1 cup heavy cream
2 tablespoons powdered sugar
1 cup red raspberries, pureed
Instructions
For the brownies, preheat oven to 350F. Line a 9 by 5-inch loaf pan with parchment paper and lightly spray the paper with nonstick cooking spray.
Melt together the butter and chocolate in a microwave or double boiler; cool slightly. Stir in the brown sugar and vanilla, then beat in the egg until light and fluffy. Add the flour, cocoa powder, salt, and espresso powder and stir until just combined, being careful not to over-mix. Pour the batter into the prepared pan and bake until the brownies are set in the middle, about 20 to 30 minutes, rotating the pan once halfway through.
Once completely cooled, crumble the brownies and place the crumbles in 1 large trifle bowl or 6 individual serving bowls.
Whip the cream to soft peaks, then whip in the powdered sugar. Gently fold in the raspberries, leaving a few streaks of white, if possible.
Spoon the cream/raspberry mixture onto the crumbled brownies and serve immediately.
Notes
Recipe for Fudgy Brownies inspired by and adapted from Rachel Shifter Thebault's recipe for Fudgy Brownies in Sweet Chic, Ballantine Books, published October 2010.
Disclosure: I received a free review copy of Sweet Chic (Ballantine Books; October 2010); as always, opinions are my own. This post contains Amazon affiliate links to products I believe in, which means that even though it doesn't cost you anything extra, I will receive a small amount of money from the sale of these items, which helps me keep this site alive – thank you for helping to support An Edible Mosaic!