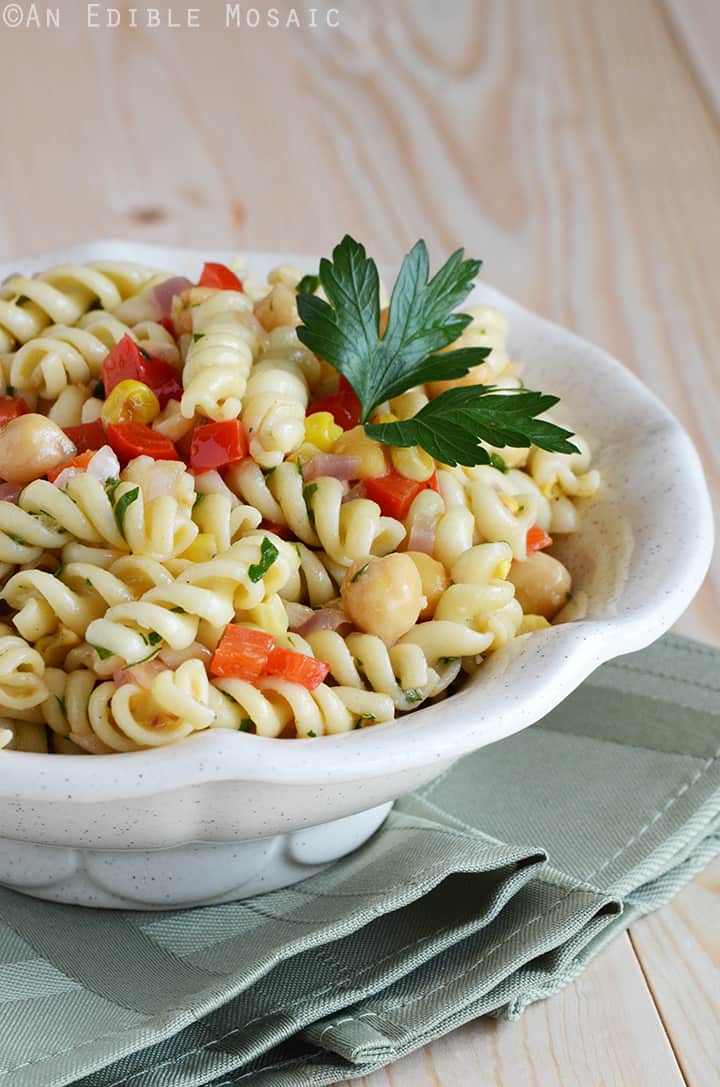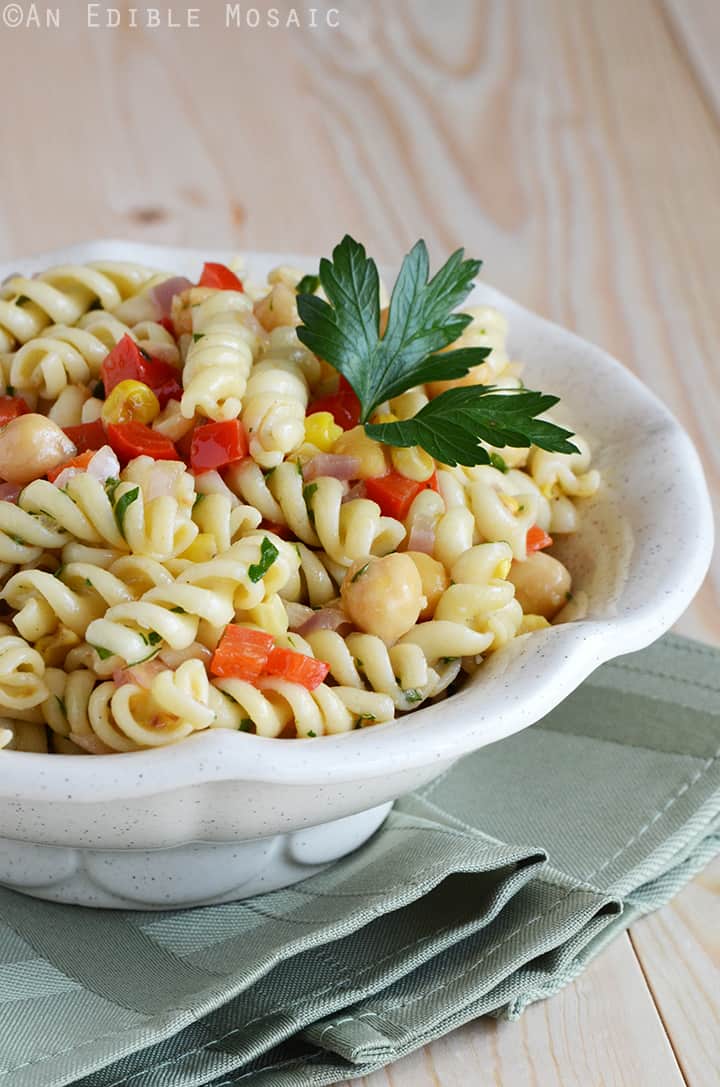 Summer is the season of pasta salads. They feed a crowd and are quick and easy to throw together, which makes them perfect for potlucks, picnics, and barbeques. Plus they're a great way to sneak more veggies into kids (or adults) who claim to not even like fresh corn (ahem, Mike).
Succotash is a Southern dish that usually has lima beans, corn, and bell pepper, and it was the inspiration for my pasta salad.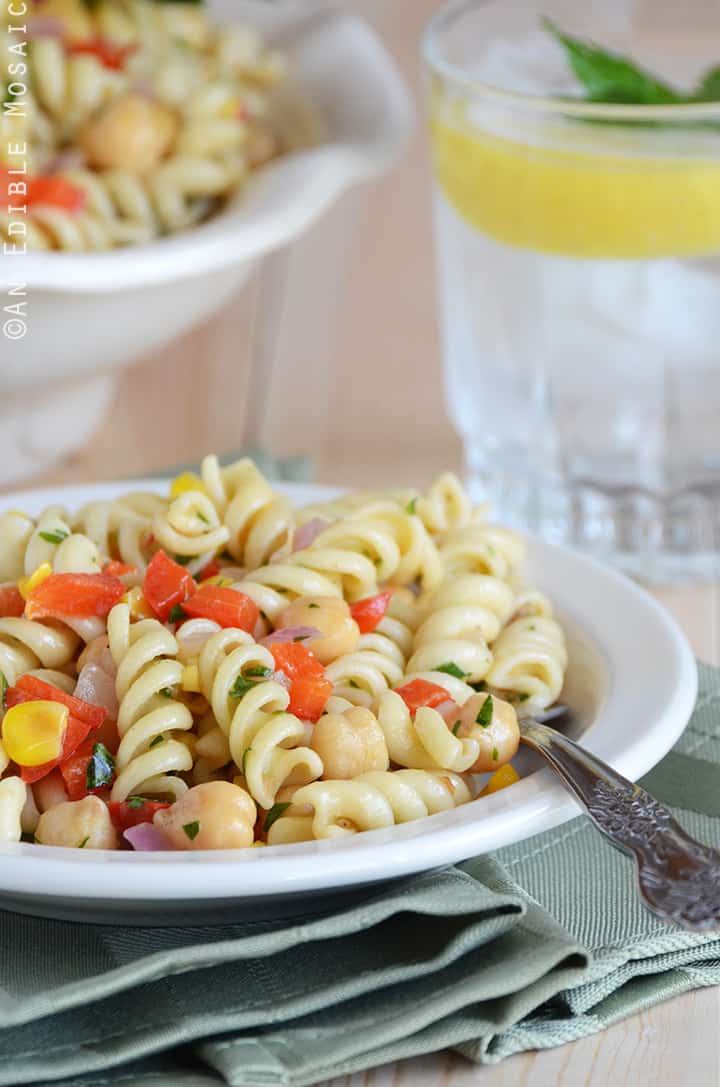 I swapped out the lima beans for chickpeas because limas aren't my favorite, plus I had chickpeas in my pantry. In true succotash fashion, I briefly cooked the veggies; the corn was sautéed in a touch of olive oil on the stovetop until it took on a little color (or if you prefer, you can char it on the grill or under the broiler); the red bell pepper and red onion were very shortly sautéed to slightly soften them, bring out the pepper's sweetness, and mellow the onion's sharpness.
The real highlight of this dish is the roasted garlic dressing. After roasting, garlic takes on a mellow, almost sweet and nutty flavor. It's perfect for smearing on fresh bread or crackers (really, it spreads like butter) or making into dressing for salads. It's one of those things that once you try, you will think of 1,000 different things it would be fantastic on.
A Note on Roasting the Garlic: I roasted my garlic in the oven but in the past I've also done it on the grill (wrapped in foil, just like the oven method I describe below). It's finished roasting when it's light caramel-colored and completely soft. It should actually just squeeze right out of its peel.
Succotash-Style Pasta Salad with Roasted Garlic Dressing
Prep time:
Cook time:
Total time:
Ingredients
8 cloves garlic
¼ cup plus 3 tablespoons olive oil, divided
1 (13.25 oz) box Dreamfields rotini pasta
1 medium-large ear of corn, kernels cut off the cob (about 1 cup corn)
1 medium red bell pepper, diced
1 medium red onion, diced
2 tablespoons lemon juice
¾ teaspoon salt
½ teaspoon sugar
⅛ teaspoon pepper
1 (15 oz) can chickpeas, rinsed and drained
4 tablespoons chopped fresh parsley
Instructions
Preheat the oven to 425F. Put the garlic (with peel still on) in foil, drizzle with 1 tablespoon oil, and wrap securely. Place the wrapped garlic on a baking sheet and roast until soft, about 40 minutes; cool, then peel.
Cook the pasta to al dente according to the package directions; rinse with cold water and drain.
Heat 2 tablespoons oil in a medium skillet over medium heat; add the corn and sauté until softened and starting to turn golden, about 5 minutes, stirring occasionally. Add the bell pepper and onion and sauté 2 minutes more. Cool.
In a blender or food processor, puree the remaining ¼ cup olive oil, roasted garlic, lemon juice, salt, sugar, and pepper.
In a large bowl, stir together the garlic dressing, pasta, cooled corn/bell pepper/onion mixture, chickpeas, and parsley.
Chill until serving.
I adapted this recipe from Brandi's recipe for Charred Corn and Jalapeno Pasta Salad with Cilantro Oil on Bran Appetit, and I'm sending this recipe to the July Progressive Party at Kitchen Play, which is sponsored by Dreamfields Pasta!