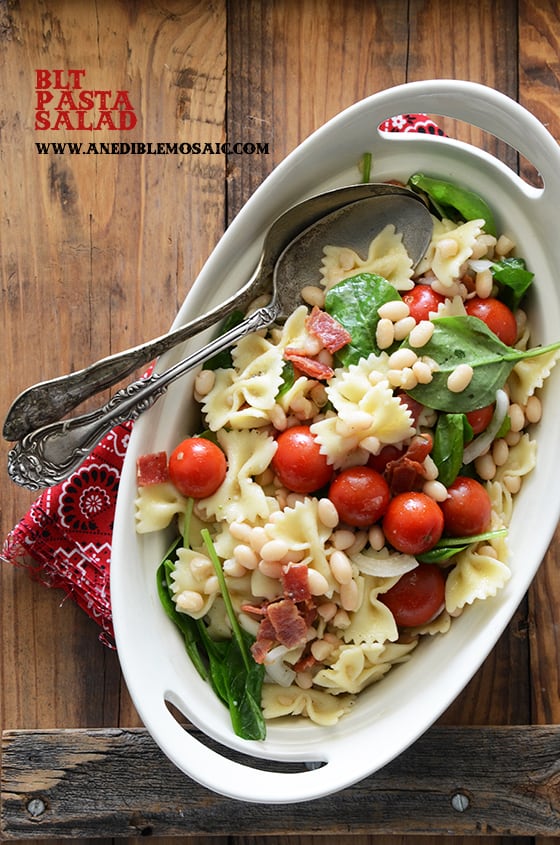 Out of all my childhood memories, I remember summer vacation most vividly…those memories seem to be brighter, louder, and definitely more full of delicious smells and tastes.
We basically lived off what we cooked on the grill during summer months. No matter what grilled meat or veggies we made, my mom always paired them with more fresh produce: fresh-sliced tomatoes with my mom's signature sweet creamy sauce; steamed green beans seasoned with butter and salt; zucchini sautéed in olive oil with garlic.
And if we were going to a party, my mom would always make her two signature side dishes: baked beans and taco salad, which were always the hit of the party. Sometimes her two side dishes eclipsed the main dish, and sometimes some people made her two sides into their main dish. On the rare occasion that we went to a party and she didn't have both those sides, oh boy did she hear about it.
I don't have a signature summer dish; I think I enjoy switching things up too much. Now that I think about it though, I need to ask my mom for those recipes so I can share them with you!
Just in time for Memorial Day, my BLT Pasta Salad with White Beans is a new one. I've wanted to make a BLT-based pasta dish for forever now, and I thought why not turn it into a salad?
This dish has everything that a lovely BLT sandwich has to offer, with a few extras as well. Baby spinach takes the place of lettuce (and heads-up, the dressing will wilt it a bit, but that's ok! That's normal and it still tastes fantastic). In this salad, half of the pasta has been replaced with white beans, which makes it a sturdier side, and of course also adds nutrition in the form of protein and fiber. Since this is summer picnic/BBQ/potluck food, instead of using a creamy mayo-based dressing I opted for a lighter, but still super flavorful vinaigrette. I didn't add cheese, but cubes of cheddar, little mozzarella balls, or even crumbled feta or blue cheese would be great.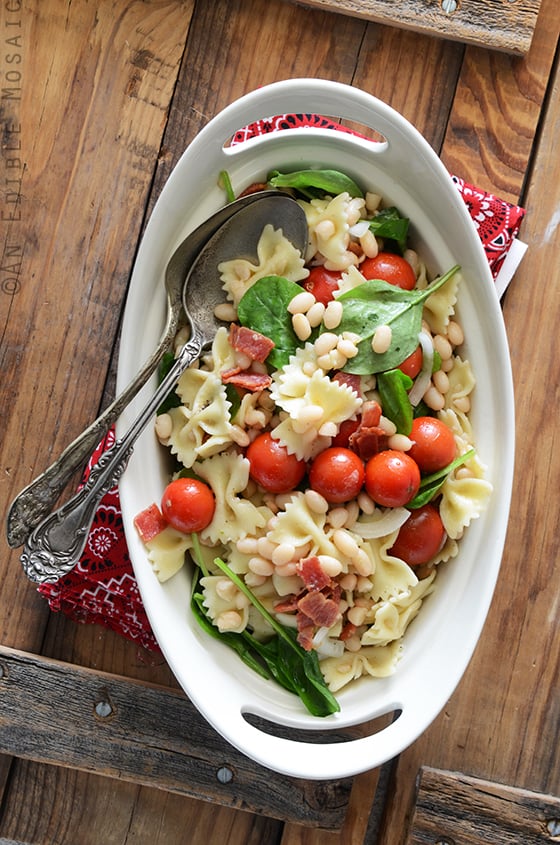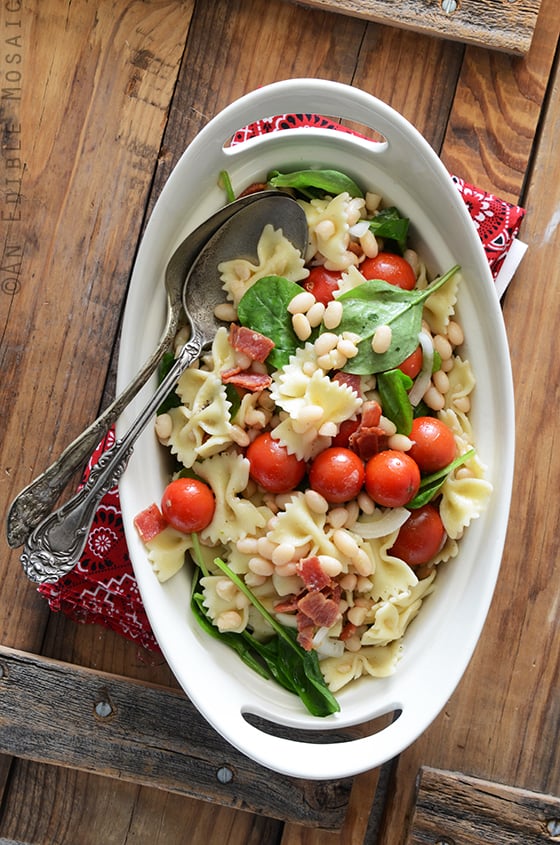 For more Memorial Day pasta salad inspiration, here are a few other dishes from around the web:
Couscous Salad with Cucumber, Tomato, Mint, and Goat Cheese from Girlichef
Creamy Pasta Salad with Bacon, Peas, and Bell Peppers from An Edible Mosaic
Farmers Market Pasta Salad from Cravings of a Lunatic
Healthy Pasta Salad with Artichokes and Lemon Vinaigrette from Food Faith Fitness
Orzo, Grape, and Feta Pasta Salad from From Valerie's Kitchen
Pasta Salad with Tuna from The View From Great Island
Pasta with Sun-Dried Tomatoes from A Farmgirl's Dabbles
Pesto Pasta Salad from Ashley Marie's Kitchen
Simple Mediterranean Pasta Salad from Fannetastic Food
Spicy Chicken Pasta Salad from Life Tastes Good
Summer Orzo Pasta Salad from A Cedar Spoon
Tortellini, Bacon, and Broccoli Salad from Flavor Mosaic
Tuna-Fennel Pasta Salad from Cooking Light
Vegetable Pasta Salad with Goat Cheese from Cooking Light
Whole Wheat Pasta Salad with Tarragon Shrimp from Seasonal and Savory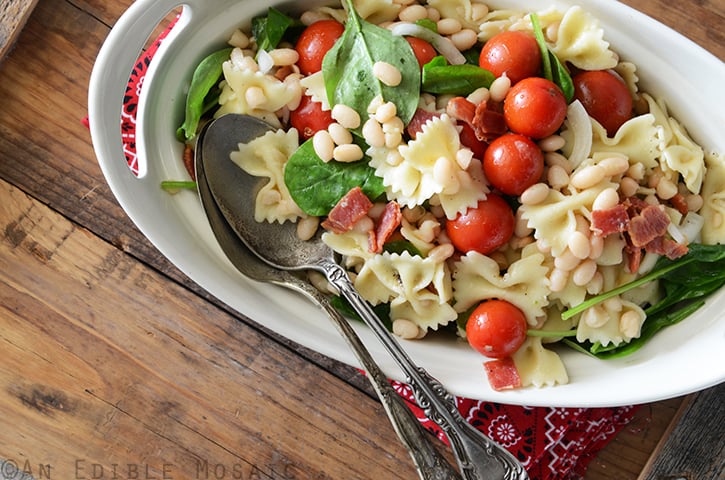 BLT Pasta Salad with White Beans
Prep time:
Cook time:
Total time:
Yield:
8 to 10 side dish servings
Ingredients
Salad:
8 oz (230 g) dried white beans, such as Navy beans (see Note below)
8 oz (230 g) bowtie pasta (or any small pasta shape you like)
8 oz (230 g) cherry tomatoes, rinsed (I like to keep them whole, but you can halve them if you want)
1 small white onion, quartered and thinly sliced
4 oz (115 g) turkey or beef bacon, cooked and crumbled
8 oz (230 g) baby spinach, rinsed and dried
Dressing:
6 tablespoons extra virgin olive oil
3 tablespoons apple cider vinegar
1 tablespoon pure honey
1 teaspoon Worcestershire sauce
1 large clove garlic, grated on a microplane or crushed using a mortar and pestle
½ teaspoon salt
⅛ teaspoon black pepper
Instructions
Add the beans to a large bowl and fill the bowl about ¾ full of cold water; soak the beans overnight and then drain. Add the beans to a medium-large pot and fill the pot ⅔ full of water. Bring to a boil, then turn heat down slightly, cover the pot, and simmer until the beans are cooked through (taste a few to make sure they're soft). Stir them occasionally and be sure to add more water if needed (the beans should always be covered by a few inches of water). Once they're cooked, drain and cool.
Cook the pasta to al dente according to the package directions; rinse, drain, and let it cool to room temperature.
Whisk together all ingredients for the dressing in a large bowl.
Toss in the beans, pasta, tomatoes, and onion. Serve or refrigerate for up to 2 days.
Right before serving, toss in the bacon and spinach; serve cold.
Notes
Using Canned Beans Instead of Dried: To save time, you can use 2 (16 oz) cans white beans (such as Navy beans or Cannellini beans). Rinse and drain them well, and skip the bean cooking step.