This Easy Low Carb BBQ Sauce Recipe has a classic well-rounded flavor profile; it's the perfect balance between sweet, tart, spicy, smoky, and umami flavors.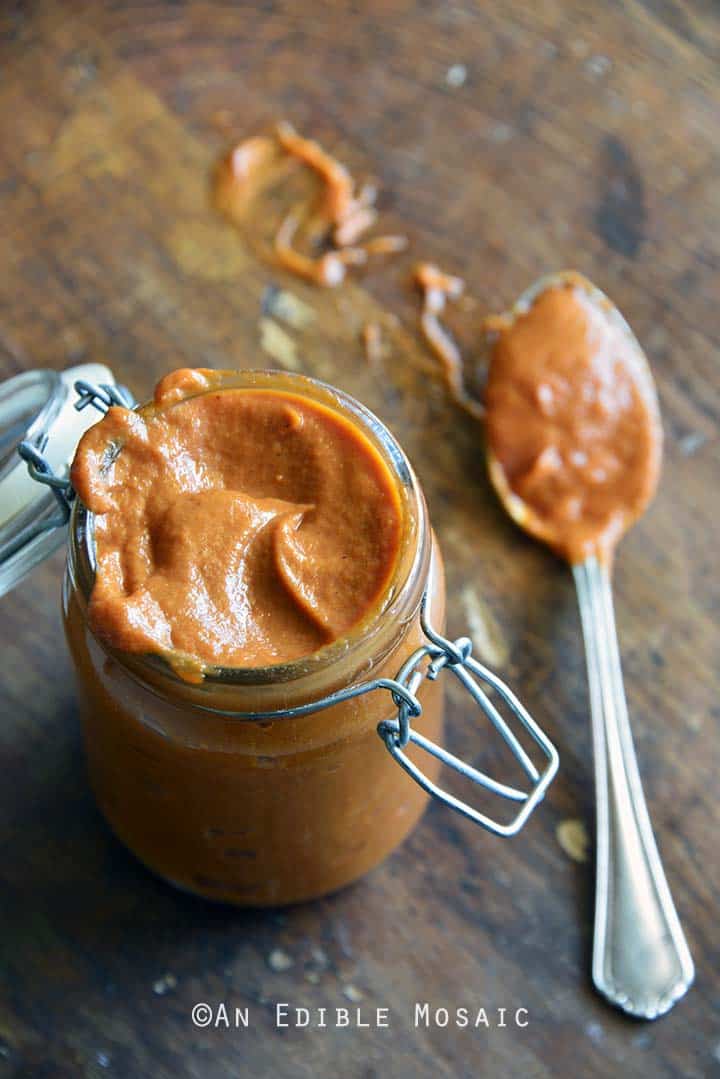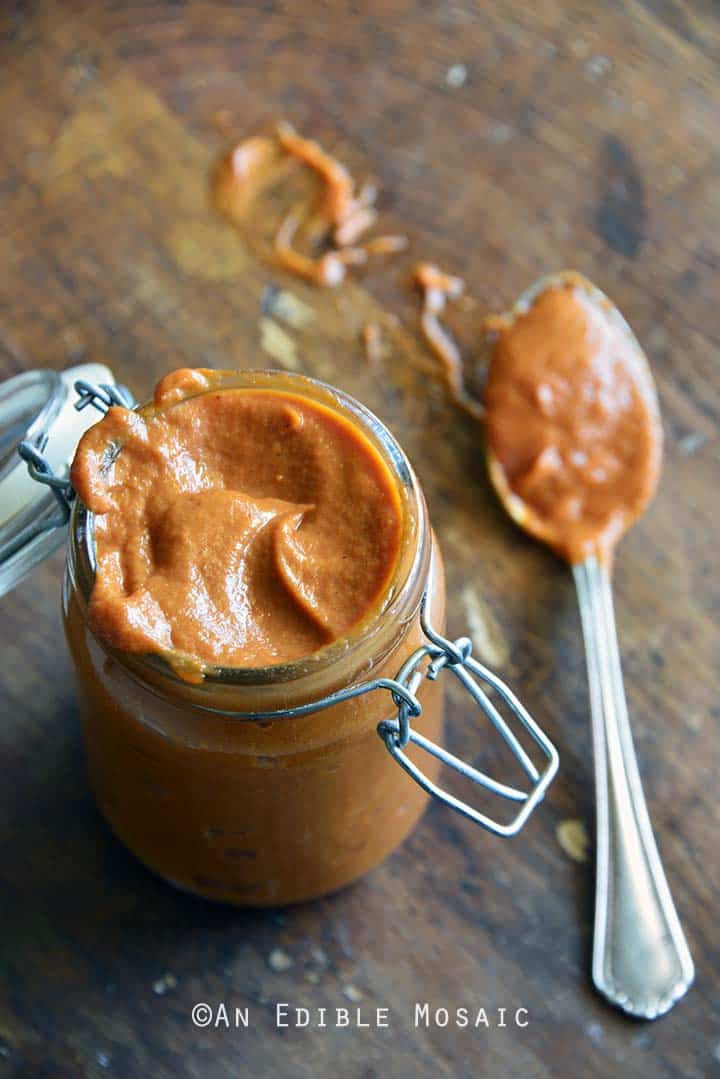 After I started cutting back on carbs, I realized just how much hidden sugar is in so many of our foods. Like ketchup, for example. Yes, it's sweet, but it's not dessert so it really has no business being that sweet, lol! And yet you wouldn't believe how much sugar it packs, and guess what? A lot of BBQ sauces on the market have even more sugar than ketchup.
This Easy Low Carb BBQ Sauce Recipe features the same flavors we love in BBQ sauce, but without the sugar. My trick is to start with a really great low-carb ketchup as the base! It helps this BBQ sauce come together in just 20 minutes total. I like to use AlternaSweets ketchup, which is stevia-sweetened and has just one gram net carbs per one-tablespoon serving.
How Much Sugar is in Ketchup and How Much Sugar is in BBQ Sauce
According to The Washington Post, a one tablespoon-sized serving of a popular ketchup brand has four grams of sugar, which is more than a typical chocolate chip cookie! And I don't know about you, but if I'm having ketchup, it's not going to be just one tablespoon.
Let's look at BBQ sauce; according to the USDA food database, a two-tablespoon serving of BBQ sauce has a whopping 12 grams of sugar!
The Difference Between Low Carb and Regular BBQ Sauce
The flavor between this homemade BBQ sauce and a  store-bought sauce is quite similar; they both have a balance of sweetness and tang, with notes of smoky flavor.
The biggest difference isn't the flavor, it's the texture. Because of its high amount of sugar (or honey, or maple syrup, etc.), regular BBQ sauce has a syrupy glaze-like consistency. This recipe yields a sauce that is more sauce-like with the syrupy quality.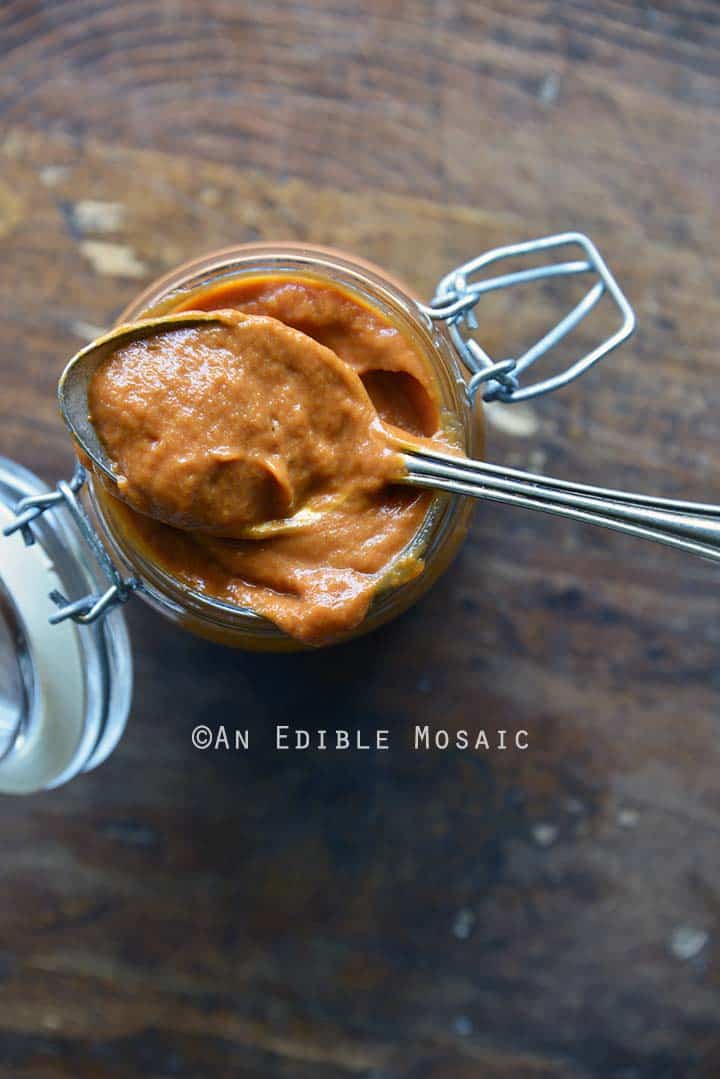 How to Make This Homemade Easy Low Carb BBQ Sauce
Ingredients for This Recipe
I start with my favorite low-carb ketchup as the base, and then I add:
Garlic and onion lend depth of flavor and body to the sauce
Apple cider vinegar and Dijon mustard give tang
Worcestershire adds umami flavor
Chili-garlic sauce and black pepper give this BBQ sauce a very faint heat
Cumin and smoked paprika add a smoky quality
A hint of molasses adds depth (it's not being used as a sweetener)
Cooking Method
Sauté garlic and onion in olive oil and once softened, add everything else and simmer a bit! Enjoy!
What to Use This Sauce For: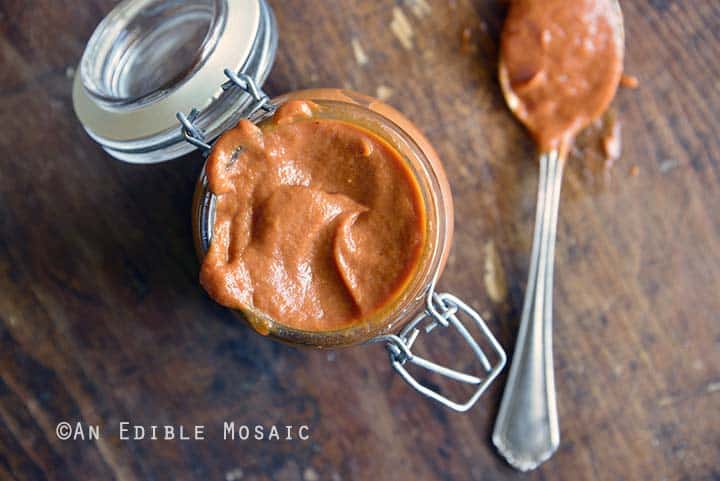 Easy Low Carb BBQ Sauce Recipe
Prep time:
Cook time:
Total time:
This BBQ sauce recipe has a classic well-rounded flavor profile; it's the perfect balance between sweet, tart, spicy, smoky, and umami flavors.
Instructions
Add the olive oil to a medium saucepan over medium heat. Stir in the onion and cook until softened, but not browned, about 5 to 7 minutes, stirring occasionally. Add the garlic and cook 1 minute more, stirring constantly. Mix in the ketchup, vinegar, mustard, Worcestershire, molasses, chili-garlic sauce, cumin, black pepper, and paprika.
Bring to a boil, and then turn the heat down to simmer; cook (uncovered) 5 minutes.
Cool slightly, and then puree until smooth (I find a high-speed blender works best for this if you want a silky-smooth sauce).
Store in an airtight container in the fridge for up to 1 week.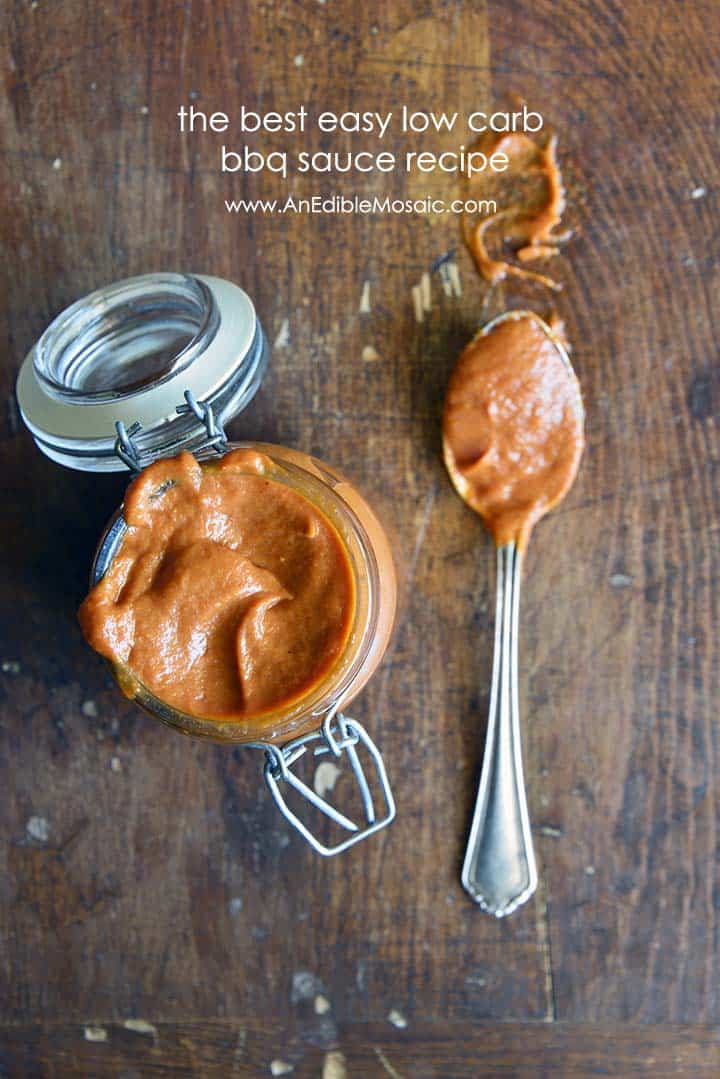 Disclosure:
 This post contains Amazon affiliate links to products I believe in, which means that even though it doesn't cost you anything extra, I will receive a small amount of money from the sale of these items, which helps me keep this site alive – thank you for helping to support An Edible Mosaic!