This heirloom Creamed Onions recipe is a perfect blend of sweet and savory flavor in a rich, buttery cream sauce. Serve it up for any holiday or special occasion meal!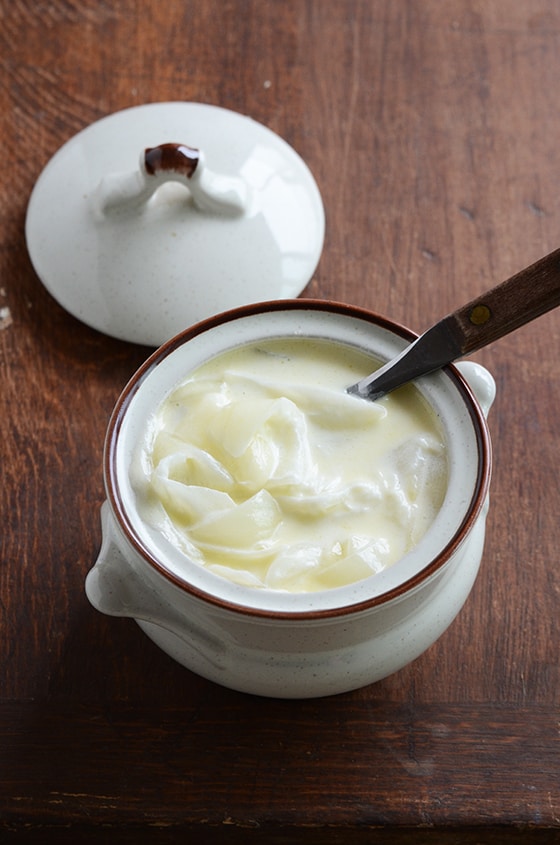 One of the perks of food blogging is all the creative and thoughtful gifts that people bestow once they find out about your blog.
I've received wonderful things like fresh, home-grown produce, exotic spices, and unique baked goods (you wouldn't believe how tasty potato chip cookies are!). Despite all these treats, I think my favorite gifts are heirloom recipes.
This Creamed Onions recipe is a holiday tradition that comes from my grandfather on my mom's side.
My mom told me this dish is one of my grandfather's absolute favorites and nary a holiday feast goes by that he doesn't make creamed onions to accompany.
According to my grandfather, this is a traditional American farmer dish typically made to go with holiday meals. Sweet onions were always used because this recipe was a good way to use up a lot of them at once, since their shelf life is shorter than cooking onions.
Be sure not to overcook the onions when making Creamed Onions. The onions are ready to drain when they're soft and translucent but not mushy, as pictured in the photo above.
What Are Sweet Onions?
Sweet onions are onions that taste sweeter and less pungent than other onions. According to Wikipedia, their sweetness is due to their low sulfur content and high water content. Types of sweet onion include Vidalia, Walla Walla, and Maui.
How to Peel Pearl Onions:
Fill a 5-quart pot ⅔ full with water, and bring it to a boil.
Add the unpeeled onions to the boiling water.
Bring back up to a boil, and then let it boil for 3 minutes.
Drain the onions, and transfer them to a large bowl full of ice water.
Once cooled, drain the onions.
Cut the root end off an onion and gently squeeze the other end. The onion will slip out of its skin. Continue this way until all the onions are peeled.
Can I Use Pearl Onions to Make Creamed Onions?
Yes, pearl onions are delicious in this Creamed Onions recipe! Use about 2 to 2 ½ pounds of pearl onions, and peel them as directed in the section above. Then continue on with the recipe below.
More Traditional Holiday Side Dish Recipes:

Did you make this recipe? Please rate it and leave a comment below because I love hearing from you! You can also tag @anediblemosaic on social media. To stay up-to-date FOLLOW ME on Instagram, Twitter, and Facebook. Xoxo, Faith
Creamed Onions
This heirloom Creamed Onions recipe is a perfect blend of sweet and savory flavor in a rich, buttery cream sauce. Serve it up for any holiday or special occasion meal!
Ingredients
Instructions
Put the onions in a 3-quart pot with a lid and barely cover them with water. Bring to a boil, then turn down heat, cover the pot, and simmer until soft and translucent but not mushy, about 7 to 10 minutes.

Drain the onions and put back into the pot.

Add the butter, cream, sugar, and salt, and cook over low heat until warm throughout.
Faith's Tips
This recipe can be made up to 3 days ahead. Keep it covered in the fridge and reheat until warm on the stovetop over medium-low heat, stirring occasionally.
Nutrition
Nutrition Facts
Creamed Onions
Amount Per Serving (0.5 cup)
Calories 227
Calories from Fat 189
% Daily Value*
Fat 21g32%
Cholesterol 69mg23%
Sodium 171mg7%
Potassium 118mg3%
Carbohydrates 11g4%
Protein 1g2%
Vitamin A 754IU15%
Vitamin C 4mg5%
Calcium 41mg4%
Iron 1mg6%
* Percent Daily Values are based on a 2000 calorie diet.
This post was first published on An Edible Mosaic on December 22, 2010. It was updated with new photos on March 13, 2013, and more information on December 18, 2019. As a point of comparison to show how much my photography has evolved, I kept one of my original photos (below).
Disclosure: This post contains Amazon affiliate links to products I believe in, which means that even though it doesn't cost you anything extra, I will receive a small amount of money from the sale of these items, which helps me keep this site alive – thank you for helping to support An Edible Mosaic!