This easy homemade Cornbread Muffins Recipe combines moist, tender muffins with flavorful cornbread. They're perfect with any meal or as a snack!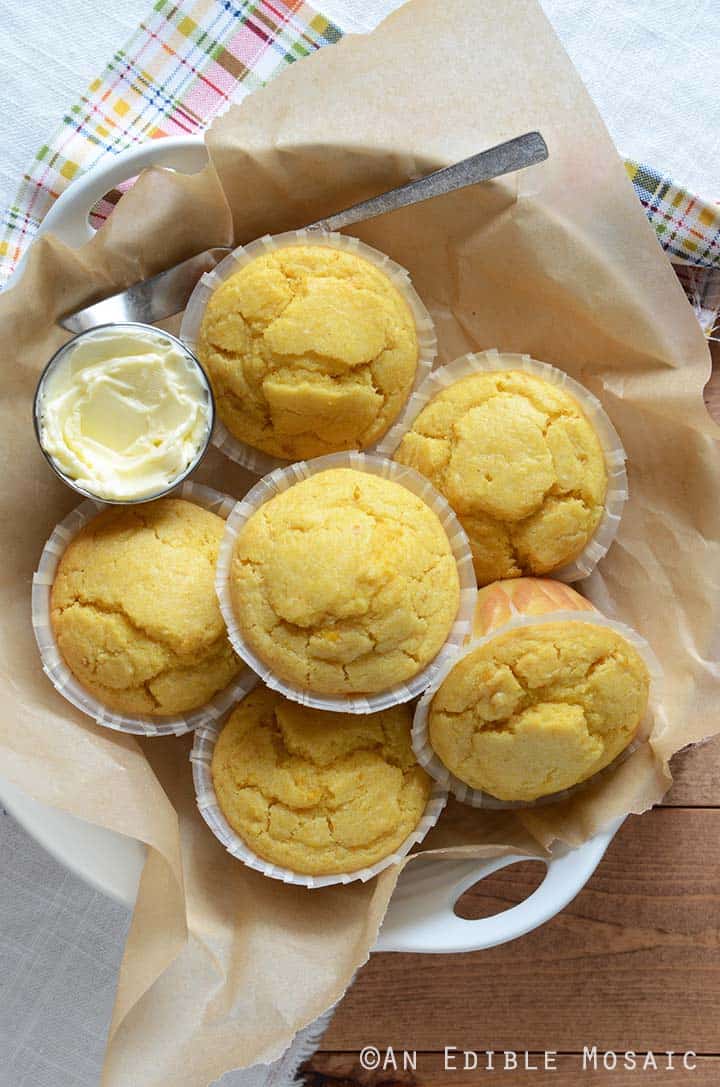 I finished all my holiday baking this past weekend - yippeeee! I really enjoy baking (not quite as much as I love cooking, but still, one of my favorite things).
But even so, holiday baking can sometimes feel a bit overwhelming at best, and like a nightmare gone wrong – disaster-stricken kitchen included – at worst.
Of course, the first chance I got I was back in the kitchen experimenting with baking (muffins!), but this time for relaxation purposes, not holidays.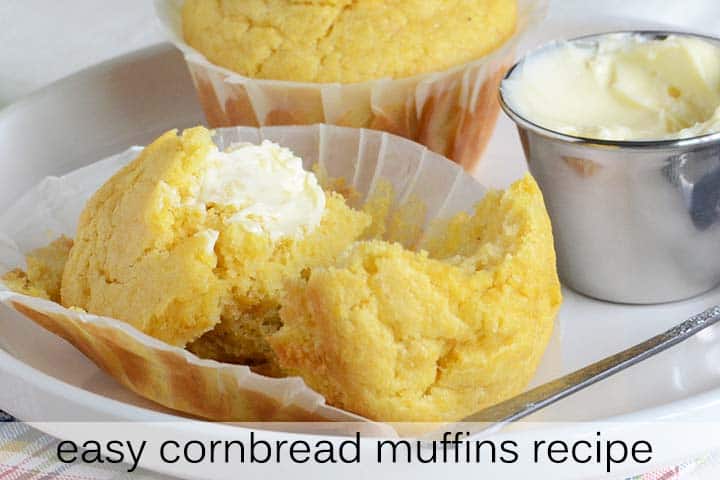 Cornbread Muffins Recipe
Cornbread is a cold month staple in my house, and muffins, well…what isn't good in muffin form?!
These babies have the crumbly, grainy texture of a good cornbread and the moist, tender crumb of a muffin. A sublime combination, really.
The Secret Ingredient in These Cornbread Muffins: Creamed Corn
You might be wondering about the creamed corn. Most people I know have very strong feelings one way or the other about it.
Personally, I don't eat creamed corn by itself (it's just a little too creamy, in a really weird way). However, I do like to keep it on hand for casseroles or baking purposes. If you love it, then good, I don't have to sell you on these muffins. And if you don't, I can tell you you'd probably never guess that creamed corn was in these muffins by tasting them.
Should Cornbread be Sweet?
As far as the sugar debate regarding cornbread, I like a sweet cornbread, or what I've heard Southerners refer to as "Yankee Cornbread." What can I say?...I'm from New York, lol. In the south, cornbread is not usually sweet.
I add about 3 tablespoons of sugar and find that it's perfect (for me!) for these muffins. If you don't like sweet cornbread, feel free to reduce (or omit) the sugar to suit your tastes.
Don't worry, I'm not in any way saying that these cornbread muffins are authentic, lol. But they sure are delicious.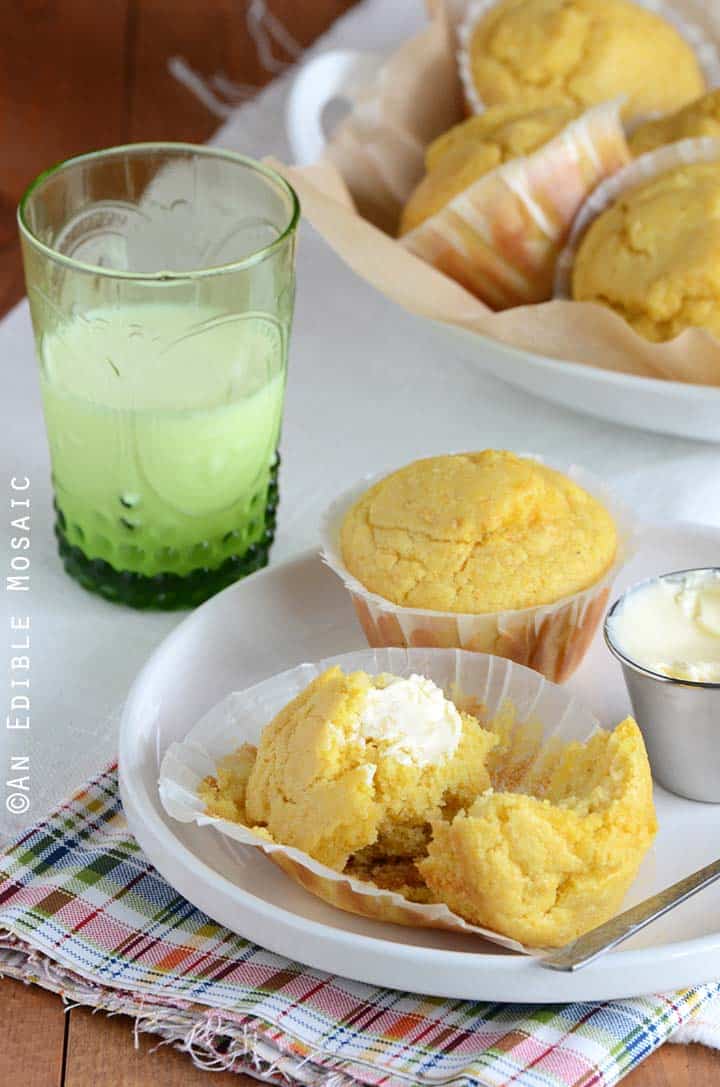 If You Like Muffins: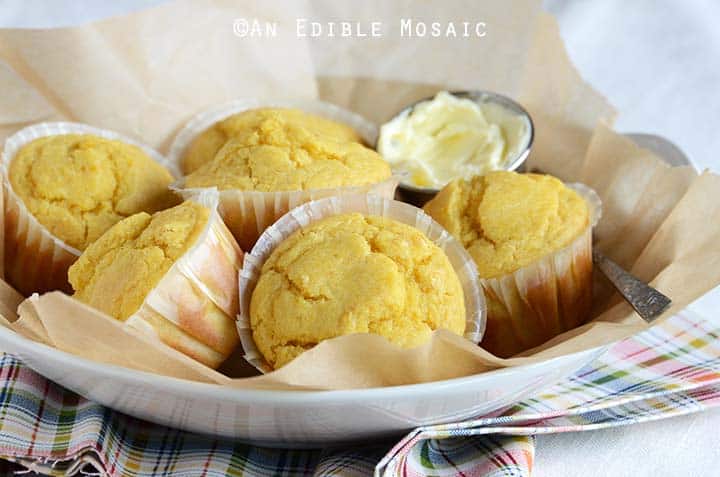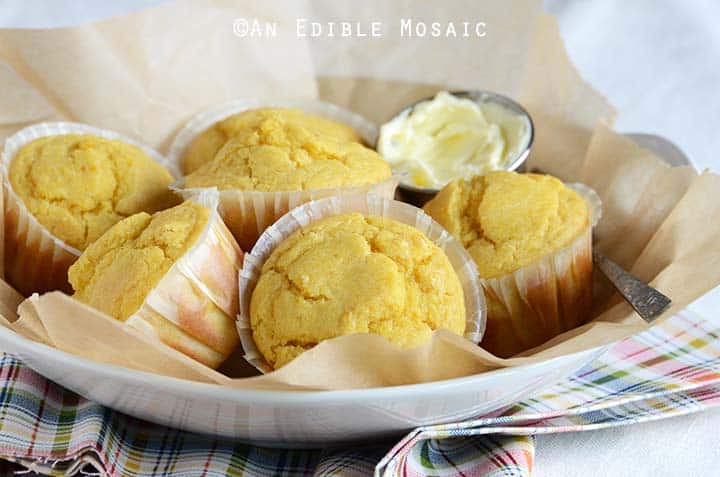 Did you make this recipe? Please rate it and leave a comment below because I love hearing from you! You can also tag @anediblemosaic on social media. To stay up-to-date FOLLOW ME on Instagram, Twitter, and Facebook. Xoxo, Faith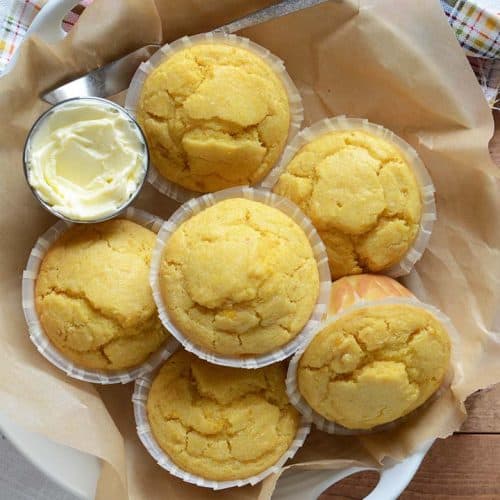 Cornbread Muffins Recipe
This easy homemade Cornbread Muffins Recipe combines moist, tender muffins with flavorful cornbread. They're perfect with any meal or as a snack!
Instructions
Preheat oven to 425F; butter and flour a muffin tray (or line it with paper liners).

Whisk together the flour, cornmeal, baking powder, baking soda, salt, and sugar in a medium bowl.

Stir together the creamed corn, eggs, milk, and oil in a large bowl.

Gradually stir the dry ingredients into the wet, being careful not to over-mix. Let the batter sit for 5 minutes, then fill each muffin well about ¾ full.

Bake until golden brown and a toothpick inserted inside comes out clean, about 16 to 18 minutes.
Faith's Tips
Store muffins covered at room temperature for up to 2 days, or covered in the fridge for up to 1 week.
Nutrition
Nutrition Facts
Cornbread Muffins Recipe
Amount Per Serving (1 muffin)
Calories 183
Calories from Fat 63
% Daily Value*
Fat 7g11%
Cholesterol 28mg9%
Sodium 260mg11%
Potassium 192mg5%
Carbohydrates 28g9%
Protein 4g8%
Vitamin A 82IU2%
Vitamin C 2mg2%
Calcium 47mg5%
Iron 1mg6%
* Percent Daily Values are based on a 2000 calorie diet.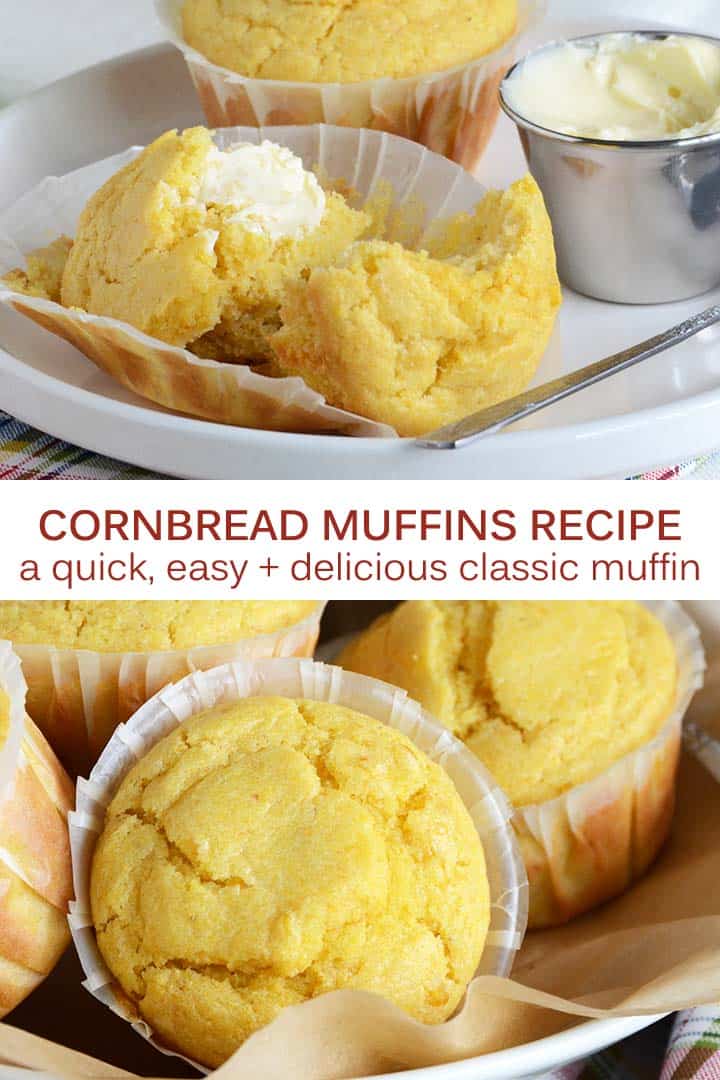 This post was first published on An Edible Mosaic on December 14, 2011. I updated it with more information on December 11, 2020.
Disclosure: This post contains Amazon affiliate links to products I believe in. Even though it doesn't cost you anything extra, I will receive a small amount of money from the sale of these items. Thank you for helping to support An Edible Mosaic!