I've had a bag of cornmeal in my pantry for quite some time and I knew wanted to make cake out of it. This recipe was inspired by three staples of the ancient Roman diet: whole grains, honey, and cheese. Separately they might not sound extraordinary, but when combined they form something truly magical. One of the most interesting things about ancient Romans' eating habits was how they would recline while eating their largest meal of the day, which typically consisted of three courses. These little cakes are the type of sweets that I imagine would be found gracing the third course of such a feast.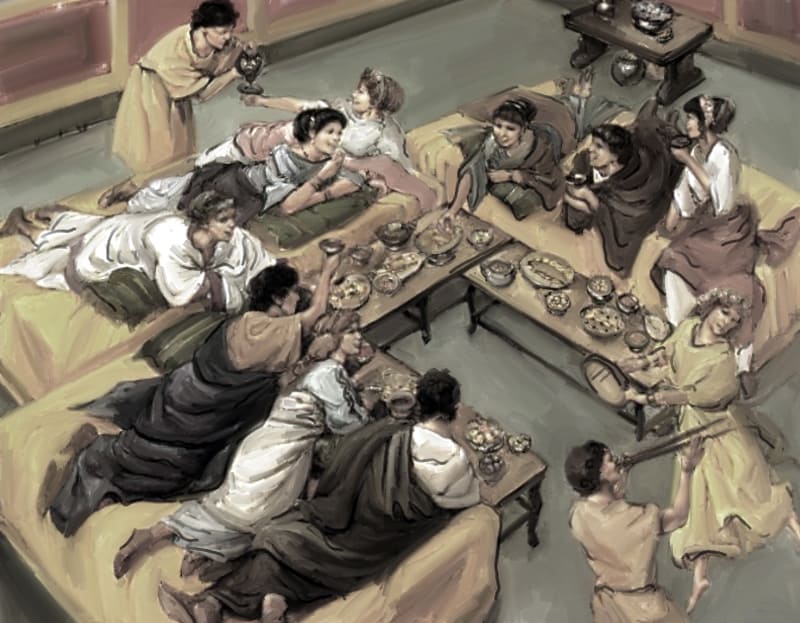 (Image Source)
These little cakes are dense, moist, and slightly chewy from the cheese and corn meal, with a faint floral, citrusy aroma from the honey and nutmeg. They're not overly sweet (which is how I prefer my sweets), so the sweetness of the compote makes a nice addition. Or if you prefer, you can add more brown sugar to the batter or make a glaze to drizzle on top before serving.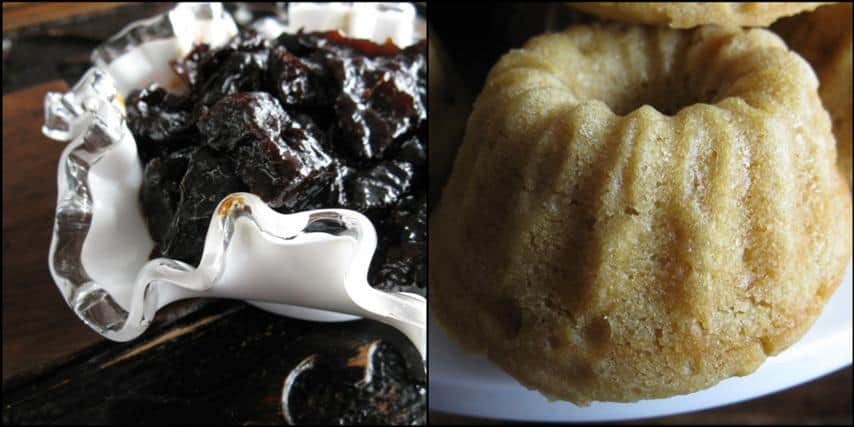 Plan on making these cakes right before you're ready to serve them, since they taste best served warm or hot from the oven. They're dangerously addictive when they're freshly made and piping hot without even a drop of glaze or a spoonful of compote.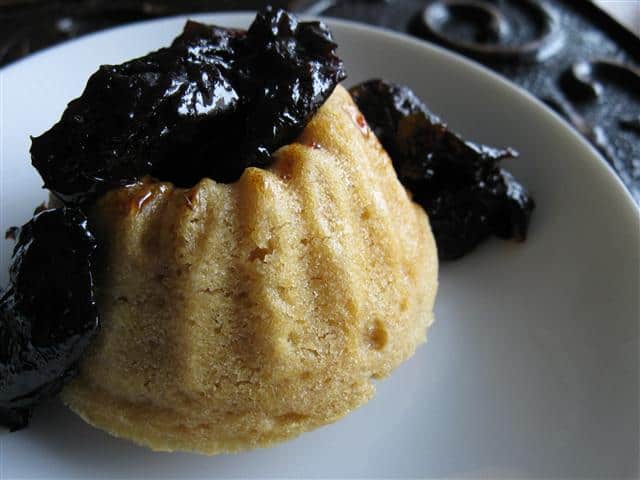 Individual Cheese, Honey, & Cornmeal Cakes with Prune Compote
(Yield: About 24 individual cakes)
Cake:
1/2 c cottage cheese
2 1/2 c low-fat milk (or more if the batter looks too thick)
2 large eggs
1/2 c honey
1/4 c canola oil
1 tsp pure vanilla extract
1/4 c brown sugar
1 1/4 c yellow corn meal
2 c all-purpose flour
2 tsp baking powder
1/2 tsp baking soda
1/2 tsp fine salt
Pinch fresh grated nutmeg
Butter, to grease the pan
Compote:
1 1/2 c prunes (dried plums), pitted and halved
3 TB brown sugar
1 1/2 TB balsamic vinegar
Pinch each nutmeg, salt, and pepper (I know this might sound weird, just trust me, it helps to round out the compote's flavor and you won't be able to taste the salt and pepper)
Mini bundt cake pan (my pan makes 12 individual cakes)
For the cake: Preheat oven to 325F. Grease the pan with butter. In a blender or food processor, combine the cottage cheese and milk until smooth. Transfer the cottage cheese/milk mixture to a large bowl and whisk in the eggs, honey, canola oil, vanilla, and brown sugar. Once combined, whisk in the corn meal until completely incorporated. In a separate bowl, combine the flour, baking powder, baking soda, salt, and nutmeg. Slowly stir the dry ingredients into the wet. The batter will be thick and somewhat grainy because of the corn meal, but if it's too thick, add a little more milk or some water to thin it out. Spoon the batter into the prepared pan and smooth the tops with a spoon to even them out. Bake for 12-16 minutes, or until a toothpick inserted into the center of a cake comes out with just a couple crumbs. Serve the cakes warm or hot from the oven, topped with Prune Compote.
For the compote: In a medium saucepan, combine all ingredients with 6 TB water; cook over low to medium-low heat (uncovered) for about 10-15 minutes stirring occasionally, until most of the liquid is evaporated or has been absorbed by the prunes, and the prunes are reconstituted.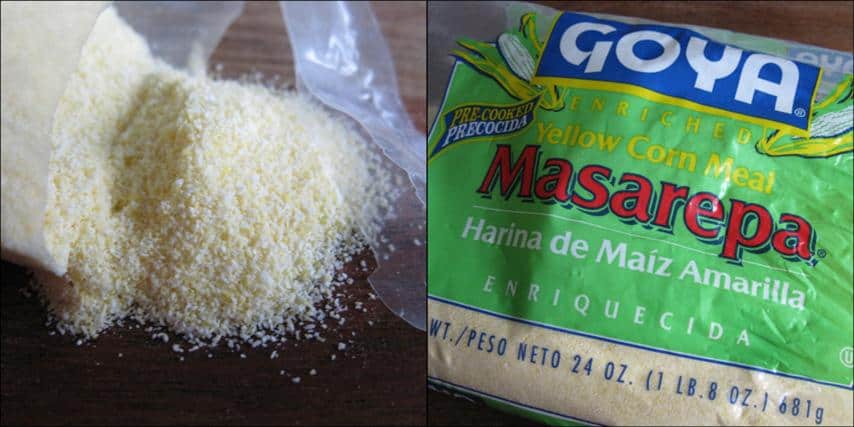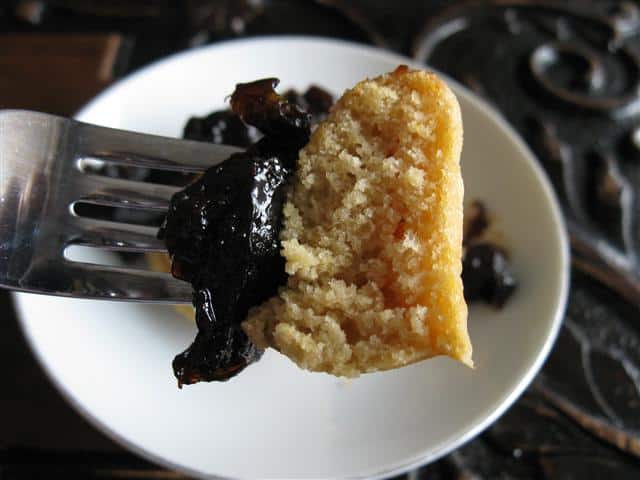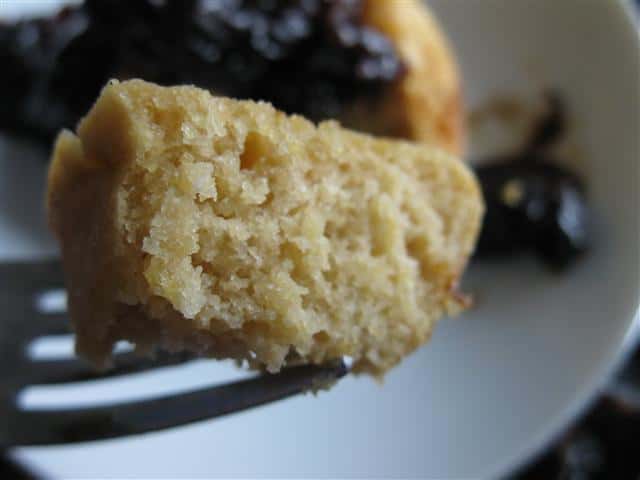 I couldn't resist adding that last picture…just look how moist it is!