Spiced with freshly-grated nutmeg and laced with vanilla and cinnamon, this Eggnog Pudding is creamy and full of festive flavor! It's surprisingly healthy too. Protein powder bumps up the protein content, and there's no added sugar!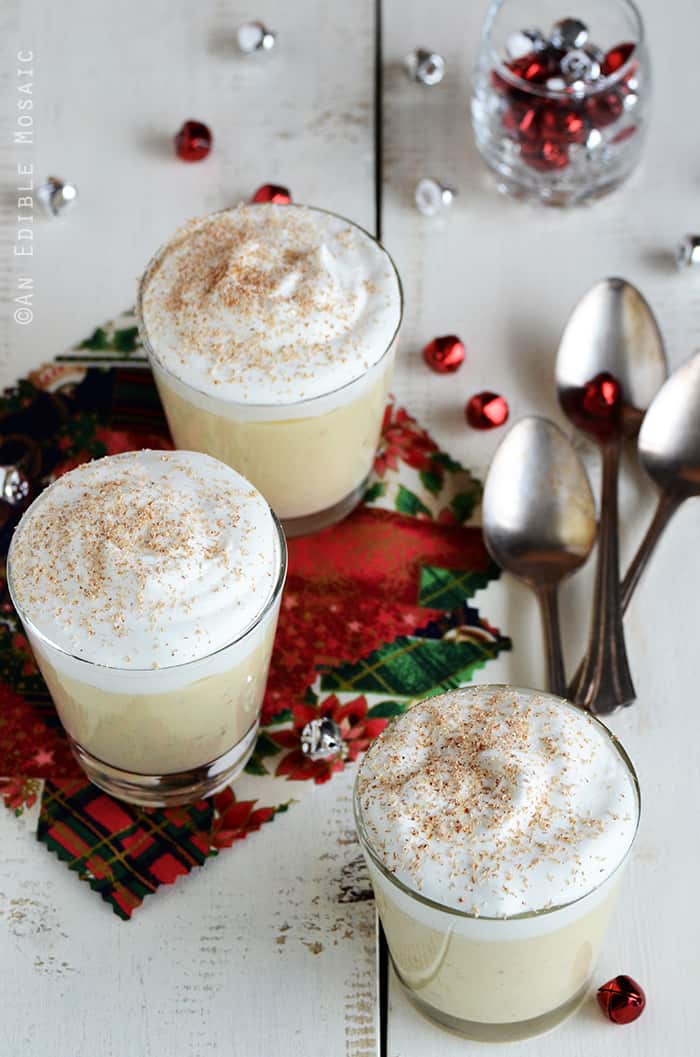 The strangest thing happened the other day…
My day was going along uneventfully until I suddenly found myself ravenous; it was between meal times, so a little snack was in order. I went for one of my favorites, carrots + hummus. Normal enough, right?
That little snack managed to somehow disgust – no, repulse – me. And I am shocked, shocked. (And a little horrified…I don't want to give up hummus!)
The mere thought of both carrots and hummus now turns me off. And the worst part is I have no idea why because there was absolutely nothing wrong with either of them! And no, I don't think I'm pregnant, lol. A sad day, my friends.
I'm not sure what's going on, maybe it's just my (adult!) taste buds being fickle. (Has this happened to anyone else?) In any event, I decided it's high time I added a few new snacks to my repertoire. Eggnog is one of my favorite seasonal flavors and pudding is always a hit…so why not, right?
Note that there is no actual eggnog in this recipe! the combination of nutmeg, vanilla, and just a touch of cinnamon give it its eggnog-like flavor.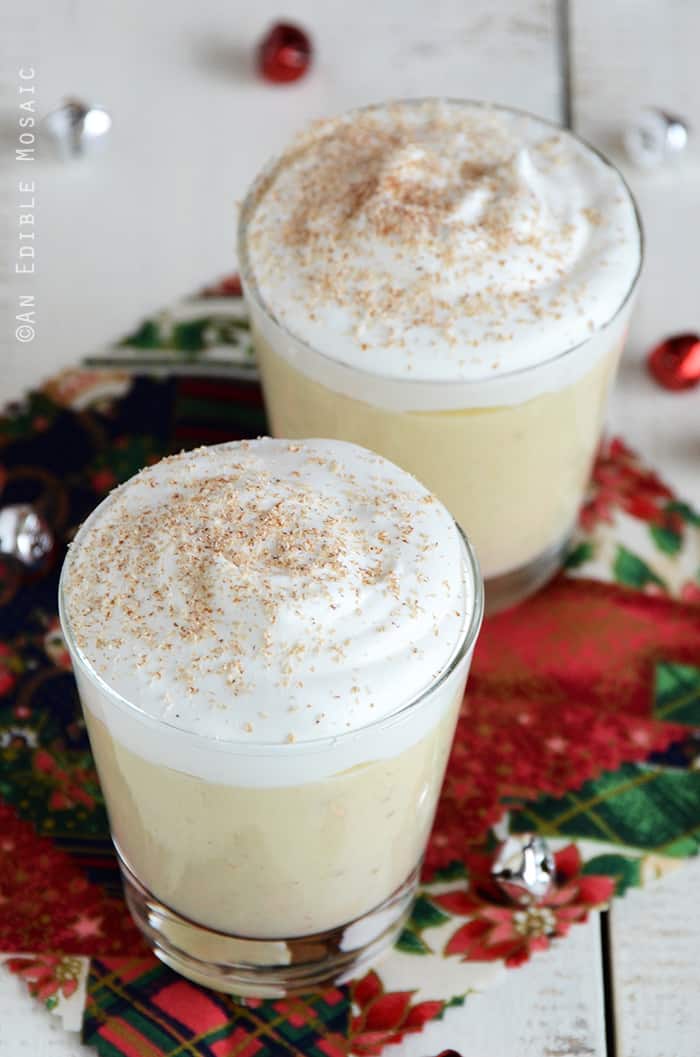 Eggnog Pudding Recipe – Surprisingly Healthy!
When I made this pudding, I wanted an eggnog dessert recipe that was really more of a snack than a dessert. As a result, I made a few tweaks to make it a bit less dessert-like than your average pudding.
I used a stevia/erythritol blend instead of sugar, milk instead of cream (so I could use a bit of cream for topping, of course ;) ), and added vanilla protein powder. I love that this Eggnog Pudding fuels me up with no sugar crash later!
What's the Difference Between Custard and Pudding?
There are actually a few differences between custard and pudding!
Custard typically has eggs and pudding may or may not contain eggs. Instead, pudding frequently uses cornstarch or flour as a thickener.
Pudding is cooked on the stovetop and custard is baked in the oven (usually in a water bath).
Custard doesn't form a skin on top the way that pudding does.
Pro Tip: Lay a piece of plastic wrap directly on top of pudding while it's still warm to prevent it from forming a skin.
What Does Eggnog Taste Like?
Eggnog is sweet with a thick, creamy texture. It's spiced with nutmeg and usually has a touch of vanilla.
I think the best way to describe the flavor of eggnog is like melted nutmeg-flavored vanilla custard.
More Eggnog-Flavored Recipes:

Did you make this recipe? Please rate it and leave a comment below because I love hearing from you! You can also tag @anediblemosaic on social media. To stay up-to-date FOLLOW ME on Instagram, Twitter, and Facebook. Xoxo, Faith
Eggnog Pudding
Spiced with freshly-grated nutmeg and laced with vanilla and cinnamon, this Eggnog Pudding is full of festive flavor! It's surprisingly healthy too. Protein powder bumps up the protein content, and there's no added sugar!
Instructions
Whisk together 1/2 cup milk with the eggs, cornstarch, protein powder, stevia, and salt in a medium bowl; set aside.

Pour the remaining 2 cups of milk into a heavy-bottomed medium saucepan over medium heat. Cook until bubbles form around the outside and the milk starts to steam.

Turn off the heat and very slowly whisk 1 cup of hot milk into the egg mixture, starting with just a couple drops at a time and gradually adding more until the whole cup is incorporated.

Pour this into the pot and bring to a boil over medium-low heat, stirring constantly. Once boiling, turn off heat and stir in the vanilla, nutmeg, and cinnamon.

Strain through a fine mesh sieve to remove any lumps, then pour into small, individual-sized serving bowls or cups.

Cool to room temperature, and then refrigerate to chill.

Before serving, top each with whipped topping and a sprinkle of nutmeg.
Faith's Tips
Instead of stevia, you can substitute with another sweetener of your choice. If you're using sugar, I'd start with about 4 teaspoons, but of course this can be adjusted to taste.
I like to use a microplane to grate nutmeg. Freshly-grated nutmeg is so much more intensely flavored than pre-ground nutmeg, which makes it perfect for this eggnog-flavored treat!
Nutrition
Nutrition Facts
Eggnog Pudding
Amount Per Serving
Calories 282
Calories from Fat 171
% Daily Value*
Fat 19g29%
Cholesterol 166mg55%
Sodium 153mg7%
Potassium 329mg9%
Carbohydrates 16g5%
Protein 11g22%
Vitamin A 877IU18%
Calcium 263mg26%
Iron 1mg6%
* Percent Daily Values are based on a 2000 calorie diet.
This post was first published on An Edible Mosaic on December 11, 2011. I updated it with more information on December 9, 2020.
Disclosure: This post contains Amazon affiliate links to products I believe in, which means that even though it doesn't cost you anything extra, I will receive a small amount of money from the sale of these items. Thank you for helping to support An Edible Mosaic!