This Oatmeal Muffins Recipe combines heart-healthy ingredients like oats and olive oil into muffins that are just sweet enough, aromatic with vanilla, and have a tender crumb.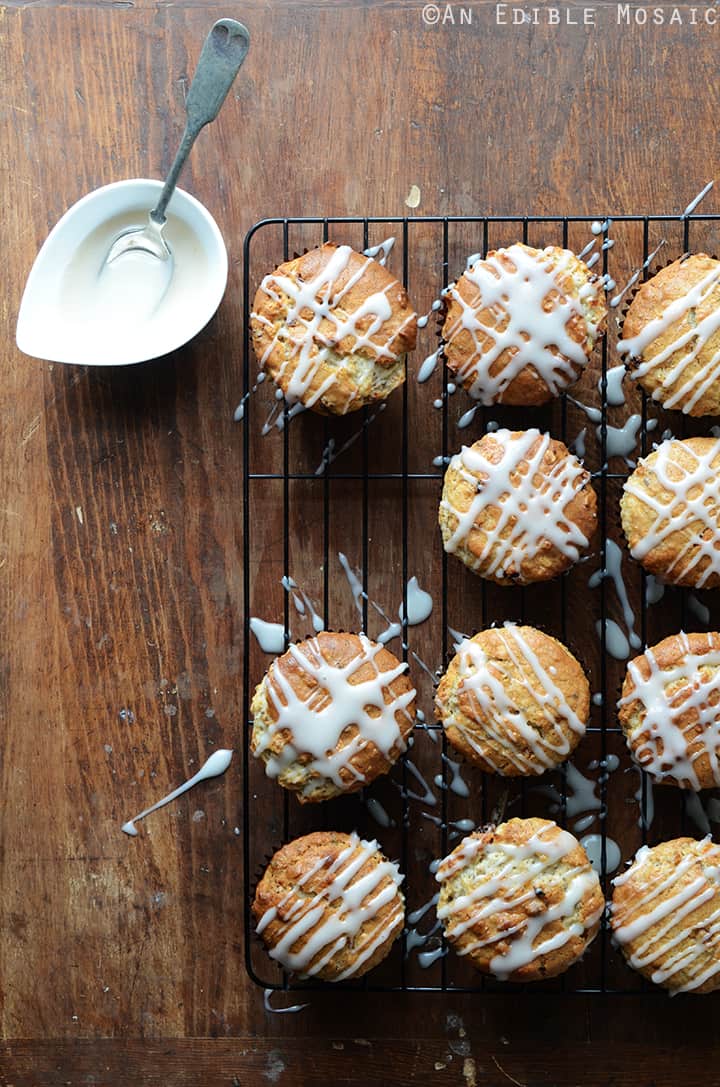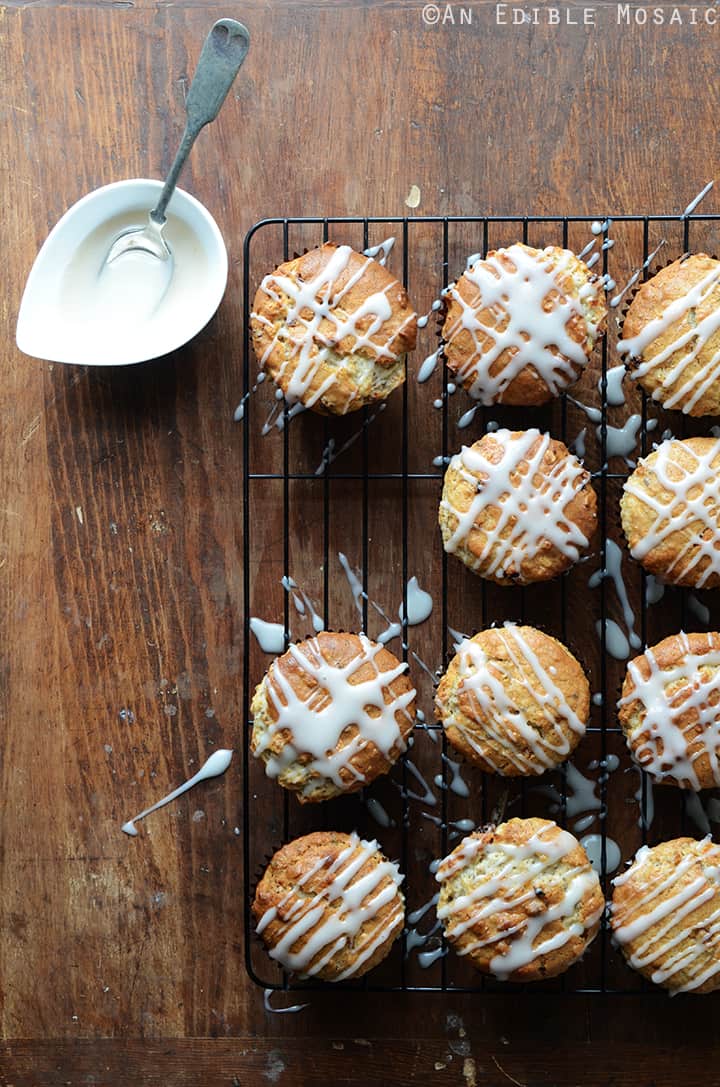 I make a ridiculous amount of muffins.
Muffins are the perfect thing to whip up when you want to use up a little bit of coconut milk. Or the last ¼ cup of a few different kinds of nuts or dried fruit. Or if you have an apple or banana that is past its prime, and isn't good for much else except baking.
I've found that it's basically impossible to come up with a combo of flavors that doesn't work when in muffin form. Plus, muffins make a convenient breakfast, snack, or plate of goodies to send off to work with your hubby (you know, for Friday-morning office snacking purposes).
I've come up with pretty fantastic recipes for things like Almond Joy Muffins, Double Strawberry Muffins, and Cinnamon Sugar Muffins. But because my muffins are usually based on whatever it is that I'm trying to use up, I usually don't bother to write down the recipe. Which means I rarely make exactly the same kind of muffins twice. (Oops!)
But this Oatmeal Muffins Recipe had to be shared. They're the best muffins to have come out of my kitchen in a very long time.
Oatmeal Muffins Recipe
These muffins have the perfect sweetness level; they're sweet enough without being too sweet! They have little bursts of fruit thanks to golden raisins, and oats add a hint of nuttiness. And these muffins are aromatic with vanilla and mahlab.
Mahlab comes from a certain type of cherry pit and tastes like a cross between almonds and cherries. I think mahlab is a great addition to just about any recipe with cherries or almonds, and I've started adding it to other baked goods recipes too. It adds that inexplicably enticing sweet baked good aroma.
Cream cheese inside the muffin batter helps keep them moist, and it also makes a gorgeous glaze for drizzling on top. These are sweet enough without the glaze on top, so you can feel free to skip it. But look how pretty they are drizzled with glaze!
Healthy Muffins From Scratch
I wanted to keep these muffins heart-healthy.
They use a flax "egg" instead of regular egg, and light olive oil instead of butter.
This Oatmeal Muffins Recipe has a decent amount of heart-healthy oats, which gives these muffins a hearty, almost slightly chewy texture without making them too dense. They're almost like an oatmeal cookie, but in fluffy muffin form.
Are Quick Oats the Same as Rolled Oats?
Quick oats are also called instant oats. They are not the same thing as rolled oats.
Instant oats or quick oats are more processed than rolled oats, and they cook up faster and mushier.
For this recipe, be sure to use rolled oats for the right texture!
More Muffin Recipes to Try: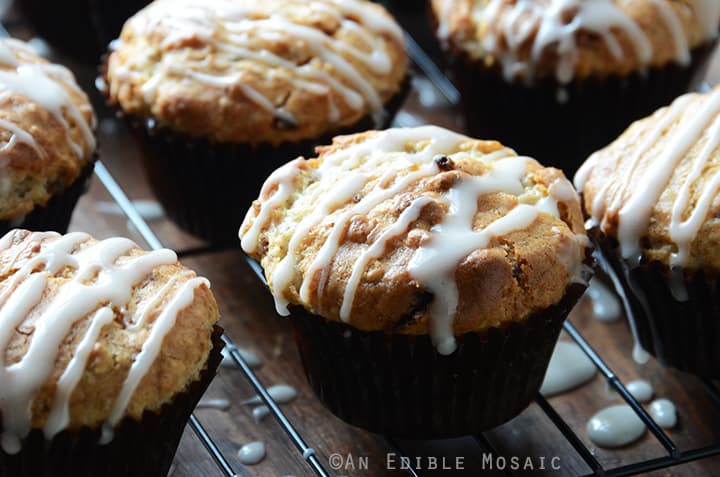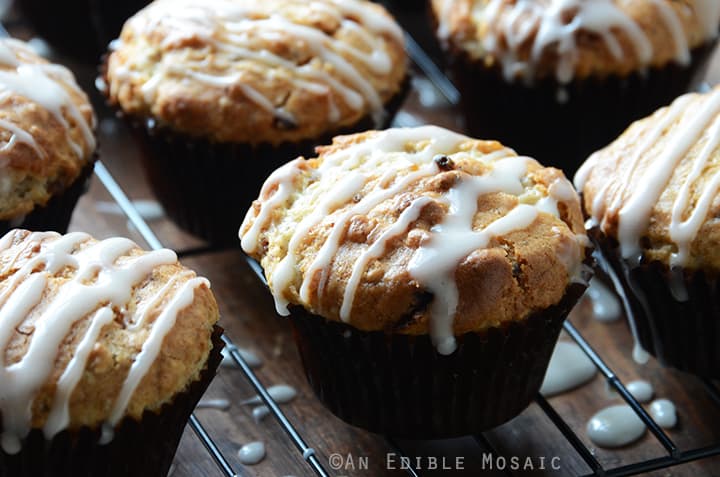 Did you make this recipe? Please rate it and leave a comment below because I love hearing from you! You can also tag @anediblemosaic on social media. To stay up-to-date FOLLOW ME on Instagram, Twitter, and Facebook. Xoxo, Faith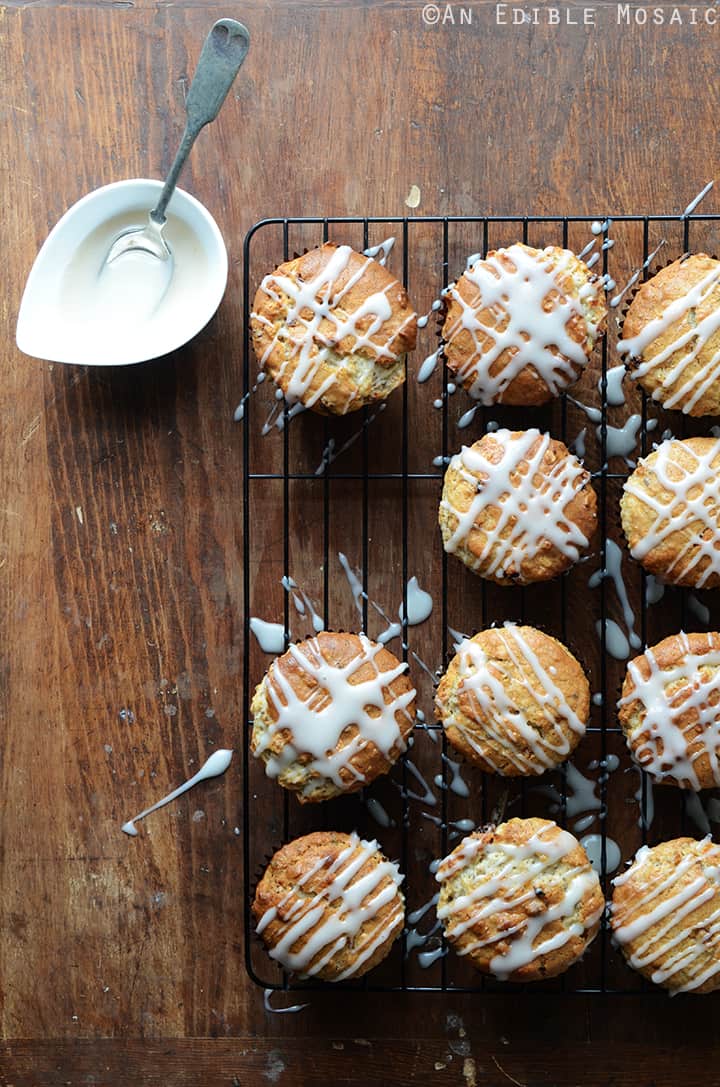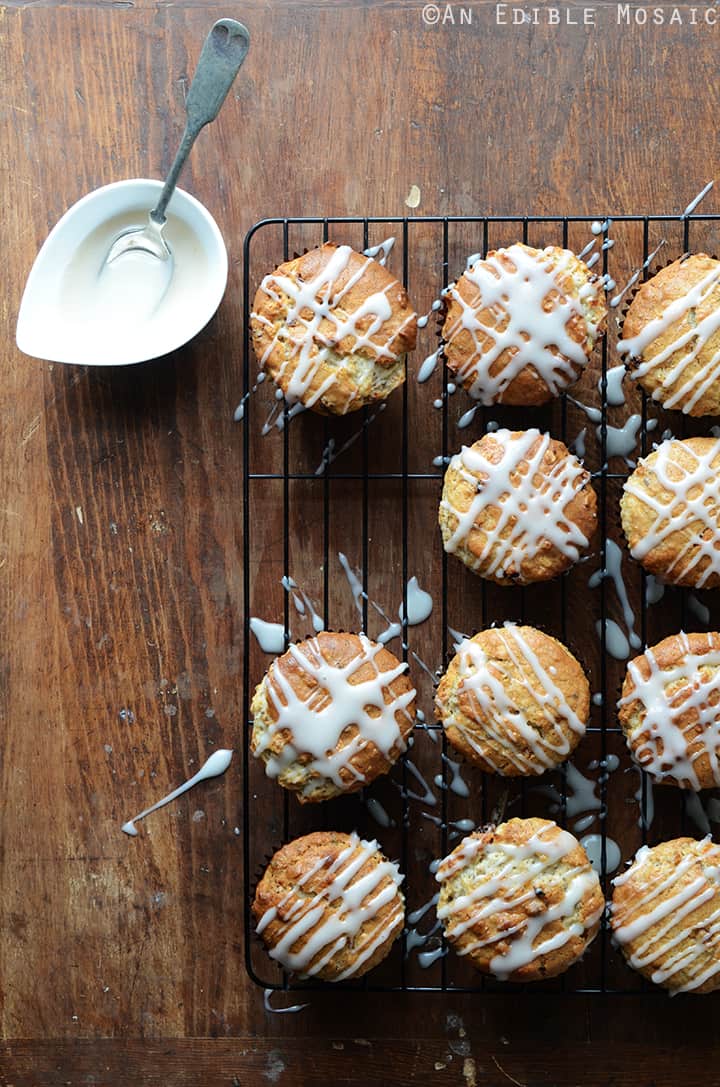 Oatmeal Muffins Recipe
This Oatmeal Muffins Recipe combines heart-healthy ingredients like oats and olive oil into muffins that are just sweet enough, aromatic with vanilla, and have a tender crumb.
Instructions
Preheat the oven to 400F; line a muffin tray with paper liners.

Whisk together the ground flaxseed and warm water in a large bowl and let it sit until thickened, about 5 minutes. Beat in the oil, milk, cream cheese, sugar, and vanilla. Use a wooden spoon to stir in the flour, oats, baking powder, salt, and mahlab until combined, being careful not to over-mix. Fold in the raisins.

Spoon the batter into the lined muffin tray and bake until a wooden pick inserted in the center comes out clean or with just a couple crumbs, about 20 minutes.

Cool completely on a wire rack before glazing.

Once the muffins are cool, whisk together all ingredients for the glaze. Drizzle the glaze on top and let it set before serving.
Faith's Tips
To keep this recipe vegan, use a vegan cream cheese alternative instead of regular cream cheese.
Nutrition
Nutrition Facts
Oatmeal Muffins Recipe
Amount Per Serving (1 muffin)
Calories 273
Calories from Fat 108
% Daily Value*
Fat 12g18%
Cholesterol 13mg4%
Sodium 200mg9%
Potassium 257mg7%
Carbohydrates 40g13%
Protein 4g8%
Vitamin A 159IU3%
Vitamin C 1mg1%
Calcium 79mg8%
Iron 1mg6%
* Percent Daily Values are based on a 2000 calorie diet.
This post was first published on An Edible Mosaic on February 18, 2015. I updated it with more information on May 4, 2020.
Disclosure: This post contains Amazon affiliate links to products I believe in, which means that even though it doesn't cost you anything extra, I will receive a small amount of money from the sale of these items, which helps me keep this site alive – thank you for helping to support An Edible Mosaic!