Healthy Gingerbread Pancakes for One are a fun and festive way to start the day!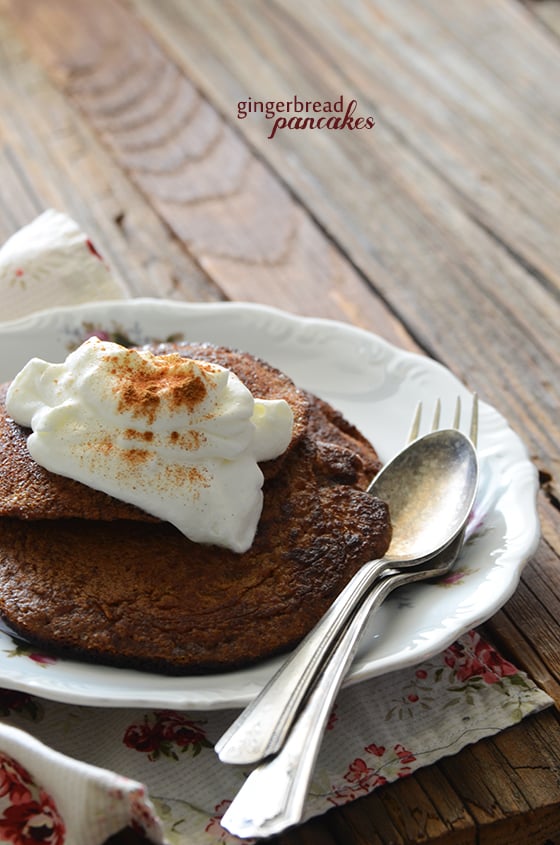 I know, I know…it's the holidays, what am I doing remaking a couple of classically indulgent recipes (gingerbread and pancakes) into healthy fare? I think it's all about the little choices we make on a daily basis…the way we eat most of the time determines how we get to indulge the rest of the time.
These pancakes are healthy enough for breakfast any morning, but they feel special enough for a festive occasion. Totally the best of both worlds…who says you can't have your pancakes and eat them too? (Sorry, I know that was corny, but I couldn't resist.)
These are hands-down the best grain-free pancakes I've ever had. Their texture is so close to normal pancakes I don't think people would know they're grain-free unless you told them, which makes them the perfect crowd-pleasing brunch dish. (And since the recipe makes one serving, they're easy to adjust for however many people you're cooking for.)
They're also higher in fiber and protein than normal pancakes, so they'll keep you feeling satisfied but not weighed down like regular pancakes. I even like to use them as pre-workout fuel!
But...my absolute favorite way to enjoy them is on a chilly morning in my pajamas and slippers, with a hot cup of coffee in one hand and a good book in the other.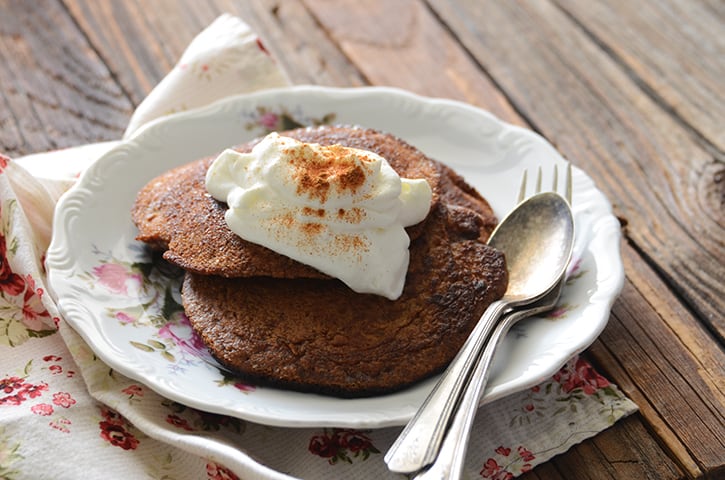 Healthy Gingerbread Pancakes For One
Prep time:
Cook time:
Total time:
Ingredients
2 tablespoons flaxseed meal
4 tablespoons almond meal
¼ teaspoon baking soda
⅓ teaspoon ground ginger
⅓ teaspoon ground cinnamon
¼ teaspoon ground cloves
1 pinch salt
1 large egg
1 tablespoon milk (I used plain, unsweetened almond milk, but you can use any kind of milk you like)
1½ tablespoons molasses
½ teaspoon pure vanilla extract
Butter, for cooking
Toppings, such as butter, whipped cream, maple syrup, honey, etc.
Instructions
Whisk together the flaxseed meal, almond meal, baking soda, ginger, cinnamon, cloves, and salt in a medium bowl. Whisk in the egg, milk, molasses, and vanilla. (This can also be done in a blender or food processor if you prefer.)
Preheat a large nonstick skillet over medium-low heat; add a pat of butter and swirl the pan to spread it around. Once the butter is sizzling, pour in the batter into 3 pancakes.
Cook until the pancakes are golden on the first side (about 2 to 3 minutes), then flip and cook until golden on the second side (about 1 to 2 minutes).
Serve hot, topped with anything you like.
Update (October 28, 2013): I made this dish again and perfected the recipe so I updated this post.