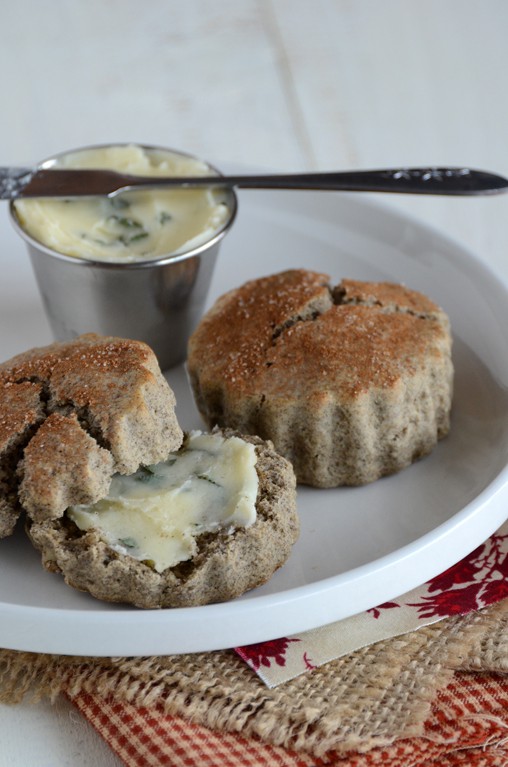 Can I let you in on a little secret? I'm not really sure how I feel about buckwheat. (Probably not the best way to sell you on these scones, but I have to keep it real, right?) This was the first time I baked with it, and actually, the first time I've knowingly had it (other than in soba noodles, which I do enjoy). Buckwheat is so healthy, I wanted to like it, really I did. But it's just so…I don't know…grassy, maybe?
Truth be told, cardboard-y is probably a better word.
(Don't worry, it's not the recipe, lol! I thought maybe there was some other issue with my scones so I made them again using only all-purpose flour – they were like a dream.)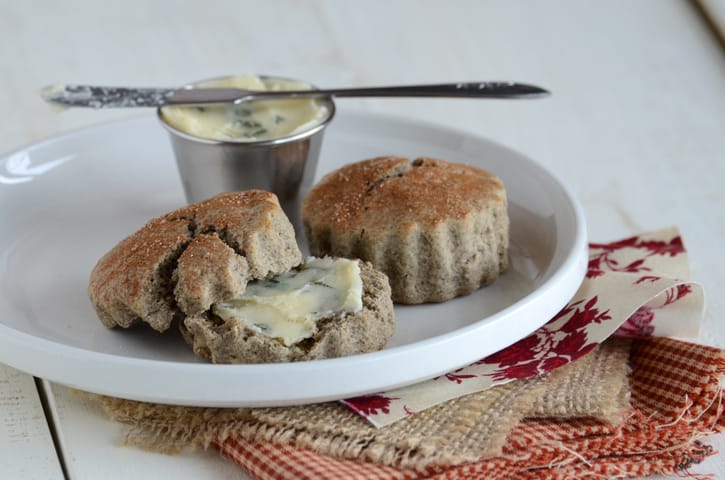 Buckwheat, which is related to rhubarb, is gluten-free, high in fiber, and high in protein (it's actually considered a complete protein, containing all eight amino acids). You can find it in flour form, or as groats (which are hulled buckwheat seeds) or kasha (which are hulled buckwheat seeds that have been roasted); it's also used to make soba noodles.
Usually its flavor is described as earthy, nutty, and sometimes slightly bitter. I don't know…I think I'll give buckwheat another try in another recipe before I write it off. If you like buckwheat, these scones are for you; if not, you can always substitute all-purpose flour for the buckwheat. :)
(Read more about buckwheat on The New York Times, The Kitchn, and The World's Healthiest Foods.)
A Note on the Honeyed Sage Butter: For me, this sweet butter was the saving grace of these scones. (Really, what couldn't use a little bit of honeyed butter? ;) ) I think the woodsy, pungent flavor of sage was a nice compliment to the buckwheat (yup, I still ate these scones even though they weren't my favorite...can't waste good food, even if it isn't "good" to me ;) ) but if sage isn't your thing, feel free to omit it.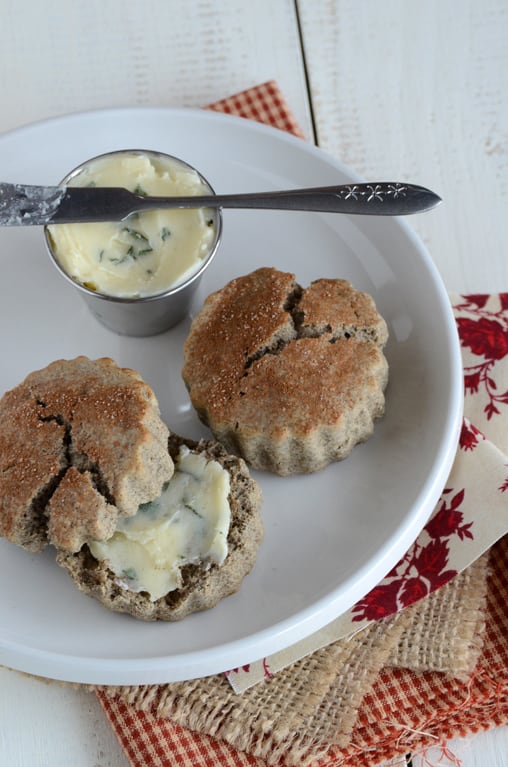 Maple-Walnut Buckwheat Scones
Yields 8 to 10 scones
¼ cup pure maple syrup
1 large egg
1 teaspoon pure vanilla extract
5 tablespoons milk, divided
1 cup buckwheat flour
1 cup all-purpose flour
2 ¼ teaspoons baking powder
½ teaspoon salt
⅛ teaspoon cinnamon
½ cup (1 stick) unsalted, chilled butter, diced
½ cup shelled walnuts, coarsely chopped
1 teaspoon cinnamon sugar or turbinado sugar (optional; for topping)
Preheat oven to 450F and line a baking sheet with parchment paper or a silpat liner.
In a small bowl, whisk together the maple syrup, egg, and vanilla; set aside. Measure out 1 tablespoon of milk to reserve for brushing on top of the scones.
Pulse together the buckwheat flour, all-purpose flour, baking powder, salt, and cinnamon in a food processor a to combine, then pulse in the butter a couple times until it looks like coarse meal. Gradually stream in the maple syrup mixture while pulsing; once incorporated, gradually stream in the remaining 4 tablespoons of milk 1 tablespoon at a time just until the mixture comes together (you may not need all the milk; also, be careful not to over-process). Transfer to a bowl and stir in the walnuts. (Alternatively, you can make the dough by hand…just whisk together the dry ingredients, cut the butter in with a fork, and then use a wooden spoon to stir in the wet ingredients and finally the walnuts.) Shape the dough into a ball, then flatten it slightly into a disk; wrap it in plastic wrap and chill 15 minutes in the freezer.
Turn the dough out a floured surface. Roll or press the dough out to a circle about 7 inches in diameter and ¾ inch thick. Use a floured 2 ½ inch cookie cutter to stamp out the scones, then gather up the dough scraps and repeat as necessary (you should get about 8 to 10 scones total).
Transfer the scones to the prepared baking sheet, lightly brush the tops with the reserved 1 tablespoon of milk, and sprinkle on the cinnamon sugar. Bake until light golden brown, about 9-11 minutes. Serve with Honeyed Sage Butter.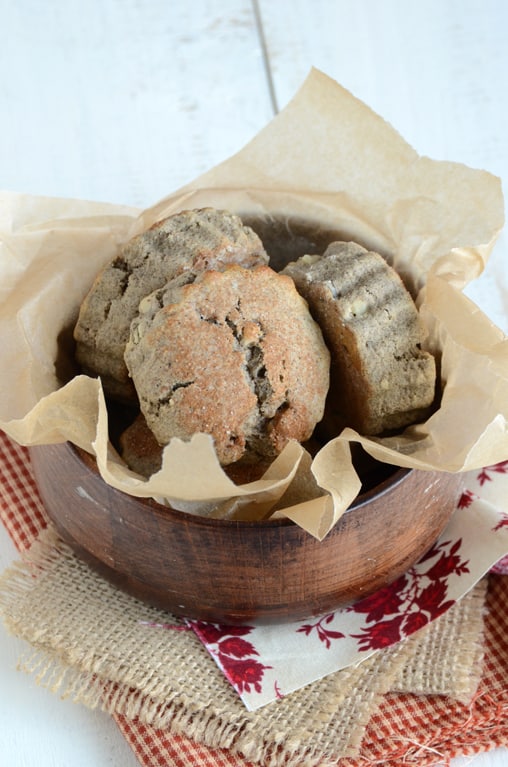 Honeyed Sage Butter
Serves 8 to 10
3 tablespoons unsalted butter, at room temperature
1 ½ tablespoons honey
1 teaspoon minced fresh sage
Pinch salt
Mix together all ingredients and refrigerate to chill. If you want to shape your butter into a log and serve it sliced, roll it into a log shape using plastic wrap before chilling, then cut it into thin slices to serve.