This Red Lentil Bolognese recipe is vegan-friendly and packed with flavor and nutrition! Toss it with pasta or zucchini noodles, or serve it on top of grilled chicken.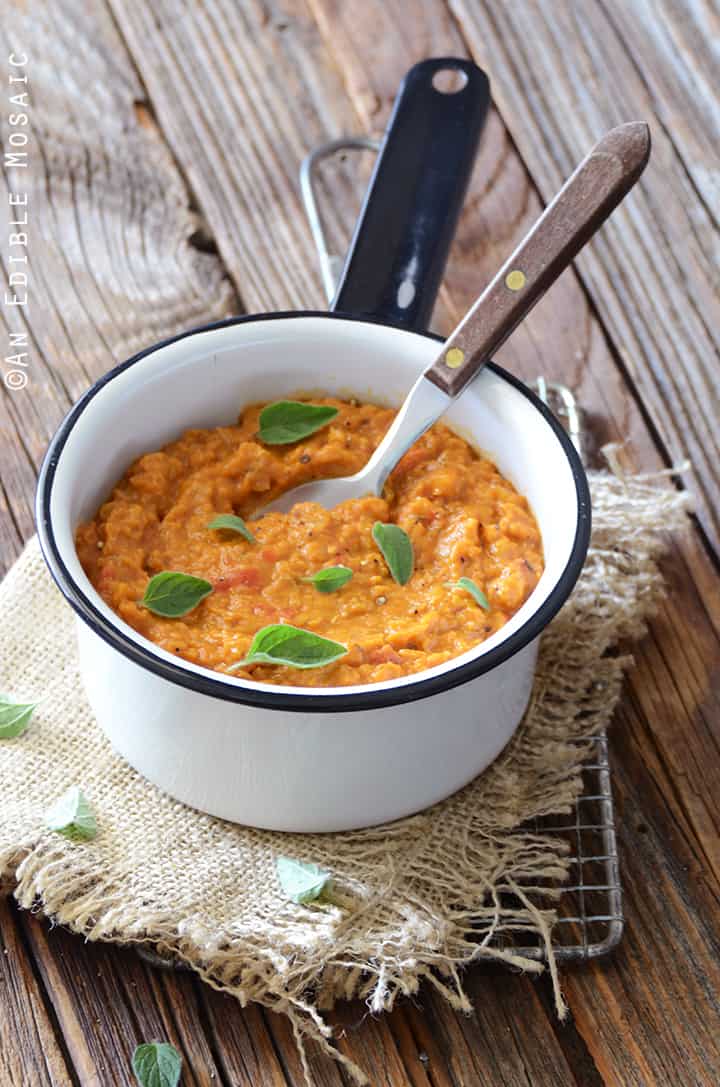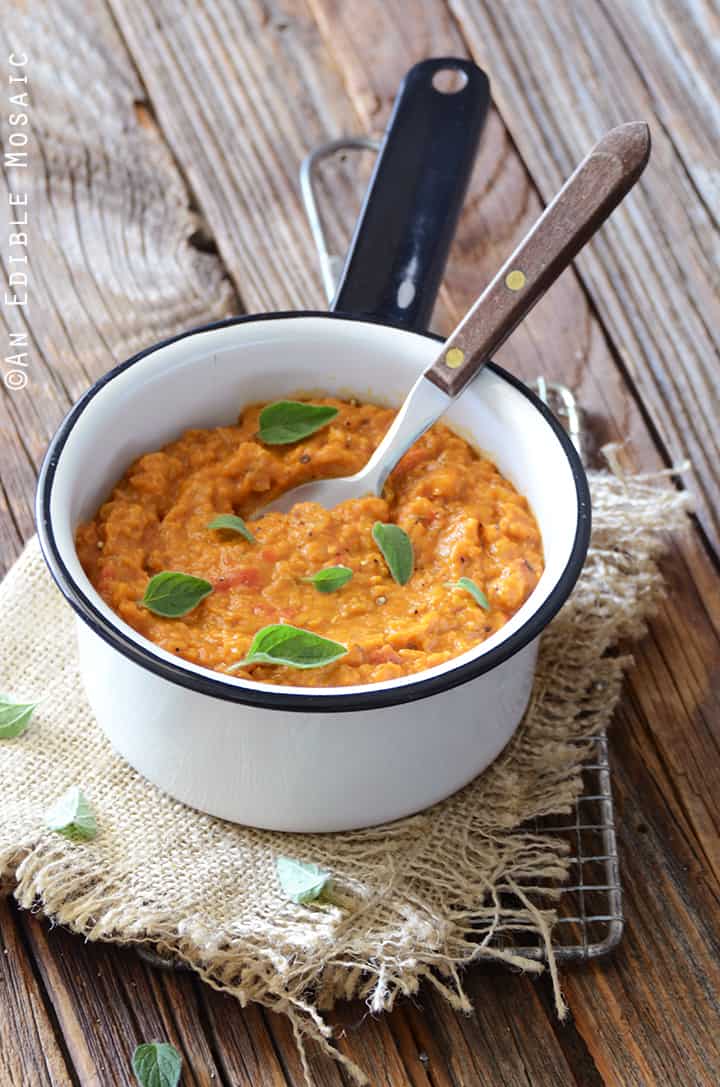 This dish is a little nostalgic for me, but not in the way you'd expect.
This Lentil Bolognese recipe has no personal significance aside from the fact that it's the last recipe I have that hasn't been shared on my blog yet that I made and photographed in Kuwait when Mike and I were still living there. We left there last summer, so that shows you how long I've had this recipe in my queue!
It's time this deliciousness saw the light of day. And you're in luck because it's a hum-dinger!
My Lentil Bolognese has a very different flavor profile from Beef Bolognese. It has complexity from onion and garlic sautéed in olive oil. Vegetable stock adds depth, and if keeping it vegetarian isn't a concern, you can use chicken stock instead. It's slightly smoky thanks to the use of smoked paprika. And a touch of heavy cream or coconut milk give it a velvety consistency and a touch of richness.
How to Use Lentil Bolognese
You can use this sauce any way you'd use regular tomato sauce: layered into lasagna, as a sauce for pizza, or tossed with pasta.
If you're going to go the route of pasta, I find that this recipe makes enough sauce to generously coat about two pounds of pasta. I typically only cook one pound of pasta at a time, so when I make this sauce I usually freeze half for another meal. (I love meals that serve double duty like that!)
Pro Tip: You can thin out this sauce with a bit of water to make a really tasty soup too!
Can You Use Canned Lentils Instead of Dry?
If a recipe calls for brown lentils, you can often substitute canned lentils for dry lentils.
However, this recipe uses red lentils, and I've never seen them available canned. But don't worry, dry red lentils are very easy to cook!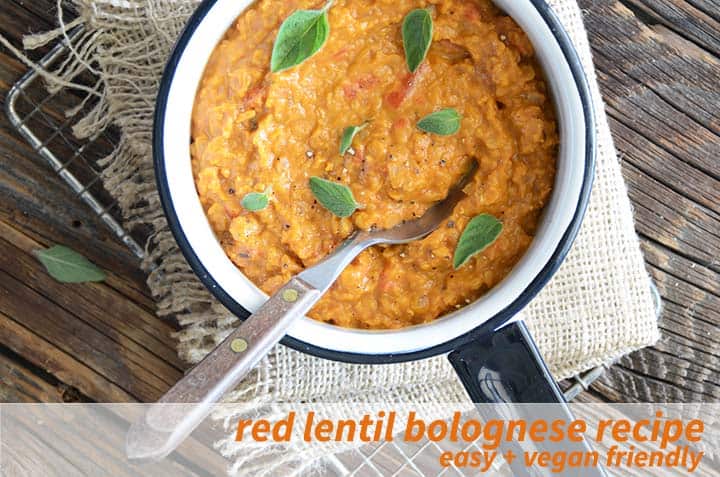 Are Lentils High in Protein?
According to the USDA, here is the nutrition information for ¼ cup (35g) of red lentils:
120kcals
8g protein
22g carbohydrates
5g fiber
More Red Lentil Recipes: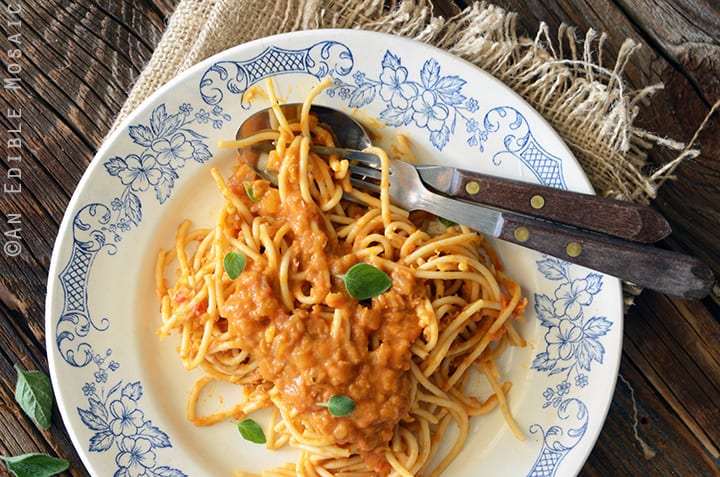 Did you make this recipe? Please rate it and leave a comment below because I love hearing from you! You can also tag @anediblemosaic on social media. To stay up-to-date FOLLOW ME on Instagram, Twitter, and Facebook. Xoxo, Faith
Red Lentil Bolognese
This Red Lentil Bolognese recipe is vegan-friendly and packed with flavor and nutrition! Toss it with pasta or zucchini noodles, or serve it on top of grilled chicken.
Instructions
Add the oil to a medium saucepan over medium heat. Once hot, add the onion and cook until starting to soften, about 5 minutes, stirring occasionally. Add the garlic and cook 1 minute more, stirring constantly.

Add the tomatoes, red lentils, vegetable stock, tomato paste, Worcestershire sauce, molasses, oregano, paprika, salt, and black pepper. Cover the saucepan and bring it up to a simmer; turn the heat down and simmer until the sauce is thickened, about 1 hour to 1 hour 30 minutes, stirring occasionally, but stirring more frequently toward the end. (Also, remember that the sauce will thicken more as it cools, so don't let it get too thick.)

Remove from the heat and stir in the cream.

Toss the sauce with pasta (garnished with a little fresh oregano if you want), or use it any way you'd use regular tomato sauce.
Faith's Tips
This recipe yields about 5 cups of sauce, or about enough sauce to generously coat 2 pounds of pasta. Each serving is about 6 tablespoons.
To Keep This Vegan: Use vegan Worcestershire sauce and coconut milk instead of heavy cream.
To Reheat: This sauce thickens upon standing, so you may need to add a splash of water when you reheat it. This sauce can be reheated on the stovetop or in the microwave.
Nutrition
Nutrition Facts
Red Lentil Bolognese
Amount Per Serving
Calories 174
Calories from Fat 63
% Daily Value*
Fat 7g11%
Cholesterol 10mg3%
Sodium 558mg24%
Potassium 483mg14%
Carbohydrates 23g8%
Protein 7g14%
Vitamin A 627IU13%
Vitamin C 9mg11%
Calcium 50mg5%
Iron 3mg17%
* Percent Daily Values are based on a 2000 calorie diet.
This post was first published on An Edible Mosaic on March 27, 2015. I updated it with more information on March 22, 2020.
Disclosure: This post contains Amazon affiliate links to products I believe in, which means that even though it doesn't cost you anything extra, I will receive a small amount of money from the sale of these items. Thank you for helping to support An Edible Mosaic!