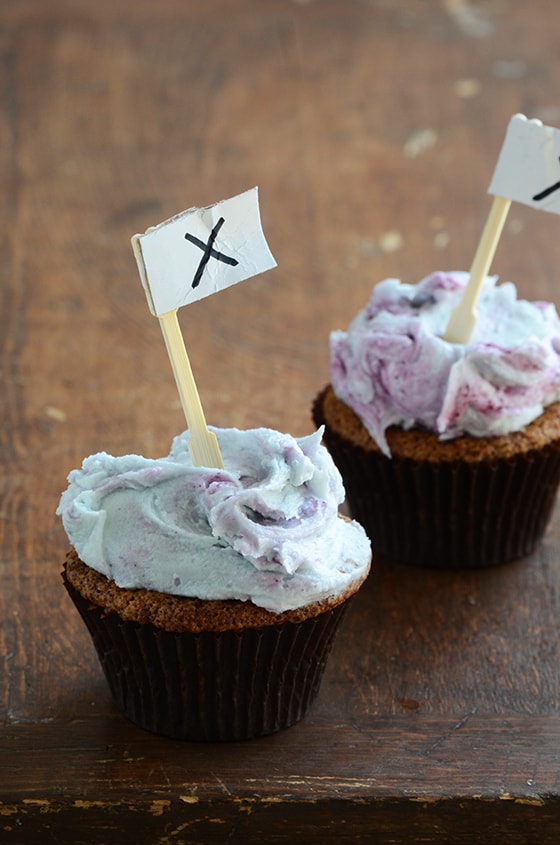 You can probably guess by the name that the flavor of these cupcakes was inspired by the highball cocktail Dark and Stormy (which, according to Wikipedia, is trademarked by Gosling's Export Limited of Bermuda who make Goslings Black Seal Rum).
But there are a couple of other pieces of inspiration for these cupcakes that might not be so readily apparent.
The first of which is an absolutely breathtaking blog called Adventures in Cooking. It's written by the fabulously talented Eva, whose recipes I regularly lust after and photos always leave me spellbound. A while ago she made Buttered Rum Cupcakes, which I thought were the most clever things. Ever. Go check them out because they are just too cute not to – but come right back! You don't want to miss these beauties.
Ok, so you're back.
Eva's beautiful recipe immediately inspired me when I saw it – I love her presentation with the frosting ocean and the pirate ship on top. Her cupcakes served as another source of inspiration for me in making this recipe.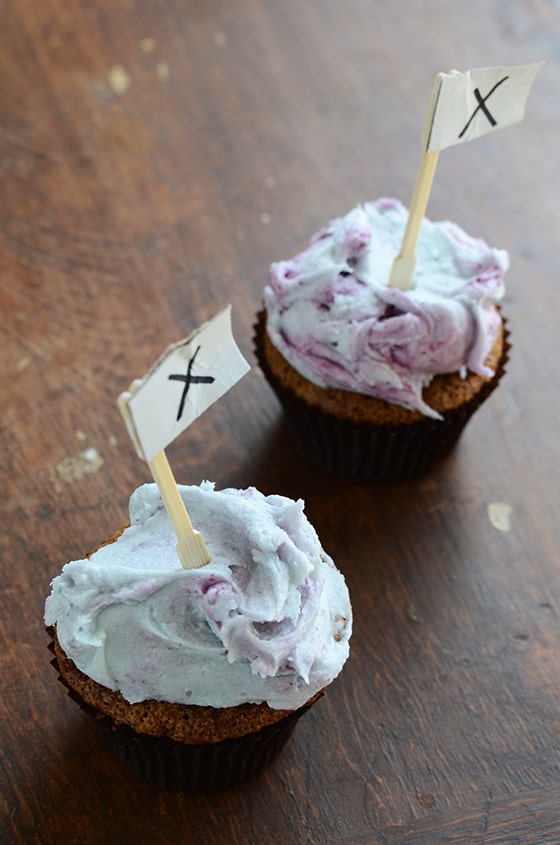 Another piece of inspiration was the fact that not only is my niece Autumn Rose turning 10 on July 21st, but Disney's Pirates of the Caribbean is also turning 10 around the same time, on July 9th. My mom, my sister, and I actually took my niece to this movie when she was a newborn (it was the first movie she ever went to, of course, not that she remembers, lol) – and she slept through the entire movie except for the part where the ghost monkey screamed. This movie is now one of all of our favorites, including Rosie. In my mind, her birthday is forever connected with that movie, and I thought a sweet treat commemorating both events would be appropriate. Happy Birthday to both.
The final inspiration for these cupcakes are flavors in addition to the classic Dark + Stormy flavors. Flavors that come in the form of a cross between chai-spiced baked goods, gingerbread treats (like the flavors in this popcorn or this coffee syrup), and molasses crinkle cookies.
I have to admit, the cake portion of these cupcakes is unexpectedly fantastic. Thanks to the molasses, the cupcakes are moist and dense, with great texture and an ever-so-slight chewy quality. The best thing I can compare their flavor to is Jamaican spice bread, if such a thing were to exist (which maybe it does). With fresh ginger, fresh lime zest, and just a hint of both cloves and black pepper, it really is a magnificent combination. Ginger and lime hit you first, then the sweet earthiness of molasses, and finally the lingering warming heat of cloves and black pepper. I know it might sound strange, but trust me, these cupcakes will walk away on you (sail away, in this case?) once you make them. And they're even better the next day once their flavors have had the chance to mingle.
But I do have to warn you – if you're a batter-licker (it's ok, I am too), don't try this batter. It just doesn't due the final cupcakes justice in any way! Save your batter-licking for something else like chocolate chip cookies or chocolate cake. (No worries, once baked, this batter transforms into something magical.)
I want to briefly mention the color of this frosting, because it is somewhat special. I had my heart set on using homemade natural food coloring, so I set out to make it using the red cabbage method, which yields both purple and teal (blue-green) colorings. The only problem is that it resulted in a very light pastel bluish purple shade of frosting (that's the very light blue part of the frosting that you see in my pictures). I wasn't totally happy with how light it was, so I made some natural purple dye using the blueberry method. I had a light bluish purple base (because of the red cabbage dye) and then I swirled in some of the darker blueberry coloring, which gave it the effect you see in the photos. You can read more about my natural food coloring debacles, and get the recipes for both the red cabbage food coloring and the blueberry food coloring methods here.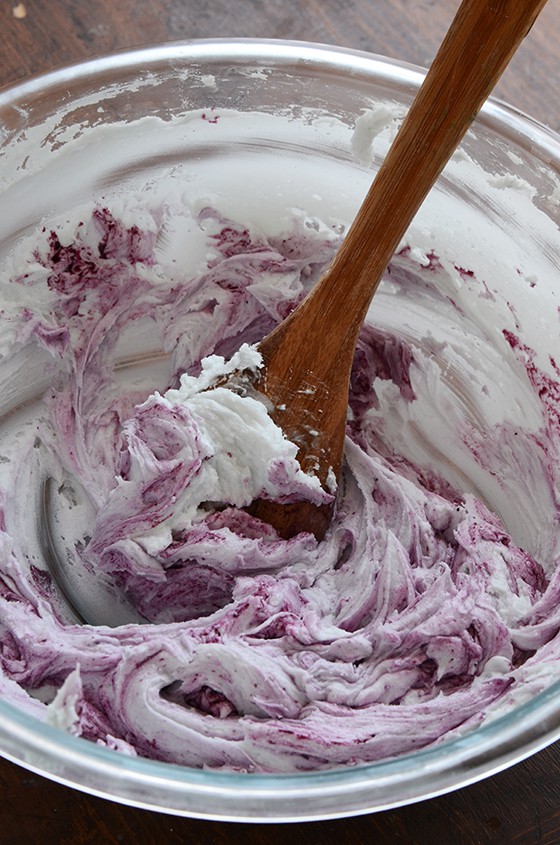 Here's my naturally-dyed frosting; this post details how I made the dye.
To get the same exact coloring that is shown in these pictures, follow the frosting recipe I give in this post, but instead of the milk, use a mix of natural purple and natural teal food colorings (both can be made using the red cabbage method). Then once you have your light bluish purple frosting base, swirl in about 1 to 2 teaspoons of natural blueberry food coloring.
Overall, I'm really happy with how these turned out. Flavor-wise, they are spot-on. I was hoping for something a little different when it comes to how they look: I wanted the frosting to be a bit more blue and a bit less purple. However, in the end I thought it was a small price to pay for a product that's all-natural.
I have more Dark + Stormy ideas though, so you might see them here in the future!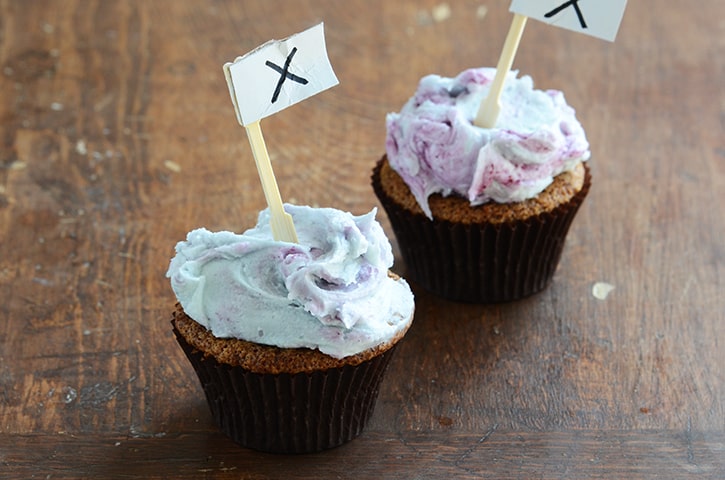 Dark + Stormy Cupcakes
Prep time:
Cook time:
Total time:
Ingredients
Cupcakes:
1 cup (115 g) all-purpose flour
1 cup (115 g) whole wheat flour
1½ teaspoons baking powder
Scant ¾ teaspoon fine salt
½ teaspoon baking soda
⅛ teaspoon ground cloves
⅛ teaspoon ground black pepper
1¼ cups (250 g) sugar
½ cup (120 ml) canola oil
¼ cup (60 ml) molasses
2 large eggs
1 tablespoon fresh-grated ginger
1 tablespoon fresh-grated lime zest
1½ teaspoons rum extract
2 tablespoons fresh lime juice
2 tablespoons milk (I used 1%)
Frosting:
1½ cups (290 g) vegetable shortening
1 tablespoon clear extract (I used coconut, but vanilla would also be great)
6 cups (1½ lbs/680 g) powdered sugar
3-5 tablespoons milk (preferably non-dairy "milk" – such as almond "milk" – so the frosting is stable at room temperature)
Natural blue or purple food coloring (see note below)
Instructions
Preheat the oven to 350F; line a muffin tray with 18 paper liners.
Whisk together the flours, baking powder, salt, baking soda, cloves, and black pepper in a medium bowl.
Whisk together the sugar, canola oil, molasses, and eggs until light and fluffy, about 2 to 3 minutes. Whisk in the ginger, lime zest, rum extract, lime juice, and milk.
Add the dry ingredients to the wet and stir just to combine, being careful not to over-mix.
Fill each lined muffin well about ⅔ full of batter (you should have just enough) and bake until a toothpick inserted inside comes out clean or with just a crumb or two, about 20 to 22 minutes.
Cool in the tray for 5 minutes, then transfer the cupcakes to a wire rack to cool completely before frosting.
For the frosting, beat the shortening and extract together with a hand-held electric mixer until smooth.
Add 1 cup of powdered sugar and beat until fully incorporated; add another cup and beat, and continue this way until all the powdered sugar is added. (The frosting will look dry and crumbly.)
At this point, beat in enough milk to make the frosting smooth and creamy, about 3 to 5 tablespoons, adding it gradually so you don't add too much.
Add the natural food coloring in different areas of the frosting and gently swirl it so you get a streaked effect. (Start out with just a few drops and gradually add more until you reach your desired color.)
Top the cupcakes with a generous spoon of frosting, spreading it haphazardly so it looks like a wave.
Notes
Using Natural Food Colorings To Get the Same Frosting Look Shown Here:
To get the same exact coloring that is shown in these pictures, follow the frosting recipe I give in this post, but instead of the milk, use a mix of
natural purple and natural teal food colorings
(about half of each; both can be made using the
red cabbage method
). Then once you have your light bluish purple frosting base, swirl in about 1 to 2 teaspoons of
natural blueberry food coloring
for a streaked effect.